Sedans, SUVs & Car Service
At Price4Limo, we are committed to providing the highest level of service to our customers. We work hard every day to ensure that you choose us as your preferred provider of sedans and SUVs. With over 12,000 vehicles in our network, you can choose premium transportation options in cities across the US. Whether you need a sedan for a business trip or an SUV for family vacation, we can help you find the right vehicle at an affordable price. Booking is simple and convenient. Just enter your destination and departure time into our booking engine and choose the vehicle type you prefer. You'll be able to see all available vehicles with pictures and prices before making a selection.
Search our inventory of over 12,000 vehicles including luxury sedans & more. No matter the occasion or location we have the perfect vehicle for your next special event!
When looking for a smaller vehicle for rent, we do offer Sedans & SUV's including Lincoln Town Cars, Chrysler 300's, the Lincoln MKT, Cadillac Escalade, Chevrolet Suburbans & More. While being able to hold anywhere from 1-7 Passengers a more compact vehicle might be more convenient and cost efficient. When looking to rent a sedan or SUV for transportation, not only do you get an immaculate vehicle, but you get a knowledgeable driver. A driver that will make sure you get to your destination on time, making you not worry about parking.
Rent a Car Service
At Price4Limo, we believe that your ride should be as simple and stress-free as possible. That's why we've made it our mission to provide the best service and pricing in the industry. We have a nationwide network of vehicles that are ready to serve you right now. Our company was founded on one simple principle: everyone deserves a stress-free ride. Today, we help thousands of people each year find the perfect transportation solution for their needs—whether they're traveling for business or pleasure, with a large group or by themselves. Our team is committed to providing you with the highest quality service, so that when you need us most, we'll be there for you every step of the way. Whether you need ground transportation or air travel assistance, we'll make sure your trip is as smooth as possible.
There are many reasons why people choose us as their luxury car service company and thats because all of our Sedans & SUV's for rent are immaculate on the inside and out. We make sure that every rented car is ready for the next rider. Our cars can come equipped with complimentary bottled water, wifi, cell phone chargers, cold AC and a professional chauffer that knows his way around and ensures you're never late. Not to mention all of the vehicles are inspected regularly to ensure your safety in every ride.
We have almost any Make or Model to be able to acommodate you and your guests all depending on how many riders are with you. Aside from the vehicles shown below, we also carry a luxurious and comfortable option Sprinter Limo. It comes fully equipped and has a high ceiling and ample leg room, a great choice. If you have a specific option or amenity that you would like on your suv rental, give us a call and we'll ensure your lincoln town car is fully equipped.
Our online system can help you find the right pricing for your SUV/Sedan rental. We have access to any luxury sedan rental. If you've been looking for a suv rental near you, here at Price4limo we can help you find exactly what you're looking for. Give us a call or talk to us via chat.
How Much Do Transportation Services Cost?
At Price4Limo, we believe in making things simple. Our pricing is straightforward and easy to understand, so you can focus on enjoying your ride instead of worrying about how much it'll cost. Here's what you can expect:
- Our standard rates are always available, so you don't have to worry about hidden fees.
- You'll always know exactly what your total price will be before you book—including tips and gratuities—so there are no surprises when you get the bill at the end of your trip.
- You can easily see pricing and pictures of the different available options across our website.
There is no one size fits all when it comes to pricing, so be sure to contact our team directly or use our booking tool to see custom prices for your trip. To get an idea of what rates may look like, check out the below:
| Vehicle Type | Vehicle Passengers | Hourly Rates* |
| --- | --- | --- |
| 8 Passenger Limo | Up To 8 | $85-$120 (Pricing Varies) |
| 10 Passenger Limo | Up To 10 | $110-$145 (Pricing Varies) |
| 15 Passenger Limo | Up To 15 | $135-$165 (Pricing Varies) |
| 20 Passenger Limo | Up To 20 | $145-$165 (Pricing Varies) |
*Prices may vary greatly in your city and state. Due to the impact of COVID-19 and inflation, all rental prices shown are past estimates. Actual pricing may be significantly higher. To get a quote for your trip/event please call 866-265-5479
Choose The USA's Top Rated Luxury Car Service
Price4Limo is the premier luxury car service company in the country. We offer door to door luxury transportation, which means that we can pick you up from your home or office and take you wherever you need to go, whether it be a business meeting or an airport run. High-end black cars are always comfortable, so that when you arrive at your destination, you will be cared for in the highest level of customer service. Get luxury car service for every special occasion—from birthdays and anniversaries to weddings and proms to family reunions and more. With our fleet of cars at your disposal, we can help get you where you need to go with ease. Price4Limo is here to make sure that your journey from point A to point B is as seamless as possible. We have a fleet of black cars on standby 24 hours a day, 7 days a week, 365 days per year so we can deliver our clients wherever they need us.
Rent a variety of different services including:
Meet & Greet - Our Meet & Greet service is perfect if you want to be picked up from the airport or from a hotel. The driver will be waiting for you with a sign bearing your name or company logo, so there will be no confusion about who to pick up.
Curbside Service - Curbside Service is a new way to get picked up and dropped off at your destination. We make it easy for you to get to your flights, appointments, and meetings on time and in style. You won't have to worry about fighting with traffic or finding parking again.
Charter Service - Whether you're planning a business meeting or a party, we have the vehicles and the experience to help you make it happen. Our fleet of luxury cars, SUVs, and limos are available to take you anywhere.
Reasons to Use Price4Limo.com
When you book through Price4limo, you are getting access to the most luxurious cars with the best limo prices nationwide. It's great to be able to know how much it is to rent a limo before you book. With our huge inventory you can compare limo services and prices in your city. If you have any questions regarding any limo we are here to help, feel free to give us a call or Get a Quote online.
Best Prices - Compare rates from local transportation companies on one site and save money

Huge Selection - View the largest selection of limos, party buses, and charter buses all on one site

Book Online - Make a reservation online in less than 3 minutes, all major credit cards accepted

Trustworthy - Price4Limo is the nation's largest and most reputable online booking agency
Lincoln Towncar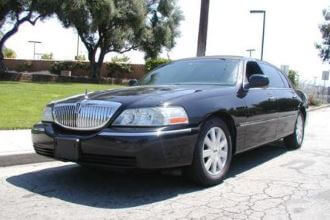 The Lincoln Towncar is still the gold standard in car service. Get around town or to the airport in luxury in this sedan. Ride in comfort with leather seating & plenty of leg room. A simple yet luxurious choice to get chauffered around for business meetings, airport transportation and more. You really cant go wrong with this luxury car rental. Not to mention it is affordable and compact, allowing you to get dropped off almost anywhere.
Chrysler 300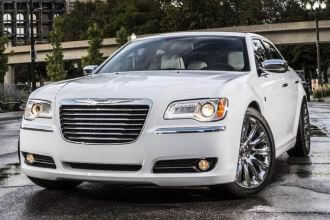 A modern and sleek choice for car service transportation. Our luxury Chrysler 300 sedan can get you where you need to go in style and comfort. This vehicle is one of our client favorites because of how much room the interior offers. The exterior doesn't get left behind. If you're looking for a luxury rental, then this is the Chrysler limo to rent.
Lincoln MKT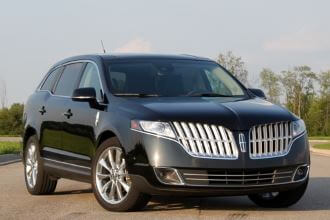 The Lincoln MKT is their newer offering for an SUV. It combines luxury & elegance with the power & passenger capacity of an SUV. If you're looking for a larger vehicle to help transport you and your guests to whatever ocassion or meeting then this is it! This Lincoln rental has all the options such as cold A/C, ample leg room, Aux/Ipod connection and your very own chauffeur to drive you around. It can seat anywhere from 1-7 passengers comfortably, you can't beat that!
Cadillac Escalade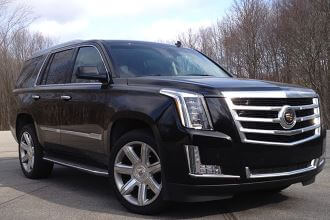 The Cadillac Escalade is the king of luxury SUVs for many years and counting. If you're looking for transportation for you and a few friends hire one of these. Celebrities and hollywood love to book the Cadillac Escalade limo, it turns heads, it's flashy and has that wow - factor. This SUV rental can seat anywhere from 1-7 Passengers comfortably. Whether it be a business meeting, a birthday party or a simple night out on the town, the escalade stretch limo fits any occasion.
Chevrolet Suburban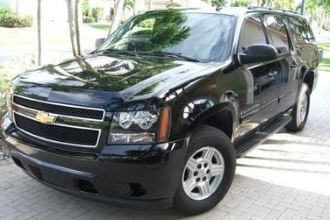 The Chevy Suburban has been a staple of SUVs and is often the gold standard by which they are compared. If you need airport transportation for you and your family this is a great choice. Recognized everywhere, the black suburban is one of our most popular SUV's for rent, not only because of their ample capacity for up to 7 passengers, but it's modern safety and on board entertainment. This vehicle will remain in the transportation service industry for years to come.
Find Limousines & Limo Buses Near You
---
Top Cities For Limos & Bus Rentals
---
Travel On Your Schedule
You can enjoy all the benefits of traveling without having to worry about the logistics. We offer long-distance rides, one way or return; airport transfers; and other transportation services so you can focus on your trip and not on how you're getting there. We understand that traveling can be stressful—especially when it comes to booking your transport. With our help, you can avoid the hassle of searching for multiple providers and comparing prices on your own. We'll take care of all the details for you, from booking the ride to coordinating payment. Our staff is here 24 hours a day, 7 days a week, so no matter when or where you need us, we're always available.
Luxury Transportation You Deserve
Here at Price4Limo, we're proud to offer our clients a wide range of services, from executive sedans to private jets. But what sets us apart isn't the types of vehicles we have—it's the way we treat our clients. We believe in providing you with an experience that is second to none. From your first phone call with us to the moment you step out of your vehicle, we will always be there to ensure that your every need is met. We know that when it comes to luxury transportation, there are plenty of options available; but none can compare with the service you'll receive from Price4Limo. Our goal is simple: to make sure that every client feels like royalty when they use our services. If you want to know more about what makes us so special, give us a call at 866-265-5479.
---
Frequently Asked Questions About Car Services
What Is an SUV?
An SUV rental car is a sport utility vehicle, which is a car classification that combines elements of passenger cars and off-road vehicles. It combines the space for luggage and other items with more seats than a sedan. These vehicles are often used as a chauffeured service to provide travelers transportation with a driver.
How Much Does It Cost to Rent an SUV With A Driver?
The cost of renting an SUV varies depending on the company, the type of vehicle you want to rent and how long you need it for. For example, if you are looking to rent a luxury SUV, you will likely pay more than if you were looking to rent just a standard one. In general, though, expect to pay between $85-$110 per hour for an SUV rental that has a driver.
Is There a Minimum Rental for Car Service?
Yes, there is a minimum rental time for car service. We start at one hour minimums, but this will vary depending on the vehicle you choose and the date of service. You can check out our hourly minimums on our quotes page.
How Much Is Hourly Car Service With A Driver?
Hourly car service is the most popular choice for our clients who want to ride in style without worrying about the cost of the trip. With hourly rates starting at $75 - $110 for a three-to-six passenger car, you can enjoy top-notch service and convenience without breaking your bank.
Can I Book by the Hour?
Yes, you can book by the hour. In order to receive our hourly rates, all you have to do is call our team at 866-265-5479. Our team will help put together a personalized quote for the details of your trip.
How Do I Pay For My Reservation?
To pay for your reservation, head over to our online booking page, and then click the "book" button. From there, you'll be able to enter in credit card information or use a debit card. If you'd like to use Affirm, you can do so by clicking the "buy now pay later" button.
Which SUV Is Right for Me?
In short, it depends on your trip and preferences. We offer many different vehicles including:
Cadillac Escalade: This is one of the most luxurious SUVs, with plenty of room for you and all your friends.
Chevy Suburban: This SUV can hold up to 8 passengers and has a lot of space for luggage or other items.
Cadillac XTS: A great option for those who want something smaller than an Escalade but still want plenty of room for their guests.
Lincoln Mkt: If you're looking for a slightly more affordable option that still provides excellent luxury and comfort, this is a great choice.
Mercedes S550: This luxury car is built to impress both inside and out, with its sleek lines and luxurious interior.
Where Can I Rent an SUV or Car Service?
Price4Limo operates across the entire nation, so you can always book a car from us. We also have affiliates in every major city, so you can feel confident that we'll be there to meet your transportation needs wherever you go.
---