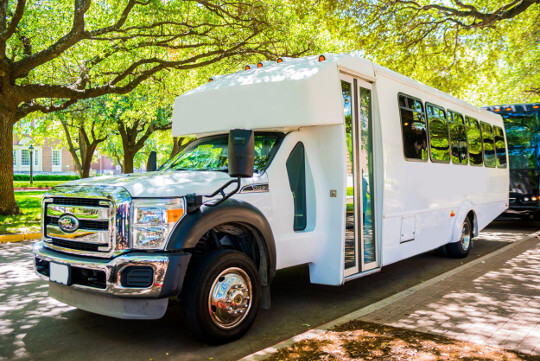 Book a Minibus Rental
With Price4Limo, you can choose from a network of over 12,000 vehicles from local mini bus companies across the country. Our experience and commitment to stellar service has earned us over 2,000+ 5 star reviews on Trustpilot so you know you're in good hands with us. You'll get an incredible deal on your ride, whether you're looking for a high-end or something more economical and we'll take care of everything from booking to payment. All you have to do is sit back and enjoy the ride.
With our quote tool or by calling our reservations team, you'll be able to see pictures and prices of all the available vehicles for your trip. That way, you can get an idea of what kind of experience you'd like to have before making any decisions—and if it's right for your group.
Once you've decided on a vehicle, booking a minibus rental can be done in a few simple steps: just give us a call and let us know when you'd like to travel and how many people will be in your group. We'll walk you through the process from there so that everything runs smoothly. Call our rental experts at 866-265-5479 and get a personalized free quote.
Price4Limo Stands Out Among Mini Bus Companies
Mini bus companies are a dime a dozen, but Price4Limo is the only one that's truly dedicated to providing you with the best experience possible. Nationwide service makes it easy for you to get to and from any type of event or trip, no matter where you are. Whether it's a wedding in New York City or a business conference in Las Vegas, we'll get you there stress-free and on time. We're so confident that we've been named one of the top 10 mini bus companies in America. We offer personalized quotes for your trip in 30 seconds—just tell us where you want to go and how many people will be traveling with you, and we'll get back to you with a custom quote that fits your needs perfectly. Not only that, but we also let you compare prices and ratings from different vendors in your area so that finding exactly what you need is as simple as can be.
Travelers routinely rely on us to provide:
Minibuses For Schools -Whether you're looking for a minibus to transport your students and faculty between campuses, or a school activity bus to take them on field trips, Price4Limo can help. We're an online marketplace for all types of minibuses and buses that offer reliable transportation and amenities that are perfect for colleges and universities. So whether you're looking for a bus to take students on cross-campus adventures or after-school outings, or need a minibus for field trips or student transportation, browse our fleet of vehicles today. You'll find minibuses with plenty of room for your entire class, or just a few students at a time.
Minibuses For Airport Transfers -A pleasant experience is waiting for you when you book with us. We offer airport transfers to and from the airport of your choice. Whether you need a ride to the airport or a ride back home, we can help. We are available 24 hours a day, 7 days a week, 365 days a year.
Minibuses For Sports Teams -Whether you're a sports team looking for a reliable, game-day bus, or a parent who wants to make sure your children get to their tournament on time and with minimal stress, Price4Limo has got you covered. We know that when you're traveling with your team, it's just not enough to provide transportation—you need someone who knows how to get you there efficiently. That's why Price4Limo offers minibus service for teams at any level—from one-off transport for tournaments to all season long reliability. We know that each game day is important, so we work hard to make sure you get where you need to be.
Minibuses For Travel Agents -With the help of Price4Limo, you can select the option best suited to your request. We're here to make sure you always have the right minibus for your clients' needs, no matter how many people they need to transport or where they want to go. Our team is dedicated to providing exceptional customer service, so you can rest assured that we'll take care of all the details involved in planning a trip for your clients.
At Price4Limo, we know that every trip is unique. Our goal is to make sure that your trip is as memorable and special as possible—and it starts with our transportation options. Reservation specialists are on call 24/7 to help you determine which transportation options fit your group's needs. Having booked thousands of trips and moved hundreds of thousands of passengers, you can rely on our transportation solutions to get you where you need to go in style and comfort.
When you need affordable group transportation a minibus rental can be the perfect solution. Minibuses can seat up 20 to 30 passengers depending on the rental selected. Although a minibus is nothing fancy, it serves its purpose for corporate transportation, city tours, and other special events. Simply complete a search on our site and compare rates for all kinds of mini buses, charters and limos.
Why Rent Minibuses?
There are a lot of reasons why you might want to rent a minibus, even though traditionally these were used for transporting corporate clients and celebrities. Nowadays, a bus rental can be used for just about any event from birthday parties and proms to weddings and sporting events.
Renting a minibus is a great way to travel in a group, whether you're going on a family trip, hosting an event, or traveling around town. You can rent our vehicles for just a day or for several weeks at a time. With our flexible payment options and monthly payment program through Affirm, it's easy to get started with your rental today. At Price4Limo, we offer minibus rentals that come with a driver so you don't have to assign someone in your group as the designated driver. This means you can get where you need to go without worrying about driving yourself.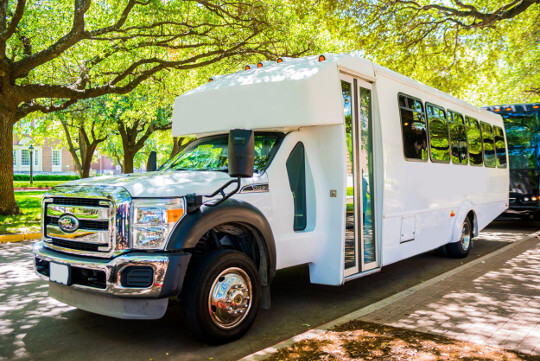 | | |
| --- | --- |
| Seating Capacities: | 20-30 Passengers |
| Storage: | Rare, Overhead |
| Restroom: | No |
| Air Conditioning: | Standard |
| Music/DVD/TV: | Yes, No TV/DVD |
| Average Price: | $699-$1200* |
*Prices may vary greatly in your city and state. Due to the impact of COVID-19 and inflation, all rental prices shown are past estimates. Actual pricing may be significantly higher. To get a quote for your trip/event please call 866-265-5479
Although each rental will be slightly different from the next, most Minibuses come equipped with forward facing seats, basic stereos, and AC/heat. So, get ready to have some fun with your next transportation rental service! Call now for a free quote or complete a search online.
Types of Minibus Rentals Near You
How Much is a Mini Bus Rental?
Minibus rentals will differ in price based on a few things. Some of the factors that determine your mini bus price will be location, type of service needed, duration of the trip and whether or not you go overtime. To get an exact price quote, use the Price4Limo search portal to compare prices for all minibuses, shuttles and charters. Price4Limo also rents 20 passenger vans, sprinter buses, motor coaches, and more. Renting a mini bus has never been easier! If you're thinking about purchasing a minibus for sale click here.
How To Charter a Minibus
Group travel can be a hassle. You have to worry about lost luggage, delayed flights, and arranging transportation. It's no wonder most group coordinators turn to Price4Limo when they want to charter a minibus for their group travel needs. We handle all the details so you don't have to—so your group travel experience can be a hassle-free one. Price4Limo is a team of professionals who are dedicated to providing you with the best possible service at an affordable rate. Our goal is to make your trip as enjoyable as possible while taking away the stress of planning it all yourself.
We handle everything from booking your vehicles to coordinating everything so your journey goes smoothly. We know that planning group trips can be difficult—especially when there are tight budgets and multiple people involved in making decisions about where exactly everyone should stay and eat every night. That's why we offer both private tours for smaller groups of 10 or less as well as group tours for larger groups up to 5000 people. Whatever the size of your group might be, we guarantee that we have something available that will suit.
Getting your minibus transportation arranged can be a daunting task, but there are some things you can do to make it easier. First, you'll want to get a solid headcount. This will help you decide what sort of vehicle you need, and also how much it will cost. There is an array of different bus configurations available including: 15 passenger minibus, 18 passenger minibus, 20 passenger minibus, and 25 passenger minibuses. Next, decide which amenities you want in your trip; this will help narrow down your options and give you a better idea of what kind of vehicle to charter. Now that you have an idea of the size and amenities required for your trip, it's time to come up with an itinerary. Once you have this figured out, we can help calculate the cost of your trip as well as give you more accurate quotes for packages including perfect amenities. Finally, if you're still having trouble deciding what type of vehicle would work best for your group, we always suggest talking to one of our experts. They can help narrow down the options for you so that finding the perfect minibus for your trip becomes easy.
Minibus Pricing: How To Determine Your Trip Cost
Length of Rental in Hours
When determining the cost of your trip, one of the first things you'll want to do is figure out how long you need to rent a minibus. This will affect the price of your rental, as well as the amount of fuel needed for your trip. If you're planning on renting a minibus for an hour or less, it's probably best not to rent one at all—you can simply take a taxi or Uber instead. If you need something longer than that, however, then a minibus is much more cost-effective. To rent a minibus for an extended period of time, we can help you find the right fit for your needs and budget. We're here to guide you through the process, so don't hesitate to reach out if you have any questions.
Date Of Service
The date of service is one of the biggest variables, and this is why we recommend booking as early as possible if you're looking to get the best price. That way you'll have time to adjust your trip if prices go up later on in the week or month. But even if you book when the price is low, don't expect it to stay that way. Minibus prices are constantly changing based on factors like:
- Season: When school vacations start and end, bus bookings rise dramatically because parents need transportation options for their kids. This means more buses are needed at an increased cost.
- Individual dates: If there are special events happening in your area on the day of your travel, then prices may rise as well because more people will want rides during those periods.
Driving Distance
When it comes to minibus pricing, distance matters. And depending on the distance you're traveling, the price of your ride will vary. The length of your journey matters, so if you're planning a long trip out of town, you can expect higher prices than if you're just looking for a ride across town. The more miles to drive, the more time it takes , and the higher our expenses will be. By relying on these parameters, we can make sure that each individual customer gets the most accurate quote possible.
Minibus Size
Minibuses have a wide range of seating capacity, ranging from 12-35 seats. There are newer models and older ones, but generally you can expect the large vehicles to cost more. That's why it's important to have a good headcount beforehand.
Availability
The availability of our minibus fleet is the key determinant of its prices. All of our vehicles are on a first come, first serve basis, so the demand on certain days will change prices and influence what you will pay for transportation.
Frequently Asked Questions About Minibus Rentals
What is a minibus?
A minibus is a smaller, more efficient version of a school bus. Minibuses are typically used to transport groups of people who are traveling together, such as sports teams or field trips and range in size from 12-40 people.
How many people fit on a Minibus charter rental?
The number of people that can fit in a Minibus charter rental depends on the model you choose. The smallest model holds 15 passengers, while the largest can hold 30. If you are interested in a minibus charter rental for a large group, we recommend contacting us for more information about availability.
What groups rent Minibuses?
Organizations like schools and corporate planners rent minibuses for all kinds of reasons. Schools use them to transport students and teachers to sporting events, field trips, and other events that require transportation. Corporate planners use them to take their clients on tours or provide a comfortable means of travel for employees who need to get around town while they're working. Wedding planners also use these vehicles frequently because they can easily accommodate large groups of people at once and still have room for all the wedding supplies you'll need on hand (and maybe even a few extra guests).
What types of outings do people use a Minibus for?
People use a minibus for all kinds of events, including sports games, tournament travel, field trips, airport transfers and more. A minibus is great for sports because equipment can be loaded in through the back door. It's also great for tournaments because it's big enough to hold all of your team but small enough to avoid being too much of a scene at the venue or on the road. Minibuses are perfect for field trips because they're easy to get in and out of and can fit lots of kids and their parents. They're also great for getting around town during festivals or concerts because they can provide shuttles to drop you off at the venue and pick you back up later.
What amenities does a Minibus have?
Minibuses are a great option if you're looking for a more affordable option than a school bus or charter coach. While they don't have the same features as luxury coaches, they do have some amenities that can make your trip more comfortable. Standard minibuses tend to have very few features, but you can upgrade to models with more luxury options if you need them. For example, some standard minibuses don't offer power outlets or WiFi, which can be inconvenient during long trips. But many luxury minibuses include these things as well as Bluetooth and other extras that make it easier for passengers to stay connected and entertained on their journey.
Do you have wheelchair accessible/ADA Minibuses?
Our standard feature is not to have ADA minibuses, but we do offer them as an option if that's what you need. We can set up your minibus with full wheelchair accessibility from one of our many bus companies across the country. To check if there is an ADA bus available in your area, please reach out to our reservations team.
How much luggage space is there on a Minibus?
The luggage space on a minibus is typically large enough to hold some small suitcases in the back and personal items above the seating section in the overhead compartments. The exact size of the luggage space will vary depending on the model of minibus, but most have at least a couple feet of space. This means that you can usually fit in 5-10 medium-sized suitcases in the trunk space with a combination of smaller items like backpacks and carry-ons in this space. Some minibuses have extra storage compartments underneath their seats. If your minibus has these compartments, you should be able to store any other items you take with you in these places so that the main area of your bag is free for larger items such as suitcases.
Can I rent a Mini Bus Without A Driver?
No. All of our mini buses have a driver. We have a strict policy that no customers are allowed to drive the vehicle so we offer you chauffeured vehicles only.
---
Top Cities For Minibus Rentals
---