Bachelorette Party Bus & Limo Service
When it comes to celebrating a bride's final night as a single lady, there are few ways to do it better than with a party bus or limousine. Price4Limo has vehicles available across the nation to liven up your celebration. Our buses and limos can accommodate anywhere from five to fifty guests—and we'll even let you bring your own alcohol on board. So whether you're planning an evening out with friends or heading out on one last hurrah before tying the knot with your groom, let us help make sure your celebration is exactly what you want it to be.
We offer bachelorette party bus rentals across the USA. For those who are looking to celebrate such a special occasion will want a premier rental to get around town. With our bachelorette limos and party coaches, you can party all night long after the bars close. Our party buses have different amenities aboard for you to enjoy!
You can book a ride that is like a nightclub on the move. From bar facilities to lounge like seating, club lighting, and premium audio systems, you will find our limo rentals and party buses are ideal for your bachelorette event. These rentals are also affordable for most. Complete a search to compare prices in your area.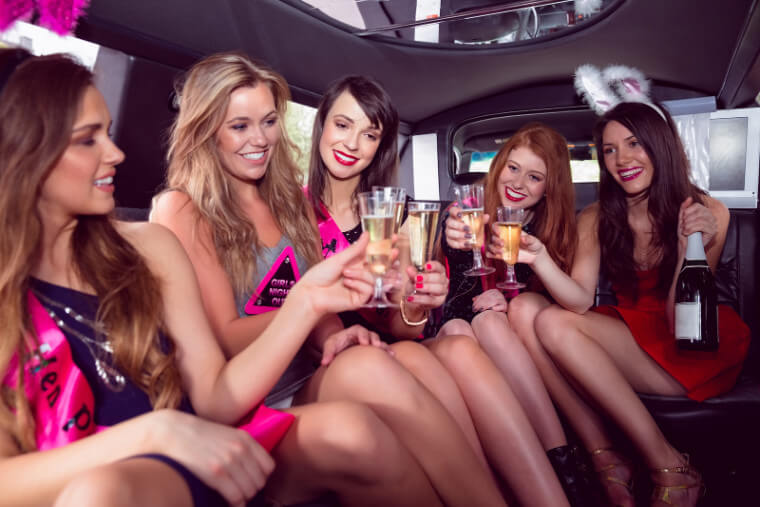 ---
At Price4Limo, we're focused on helping you plan the perfect trip. We know that planning a bachelorette party can be a hassle—and we want to make it easy for you. That's why we've been operating as a leading transportation service for over 10 years and have thousands of 5-star reviews from our customers. We'll take care of everything from transportation to airport shuttles, so all you have to do is show up and have fun. We offer vehicles to fit any group size—from small groups of 2 or 3 up to large groups of 20 or more. And with over 12,000 options available at your fingertips, we have something for every taste and budget.
There are a lot of companies that offer bachelorette party services, but not all of them can provide the same level of quality or customer service. When you choose to book your bachelorette party with Price4Limo, you know you're working with a company that truly cares about their customers. We work hard to ensure that every bride-to-be has an amazing time on their special night out, and we do our best to make sure that each event is customized and planned according to your specific needs. Our 24/7 reservation staff will help you get started planning the perfect itinerary for your upcoming bachelorette party, whether it's in a limo or in the town! Our team is here to make sure everything goes smoothly so that you can enjoy yourself without worrying about anything else. Just call 866-265-5479 today to get started planning your upcoming bachelorette party.
Bachelorette Party Buses & Limo Rentals
If you look at the different bachelorette party bus and limo rental options, you will see we have the best. It's possible to check out our fleet online to see the different coaches and limousines for hire. We can help you make a booking on the go as well. We also offer limo services for bachelor parties!
We have some amazing bachelorette party buses for hire. For instance, you could choose from motor coaches, shuttle buses, charter buses and others. In most cases, we rent a coach bus as per the seating capacity of passengers. These coaches have the varying seating capacity from 14 to 50. You could hire a party bus for any bachelorette event. Contact us today!
Party With Your Girls
Price4Limo is the expert when it comes to bachelorette transportation, and we're ready to assist your transportation needs—no matter what size your group is. We have a huge selection of luxury limos and buses that can fit everybody and get you to any destination you want to go. Whether you're looking for something sleek, or something fun and flashy, we've got what you need. Our selection includes everything from classic white stretch limos to pink party buses. Whether you want to be chauffeured around in style, or want all the bells and whistles—we've got you covered.
Price4Limo is the #1 platform for on-demand limo and party bus services, with real time pricing right at your fingertips. When you enter in the details of your trip, we'll instantly show you pictures and prices—there's no hassle. Just enter in the details of your trip, and see pictures and prices so that you can find the perfect ride.
Why Choose Price4Limo?
With Price4Limo, you can rest assured that your trip will be a seamless one. We offer our customers peace of mind with our always-available customer service team and our commitment to quality. We'll work with you to plan every step of your trip—from booking to customizing your itinerary. And when it comes time to ride, we'll make sure that everything goes smoothly—we won't let any bumps in the road get in the way of your fun. We know that when it comes to planning events like these, there are so many things that can go wrong. That's why we're here: we want you to feel confident in knowing that when it comes to bachelorette party transportation, we've got your back.
Whether you want us to pick up your bachelorette at the hotel, airport, or club; or if you just need transportation for yourself or an important guest—we have got it covered. In fact, we can even provide transportation for guys if they're going along on the trip. We know how important it is to have reliable transportation during such an eventful evening, which is why we work hard to make sure that every ride with us goes smoothly from start to finish. You can trust that with Price4Limo, you'll have a great time.
Whether you're a bride-to-be, a bridesmaid, or just a guest at the bachelorette party, Price4Limo is the perfect choice for ground transportation. We are the only company that has been providing reliable ground transportation for over 10 years. We know how important it is to feel confident that you'll have an unforgettable time on your special day. Our team has taken care of thousands of events and knows what it takes to make sure everyone has an amazing time. We'll take care of everything from booking your transportation to coordinating the entire event. You won't have to worry about a thing.
With Price4Limo, you'll be sure to have a night that's sure to leave everyone with no choice but to enjoy themselves.
Choose From The Largest Selection of Limos and Party Buses for your Bachelorette Party
Party buses. We offer a range of party buses accommodating 15 to 35 people. We'll help you find one that fits your needs. Choose luxury or standard and we'll connect you with the perfect ride.
Stretch limousine. To ensure your Bachelorette Party goes off without a hitch, consider hiring a limousine service to pick you up from your hotel and drive you to your destination. Depending on the number of people in your party, you can get a limo that fits anywhere from 6-20 passengers.
Mercedes sprinter vans. Our Mercedes sprinters vans seat 9-15 passengers, and are well-equipped with leather seating or a limousine style interior, depending on your preference. If you want to keep it classy, we've got it covered.
Motorcoaches. A motorcoach can hold anywhere from 40 to 56 passengers and is often used to transport large parties at once. This is your more standard transportation option without all the amenities.
Shuttles buses. A shuttle bus is a 30- to 45-passenger vehicle that is equipped to transport medium-sized groups perfect for airport pick ups when your group is carrying luggage.
Charter buses. Charter buses are available in a variety of sizes, depending on the number of passengers that need to be accommodated with a max of 56 people. They are equipped with the latest in entertainment systems to provide optimal enjoyment during long trips.
Why Rent A Party Bus For Your Bachelorette Party?
A bachelorette party is a celebration of the bride-to-be and her last moments as a single woman. It's also a time to let loose and have fun with your friends, so why not throw in some transportation options? If you're looking for an easy way to get everyone together, consider renting a party bus. Party buses are great because they can accommodate as many as 40 people, meaning that there's plenty of room for your entire squad. Plus, they come with all the amenities you could ever want: TVs, sound systems, bars, couches and more. You can sit back and relax as the driver takes you from bar to bar—and even hop off whenever you want.
What to Look For In Transportation Companies
Convenience: When looking for transportation, you'll want to make sure that the company is as convenient as possible. This means that they should be able to offer a variety of different ways that you can book your ride, and should also have a way to contact you at a moment's notice. The best companies, like Price4Limo, will offer multiple means of communication with their customers so that no matter who you are or where you are in the world, you can easily get in touch with them.

Fun Options: Choosing Price4Limo as your transportation service provider means that you will have access to our extensive fleet of vehicles. We have everything from luxury cars to party buses and SUVs. We also have limo packages that include champagne or other amenities so that your trip will be as fun as possible. When you choose us as your transportation provider, we will take care of everything for you so that you can focus on enjoying yourself with friends and family members during your special day or event.

Cost-Effective: We understand that cost is often the deciding factor when choosing a transportation service. That's why we offer competitive rates and flexible scheduling options so that no matter your budget, we'll be able to provide the best possible service at a price point that works for you.
Price4Limo checks all three of these, offering you cost-effective transportation options that are ready to roll when you are. Call 866-265-5479 to get your quote.
Before Your Hire Your Bachelorette Party Bus Rental
Gather the details: Planning your bachelorette party is a lot of work. Before you hire your bachelorette party bus rental, make sure you have all the details of your trip planned out. Here are some questions to ask yourself: What time do we want to leave? How long do we want to stay at the venue? Are there any special requests from anyone attending? What kind of transportation do we need—a limo or party bus? Once you have all the details in place, show your the packages to find exactly what you need.

Take a headcount: Before you start planning for your bachelorette party bus rental, take a head count of how many people will be coming with you. It's important to know exactly how many people are going on the trip so that you can get an accurate price quote from the company you choose. You'll also want to make sure that there's enough room on the bus for everyone who's going to be there, as well as any luggage they may have. This will help you lock in better rates as well.

Notify Your Group Well in Advance: The first thing that most people forget when they're planning their bachelorette party is notifying their group well in advance. This means that if you want to rent a bus or limo, then you should book it at least six months in advance so that they can get back to you and let you know whether or not they're available on your date.
Bachelorette Party Destinations We Service
Los Angeles. Los Angeles is the perfect place for a bachelorette party. It has everything you could possibly want: beaches, mountains, and more than enough nightlife to keep everyone occupied. If you're looking for something that's a little more on the low-key side, check out Santa Monica Pier or Venice Beach—both are great places to relax and soak up some sun. If you're looking for something with more of a party vibe, head up to Hollywood Boulevard or Sunset Strip where you can see celebrities or even visit one of the many bars or clubs in town.

Houston. Houston, the city of big dreams and bigger personalities. It's no wonder that this Texas metropolis has become a hub for bachelorette parties and other celebrations. From the vibrant nightlife of Midtown to the upscale shopping of River Oaks, there's no shortage of great places to go. We're here to help you plan your party with our chauffeur service that can get you anywhere you need to go in style.

Nashville. Nashville is a city that never sleeps. There are plenty of bars and clubs to party at, and you will never have to worry about finding a place to eat. Nashville has some of the best food in the country, and it's also home to world-famous music venues like The Grand Ole Opry and Ryman Auditorium. You can enjoy all these things while partying with your girls.

Miami. Miami is known for its warm weather, beautiful beaches, and a nightlife that never sleeps. Whether you're looking to hit up one of the many clubs in South Beach or take in a concert at the American Airlines Arena, Miami has something for everyone! From the Hard Rock Cafe to the Fontainebleau Hotel and Casino, there are tons of places to visit while you're in town. Whether you're going on a bachelorette party or just want to get away with your friends for a weekend, we can help make your trip unforgettable.

Las Vegas. Whether you want to get up close and personal with the city's best party-goers, or just enjoy the luxury of staying at one of the poshest hotels in town, there's something for everyone in Sin City. For those who want to have fun while they're at it, try out these activities: The Strip: It's hard to beat the strip when it comes to entertainment options. You could spend a week here and still not see everything there is to see. From clubs and bars to shows and attractions, this is where it's at if you want to let loose. There are tons of places where you can rent a limo so that you don't have to worry about driving yourself around town. Plus, it will make it easier for the bride to keep track of everyone else. Gambling: The casinos have everything from slot machines all the way up through high-stakes tables where millionaires play poker every night.

New York City. New York City is a great place for bachelorette parties. In fact, it's one of the most popular destinations for bachelorette parties in the country. There are tons of things to do here: you can go shopping on Fifth Avenue or visit the Empire State Building. You can also take a trip to Times Square or Brooklyn Bridge Park.

Orlando.Orlando has it all: theme parks, museums, shopping, nightlife and more. There are many things that make Orlando a great bachelorette party destination. There are many theme parks in and around Orlando including Walt Disney World Resort, Universal Studios Florida and SeaWorld Orlando. These parks offer tons of activities for both young and old alike so everyone will be able to have a good time at the park no matter what their age or interests may be. In addition to the theme parks there are also plenty of other activities that can be done while visiting such as visiting museums or going shopping at some of the many outlet stores nearby.

Austin. Whether you want to spend the day at Zilker Park or go bar hopping around 6th Street this is the place for you. At night there are plenty of clubs where you can dance all night long with your friends or even meet some new ones. If you're feeling hungry then check out some great restaurants like Franklin's BBQ or Uchiko which is one of our favorites.

Scottsdale. There are several different hotels in Scottsdale that will accommodate large groups of people. Some of these hotels include the Fairmont Scottsdale Princess, which has a pool and spa area, or the Marriott Camelback Inn Resort & Spa which has two pools and several restaurants on-site The best part about Scottsdale is that it's only a short drive from Phoenix where you can find some great things to do during your bachelor party weekend. One example of this would be going to see a show at Talking Stick Resort Arena.
Frequently Asked Question About Bachelorette Parties
What Is a Bachelorette Party?
The bachelorette party is a pre-wedding tradition that has its roots in ancient Sparta. Historically, groups would gather to honor the groom-to-be before his wedding, and over the years this practice was adopted by women who were planning to marry their own husbands. The tradition of celebrating a bride's last days of singledom before she marries officially started in Europe and spread across the globe. It solidified as a practice when women started hosting parties for their friends and family members months in advance of their impending nuptials. Today, these events are more than just gatherings; they're an opportunity for brides-to-be to celebrate with their closest friends before they transition into married life.
Who Pays for a Bachelorette Party?
While there are many different ways to pay for the bachelorette party, the most common way is to have everyone chip in. This means that the bride pays for her hotel and transportation, and then she shares her expenses evenly with every attendee at the party. It's customary for bridesmaids and close friends of the bride to contribute as well. The rest of the guests will be expected to pay their own way. If you're planning this type of bachelorette party, make sure that everyone understands what they're responsible for before they arrive at your location.
Who Plans The Bachelorette Party?
The bride will be involved, but the main responsibility is on the maid of honor. She's responsible for creating the adventure—whether that means planning the ultimate surprise or coordinating with your wedding party ahead of time to make sure the trip will be what you like. You should communicate with your wedding party so they know what kind of activities you want to do and where you want to go.
How To Plan a Bachelorette Party?
Planning a bachelorette party is an exciting and fun way to celebrate your friend's last days of being single. But it can also be stressful, especially if you don't know where to begin. Below are some tips for planning a bachelorette party that will leave everyone feeling like they had the best time ever.
1. Determine the Guest List: The first thing you need to do when planning a bachelorette party is decide who will be invited. This should include only those people who are close friends or family members. You may want to consider inviting any bridesmaids or groomsmen as well, especially if they've been supportive during the wedding planning process.

2. Pick a Location: Next, pick a location for the event itself—one that is fun and entertaining. A night club would be ideal because there will be plenty of food and drink options available as well as music playing throughout most of the night so everyone can dance (or just sit back and watch).

3. Figure out the date: This can be trickier than it sounds—if you're hosting it at your house, you need to make sure all your guests can make it on that date; if someone else is hosting, they may need to coordinate with another party on the same day; and if it's a destination event, there may be a limited number of flights available on that day.

4. Book Hotels: Once you've figured out the date, it's time to book your lodging. Booking early is key here—especially if there aren't many options in your town or city. The last thing anyone wants is for everyone's rooms not being ready when they get there.

5. Book Transportation: If you're having the party at a location that isn't easy to get to (like an amusement park), then book transportation ahead of time so everyone can get where they need to go safely and on time. You can even hire limo services so no one has to worry about how they're going to get home after they've had too much champagne.

6. Arrange Group Dinners: Planning group meals is an important part of any bachelorette party because it gives everyone an opportunity to gather together over delicious food and talk about how excited they are for their friend's wedding day.
What Happens at a Bachelorette Party?
The bachelorette party can be as wild or relaxed as you want it to be, depending on what kind of bride you are. Many times, they'll celebrate at a bar or club with dancing and drinks, but there are other ideas that could be even more fun. You could go see a concert together, try out new restaurants in town, visit an amusement park or theme park, or even do something new like wine tasting or spa day. There are no rules for what happens at a bachelorette party—you get to decide.
When to Have a Bachelorette Party?
The best time for a bachelorette party will vary depending on what kind of party you want. If you're looking for something low-key, like a girls' night out with your bridesmaids or even just a weekend at home, then chances are that any time between one and two months from the wedding date will work. But if you want something more elaborate—like a weekend in Vegas—you may want to consider at least 3 to 5 months in advance. Shooting for a date that's further out will give you more time to plan and save some money for the wedding in between.
What to Do for a Bachelorette Party?
The bachelorette party is all about the bride-to-be, so you have to make sure that it's just as fun as the bachelor party. Here's how to make sure that happens: Go out dancing at clubs or bars. There are plenty of places in your city where you can go dancing. Try out a wine tour—you'll get to taste some delicious wines while exploring different regions. Or, book a dinner at an upscale restaurant. You'll want to pay attention to the dress code, though; some places require formal attire if you want to dine there! You could also try booking a spa day—this is especially fun if you're going away for your bachelorette party. Finally, rent out a house on AirBNB so everyone can stay together for once.
What to Bring to a Bachelorette Party?
There's a lot to think about when it comes to planning a bachelorette party. The most important thing is that you have a good time, but there are other considerations as well. What kind of gift should you bring? Should you even bring one at all? And if so, what should it be? The answer is: yes. A gift is something that you can give as a token of appreciation for all the love and support she has shown you through the years. It doesn't have to be anything big or expensive—it just needs to be meaningful enough for her to remember it forever. When choosing a gift, consider its sentimental value (if any). It could be something from your childhood or from a trip the two of you took together many years ago; maybe it's an item that reminds her of an embarrassing moment or something she loves dearly like her favorite movie star or designer brand. Make sure you choose something personal and meaningful because this will make it stand out among all the other gifts she receives at her bachelorette party.