Convention Transportation & Bus Rentals
Price4Limo is the largest provider of professional convention shuttles across America. They have been in business for over 15 years and have a fleet of over 300 vehicles. Their customer service team is available 24/7 to help you choose the right type of vehicle for your group, including buses, vans and motor coaches. Price4Limo offers a wide variety of vehicles including:
Bus sizes from 14 to 45 passengers
Van options that can seat up to 15 passengers or up to 20 passengers comfortably
Motor coach options that can carry up to 56 passengers
Why do conference organizers love Price4Limo?
Price4Limo is the best place to find a bus rental for your conference, because we have a large fleet of buses available in all of the major cities throughout North America. Our customer service will help you find the right bus for your needs, and our prices are always competitively low. With thousands of bus rental reviews from past customers, you can trust that we'll take care of you from start to finish during your trip!
Which vehicle is right for my group?
There are many vehicles available to you for your next event. In the following sections I will cover each of these options, as well as some things to consider when choosing the right vehicle for your group. Customer service: The first thing that comes to mind when considering transportation is customer service. This includes how easy it is to get in contact with a representative and any confirmation or reservation forms that need to be filled out before departure. Capacity: Next, consider how many people need transportation in your group? Will everyone be traveling together? If so, what size vehicle do they require? Is there enough room left over after everyone has boarded for wheelchairs or strollers? Or maybe only half of your group needs transportation while another half walks to their destination; if this is the case then a smaller shuttle bus may be more appropriate than an oversized party bus. Style: What style would work best for this particular event – elegant & classic or fun & trendy? Would you prefer something sleek & modern or traditional & classic? These questions can help narrow down which type of vehicle will best suit your needs by allowing you see which styles fit into those categories better than others do (e.g., black cars vs white vans). Type: Is there anything else specific about this trip that could affect what type of transportation would be most suitable (e..g., long distance drives vs short distances)?
Keep Your Conference Moving
Whether you're looking to get your group to the airport, hotel, conference or restaurant, you'll be happy to know that bus transportation is an effective and affordable option. This can be especially helpful when traveling with a large group of people. When you're traveling to a conference or event, you want to make sure that the experience is as smooth and stress-free as possible. That's why we're here! We offer charter bus rentals and mini bus rentals for any occasion, and we know how to make sure your trip goes off without a hitch. Our charter bus rentals are perfect for groups of between 20 and 50 people who want a more luxurious travel experience. The buses are equipped with comfortable seats, Wi-Fi, climate control, and even TVs. Our mini buses have similar amenities—they just have fewer seats so they can accommodate smaller groups (10–15 people). Whether you need to transport employees to an office park or clients around town at rush hour, we've got your back! We also offer charter bus rentals for weddings and other special events. With our services, there's no reason not to take the hassle out of transportation logistics before your event starts—so your attendees can focus on
Conferences, Company Parties, Meetings, Team-Building Events, and More
We can get you where you need to go, whether it's for a convention or an offsite team-building event. Our bus rentals are perfect for both small and large groups who want to travel together in style.Our staff of experts will help you find the perfect vehicle for your group based on price, location, and number of passengers! Bus Rental Services include:
Air conditioned buses with Wi-Fi
Charter buses
Shuttle buses
Motor coaches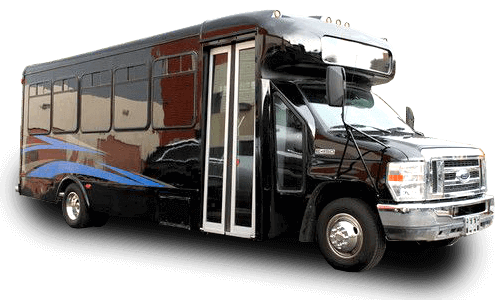 Business Travel Throughout The US
Businesses can reduce their overall costs by renting buses when they need transportation for large groups of people or special events like conventions or conferences. A bus rental company offers more flexibility than chartering an entire bus from one company because you can choose whatever size vehicle suits your needs best: from an 11-person van up through an 80-person motor coach! This means you can get exactly what it takes to transport everyone safely without having to pay extra money just because there aren't enough seats available on other vehicles nearby - which usually means paying more per person than if they were riding in something larger instead (like maybe a school bus).
Relax on the Ride Over
When you're traveling to a convention, there are a few things that can make your ride over more enjoyable. The first thing is to plan ahead. Try booking your tickets in advance so you don't have to deal with long waits at the station or trying to get seats together for everyone. If possible, get them online instead of buying them in person; this way if anything happens between the time you book it and when it's time for departure (like losing your wallet), then no one else will be affected by those issues either! Another thing people forget about is planning activities during their trip over there - especially if they're going alone or only have one friend coming with them; this helps pass time while also making sure everyone has something fun planned out as well as something productive!
Price4Limo is trusted by companies big and small
Price4Limo is trusted by companies big and small to get the job done, so you can trust it in your own search for bus rentals. Price4Limo is the largest marketplace for charter buses in the United States, with thousands of vehicles available nationwide at any given time to meet your needs. We offer a variety of options when it comes to transportation services including:
National, regional and local charter buses
School buses
Motorcoaches
Shuttle services for conferences and conventions
Convenient and cost-effective, our shuttle services for conventions and conferences are the perfect way to travel between hotels, convention centers and other event venues. We offer a fleet of vehicles ranging from buses to vans with comfortable seating for groups of up to 50 people. They will also help with any transportation needs you may have such as shuttles to nearby airports or attractions like the Hoover Dam or Grand Canyon Skywalk. Convention Transportation Services:
Shuttle Bus Rentals - In addition to providing quality bus rentals, we also offer an extensive selection of motor coaches that are perfect for conventions or large gatherings! These vehicles feature comfortable seating configurations that allow passengers plenty of room while still maintaining an intimate setting so they can interact easily with one another during their trip together. If you're traveling with multiple people who prefer privacy during transit then consider renting one of these units instead since each seat has its own armrests and cup holders so no two adjacent chairs will ever touch unless they want them too!
Getting Started
Getting started with Convention Transportation & Bus Rentals is simple. Just follow these easy steps to get the process started: Get a quote - Whether you need to rent a bus for your group's next event or simply want to learn more about our services, start by filling out this form. We will respond quickly with information on our pricing and other options so that you can make an informed decision. Book a reservation - Once we've worked together to determine what kind of vehicle will best suit your needs, the final step is booking online or over the phone. In order for us to ensure there are no last-minute changes in travel plans, we do require payment at least 24 hours before departure time unless otherwise agreed upon prior. Contact customer service at any time - If there are any questions about making changes or canceling reservations after they have been made, please contact one of our customer service representatives through email or phone.
Our Pricing and Rates Explained
Price4Limo has a variety of bus rentals to fit any size group. We pride ourselves on being an accessible and affordable travel option for all types of groups, whether you're traveling with a small team or an entire school or organization.