Get a Party Bus Rental for Your Birthday
You know how it goes. You've been celebrating your big day for years, and every year it's the same old song and dance. But this year, we're thinking that maybe you want to do something new—something that shows your friends how special your birthday is. Why not stretch a birthday party limo or rent a luxurious party bus to take you and your closest friends out on the town? With our birthday party limos and party buses, we can help make sure you have an unforgettable night that will make everyone remember how great it is to be with YOU.
There is never a dull moment on one of our vehicles. Some of the amenities we offer for birthday rentals are private bars, club lighting, privacy panels, Wi-Fi, and audio and video systems. We have made it our mission to provide the best, and most luxurious party buses and limos available to you at an affordable price. For birthdays, we offer party packages and discounts such as reduced pricing and free hours for extended rentals.
Choose from the largest selection of stretch limousines, SUV limos, and Party Buses in the entire country. Whether you need transportation for 10 people or 100 people, our vehicles can accommodate them all comfortably. We have several different packages available depending on how long you need us for—from hourly rentals to full-day packages—and we'll work with you to find the perfect option for your needs. Book your birthday bash today by filling out the form above and selecting the right vehicle for your celebration.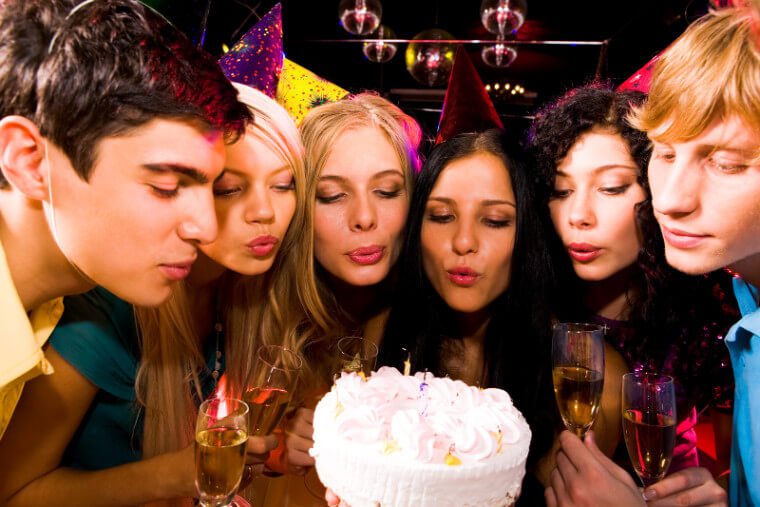 ---
Check out the birthday party bus rental models we offer in your area. Our party buses and limos
Price4Limo is a nationwide limousine and bus booking company with over 5,000 affiliates and 12,000 vehicles to choose from. We've been in business for over 10 years, and our experience has made us into an industry leader. We can't wait to plan your birthday transportation. We know that planning a birthday party can be stressful—there are so many details to keep track of. That's why we want to take care of everything for you: from booking your transportation to making sure everything runs smoothly on the day of.
We've worked hard to become the largest limousine booking service online, because we believe that everyone should be able to have the best ride possible on their special day. Our affiliate network has grown significantly over the last decade, allowing us to provide more options than ever before—including party buses and other specialty vehicles that are perfect for birthdays.
When you use our site, you'll find it easy to search for exactly what you want. You can search by whether or not the vehicle has a bar, or if it's a limo or SUV. You can also search by price range, number of passengers, and even the type of music they play. Once you've found your perfect match, you'll be presented pictures and prices of all vehicles in your area. That way, you can easily compare them side-by-side before making a decision. And then, if everything checks out and your heart is set on one of them, just call 866-265-5479 and speak with our customer support team to set up your reservation.
Birthday Party Bus Packages
Check out the birthday party bus rental models we offer in your area. Our party buses and limos come with different amenities. You can book one as per your requirement. There are ordinary coaches on hire as well. Let us know your requirements and we can help you find the right ride for hire.
Have a large group looking to celebrate with you? Don't worry, our vehicles can hold up to 50 people so you won't have to leave anyone behind! No matter what kind of requirement you have, we have different buses or coaches to fit your needs.
To get prices for a birthday package, fill out the search at the top of the page or click the button below. Looking for additional services? We offer limos for kids parties, funerals, and airport transfers.
The Luxury And Fun You Deserve
When you rent Price4Limo, you know you're getting the luxury and fun you deserve. We take care of all the details so that you can sit back, relax, and enjoy the ride. We've got an amazing selection of vehicles to choose from—from classic cars to SUVs to party buses—and our rates are affordable. Whether you're celebrating a special day with friends or just want to impress them with your choice of transportation, we've got what it takes to make your day memorable. So go ahead: rent from us if you want the luxury and fun that only comes from riding around in style with friends who appreciate the finer things in life.
Thanks to our partnership with Affirm, it's more affordable than ever. You can opt for a low or no interest monthly payment plan to reserve your vehicle. Don't wait another minute—make your birthday unforgettable.
The Nation's Premier Fleet Awaits You
Hummer limousines. Spend your birthday on a Hummer limo, the perfect way to celebrate the big day. Space for up to 20 passengers means you can take the whole family and all of your friends! It's the ultimate in luxury and comfort, with all the trimmings: leather seats, flat-screen TVs and DVD players, an ice bar, and more.

Bentley limousines. Hire a Bentley limo—the same car that royalty and movie stars have used for generations. Space for up to 10 passengers, the Bentley limo is the ultimate party car.

Rolls Royce Stretch Limousines. Imagine spending your birthday on a Rolls Royce Stretch limo. The kind that can fit 10 people, with a bar, TVs, and all the bells and whistles. Imagine it's your birthday and you're in the car, sipping champagne and feeling like royalty.

Escalade Limousines. Whether you're celebrating your birthday in style or in the company of close friends and family, our Escalade Limousines are the perfect choice for your next celebration. With 18 seats, you're sure to have plenty of room to spread out and enjoy a night on the town.

Chrysler 300 Limos. The Chrysler 300 is a classic, and we've got it available for you to rent on your special day. You can be sure that 12 of your friends and family will be comfortable riding in this spacious limousine, with enough room for everyone to stretch out and enjoy the ride.

Jeep Limos. Spend your birthday on a Jeep Limo rental and get the most out of your special day. With 14 people in our limo and plenty of room for gifts, food, and drinks, it's sure to be one for the books.

Minibuses. Whether you're looking to transport a group of 20-30 people or just want to have a great time with your friends, we've got you covered. Our Minibus rental will take you to an event or party in style.

Party Buses. Come celebrate in style by renting out our fleet of party buses. We've got options for any size group, from 10 people up to 50. You'll have all the amenities and comfort.

Charter Buses. Perfect for taking you and 50+ people to the restaurant of your choice, the theater, or even the beach. No matter where your birthday takes you, the charter bus can take you there.

Sprinter Buses. Sprinter buses are the absolute best way to celebrate your birthday, and we have the perfect bus to fit your needs. Our party-style interior can accommodate up to 15 people or you can choose an executive sprinter for 15 people in luxury private seating.

Shuttle Buses. With Price4Limo, you can book a 20-40 person shuttle bus that offers no frills options and cheap transportation to accommodate your needs and budget. This means that you're planning a large outing traveling out of the city.

School Buses. There is no other way to celebrate this milestone than by riding around in style in one of our classic school buses. With seating for up to 60 passengers.
Types of Birthday Party Bus Packages
Adult Parties. Adults are often looking for more sophisticated forms of entertainment as they get older, so they may not be interested in typical kid-oriented entertainment options. However, renting a party bus can really make the difference between an okay birthday and one that people remember for years to come. The best part is that you don't have to spend all day planning and organizing things yourself—you can just sit back and relax while someone else takes care of everything for you.

Kids Parties. We offer kids party bus packages that are designed to make your child's birthday party exciting and fun for all. We know how important it is to you that your child's birthday celebration goes off without a hitch—so we've made sure that our kids party buses are equipped with everything you need for a successful event. Whether it's just the two of you or several dozen guests attending the party.

Quinceaneras. For those of you who are looking for a luxurious and memorable way to celebrate your Quince, a birthday party bus is the perfect solution. Not only does it provide luxurious transportation for you and your guests, but it also allows you to enjoy the ride in style. Our company can help you plan out the details of your party bus rental so that it fits all of your needs.

Sweet Sixteens. Sweet Sixteen parties are all about celebrating your life. It's a time of great joy and excitement, and it's important to make sure you have the right way you celebrate. A sweet sixteen party bus is the best way to do so. It's an exciting year for a teenage girl, and she'll want to make sure that everyone has an amazing time at her party. The best way to do this is with a sweet sixteen party bus from Price4Limo.

18th Birthday. It's your 18th birthday, and you're ready to celebrate like you've never celebrated before. You want this day to be one you'll never forget: an exciting, incredible, one-of-a-kind experience that marks your transformation into adulthood. We can help you with that. Price4Limo has several packages that will make your 18th birthday a trip you'll never forget. Whether you're looking for a group getaway or a more intimate experience with friends and family, we've got options for every kind of group.

21st Birthday. Now that you're 21, chances are you're going to want to hit some bars. And as much as we can't wait to drink with you, we want to make sure you don't have to drive home afterward. So guess what? You can rent a party bus for your 21st birthday. What's more, the price is pretty reasonable.

30th Birthday. The 30th birthday is a milestone in anyone's life—it marks the end of your 20s, and the beginning of your 30s. It's a chance to say goodbye to your 20s and welcome in something new. At Price4Limo, we know that every birthday deserves a celebration worthy of its significance. That's why we offer a variety of birthday party bus packages designed to suit any type of party you'd like to throw.

40th Birthday. Break into your middle age in style with a stretch limousine. Whether you're looking to spend some time away from the kids, or just feel like living it up for a night, a stretch limousine is the way to go. Price4Limo has you covered with our top-of-the-line vehicles, including one of the largest fleets of limos in the country.

50th Birthday. There are lots of ways to celebrate turning 50. You could go on a big family vacation, or you could host a gathering at your house with all your friends. The choice is yours, but if you're looking for something more unique, then a 50th birthday party bus package might be the perfect fit. With Price4Limo, you'll get access to beautifully-appointed buses.

Surprise Parties. For your next surprise party, leave the planning to Price4Limo. We'll put together an amazing party bus package with all of your favorite amenities and more, including: Whether you're looking for a night out on the town or a day at the spa, our team can help you plan it all. With years of experience in the industry, we know how to make any event memorable and stress-free for you—so that you can spend more time enjoying yourself.
Hourly Rates For Birthday Transportation Packages
| Type of Vehicle | Max Capacity | Minimums* | Starting Hourly Rate* |
| --- | --- | --- | --- |
| Executive Sedan | 3 Passenger | 2 Hours* | $ 80 per hour* |
| Executive SUV | 6 Passenger | 2 Hours* | $ 95 per hour* |
| Black Car Sedan | 3 Passenger | 2 Hours* | $ 120 per hour* |
| Luxury SUV | 6 Passenger | 3 Hours* | $ 100 per hour* |
| Stretch Limousine | 20 Passenger | 3 Hours* | $ 125 per hour* |
| Mercedes Sprinter Passenger Van | 15 Passenger | 3 Hours* | $ 140 per hour* |
| Mercedes Sprinter Party Bus Limo | 14 Passenger | 3 Hours* | $ 175 per hour* |
| Mercedes Sprinter Executive Van | 12 Passenger | 3 Hours* | $ 160 per hour* |
| Hummer Limousine | 18 Passenger | 3 Hours* | $ 230 per hour* |
| Cadillac Escalade Stretch Limousine | 18 Passenger | 3 Hours* | $ 230 per hour* |
| Party Bus | 50 Passenger | 3 Hours* | $ 260 per hour* |
| Charter Bus | 56 Passenger | 3 Hours* | $ 185 per hour* |
*All prices and minimums listed above are estimated averages and will vary greatly. Your location, date of service, and vehicle choice will determine the rate you pay. To get pricing that's customized for your trip, please call 866-265-5479.
Frequently Asked Question About Birthday Party Transportation
How Much Is a Birthday Party Bus Rental?
It depends on several things: the date of your event, the size of your group, and how long you'll need the vehicle for. A basic birthday party bus rental starts around $150-250 per hour. That's for a small vehicle with about 20 seats. If you need something bigger, say a 50-seater, then expect to pay between $200 and $300 per hour.
How to Plan a Birthday Party?
Choose a date. A good rule of thumb is to plan the party at least 4 weeks in advance. This will give you enough time to plan and organize every detail so that nothing goes wrong on the big day. Some people prefer to have their parties on weekends, while others prefer weekdays. Whatever works best for your budget.

Select a time. If possible, try not to host the party too late in the evening—after 9pm tends to be too late for most people's tastes. If it's a child who's turning one year old, keep in mind that they may get tired around this time anyway (they're still babies after all). You'll also want to avoid hosting during peak traffic hours—like rush hour or during major holidays like Thanksgiving or Christmas—so that guests can get home safely after having fun with family and friends.

Decide on a budget. This will help you determine how much you can afford to spend on your party, and also help you decide what activities you can include in the program.

Create a guest list. Think about who you want to invite, and how many people will be attending. If you're planning a big event like this, it's important to get accurate numbers so that you're not left disappointed when no one shows up.

Consider where to have the party. Whether it's a pool party or dinner at a fancy restaurant, you'll have to choose an appropriate venue for your birthday guests. When choosing your location, think about whether you want an indoor or outdoor setting and if there will be enough space for all of your guests.

Book your transportation from Price4Limo. We have availability every day of the year and will get you there in no time, no matter where your party is taking place.
Where to Have a Birthday Party?
Celebrating another trip around the sun is done in so many ways. You could go to an escape room, a restaurant, a bar or cocktail lounge, a spa, a wine tour, watch a sports game, sing karaoke at a bar, or go on a brewery tour. You could also rent out some party buses or limos from us. We have tons of different options to choose from and they'll help you pick out what's best for your group. You can ride in a luxurious vehicle on the way to your party or just celebrate in the vehicle. It's up to you.
How to Plan a Surprise Birthday Party?
Planning a surprise birthday party can be a daunting task, but if you follow these tips, you'll be able to pull it off. The first thing you want to do is pick the correct day. You don't want to plan a surprise on the same day as any other event that your friend has planned—or even worse, something that they're planning themselves.The next step is to sneak people into wherever it is that you'll be having your party. Then comes transportation—imagine their surprise when they see a limousine pull up with laser lights and music playing—it would be so fun.