Concert & Sporting Event Limo Service
If you're a sports lover or a music enthusiast, there's no better way to celebrate than by heading out to the stadium and cheering on your favorite team or singer. Getting there, however, can be a hassle—especially if you're traveling in a large group. But now there's a solution. Price4Limo makes it simple for you to rent a bus or limousine so that you can transport yourself and your friends (or clients) right to the stadium of choice. Whether you're headed to a football game or an upcoming concert, we've got thousands of vehicles in our fleet ready to charter your group. We know how passionate you are about your favorite teams and artists. That's why at Price4Limo we take pride in helping you organize transportation for your group so that everyone has a great time.
You can use our online cost calculator to get an instant price quote, or call 866-265-5479 to be paired with a reservations specialist who will help plan your travel plans. We'll work with you to make sure everything goes smoothly from start to finish.
Whether you plan on having an intimate evening at a concert with your spouse or plan on bringing a busload of friends to the big game Price 4 Limo has the right party bus or limo for attending any concert or sporting event.
Impress your friends and bystanders with our amazing party bus rentals as you roll up to the stadium or concert venue. You're guaranteed to have a great time even better with our vehicles!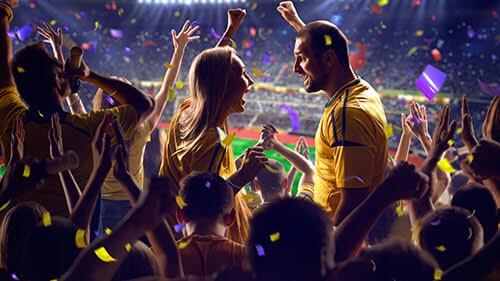 ---
Limo & Party Bus Service For Sporting Events
Limousines and party buses are the most fun way for you to enjoy your time out at the game. Tailgating is a big part of the football experience when you go to a game, and can be even bigger when you get a party bus or stretch limo. These vehicles bring the joy and excitement of the game to the parking lot! The tailgating experience is enhanced by our vehicle's surround sound speakers, club like interior, and air conditioning. Enjoy a level of comfort and luxury like no other for you ride to and from the game.
For those who don't want the party to end, celebrate your team's big win with our party buses after the game! Drive around on a night on the town and do some bar hopping, pick up your friends, do whatever you like! You get to tell the driver where you would like to go, so the choice is yours where you want to party at.
Why Concert Goers and Sports Fans Choose Price4Limo
One of the most exciting ways to experience a concert or sporting event is by riding in one of our luxury limousines or party buses. From our beautiful fleet, you can choose a vehicle that will make your trip to the concert or game as enjoyable as possible. Our vehicles are available for you to rent, so that you can enjoy the excitement and comfort of an evening out with friends. The price is right, and we offer a variety of options so that everyone in your group can have their own space without having to share a seat with someone else.
Convenience. In a world of traffic, parking, and public transportation, there's one thing that concert goers and sports fans have in common: they want to get to their event as quickly and easily as possible. Convenience is key to enjoying the event itself—you don't want to be worried about getting picked up or dropped off at the stadium for kickoff or the first note. Price4Limo knows that. That's why we take you right to the action without any of the hassle. You can hire a shuttle from us to take you to and from the venue without all the stress.
Flexible Payment Options. We know that going to a concert or game is an experience you will never forget. It's also a major expense that can be difficult to manage if it's not planned properly. That's why we're here: we offer flexible payment options so you know there's no need to stress about paying for your transportation before or after the event. We offer payment plans on all our vehicles with low to no interest, so you can buy now and pay later. Call 866-265-5479 to learn more.
Travel Anywhere. Our nationwide network means we can find you a vehicle wherever you are—whether it's at the airport or even if you're attending a conference in another city across the country. You can rest assured knowing that your car service will come right to your door with no hassle whatsoever.
Thousands Of Positive Reviews. Thousands of happy customers have chosen Price4Limo as their preferred transportation provider. For over 10 years, we've been serving the US area with reliability, affordability, and a commitment to service that has earned us our reputation as an industry leader. We're so happy to be able to offer you the same exceptional service that we've provided for thousands of others. We can't wait to serve you.
Any Group Size. We know no 2 groups are alike. You can be heading to a basketball game with 50 coworkers or a music festival with 10 of your close friends. It doesn't matter. Our fleet can handle 5-60+ passengers no problem. And we've even organized recurring shuttles for the entire event to move thousands if you need. Price4Limo is here to make your group transportation needs as easy as possible.
Select From The Largest Luxury Fleet of Vehicles
Party Bus. With a Party Bus, you can easily fit 10-50 people in one vehicle. This means that if you have a big group of people who want to get together for an event, you'll be able to do it simply and easily with a Party Bus rental from Price4Limo. Not only can you use the Party Bus as transportation for your group, but also as a place to tailgate before the game starts.
Stretch Limousine. Stretch limousines are a must. They're the perfect way to get to and from your favorite events without having to deal with the hassle of public transportation or driving yourself. And when you hire a stretch limo from Price4Limo, your party will be able to fit 6-20 people and have loads of fun on the way there and back again.
Charter Bus. A charter bus is the best way to fit a large number of people in one vehicle and get them where they need to go. And if you're looking for the most efficient way to get 56+ people from Point A to Point B, charter buses are your best bet. Hop aboard a bus charter today.
Luxury Sprinter Van. These 9-14 passenger passenger vans are a must. Rent yours in standard shuttle style or limousine style interior to fit the preferences of your group. With enough luggage space on board for all your essentials, it's easy to see why sprinters are a great option.
Mini Bus. The mini bus is an excellent choice for those who are looking to rent a vehicle that can fit a large number of passengers. The mini bus can hold 18-30 passengers, which makes it ideal for concert goers or sports fans who are interested in attending an event with a large group.
Executive Coach Bus. A luxury coach bus is the perfect vehicle for when you are taking clients to the game. An executive coach can fit up to 50 passengers, with seats are all leather and equipped with the amenities of a luxury vehicle: Wi-Fi, Bluetooth connectivity, and even an onboard restroom.
Full-sized School Bus. This vehicle can fit 60 passengers comfortably, making it the inexpensive option for large groups looking for safe transportation to their destination. The bus does not come with many amenities but comes with a nice price tag and will get you where you need to go on time.
Hummer limousine. With its classic limousine look, this vehicle will make for an unforgettable trip to the game or concert. With space for up to 20 people, it's perfect for when you want to bring along all of your closest friends for some fun on the road.
Limousine And Bus Rentals For Any Sporting Event
Soccer Matches. Soccer games are one of the most popular sports in the world. Millions of people around the globe are soccer fans and if you are one of them then you know that there is nothing more exciting than watching your favorite team play against another team. The best way to enjoy watching a soccer game is by being there in person. But how will you get to the arena? If you are having problems finding ways to get to the game, then consider using limousine services which will make everything easier for you in just minutes. All you need to do is contact us today and tell us what type of service we should provide for your needs.
Football Games. Football season is here. And when you're going to a game, you'll need transportation to get you there. We've been providing limousine and bus rentals, so we know what it takes to make sure your trip is as easy as possible. You'll arrive by kickoff with plenty of time to spare. We'll handle all of the details and save you money in the process, so hand off your transportation plans to us—you'll be glad you did.
Rugby. Facing off against a rival team, the best rugby players in the world make the most of the sport's speed and agility to score points by throwing or kicking the ball through a goal post. Whether you're looking to watch a game or play in one yourself, our limousine and bus rentals are sure to get you there on time and in style. Our services are available at any time of day or night, so whether it's a morning game or an evening match, we can help you get there.
Basketball. Tip off with the best and choose Price4Limo to get to your next basketball game. We'll help you determine the type of vehicle that will best suit your needs (limousines? buses? both?), and then we'll provide prompt, professional service from our drivers during pickup through drop-off.
Hockey. Let us take care of all your transportation needs for hockey games. We offer luxury coaches, limousines, and buses to get you to the face off. We're committed to providing our clients with top-quality service at an affordable rate—and we'll always give you a fair price upfront so there are no surprises when it comes time for payment, just easy travel to support your team.
Baseball. When you rent with Price4Limo, we'll take you to the first pitch. We know how much it means to have transportation on the way to your next baseball game, and we understand that it can be hard to find a company that will pick you up from home and take you to the first pitch at the same time. That's why we're here for you—to make your life as easy as possible.
Races. Price4Limo is your source for transportation to the track to catch your favorite driver at Nascar Races, the Indy 500, the Daytona 500, the Pepsi 400, Formula 1 races and more. We provide a wide range of vehicles to suit any budget or taste, including luxury cars and SUVs.
Away Games. Playing away games is a great way to bond with your team and show off your skills. But when you're away from home, it can be hard to get everyone to the game. Our team at Price4Limo has been helping teams across the country with their transportation needs for years. Whether you're going cross-town or cross-country, we've got you covered. We'll charter a bus for you, and make sure it's equipped with luggage space for your belongings. So what are you waiting for? Contact us today to get started.
Stadium Tailgates. Tailgate buses are the perfect way to get your party started. You no longer have to worry about finding a parking spot or giving rides to your fellow fans. The bus will pick up your group at one location and drop you off at another, with plenty of time for drinks along the way. With our convenient online booking system, it's never been easier to book your tailgate party bus with us. Just enter your information in our online quote tool, and one of our friendly customer service representatives will get back to you shortly with more information about how we can help make your next trip unforgettable.
Shuttle Service For Any Music Performance
Music Festivals. We know that you can't wait to catch the lineup of your favorite music festival, and we want you to be able to hit the stage with confidence. We offer shuttle service for any music performance—from small venues to large-scale festivals—so that you can travel in style, comfort, and class. We're here for you before, during, and after your show.
Live shows. Live shows are always a fun time to catch your favorite artist live at their sold out venue, but getting there isn't always so easy. If you're planning on going to a live show and want to make sure you get there on time, choose Price4Limo for your transportation needs. We can arrange a transfer for you—no matter how large or small your group is—and make sure that you arrive at the venue.
Symphony/Orchestras. Going to a symphony orchestra isn't just a night out—it's an experience. You want to be able to kick back and relax, enjoying your favorite classical pieces with the full attention they deserve. We've got your back with our top-notch shuttle service for any live shows. Whether it's a symphony orchestra or another performance, we'll set up a plan that will cover your travel needs so you can kick back and relax, knowing that we're taking care of it all.
Band Tours. You're a big star, and you want to travel the country. You've got fans in every state, and you want to see them all. But what about the logistics of getting from point A to point B? How are you going to get there? It's not easy. You can't just hop on a plane or take a train. You need something bigger and more spacious than that. You need a bus. Here at Price4Limo, we're proud to offer our customers our vast fleet of buses for any and all band tours. We have buses available for rent in every size and style imaginable—from full-on luxury buses with hot tubs and wet bars, to standard passenger buses with just enough room for your bandmates and instruments. With us, there's no reason why your tour should be anything but the best it can possibly be.
Club Performances. Club performances are where it's at. If there's a night or day club that your favorite DJ is playing at, you know you want to be there. We've got the perfect solution for any club performance: our custom-made limousines are the perfect way to get you where you need to go in style and comfort. So if it's time for your favorite DJ to bring their show on the road, book with us today.
How to Book a Bus Rental
Craft An Itinerary. Before you start booking your bus, you'll want to think about what you're going to do on your trip. First, think about the total number of people in your group and how many vehicles you'll need. Then, decide what kind of activities you want to do along the way—is it going to be a fun road trip where everyone can hang out together in the back of the bus? Or would it be better to have some space for privacy? You should also take into account any special requests your guests may have. If you're not sure what kind of itinerary would work best for your group, Price4Limo can help. We offer custom itineraries that are tailored specifically for your needs and preferences. Just let us know what kind of experience you're looking for, and we'll make sure we find just the right one for everyone.

Gather A Headcount. This includes the number of passengers, as well as their ages and any special needs they may have. If you have any questions about what to include in your headcount, check out our pricing page for more information on how to calculate this number.

Select Your Luxury Vehicle. From stretch limousines to mini-buses and even party buses, we have the perfect vehicle for every occasion. Our fleet is constantly growing, so if you don't see what you're looking for on our website, please don't hesitate to contact us directly.

Book Your Date. Once you've found the perfect fit for your group, simply click "Book Now." You'll be asked to enter in your payment information and then we'll send you an email confirmation containing details about your booking. That's it. You're done.

Enjoy The Experience. You got your ride reserved. Now, just relax and enjoy the show or game.
Frequently Asked Questions About Concerts
What is a concert?
A concert is a musical performance that is given in public and typically by several performers, in front of an audience. Concerts are usually held on a stage, and they can range from small events with only a few performers to large events involving many musicians.
What To Wear To A Concert?
Wear what you're comfortable in. Festivals and concerts are usually held outdoors, so you'll want to make sure you have clothes that are appropriate for the weather. If it's warm out, try wearing something loose and breezy; if it's cold out, bring a jacket or sweater with you. You should also wear comfortable shoes—you'll be doing a lot of walking in some cases to get from stage to stage.
How Long Is A Concert?
The length of a concert will vary widely, depending on the performance. Some concerts last for as little as 90 minutes; others can take two or even three hours. Some festivals like Ultra Music Festival are spread out over multiple days.
How Do I Get To The Concert Venue?
Easy, call Price4Limo. We can schedule you for a ride to pick up and drop off at any of your favorite concert venues, or provide hourly service if that's what your needs require.
What Music Festival Do You Go To?
We provide transportation to a variety of festivals throughout the year—including some of the most popular ones in the US, like Coachella and Austin City Limits Music Festival. If you don't see one that works for you, let us know and we'll see what we can do.
Frequently Asked Questions About Sporting Events
What is a sporting event?
A sporting event is a competition between two or more teams or individuals. It usually lasts for a few hours and is organized by an organization, usually a professional or semi-professional one.
How Long Is A Sports Game?
The length of a game varies by sport. Football games tend to be around 3 hours, and baseball games are about the same. Basketball games are typically about 2 hours, and hockey games are usually between 2 and 3 hours. Soccer games tend to last about 2 hours.
How Do I Get To The Sports Stadium?
The best way to get to the stadium is by renting a bus from Price4Limo. We have buses for all occasions, from small groups to large parties. Having a bus means you don't have to worry about parking or finding your way around town—we'll make sure that you have an easy time getting there, so you can focus on what matters: enjoying yourself at the game.
What Major Sporting Events Do You Go To?
We provide transportation to all major sporting events, including the Super Bowl, The Masters, US Open Tennis, Kentucky Derby, Indianapolis 500, World Series, and NBA Finals. If you're looking for a ride to any of these events or any other sporting event that's not listed here, just ask us. We'll do our best to accommodate your request.