Why Choose Price4Limo?
When you choose Price4Limo, you can rest assured that we are a reliable and trusted company. We have a great track record of providing our customers with excellent service. With years of experience in the transportation industry, we know how to meet your needs. We are flexible and will work with you to provide the best experience possible no matter what your event may be. If price is something that concerns you, then don't worry because Price4Limo has competitive rates that won't break your bank! Whether it's one vehicle or multiple vehicles needed for your special occasion, we have it covered at an affordable price. Our fleet consists of sedans, SUVs & shuttles; limousines; vans; buses as well as luxury coaches (for larger groups).
Book Shuttle Bus Service for Events
You're headed to an event, and you don't want to be late or miss it all together. You need convenient transportation that can get you there on time. We can help with reliable charter buses and limousines at our fingertips. We use our history of serving clients in the area as well as our extensive fleet of vehicles to provide a seamless transportation experience for your guests, employees or attendees. Whether it's organized shuttles for rallies and marches, smooth festival transportation or marathon/competition shuttle services – let us know what your needs are and we will be happy to work with you!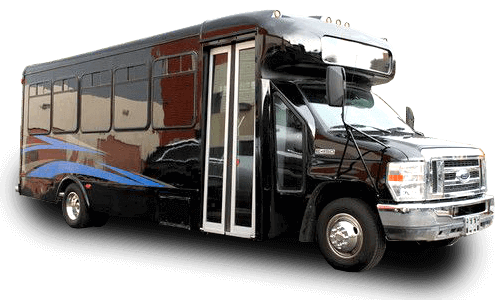 Perfect Convention Transportation
Great, that's all you need to know. Now all you have to do is contact Price4Limo and let them know where and when your event is taking place, and they'll get back to you with a competitive quote for the transportation services that best match your needs. Price4Limo provides convention transportation services throughout the United States. Whether you're hosting a small convention or large annual trade show in San Diego, Los Angeles or Chicago, we can help make sure everyone makes their way from Point A to Point B safely and on time. We offer a wide range of options for conventions including shuttles, buses and limos as well as charter bus rentals if needed by your group! If there's anything else going on at this event that might require some additional attention from us (such as food service or parking), just let us know while we're quoting out your transportation needs and we'll be happy to accommodate whatever it takes so that everything runs smoothly during travel days leading up towards big events such as these! We service:
McCormick Place – Chicago, IL
Mandalay Bay Resort & Casino – Las Vegas, NV
Sands Expo & Convention Center/The Venetian Resort – Las Vegas, NV
Orange County Convention Center – Orlando, FL
Kentucky Exposition Center – Louisville, KY
Anaheim Convention Center – Anaheim, CA
Georgia World Congress Center Authority – Atlanta, GA
New Orleans Ernest N. Morial Convention Center – New Orleans, LA
Las Vegas Convention Center – Las Vegas, NV
NRG Park – Houston, TX
Organized Shuttle Service for Marches
Organized marches and rallies are typically planned by a group of people who want to make a political or social statement. These marches usually start at one location and end at another, with participants walking along the specified route. Marching is a great way for people who feel strongly about an issue to show that they're passionate about it. It also helps spread awareness about the issue, especially if there are many people participating in the march.
Festival Transportation
Price4Limo is the best choice for festival transportation. We offer a variety of vehicles, services, and prices to meet your needs. Whether you're heading to Coachella or Lollapalooza, we can get you there and back safely and in style. They also have on-board Wi-fi for those who need it! We have several options for group travel: You can choose from one of our charter buses that seat up to 56 passengers or our luxury limousines that seat up to 15 people comfortably! Our limousine fleet includes Hummer H3s, Lincoln Navigators, Chrysler 300s & more! Festivals coming up that we can provide bus rentals for include:
Coachella
New Orleans Jazz & Heritage Festival
Garth Brooks
Bonnaroo Music & Arts Festival
Pitchfork Music Festival
Rolling Loud Festival
South By Southwest
The Governor's Ball Music Festival
Electric Daisy Carnival Las Vegas / Orlando
Summerfest
Lollapalooza
Austin City Limits Music Festival
Firefly Festival
Ultra Music Festival
Marathon and Competition Bus Rentals
Marathon and Competition Shuttle Services Price4Limo provides shuttle services for marathons, competitions and other events. We can provide shuttle services for any size event. From a large-scale marathon to a small charity golf tournament, we will help you every step of the way. Our experienced team can assist with planning your transportation needs and finding solutions that best suit your budget and timeline. These marathons are some of the bes in the US:
Los Angeles Marathon
Boston Marathon
New York City Marathon
Chicago Marathon
Honolulu Marathon
Charter Bus Rentals for Private Events
Renting a charter bus for your private event is easy with Price4Limo. We offer a wide selection of buses that can hold anywhere from 22 passengers to over 100 passengers, so you're sure to find one that fits your needs. Our charter buses are available for weddings, corporate events and other private functions. Our bus rentals are available short or long term, depending on how much time you need the bus for. For example:
A few hours (for example: just enough time to take everyone home after the party)
The day of the event (for example: if you're having an outdoor wedding and want everyone transported back to their hotels afterwards)
Several days (if you're planning a long weekend vacation with all your family members or friends).
Special Accommodations
These vehicles have a ramp or lift to accommodate wheelchairs, and are equipped with wheelchair tie downs. If your event requires ADA-accessible transportation services, please provide us with a copy of the ADA letter from your facility that includes the dimensions of their entryway (width, height and length).
Book with Price4Limo
Book your transportation with us today. We have a wide range of vehicles available, including luxury vans, limo buses and shuttle buses. Our 24/7 customer service team is here to help you with any questions or concerns you might have about booking your event transportation services. We're also happy to answer any questions about pricing options, payment methods or insurance options for your trip. If you need transportation for today or tomorrow, we can provide it!
Getting Started
Price4Limo is a reliable, affordable transportation service that has been in business for over 20 years. We are committed to providing the best service possible, and we understand how important it is to arrive at your destination safely and on time. You can trust us to transport you and your group with safety, comfort and style!
Our Pricing and Rates Explained
Our pricing and rates are transparent and competitive. We have carefully structured our rates to account for all of the factors that go into providing safe ground transportation for events including: Type of Event - The type of event will determine how many passengers are in transit, what type of vehicles are needed (e.g., buses or limos), and how much time is involved in getting from point A to point B. For example, a wedding reception could last anywhere from 4 hours to 8 hours depending on whether or not it's a cocktail hour or dinner party; whereas an awards ceremony may last just under 2 hours. Number Of Passengers - Different kinds of events have different numbers of passengers who need transportations to those venues. For example, concerts tend to attract large audiences; meaning more ground transportation needs than a trade show exhibit hall where there might only be hundreds rather than thousands attending each day during its duration.