Bachelor Party Bus & Limo Service
The bachelor party is a long-standing tradition that gives the groom-to-be a chance to have fun with his closest friends before settling down for life. It's also a way for his friends to wish him well and get him ready for marriage by having some fun and letting loose before he enters the married world. This is usually held just before the wedding, so it's important to make sure it's something that will truly be memorable—you don't want to look back on your wedding day with regret because you weren't able to enjoy yourself during your bachelor party. The only way to make sure that your night is truly memorable is by hiring a party bus rental service from Price4Limo. This type of transportation service allows groups of people to go anywhere they want in style, comfort, and class. Whether you're looking to take the group out for drinks at their favorite bar, or just explore the city while getting some fresh air—a party bus rental service can cater to whatever needs you have.
If you are looking for an amazing vehicle for your bachelor party, we can help you out! We offer premier party bus and limousine rentals across the entire US. This is your celebration for you marriage to come, so live it up! With a limo or party bus, you can party all night long, even after the bars close. We have different vehicles packed with features so we have something for everyone to enjoy!
A limo is a nightclub on wheels. From laser lights, to superb sound systems, our amenities are unrivaled, and affordable. Ongoing promotions and discounts ensure that our prices stay low, and our commitment to you makes sure our vehicles remain top notch. To see what we have available and pricing, complete a search from the form above.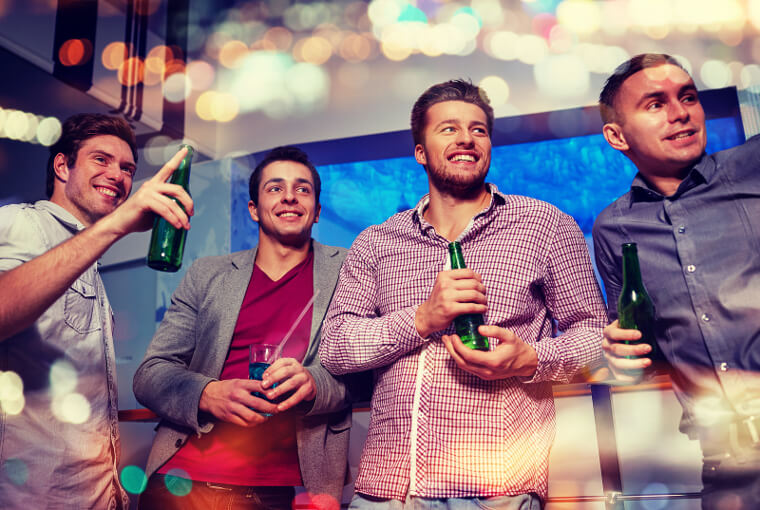 ---
Price4Limo is a leading transportation service in the United States, with hundreds of thousands of verified reviews. We've been serving happy passengers since 2010, and we're here to help you every step of the way. No matter how big or small your bachelor party is, we have a vehicle that can fit all of your needs (and maybe even more). Our vehicles are just what you need when it comes time to let loose at the club or enjoy some downtime at home with friends. We'll make sure that no matter where you go on this special night off from responsibility, we'll give you exactly what you need: an incredible ride in style. Just call us at 866-265-5479 to connect with our reservations team, who will walk you through every step of the way to get you to the best time for your event.
Don't get caught up in the planning process. You need to focus on making sure that you and your buddies have a good time, and not worrying about how you're going to get around. We're here to take the stress out of planning transportation for your party bus. Get a quote for your trip in just a few seconds with our pricing tool.
Party in Style For The Guys' Night Out
Price4Limo is ready to assist you with your transportation needs. With over 12,000 options available, we have the largest selection of luxury vehicles across the country. We've got everything you need for a great night out—from limos and buses to classic cars and party buses, and more. And whether you want to head downtown or go somewhere cross country like Nashville or New York City, we can accommodate any destination. If you're looking to celebrate with the boys, we partner with local transportation companies so you can find exactly what you need to make it a night to remember.
With our instant quotes and on-demand design features, finding the perfect ride for your friends is simple. All you have to do is enter your trip details into our website, and we'll present you with dozens of options to choose from. No email required—just an account-free experience that allows you to shop whenever and wherever you want.
With our competitively priced party bus and limousine service, you won't have to worry about traffic, parking, or who's driving—you can just sit back and enjoy the ride. We can even provide complimentary drinks and snacks for your guests.
Why Choose Price4Limo?
With 24/7 support, we're always available to get your reservation locked in, so you don't have to worry about missing out on any of those special moments. The team at Price4Limo wants you to have the best experience possible, whether you're looking for limo service or a private bus. We know that we can't be everything to everyone, but we are confident in our ability to exceed every expectation and make your experience amazing. We believe that customer service is second to none—and it should be. You can count on us to do whatever it takes so that you will have an incredible time.
Great Customer Service. We believe in the importance of great customer service. That's why we work hard to make sure that every one of our customers has an excellent experience. Whether you're looking for a limo rental for a special occasion or just need to get from the airport or hotel, we understand excellence when it comes to transportation and are ready to provide you with an incredible experience every single time. You can trust that when you rent from us, everything will be taken care of so that your trip goes smoothly without any hassle at all.
Worry-Free Event Planning. With over 10 years of experience in providing worry-free bachelor parties, Price4Limo is the perfect choice for your next event. We have been part of many grooms' bachelor outings and our team takes care of everything for you so that you can focus on celebrating with your friends. Our goal is to ensure that you have the most memorable night possible, and we work hard to make sure that every detail is attended to so that you can enjoy your time with friends without worrying about anything else.
With Price4Limo, you'll be sure to have a night that's sure to leave everyone with no choice but to enjoy themselves.
Largest and Best Selection of Limos and Party Buses for your Bachelor Party
Party buses. We've got a network of party buses that meet every requirement from 15 to 35 people, and we'll help you find the one that's right for you. Opt for luxury or standard and we'll connect you with the perfect ride
Stretch limousine. For your Bachelor Party, the best way to party is in a limo. You'll travel in style and comfort, and you won't have to worry about driving or parking. You can get a limo that fits anywhere from 6-20 passengers and they come in options like Chrysler, Hummer limos, Escalades, and even Charger limos.
Mercedes sprinter vans. Price4Limo offers a variety of limos to help you celebrate your last night as a free man in style. Our Mercedes sprinters vans are perfect for smaller bachelor parties—from 9-15 passengers. Our vehicles are outfitted with leather seating or a limo style interior, depending on your preference. If you want to keep it classy, we've got it covered.
Motorcoaches. A motorcoach is a large vehicle designed to transport groups of people. It can hold anywhere from 40 to 56 passengers, or even more depending on the vehicle you choose. Motorcoaches are often used for weddings and other special events, but they're also great for bachelor parties.
Shuttles buses. A shuttle bus is a 30-45 passenger vehicle that can fit medium-sized groups, making it perfect for a bachelor bar crawl or an airport pick up when you have luggage.
Charter buses. Charter buses can be as small as 26-passengers or as large as 56-passengers, depending on your needs. They are also equipped with the latest in entertainment systems and comfort features like reclining seats, premium audio systems and Wi-Fi for optimal entertainment during long trips.
When it comes to party bus and limo rental options, we are one of the best. Our fleet is expansive, with unique vehicles waiting for you. It doesn't matter the size of you party, we can accommodate you. We also offer transportation for bachelorette parties.
We have some amazing bachelor party buses for hire. Our party buses range in sizes and amenities, and are sure to fit you party size. Contact us today if you are looking to reserve a vehicle!
Why Rent A Party Bus For A Bachelor Party?
Renting a party bus for a bachelor party is the best way to go because it's so much more fun than just going to one club. You will be able to hop from one hotspot to another, making it easy for you and your friends to enjoy all of the different clubs and hotspots in your city. You'll also be able to drink on board if you want, which is great because most clubs don't allow drinks inside. You can have as many as 50 people in one vehicle. And it doesn't matter where you're going or how far away it is; a party bus will take you anywhere.
What to Look For In Your Bachelor Transportation
Convenience: For most people, convenience is one of their top considerations when choosing a transportation service. If you want everything to be as simple as possible—from booking to arriving at your destination—then convenience should be one of your top priorities when choosing a company.
Fun: You're not just looking for transportation—you're looking for an experience. Make sure that the company you choose can offer an exciting way to get from point A to point B with fun add-ons like music or games on board and dancing at stops along the way.
Cost: Transportation costs can add up quickly when you're trying to keep everyone happy and entertained throughout the night. Make sure that whoever you choose has affordable rates for rides and other services like valet parking or shuttles from hotels or airports if needed so that everyone can afford it without breaking the bank.
Price4Limo checks all three of these, offering you cost-effective transportation options that are ready to roll when you are. Call 866-265-5479 to get your quote.
How To Hire Your Bachelor Party Bus Rental
Know Your Plans: This is also a great opportunity to consider how long the trip will take. If you're planning on getting drinks at the bar or club, it might be best to book a two-hour trip. But if you're going to an actual event like a sports game, it might be better to book a six or seven -hour trip.

Gather The Guest List: The seating capacity of our buses varies depending on the size and model. Our most popular bus seats between 10 and 30 people, though we've got a few models that can accommodate up to 60 passengers. If you're planning to rent a bus for your group, it's important to consider the number of people who'll be riding with you. We have some great options for smaller groups, but if your group is larger than that, we'd recommend considering other types of transportation.

Notify Your Group Well in Advance: One of the most important things to do is tell everyone in your group about the event early on. This will make sure that you know how many people to expect and how you are going to split the cost with a number ironed out early on. You can score better deals from the bus company if they know exactly how many people are going on the trip and what time they need to be picked up at their homes or workplaces. If you don't have a specific date yet, but just want to find out what options are available for traveling around town on a certain day of the week or month, then go ahead and fill out our pricing form so you can browse some options
Bachelor Party Destinations We Service
New Orleans
New Orleans is the perfect destination for a bachelor party. If you've got a music lover on your hands, the Big Easy has everything: jazz, blues, funk, rock n' roll and soul music. Cocktail enthusiasts will have no shortage of options either—the city is known for its incredible mixologists, who specialize in sipping cocktails that are as delicious as they are creative. New Orleans also has a rich culinary scene that blends French technique with Southern favorites. You can find everything from crawfish to fried oysters at any local restaurant or bar. If you want to get out and explore the city, you'll be pleased to know that New Orleans has plenty of things to do outside the bar scene: go sightseeing at one of its many museums; catch a show at Preservation Hall; take a swamp tour; visit St. Louis Cathedral and Jackson Square; take a stroll down Canal Street; or explore The Garden District.
Miami
Miami is a popular destination for bachelor parties, and it's easy to see why. The city has an incredible nightlife, with an endless supply of top-notch bars and clubs. Plus, Miami is home to some of the hottest nightclubs in the world—just look at LIV and Space. If you're looking for a party that never stops, Miami is your best bet. We've helped many groups celebrate their last days as single men by taking them on a day trip to South Beach or Key Biscayne for some fun in the sun and some drinks at one of our favorite bars.
Las Vegas
Whether you're looking for a beautiful cityscape, a wild night out in the desert, or a combination of both, we have the perfect bachelor party destination for you. If you haven't been to Las Vegas before, we think it's hard to beat the thrill of seeing the Strip at night. It's like being in a movie: neon lights everywhere, people dressed in outrageous costumes, and so much energy that it's almost overwhelming. You can stay at one of our hotels right on the Strip and be right in the middle of all this action. If you're more interested in taking advantage of what nature has to offer, check out Hoover Dam. We'll take care of all the logistics so you can enjoy an incredible experience without worrying about details like how to get there or where to stay.
Los Angeles
We provide Los Angeles limo service for all of your bachelor party needs. Whether you're looking to take a tour of Universal Studios Hollywood, catch a Dodgers game, or head out on the town to see the sights, we've got you covered. It's no secret that Los Angeles has plenty to offer when it comes to nightlife and entertainment—but it can be hard to find the right place for your group. We're here to help. We know what makes LA great and can help you find a destination that fits your group's interests.
Atlantic City
This is the place for you if you want to party like a rockstar. With casinos and plenty of other entertainment options, it's not hard to find something fun to do here. Casino hopping is a great way to spend your time, but there's plenty more to do in Atlantic City than just gamble. You can see a show or visit one of the many museums in town. If gambling isn't your thing, there are tons of restaurants and bars where you can enjoy yourself without spending money on gambling.
New York
The Big Apple is the perfect spot for a bachelor party. From world-class restaurants and bars to Broadway shows, there's no shortage of things to do in New York City. If you're looking for a place where you can get a little wild and crazy, head over to Shorty's Bar & Grill or The Box. Both of these places are known for their raucous crowds, great food, and plenty of drinks. For something a little more upscale, try out Marquee Nightclub at the Cosmopolitan Hotel or Tao at the Venetian Hotel. Both of these places have gorgeous views of Manhattan and feature top-shelf DJs spinning all night long.
Austin
Austin, Texas is the perfect location for a bachelor party or bachelorette party. With its eclectic culture and liberal attitude towards alcohol consumption, Austin offers many unique experiences that you won't find in other cities. Whether you're looking to get rowdy on 6th Street or take in some live music at one of the many local bars, there's something for everyone here.
Frequently Asked Question About Bachelor Parties
What Is a Bachelor Party?
A bachelor party is a chance for a guy to get together with his closest friends and say goodbye to the single life. It's also an opportunity to celebrate his new chapter and the chosen partner for life. It can be the last night of freedom before he marries the love of his life.
Who Throws a Bachelor Party?
There is no set rule on who plans the trip, but traditionally it is the groom's best man or his closest friends. However, sometimes the groom himself will plan it. Regardless of who is planning, make sure to get your ideas together early and communicate this with your party in advance to make sure everyone can attend.
What Happens at a Bachelor Party?
A bachelor party is not like the wedding itself or the bridal shower. It's designed for the groom to have a great time with his friends, and it's also a way for him to let loose and enjoy himself before he gets married. Some of the activities you might see at a bachelor party include going on a cruise or going to dinner, but more often than not, you'll see bachelor parties including going to clubs and bars.
Who Pays for a Bachelor Party?
The answer to this question is usually either "every man for himself," or else, with a little bit more planning and organization, "attendees pay their own way." It can be an expensive occasion to host, especially if you're planning to travel out of town for the festivities. The cost of a bachelor party can vary greatly depending on the location and activities you choose for your event. The planner should provide an average estimate of what they expect each attendee will spend on food, hotel, and activities. They should also give advance notice so that guests can plan accordingly. If you are planning to rent a party bus or limousine, expect to split the bill between your party.
What to Do for a Bachelor Party?
What's the best way to celebrate your friend's upcoming nuptials? All kinds of ways. When it comes to activities, the options are nearly endless—here are just some of our favorites:
Night clubs
Sports games
Out-of-country trips
Rent a cabin in the woods
Go camping
Off to Las Vegas
Live music festivals
Kentucky Bourbon Trail
What to Bring to a Bachelor Party?
When you're throwing a bachelor party, you want to make sure everyone is comfortable and having a great time. Here are a few things to remember when deciding what to bring:
Camera: You'll want to capture all of the memories from this night so they can be remembered forever.

Suit: A suit is always appropriate, especially if you plan on going out after the bachelor party. You don't have to wear one during the event itself, but it's always good to be prepared.

Tie: The perfect accessory for any occasion! Make sure it matches your suit if you have one on hand—otherwise, just grab something festive that will still work with whatever else is happening that night.

Cigars or alcohol (or both): Cigars are typically associated with male bonding rituals—and if there's one thing guys like doing together, it's smoking cigars (and drinking alcohol).