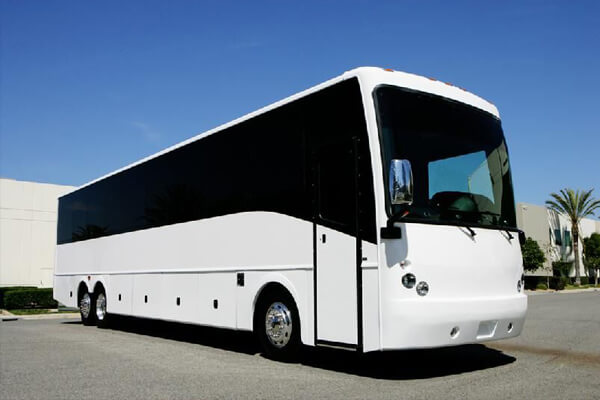 Are you searching for group transportation for up to 50 people? Our 50 passenger party bus rentals are the perfect transportation solution for your group! If you want to celebrate a special event such as a wedding, prom, bachelor or bachelorette party, 50 passenger party buses are the way to go. Your guests will be blown away with the luxurious amenities found inside your ride. Spend your night traveling anywhere you want to go, all while celebrating from the comforts of your very own party bus! Call for a free quote or book online now to take advantage of the best prices.
The 50 pax limo bus is your number one choice when it comes to luxurious large group excursions. It has plush wraparound seating, LED lights, and amenities that will make even the most luxurious hotels jealous. With elegant and comfortable interiors, this limo bus is perfect for any occasion. And Price4Limo is your go-to source for all things related to limousines and other forms of transportation. Our team will help you find the perfect vehicle for your needs—and at a price that's sure to please.
Why Rent a 50 Passenger Party Bus?
The main reason to rent a 50 passenger party bus would be to entertain up to 50 guests! If you want the biggest and the best, this party bus is for you. This bus features leather seating, hardwood floors, satellite TV, multiple flat screen TVs, IPOD/DVD/CD player, a high-fidelity audio system, and fiber optic color changing light displays. The 50 passenger party bus allows everyone to travel as a group, without the hassle of taking multiple taxis. You'll never have a dull moment when you get 50 of your closest friends and family together on a party bus!
When you need to make a statement, there's no better way to do it than by renting a 50-passenger party bus. These vehicles are spacious, comfortable, and have all the amenities you could ask for. If you want to arrive in style and make sure everyone knows how much fun you're having, this is the way to go. With a party bus rental, you can have your own designated driver take you to your event without having to worry about driving or parking.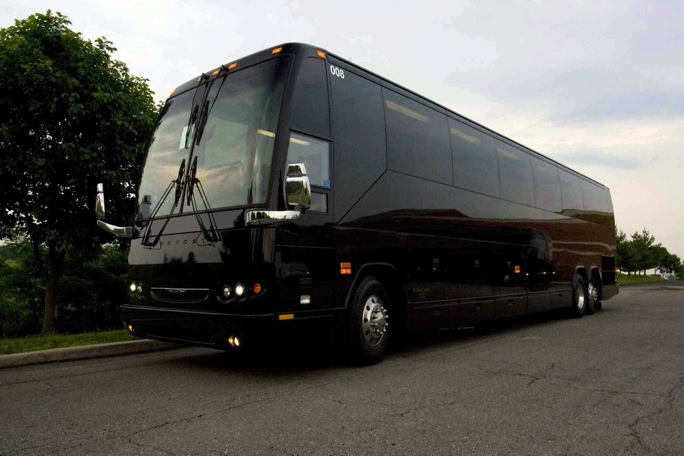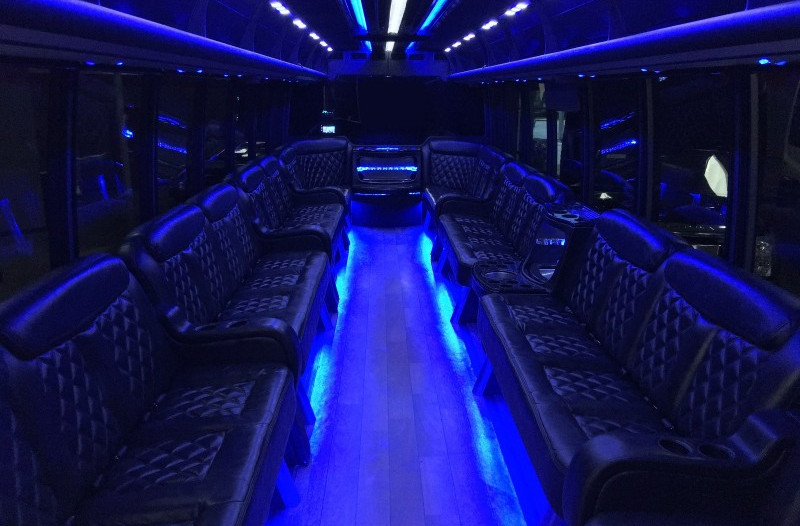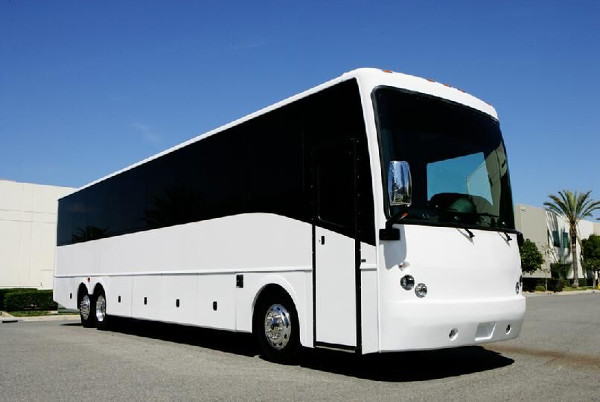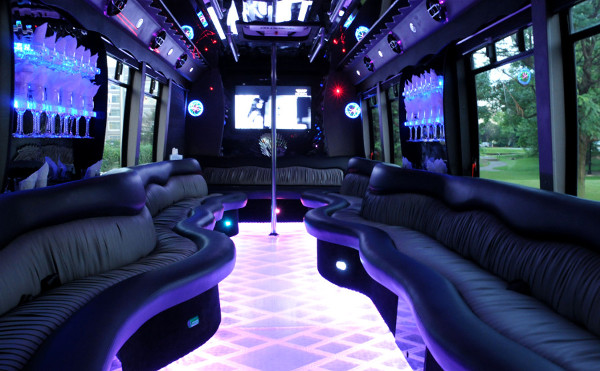 How Many People fit in a Party Bus?
Typically a Party Bus can seat anywhere from 6 to 50 people. While there are many different sizes a Party Bus can be, they are ideal for medium to large party sizes. If you are seeking to accommodate a smaller party size of about 10 to 20 people there are medium sized party buses more suitable for your needs Price4Limo.com see over 1000+ Party Buses available in your city. We can help assist in planning and coordinating proper transportion needs for up to 100+ passengers.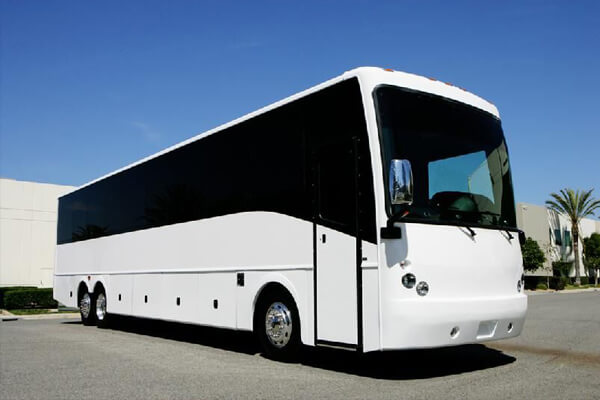 | | |
| --- | --- |
| Seating Capacity: | 50 Passengers |
| Storage: | No |
| Restroom: | No |
| Air Conditioning: | Standard |
| IPOD/DVD/TV: | Standard |
| Dance Pole: | Optional |
| Average Price: | $1099-$2400* |
*Due to covid-19 Prices may be significantly higher and may vary depending on availability, service, and location
---
How Much is a 50 Passenger Party Bus?
Party bus rental prices can range from $450-$1,050 per trip across the country. You can expect to pay between $165-$300 per hour, but this number can vary greatly by location and date. The price you'll pay will depend on a number of factors, including:
The number of passengers in your party
The distance traveled
The size of your vehicle (full-size buses cost more than minivans)
The type of vehicle you choose (SUVs are more expensive than sedans)
The date of your rental
When you split the cost of the 50 passenger party bus with your group, this ride becomes extremely affordable. And because you will be partying on the bus, you will avoid pricey cover fees and expensive drinks from the bar. Every 50 passenger party bus will have a different price than the next, because these buses can be fully customized to meet your needs and budget. Use the Price4limo booking engine to help you compare prices and find the best deal!
Choose Price4Limo For The Nation's Top Party Bus Service
At Price4Limo.com, we work to make the ordinary extraordinary. That's why we've put so much time into planning and executing successful events for our clients. We have a diversified and impressive network of buses that transports thousands of clients every month from every corner of the USA. And if you're looking to make your event stand out from the crowd, you can choose from over 12,000+ vehicles from our fleet to transport your guests in style. For over 15 years, we have been providing highly-customized, high-quality limousine and bus services to the most discerning clients from around the world and we hope to add you to that list.
How To Plan Your Party Bus Rental
Planning a party bus trip can be a lot of fun, but it's also a lot of work. You want to make sure that you're getting the best rates and vehicles for your event, and you also want to make sure that you're taking care of the details. But how do you get started? At Price4Limo, we understand how overwhelming it can be when you're trying to plan a party bus trip from scratch. We've been there—we know how hard it is to organize everything let alone figure out how much space is needed for all those people who want to come. That's why we offer our comprehensive package services for any event that requires transportation: weddings, bachelor parties, bachelorette parties… whatever it is. To get started with planning your event, all you need to do is contact us at 866-265-5479. Our reservations team will walk you through our process and help you pick out the perfect package for your needs.
When you call our team we will ask for some information about your trip to get you the best rates so refer to the below before getting started:
When and Where Is This Taking Place?
The first step in booking your party bus is to determine the times and locations you want it. Are you going to be picking up your guests at a specific location, or are they all coming from the same place? Do you know what time they'll need to be picked up? The more information we have about this, the better we can tailor the package and show you the buses available for those times and that can service the locations. If you don't have any specific times or locations in mind, try to give us an idea of what type of event you're having: an engagement party, a bachelor/bachelorette party, a birthday celebration—anything that can help us understand how many people will be coming together for an event like this makes it easier for us to provide suggestions on what works best.
Where Are You Going?
Do you know the stops you want to make, or have an idea of where you might need to go and how long it will take? Having your itinerary ahead of time helps us provide you with an accurate price quote. We'll know the right amount of time for the rental, how much travel is needed, along with how to route the run. Our team of experts is ready to assist you in creating a beautiful schedule that will leave your guests amazed at how smoothly everything went. We've got your back when it comes to planning out every last detail so that your event runs like clockwork.
How Many People Will There Be?
The size of your group is essential to know. If you're traveling with more people than seats, you could end up paying for seats that are not being used—and that's never a good feeling. With this information, we can determine the right fit bus for your group. Without having too many or too few seats, you'll minimize the cost per person and make sure everyone has an amazing time. The largest size party bus out there is the 50 passenger bus, but most buses can seat anywhere from 6 to 50 people.
Browse The Party Buses And Book
Now that you have the correct details for your trip, it's time to browse through our different available options. With Price4Limo.com, you can easily find the perfect one for your needs. Once you find the perfect one, you just need to click on it and fill out a few fields about who will be going on the trip and where they'll be traveling from. After that, all that's left is making payment to reserve the ride. It's that simple.
---
Top Cities For Party Bus Rentals
---