Wedding transportation can be a headache. We know that planning your wedding is already stressful enough, so we're here to help. Price4Limo partners with thousands of limousine and bus companies across the country to provide you with amazing wedding transportation shuttles and vehicles. That way, everyone will get to the venue, no matter where it is or what kind of group transportation they need. We have helped many couples and wedding planners put together efficient and comfortable group transportation plans for their special day and our 24/7 reservation team is ready to help get the best deal for a shuttle bus on the market. If you have any questions about our services or pricing, give us a call at 866-265-5479. Planning the wedding of your dreams is simple when you choose Price4Limo as your wedding transportation provider.
In our network, you can find party buses, stretch limousines, charter buses, sprinter vans, coach buses and school buses that are run tailored to your specific needs. Search from over 12,000 vehicles for a ride that will check every must-have box on your list. We'll even handle the details—like scheduling the transfer of your guests on a schedule you create—and make sure it's all seamless.
Trust The Transportation Specialists At Price4Limo
For the most important day of your life, choose custom itinerary planning from Price4Limo. Leave the details to us, from finding the perfect vehicles to customizing your itinerary in order to make sure everything goes according to plan. Our personalized service will ensure you have an unforgettable experience that you can share with friends and family for years to come.
With over 2,500 positive reviews on TrustPilot and satisfied couples nationwide, Price4Limo will provide you with a 5-Star Experience. Use our seamless booking process and you can select from various vehicle options that will work for everyone in your party. You'll see live prices to compare and match up with what works best for you. Choose our monthly payment plan powered by Affirm to catch some slack on your big day.
What Wedding Transportation Is Available?
When it comes to wedding transportation, there are a variety of options available. These vary in price and can include everything from a classic stretch limousine to a classic car. Below are some of the more popular types of wedding transportation that you may consider for your big day.
Charter Bus: This is perfect for shuttling all of your guests to the reception or hotels, since it can carry 50+ people at once. It's also great for any large groups who need to travel together in one vehicle.
Limo: A classic option that never goes out of style. Limos are an affordable way to transport up to 10-20 passengers at a time, and they're also great for transporting you and your bridal party from one location to another throughout the day.
Party Bus: If you're looking for something a little more fun than a regular limo service, then this is the choice for you. Par ty buses are often decked out with lights and TVs so that everyone can enjoy themselves while they get from point A to point B. They're also great if you want some extra space for dancing at after-parties or even during the ceremony itself.
Motorcoach: This large bus is similar to a charter bus, carrying up to 50-60 people at one time. Wedding parties of hundreds rely on renting these to move their attendees around.
School Bus: The no-frills option for weddings because they're less expensive than motorcoaches and offer ample seating space for your guests (up to 70 seats). You can book one without worrying about breaking the bank.
Minibus: Minibuses usually seat between 25-30 passengers, so they're great if you want something small but spacious enough to accommodate everyone at once.
Rolls Royce: This luxury car comes with a chauffeur and will drive the bride and groom to the church in elegance, and luxury.
To see exactly what we offer for your wedding, take a look at our online booking tool. You'll receive a custom quote with pictures to choose from.
Selecting Your Wedding Transportation
From the moment you see your future spouse at the altar, you'll want to make sure that everything about your wedding day is done in style. One of the most important details to take care of is finding the right mode of transportation for your limousine or other vehicle. Wedding transportation can be a daunting task, but it's one well worth taking care of. After all, what's more important than getting to and from your ceremony and reception in style? There are many great options available for choosing the right wedding transportation for your big day. From stretch limos to party buses to motor coaches and charter buses, there's sure to be something that fits into your budget and meets your needs perfectly. Price4Limo has got you covered with our great prices and amazing selection.
Wedding ceremonies are meant to be joy-filled, memorable and fantastic, and can be even more so with one of our pristine limousines. A limo ride for the couple will transform an already special moment, into a magical one! The perfect wedding car is a limousine. It will get you to and from the wedding venue with grace and help make the big day that much more special!
Ready to find the ideal limo or party bus for your wedding ceremony? Fill out our search form above and see all of our luxurious vehicles available for your special day. Here you will find affordable wedding limo pricing.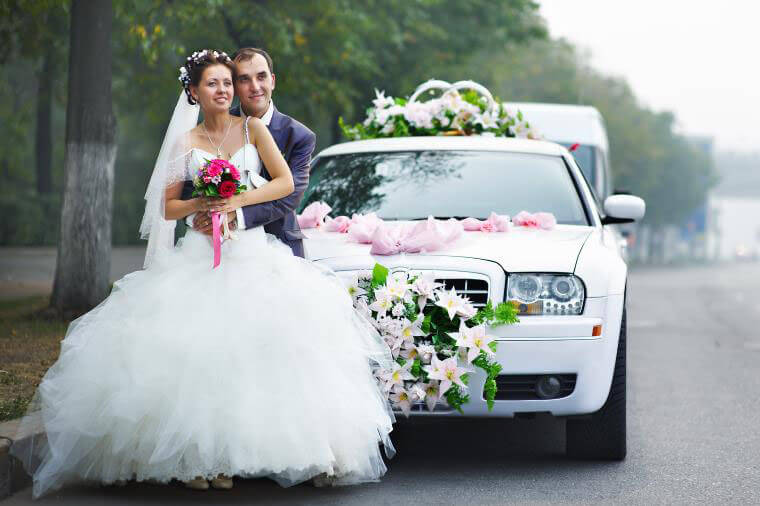 ---
Wedding transportation is a big part of your wedding day, and you want it to be perfect. From the moment your guests arrive at the ceremony to the time they leave, they will be riding in style. Price4Limo offers a variety of wedding limousines that can seat anywhere from six to 20 people, depending on which one you choose. Features may include bars, televisions, and even more. We also offer sprinter buses for large families or groups who need extra room for luggage or gifts on their way to their hotel after the wedding festivities are over. We know how important it is that your guests enjoy every minute of their trip, so we outfit all of our vehicles with state-of-the-art entertainment systems.
Travel To & From the Reception
Whether your passengers want fun in a party bus or comfort in a shuttle bus, the Price4Limo team can personalize your ride. We can connect you with the perfect vehicle for your group and make sure everyone has a seamless journey between ceremony and reception. Whether you need multiple shuttles to take out-of-town guests to the ceremony and reception, or you're looking for a unique way to get the couple from one location to the other, we have a solution that will make your day special.
Pre-Wedding Event Shuttles
If you are planning a wedding or pre-wedding event, chances are you have a lot on your plate. From the food to the flowers to the music and seating, it can be hard to know where to begin. Fortunately, we also handle other types of pre-wedding events—including engagement parties, bridal showers, bachelor/bachelorette parties—all of which require transportation services on the big day itself. We understand that planning for your event can be overwhelming. That's why we offer our clients both options: a full-service package that includes everything where you can save money.
How to Select a Limousine for Your Wedding
If you are unsure how to find a transportation rental for wedding, we have some tips to help you out:
Know your budget – Limousines, like most vehicles, come in many forms and styles which means that prices will vary. There are limousines out there to fit every budget, so don't fret over not finding a vehicle.

Keep in mind passenger count – Do you plan to give the wedding entourage a ride to and from the wedding venue or just the newly weds? It is important to know how many people you expect to be in the limousine so you can find a vehicle to fit everyone safely.

Figure out the time frame you need the limo for – Most limo rentals are by the hour so its important to know what time you will need the limo for. We do our best to help accommodate you by offering promotions on extended rentals to make sure you can get your dream ride at an affordable price!

Have an idea what you want in the limo – Limos differ in size, capacity, and most importantly, features. Some common features of our limos are private bars, club lighting, privacy panels, Wi-Fi and audio and video systems. Not every vehicle comes equipped with all of these, so it is important to check the quote page so you can compare limo rental packages to find exactly what you are looking for.

Have a plan of where you want to go – You should have a good idea of where you will be going in the limo. You can make as many stops as you'd like, but taking too many stops might increase the amount of hours you need the limo for. Knowing this ahead of time will help you plan for how many hours you will need to book and help you avoid getting overage charges.
Wedding Party Bus Rentals & Limo Buses
It is important to not only treat the bride and groom to an elegant ride, but to also treat the wedding entourage and family members attending the wedding to a fantastic ride as well. The perfect vehicle for the job is a party bus, and will show all the attendees just how special they are to you! A party bus will ensure that all your guests will be relaxed, and on time for the wedding ceremony, making sure everyone will get to see the kiss to celebrate the newly weds.
When looking for a party bus, you must consider:
The type of party bus - Party buses come in a variety of sizes and features, so there will be one out there to fit everyone's taste. It is important to make sure that the bus you get can hold everyone in your group so be aware of how many guests you expect to have.

Find the right package – You have the ability to choose the features and amenities that you want. Take a look to see what is offered for each bus to find the right fit. Some feature are: a private bar, flat screen television sets, gaming systems, Wi-Fi, and laser lights.

Follow your budget – There will always be a party bus to fit your budget. We have rental packages and discounts to make sure our buses stay affordable, so stay on the lookout for those to cash in on huge savings!
You should take a look at the fleet we have available in your area and decide which one you like best. We offer reasonable rates and have vehicles waiting just for you.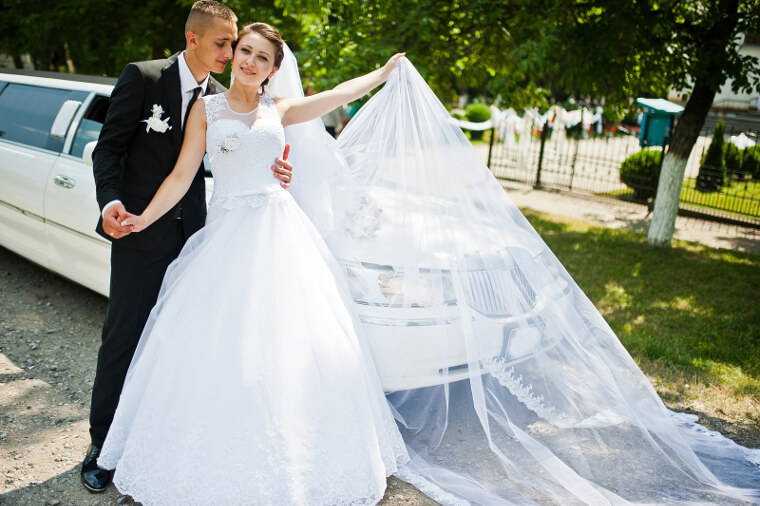 You will find exclusive wedding cars and limos from our agency such as:
Wedding Transportation Party Bus And Limo Service Prices
Our agency offers reasonable and affordable prices for most of our party buses and limos for hire. There are different wedding packages offered, so make sure to give us a call or generate a quote online to see what is being offered. Make sure to take advantage of our discounts available for certain limousines and buses. Rates depend on the number of seats, hours of hire, distance to cover, as well as availability so prices will vary.
Here Are The Most Popular Question We Hear From You
When should I book my wedding transportation?
The answer is simple: as soon as possible. It's no secret that the months of April, May, and June are incredibly busy for weddings. Many brides and grooms are opting to tie the knot during this time of year. That means that all of the transportation options—from limos to buses—are in high demand during those months. It's best to book your transportation as early as three months before your big day. If you're planning an outdoor wedding or an evening reception (especially if it's during the summer), you should book six months in advance.
Who should I transport for my wedding?
If you're planning a wedding and wondering whether you should transport your guests to and from the ceremony and reception, the short answer is: it depends. Generally you should provide transportation for all guests especially if you are serving alcohol but your decision will depend on how far away your venues are, how many guests you have, your budget, and whether or not you have access to public transportation. When planning your wedding, take a headcount of all your immediate family members, close friends, and out-of-towners. If your ceremony and reception venues are not too far apart (only a couple of miles), then you may not need to provide transportation. For 30+ minute rides, you need to handle the travel. Also if there is any chance of inclement weather—especially if it's winter—you should definitely consider providing transportation for those guests. Gather this information and tell our reservations team and they'll help determine what would be best for you.
Do we need to tip the chauffeur?
We already include gratuity in our rates, but you can always tip in addition if you feel the driver went above and beyond. If you have any questions about this or any other aspect of our service, just ask.
Can we drink alcohol in the vehicle?
The answer is "yes," but it depends on a few factors. First, you should always check with your rental company to see if they allow drinking on the vehicle. If they do, they will most likely have a privacy partition that must be closed while drinking. The privacy partition will only be present in limos, party buses and sprinter vans. If your vehicle does not have one, then you may not be able to drink on it.
How much will my transportation cost?
The answer depends on where you're getting married, how long you'll need the transportation, and other factors. We recommend using our pricing tool to get yourself a personalized quote. Each vehicle is unique so you definitely have to browse through the options and price compare to find the right one.
When is the payment due?
At the time of booking you will be charged an initial amount, with the rest of the balance being due before the date of service. You can pay by credit card or debit card, or choose our monthly payment option through Affirm.
Can I add decorations on my bus?
Removable decorations are normally not a problem. Just make sure to tell us about what your plans are beforehand so we can make sure that the affiliate company you are paired with will allow decorating their bus.
Can I request only black or white vehicles?
Sure. Weddings are very particular when it comes to vehicles, especially for the pictures. You can request a color that you'd like to match your theme, and we will try to find the perfect one for you.