Why Price4Limo?
Price4Limo is a full-service charter bus company that offers an extensive fleet of vehicles, including luxury limousines, minibuses and charter buses. We provide our clients with the option of renting one or more vehicles for their event or trip. Our professional staff will help you with all your transportation needs, from picking up and dropping off passengers at airports to shuttling them from hotel to venue and back again. You can choose from any of our wide range of options for transporting people: Luxury limousines are available in both sedans and convertibles. The interior is spacious, comfortable, stylish and fully custom-fitted according to the client's specifications (with champagne glasses included). Minibuses hold up to 20 passengers comfortably while still providing plenty of legroom between seats; they come equipped with televisions so everyone can enjoy their favorite shows on long drives without getting tired eyes! They also feature WiFi access so passengers can stay connected while traveling between.
Premiere Night Transportation
You've worked hard on your movie. Now it's time to celebrate! It's time to roll out the red carpet and welcome the cast and crew of your movie into theaters. But what happens when they want to celebrate after the premiere? How will you get them to their after party? What about after that? After the after-after party? You can't have all those people crammed into one limo, so a charter bus is just what you need! A charter bus provides plenty of room for passengers who are ready to party all night long—plus, since it's a rental vehicle, you won't have any trouble getting back home afterwards. The best part? You don't even have to worry about driving because we'll take care of everything for you!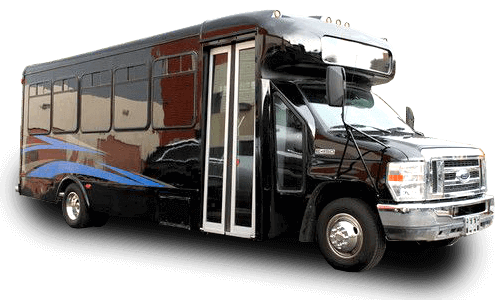 Tour The Set Behind-the-Scenes With Private Buses
As a charter company, we're able to arrange behind-the-scenes tours for cast and crew. These tours are also available for the public, press and crew members who are not working on the film or television show. Depending on the production and its budget level, we can also arrange tours with celebrities as part of your itinerary.
Relax Between Takes
You'll have a private bathroom, comfortable seats and a refreshment center on your charter bus to keep your crew happy between takes. You can also hook a TV up to the DVD player or stereo system to make sure they stay entertained while they wait. If you want to add even more comfort, our limos come with leather seats and Wi-Fi so they can catch up on their favorite shows or movies while en route. They'll be happy to help you plan out any stops along the way—including meals if it's meal time! We also provide security guards who will ride along with each group so everyone stays safe on set. And last but not least, we provide stewards for every vehicle—so there's always someone available for any additional needs (like water bottles or snacks) that may arise along the way!
Shuttle Your Crew On Set
Your crew will be working hard all day, and your job is to make sure they get to where they need to go. If you're shooting on location, you'll want to shuttle them from the hotel or airport directly onto set. If you're shooting in a studio or other enclosed space, though, it may be easy enough for people to walk around safely without having a vehicle escort. In either case, having a vehicle available can often make things easier for everyone involved: if someone needs something out of their car or truck that they forgot at home (or even if they just want something out of their car), having an extra hand is invaluable. It also makes it much simpler when people need transportation at any time during the day—for instance, if someone needs access to rental cars at one point in order to get equipment back and forth between locations more quickly than walking would allow—and especially after hours when public transportation options are fewer and farther between.
Service Cast Parties with a Private Bus
We offer our services to cast and crew, providing transportation between hotels and sets. We also provide transportation between sets and locations. We can even bring your cast and crew members between locations and airports, if you so desire!
Red Carpet Reveal Limousine Service
Price4Limo offers a red carpet reveal limousine service for your movie premiere. We can arrange for a red carpet and paparazzi, so your celebrities will feel like the stars they are when they arrive at their premiere. Price4Limo can also pick you up at the airport, or provide a limousine for your cast and crew to ride in style!
Getting Started
First, you need to select the type of service you want from our fleet: limousine, SUV or luxury van. Then choose how many passengers you need to transport and whether they are adults, children or infants (infants are defined as being under 2 years old). Lastly, enter your pick-up location and destination as well as any special requests such as wheelchair assistance or early morning pickup on the day of travel. How do I book? After submitting your request through our website or mobile app, our team will confirm the details with you by phone within 24 hours so you can have peace of mind before your trip begins! How much does it cost? The price varies depending on what type of vehicle is needed for each occasion but generally speaking we charge $150-200+ per hour.
Our Pricing and Rates Explained
Our pricing and rates explained: Pricing is based on the number of passengers. If you have multiple people, you'll pay more. Pricing is also based on the number of hours. If your trip is longer than a few hours, we'll charge by the hour. We also charge by the day—if your charter is somewhere between 3 and 14 days long (or doesn't fall into any of these categories), this will be your cost structure. It's different from our hourly rate because we can work with longer trips where timing matters less (like for weddings). Miles traveled matter too! Every mile counts toward our pricing formula, so if you're driving across town or across country it makes a difference when calculating what it costs us to get there and back safely with everyone inside safe as well as enjoying themselves along the way!