Get Your Limo For Prom
Price4Limo offers different kinds of prom party bus and limousine packages throughout the entire United States. If you are attending a prom, or even a homecoming dance, we have something for you. Riding with all of your friends to the dance in one of our vehicles is something you don't want to miss out on!
Our prices are as low as they have ever been and booking has never been easier. To see what vehicles we have available and compare pricing, fill out the form above or call us. Each vehicle is unique and has its own features and amenities so make sure to look through those and find the best one for you. Booking with us is the right choice. You will get a fun, safe vehicle for prom at an affordable price, with excellent service. You can't beat that!
Ready to find your prom limo or party bus? It will only take you 30 seconds or less to fill out the form and generate quotes showing everything that we have available at the time.
At Price4Limo, we partner with over 3,000 local limousine companies to make sure that every customer has access to our network of vehicles. We strive for excellence and offer only the best services for your prom transportation needs—and we're here to help you take care of them. When you choose Price4Limo as your prom transportation provider, parents can rest easy. With over 2,500 positive reviews on TrustPilot, you're in good hands when you choose Price4Limo.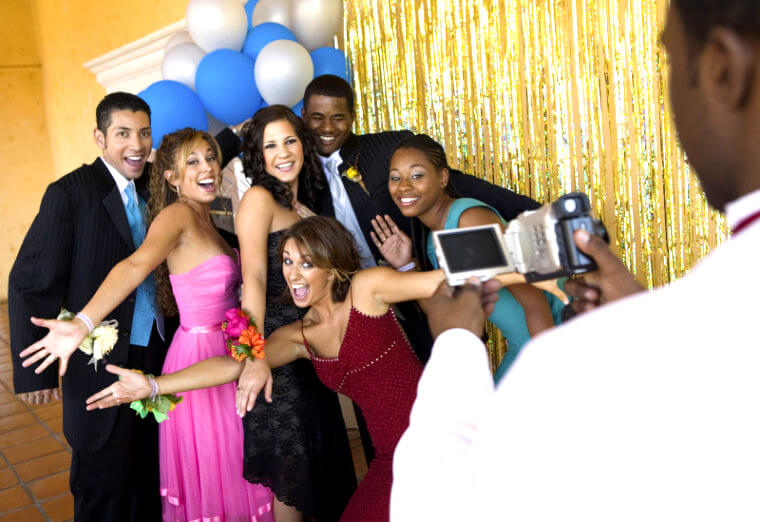 ---
Have An Unforgettable Homecoming or Prom
You're a parent. Maybe you have a teenager who's getting ready to go back to school—or maybe you're just looking for a way to make their homecoming or prom night truly special. Either way, you want to make sure that the night is special for them, and we can help. At Price4Limo, our limousines and party buses are ready to take your high school student and their friends anywhere they want to go. Whether it's dinner at the local restaurant or the high school dance itself, we've got you covered. Our vehicles are comfortable, spacious, and well-appointed—perfect for ensuring that everyone has a great time on their big night out. After dinner, we'll take them straight to their prom or homecoming event without any worries about parking or traffic headaches. And after the event is over? We'll take them home so you can get some rest yourself.
With Price4Limo you're getting:
Affordable Rates - We know that you don't want to spend a fortune on limousines, party buses, and charter buses. That's why our prices are among the most affordable in the country. And if you've been searching for a company whose rates are among the most competitive throughout the country, you've found it. Please give us a call today to get an instant online quote that will make sure your transportation needs are covered at a price you can afford.
Quality Service - Our goal is to make your prom night one of the best nights of your life—and we won't stop until we've done just that. Whether you're celebrating with your friends or have decided to go stag, we'll be there with bells on. You don't have to worry about a thing when it comes to booking with us: our team has been working together for years, and we know what it takes to provide the best possible experience for each and every client. We've got everything from classic cars and limos to party buses and Hummers—whatever you need, we can give it.
Range of Packages - You can customize your trip however you see fit. There's flexibility in scheduling your prom ride and our specialists will help do just that. Pick up and drop off service at the school, 2-6 hour party bus rentals, scenic drives before the dance, it doesn't matter. There's a package of any type that we can offer.
Amazing Prom Pictures - Our fleet of limos is fantastic and will make an instagram worthy photo for your kids. Select from Hummers, Escalades, Lincolns, Jeep, Rolls Royces, and more. Imagine taking your pictures in front of a new Chrysler limousine with jet doors.
Experience Our Amazing Fleet Of Vehicles
We get it, no prom is alike. Maybe you're hauling a group of 50 kids, or you are stuck with a picky group. It doesn't matter when you choose Price4Limo, our network of vehicles will have something for every single group. You can experience the difference in a:
Stretch Limousine: Make an entrance in a limousine which can hold 6-20 people. Luxurious and elegant, these are the most common vehicles people rent for prom and the classic choice.
Party Bus: Looking for more fun than a limo? Then a party bus if for you. With capacities for 12-50 people, laser light interiors, this is what you want to get to maximize your night.
Charter Bus: A more standard option for general transportation. You can rent a charter bus if you have a group of 30+ passengers and are not looking for anything too fancy.
Coach Bus: Like a charter bus, coaches are more standard types of vehicles that can provide reliable transportation. These are a little bit smaller than charters only holding about 30-40 people, but are also a great option to drop off large groups of students at the dance.
Executive Shuttle Bus: The Executive Shuttle Bus is the perfect choice for your prom transportation because it is full of high-end amenities like leather seats, flat screen TVs with DVD players, and WiFi access that will make your prom experience even better.
Limousine Sprinter: This Amazon-style van also has a party configuration that is a fan favorite among prom-goers. The Mercedes Sprinter limo is a more modern party bus that can fit 10-15 passengers at a time.
School Bus: The perfect no frills options for students that can hold between 50-70 people at a time. These will not come with great amenities, however they are cheaper than many other options.
Minibus: A minibus is a medium-sized bus that can accommodate up to 25 passengers making it a cost effective option for smaller prom groups.
---
Prom Limos & Party Bus Rentals Near Me
Booking one of our party buses or limousines will make prom a night you will never forget. We have a variety of different vehicles available near you. We have traditional options, along with more prestigious options. Some of our exclusive vehicles are Cadillac Escalades, Hummer Limos, Ford Excursions, Chrysler 300s, Lexus, Mercedes-Benz, and BMWs to name a few. To check and see what we have, give us a call or fill out the form above. If you are having trouble or need help finding the best option, we are here to help. Chat with us and let us know what we can do to help you.
As the cost of party bus rentals of our agency is reasonable you can avail of different coaches or buses for hire. For instance, you could hire from motor coaches, shuttle buses, charter buses and passenger party buses. These can accommodate passengers from 14 to 50 in number. If you are looking to hire a coach for a prom party, you will find different party amenities for hire as well. Our rides are also great for birthdays and concerts!
Book one of our limos and premier rentals through our limo service. There are exclusive cars and limos for hire such as the Cadillac Escalade, Hummer Limos, Ford Excursion, Chrysler 300, Lexus, Mercedes-Benz, BMW, and others. These rides are ideal for weddings and other special occasions.
If you and your friends form a small group, book one of our shuttle buses or limos. These can accommodate people from 2 to 14 in number. They are ideal for prom night rides as well.
Prom Limo Pricing
We offer reasonable and affordable prices for most of our party buses and limos for hire. There are different prom and homecoming packages offered, so make sure to give us a call or generate a quote online to see what is being offered. Make sure to take advantage of our discounts available for certain limousines and buses. Rates depend on the number of seats, hours of hire, distance to cover, as well as availability so prices will vary.
In general, the average cost of renting a limousine ranges from $90-185 per hour, depending on whether it's just for a few hours or for an entire night. Most people spend between $500-1000 for their entire night out in a limo. However, prom is one of the peak times for renting limos because so many people are looking for transportation that evening. Prom dates generally spend around $1,000+ for their limousine services because they want to make sure they get all of their friends in one vehicle.
Use these tips to determine how much it will cost to rent a prom limo:
Distance and Duration: When you're looking for a limo rental, you have to consider a few things. First, how far do you need to travel? How long will your trip be? The distance and duration of your trip are important because they'll determine how much it costs to rent a limousine. You can find out what the estimated cost of renting a limousine would be by contacting us today. We will ask you for some basic information about the pickup address and times and what high school you are going to. This information will allow us to price out your trip so we can give you an accurate quote on what it will cost to rent one of our amazing vehicles.
Availability: Many times, proms are scheduled on the same day, so if you wait too long to book your limousine service, you might find out that all of your options have been booked for prom night. You should also consider that thousands of kids will be looking at the same vehicles at the same time. If you wait until the last minute and try to book a limo just days before prom night, you're going to have to pay more than if you'd booked earlier in advance. We recommend booking your limousine service at least three months in advance. This will give you plenty of time to compare prices and make sure that your desired vehicle is available for your special night.
The Type of Vehicle: There are newer and nicer models, and then there's more standard vehicles. You'll have to decide what kind of vehicle you want based on how much space you need, how many people you're traveling with, and what type of experience you want. If you're looking for something newer and nicer, you'll pay more per person than if you book an older model.
Ready To Lock In Your Prom Transportation?
We're ready to help you. All you have to do is call us at 866-265-5479 and one of our team members will get your reservation started so that we know how many people will be in your party and what type of vehicle is best for your needs. Once we confirm details with you, initial payment is required by credit card, debit card, or monthly payments through Affirm. The only thing left for you to do is enjoy the rest of prom night without worrying about anything else.
Here Are Some of the Common Questions We Hear
What is a prom dance?
A prom is a type of dance that takes place in high schools and colleges. It is usually held at the end of the school year, and it's usually attended by students who are about to graduate. At a prom, people get dressed up in their best clothes and dance with their friends.
How much is it to rent a limo for prom?
That depends on the type of vehicle you want, how long you need it, and the number of passengers. To get an estimate, check out our pricing page. You can also call 866-265-5479 to get a quote from one of our customer service representatives. We can get you a quote in seconds so you can know upfront what you will expect to pay. Generally, prom limos are $90-185 per hour.
Why do prom limos have hourly minimums?
This night is the busy season. When you book a limo for your prom, you're not just getting a ride—you're getting an experience. As soon as we pick up your group, we'll take pictures of your group in front of the limo. Then we'll drive your group to the restaurant of your choice, where we'll be waiting for you. After dinner, we'll drive over to the high school and drop you off at the prom so that you can enjoy the rest of your night (and get all those selfies) Finally, after all that time spent picking up and dropping off kids, we'll take one last picture with each member of your party—and then drive them home.
Why is a limo important for prom?
You don't get to go to prom every day, so you need to make sure that every second of it is perfect. You want to be able to arrive in style and have enough room for your friends. The last thing you want is for your evening to be ruined by being cramped in the backseat of someone's mom's minivan. Limos are spacious and luxurious.
What's included in my rental?
All of the fun, none of the hassle. Our packages include all fees, tip and gratuities (we do the math for you), and no extra charges for stops.
How do I rent my prom transportation?
It's really easy. You can either make a reservation online, or give us a call at 866-265-5479 and our reservations staff will walk you through the booking process and answer any questions you might have. Once your payment has been processed, you'll have your reservation in hand, and you'll be ready to go on your big night. You must be 18 or older in order to rent a limo or party bus with us
Here's How To Make The Most Out Of Your Prom Dance
Get your group together early: Proms and graduations are held at the same time every year, which means that demand for transportation can be overwhelming. If you want to make sure that your group gets where they need to go on time and without any hassle, it's best to book early. The earlier you book your transportation, the better chance you'll have of getting the best rates available.

Take plenty of prom pictures: Schedule your rental out accordingly so that you will have time to take pictures with your group. Remember that meeting up at a convenient spot and easy to reach is recommended so you can easily get your pictures taken without taking up too much of your time being in the limo.

Don't forget to have fun: The stress and pressure of planning can make it easy to forget that prom is supposed to be fun. Don't let that happen. Make sure you're having fun with your friends, and make sure they're having fun with you. After all, this is an occasion worth celebrating. Just remember, Price4Limo has a no alcohol policy for prom.