Corporate Limo Service
Looking to take your employees on a company outing, or hire a vehicle for your business meeting? Well, look no further. Price4Limo is your one stop shop for all your corporate transportation needs. With nationwide availability, quick and easy booking, multiple vehicle options, affordable pricing, and unrivaled customer service, Price4Limo is a dependable option for business travelers and corporate outings alike. Our fleet of sedans, limousines, shuttle buses, minibuses and charter buses will take your clients and employees to wherever they need to go with guaranteed on time delivery.
When it comes to securing shuttles for your corporation, small business, convention, holiday party, or any other event you may have planned, there's no company better equipped than Price4Limo. From short-term rentals to multi-day events, we've got your back. We're here to help you get down to business. With a network of late-model vehicles that can accommodate large groups and long distances, there is no event we can't handle. Our goal is to provide the best service possible at the most affordable price—and we know that means keeping our prices low so you can focus on what matters most: your event.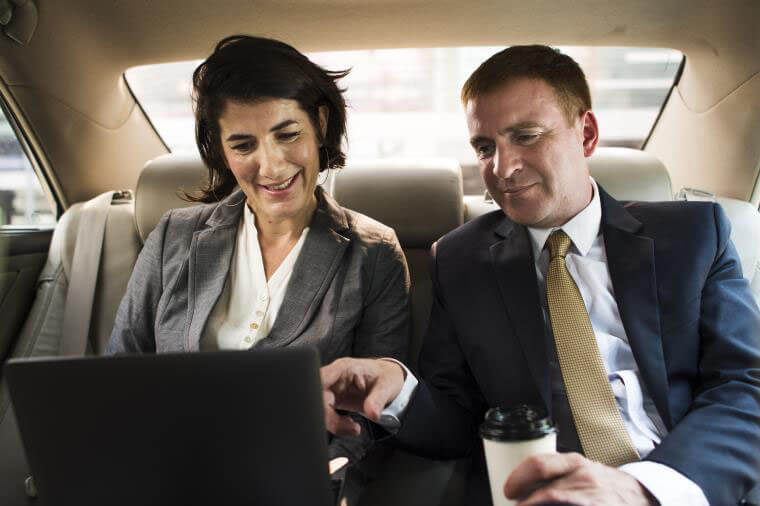 Why Price4Limo?
Price4Limo is your best choice for private transportation in the country. Whether you need a shuttle bus, coach bus, limo, party bus, sprinter van or luxury black car, Price4Limo can arrange your transportation through our network of local limousine and bus partners. With over 2,500 5 star TrustPilot reviews and over 15 years of experience in the private transportation industry, you can put your trust in Price4Limo. We've moved thousands of passengers from some of the largest events including: The Consumer Electronics Show (CES), RSA Conference, MAGIC Las Vegas & National Restaurant Association Show.
We understand that every company has different needs when it comes to corporate transportation, which is why we offer a variety of services. We can handle off-site meetings, large-scale conventions, or anything in between. We have worked with Fortune 500 companies in the past and look forward to doing so again in the future. Our goal is to always provide our clients with quality service at an affordable price.
For your corporate travel needs, call Price4Limo, where you can find the right vehicle for your employees and clients. Our reservation experts will help you tailor your rental to meet your group's travel requirements, and they'll assist you in picking the proper vehicle for your employees and clients. Services are available 24/7 so that you can take care of business at any time of day or night.
---
Corporate Charters For Any Trip
Team building - Corporate transportation and events are an indispensable building block of corporate life. In the same way that employees are encouraged to work together in a less formal setting, they also hone their relationships with one another. Corporate transportation should be a seamless experience, allowing you to get in and out of your event without any hassles. With Price4Limo, you can easily book an entire bus for your event or just need a ride to and from the event, whether it be a holiday party or an off site location. You can even add chartered party buses that will extend your event beyond the walls of your office space, giving your employees and clients a chance to engage with one another in a more relaxed atmosphere.
Training - When you're responsible for the transportation of your employees, there are a lot of things to worry about. You need to make sure that everyone arrives on time and ready to learn, or your company could suffer. A great way to ensure that your team members get where they need to be is by using corporate transportation services from Price4Limo. Whether they're located remote or nearby, our easy solution ensures transportation without worry.
Company retreats - When it comes to corporate retreats, it's not just about having a great time. It's about building relationships and boosting team morale. So why would you make employees organize their own transportation? Wouldn't it be easier if you could just offer your company's staff and partners a convenient way to travel? This is why we offer shuttle buses or limo rentals for your company's retreats.
Conferences and trade shows - When you need to move a large group of people to and from an event, a charter bus is the best option. An important part of any successful conference or trade show is the ability for attendees to connect with other professionals in their industry. The corporate transportation offered by Price4Limo ensures that your group will be able to get to and from all the events and meetings they have, as well as move around town in between. We offer flexible booking options so you can choose when you want us to pick up your group, and we'll even pick up at multiple locations if necessary. Our fleet includes luxury motor coaches, executive sedans, full-size van rentals, luxury SUVs, and more. We know that when it comes to corporate travel planning, time is money—which is why we do everything we can to ensure that you're never late for an appointment or presentation again.
Why Book Transportation For Your Company's Next Event?
It's Convenient - We all know how much time and energy it takes to plan an event, especially one that involves a lot of people coming in from out of town. If you have to coordinate rideshare and public transportation or just hope that everyone shows up on time, it's enough to make anyone's head spin. With Price4Limo, we've got you covered. We'll send a bus who will make sure everyone gets where they need to go—and on time—so you can breathe easy and focus on what matters most: being present at the event with your colleagues
Economical - Your event will be more cost-effective when you book transportation for the whole group, because you can get a vehicle to take multiple trips, spread the cost out among the total headcount, and won't have to reimburse staff after the fact. There's many affordable options you can rent from our network so get started and call our team.
Flexible - Timing is crucial to any event, but it's especially important if you're hosting a conference or seminar. If you don't have reliable transportation for your keynotes, vendors, speakers, and workshops, they'll have much more trouble getting on time. With a bus rental, you can plan your routes how you see fit—you don't have to worry about traffic or getting stuck in gridlock. You'll also be able to ensure that everyone makes it where they need to go on time, which will make the whole experience smoother for everyone involved.
Improve Culture - You may think that it is only about the cost of the transportation or the time it takes to get there, but there are other benefits you can gain from booking transportation for your company's next event. When people have to travel together in a group setting, they are naturally going to talk with each other and develop friendships and relationships with each other that are beneficial for everyone involved. This can make them feel more like a team than just a group of strangers working together on a project or task at work.
Improves Employee Morale - When employees have to travel for business, it can be stressful. Booking transportation will make the process easier and more enjoyable for your team. You can book a bus or van to transport your employees from their homes to work and back again every day, or you can arrange for them to be picked up from their homes and dropped off at an event location. The latter option is ideal for when there are multiple events in one day or if you want to provide transportation for your staff between events. You can also use a party bus or limo rental as an incentive for workers to work towards specific goals.
Renting a Charter Bus or Limo
Our reliable corporate transportation service is the ideal choice when planning a corporate outing or event. With vehicle models ranging from classy Chrysler 300s to large Escalade SUV limos, we're bound to have the right vehicle you're looking for. If you require transportation for a large group then look no further than our charter buses. They can seat up to 50 people comfortably and safely. Ask our sales representatives about package deals if you need more than one bus to take your company somewhere.
Corportate Transportation Bus Rental and Limo Service Prices
At Price4Limo we go the extra mile to ensure that you receive the best possible rate for our services. We offer various promotions and discounts to offer a lower price than our competition and save you money! Our sales representatives will provide you with excellent customer service and work with you to make sure you get what you need in terms of corporate transportation. You can reach our sales representatives by either calling us, or sending us a message online.
Frequently Asked Questions About Corporate Transportation
How do I make a reservation?
To book a vehicle with Price4Limo, you must contact us at 866-265-547 or fill out the information for your trip into our online booking tool and make payment to reserve the vehicle. You can use any major credit card or Affirm payment plans to pay for your trip. Once processed, you will receive an email confirmation from us that includes all of the details about your reservation including pick up and drop off times, etc.
What if I go over time?
If you go over the time allotted for your appointment, you will be charged by the hour or half hour depending on what the rules of your affiliate company is.
Do you have an hourly minimum?
We have a minimum number of hours required for each rental. The amount varies by date and vehicle type. Please ask your reservation specialist about the different minimums why you get your initial quote and they'll help try to put together a package for you.
Is there a deposit on the vehicles?
Yes. All reservations will require an initial payment due at the time of booking to reserve your vehicle. You will make payment through our website with either credit, debit, or Affirm to lock in your reservations. The amount of the first payment will vary depending on what type of vehicle you are getting as well as the date of service. To get exact figures, please head over to our search results page and click the "Book Now" button.
When is the final payment due for a booking?
The final payment will be due before the run. If you booked a ride for a trip within 1-2 weeks, expect to make the full payment within 2 or 3 days of your original reservation. For trips that are months out, you will have two payments due around the time of the booking with the third payment coming due around 2 weeks before the trip takes place. This is generally the payment schedule but it can vary.
How can I pay for my trip?
You can pay right online through our booking page. If you need assistance, please call 866-265-5479 to speak with one of our 24/7 reservations members.
Do you have ADA-accessible vehicles available?
Yes. Vehicles are available in our network throughout the country, and they can be equipped with a variety of features to make them accessible for passengers with disabilities. When you call to book your trip, notify your reservation representative about what accessible features you need. Wheelchair lifts, hand railings, and other features may be available.
Here's How To Find The Best Corporate Travel Services
Map out your requirements: The first step in finding the best corporate travel services for your company is to identify your needs. Are you looking for a car service that will pick up and drop off employees from their homes in the morning and evening, or do you want to provide buses for an upcoming convention? Do you need transportation to get from one meeting to another or just to take clients out for dinner? How many people are going to be on each trip? What kind of vehicle(s) will be necessary? The answers to these questions will help determine what kind of ground transportation service would work best for your company. Get together as much of this information as possible so you can get a quote tailored to your individual needs. You'll need to pick up locations/dates/times, passenger counts, and timeframes.

Get price quotes: You've gathered all your itinerary, and you know what you have planned. Now it's time to get quotes from the companies to see what's available. Call our representatives and ask for a quote and we will show you the different coaches, shuttles, party buses, limos, and sedans that we have available for your event details. We will be able to show you estimated pricing on the spot so you can compare the rates between all the different local providers.

Prepare your budget: This is the most important step of all. Once you have picked out a vehicle that would work for you,, it's time to collect the money. Most bus and limo companies will not rent their vehicles without an upfront payment and many (like us) require full payment before the run. To avoid losing the vehicle you chose, get together the finances from your company card or get reimbursed and make your payments as soon as possible. This will ensure you get the vehicle you've preselected as well as get the best rates

Finalize your reservation: To finalize your reservation you will need to make payment through our online quotes page. Here, you will pay by credit or debit card and officially lock in your reservation. You can call our reservations team at 866-265-5479 to assist you in making the reservation which is super simple. It will take you less than 5 minutes, and once you have done so, you'll get an email confirmation with your trip details