Why Price4Limo?
Price4Limo is one of the top charter bus and minibus rental providers in the industry. We have a large fleet of buses, limos, and vans that are perfect for your event. Our transportation packages include every amenity you could want from air conditioning to onboard restrooms. Our vehicles also come with comfortable seating and entertainment systems including DVD players or televisions so you can enjoy your trip with family and friends! You'll find that our pricing on rentals is very affordable compared to other companies out there. Price4Limo also provides competitive rates that will keep your budget intact while still providing high quality service at an unbeatable price point!
Many Bus Rental Options
There are many different bus rental options available, which can make it difficult to decide which one is right for you. Here are the most common types:
Party buses and limos: The perfect choice if your group is looking to party on the way to their destination. You can usually find these vehicles in a variety of sizes, so you should be able to find one that will fit your group comfortably.
Shuttle buses: If luxury isn't what matters most and you're just looking for an easy way to get from point A to point B safely and on time, then this may be the option for you.
Minibuses: Often used by small groups or families traveling together. This vehicle type offers enough space for everyone without being too big or expensive (in comparison).
Van rentals: Vans are great choices when traveling with larger groups because they provide plenty of room and flexibility (e.g., fold-out flatbeds). They're also cost effective because most come with more than one passenger seat so there's less need for multiple trips back home after dropping off passengers throughout the day/night/weekend etc., depending on how long they'll be staying at their destination(s).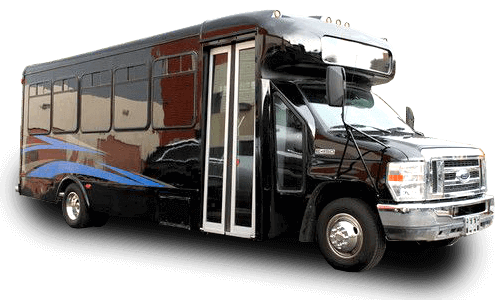 Party Bus, Limo, and Van Rentals Available
Our charter buses and limos can accommodate groups of all sizes, whether it be for a wedding at your parish, or to take the kids around the churhc. Be sure to ask us about our van rentals as well. Van rentals are great if you want something compact enough that can fit in tight spaces but still has room for everyone who needs transportation!
Affordable Pricing on Rentals
Our pricing is competitive and our vehicles are always kept in prime condition. We offer a wide range of rates and packages, so you can choose the one that best fits your needs. Whether you need a charter bus or minibus rental for a group of 32 people or less, we're prepared to help you find an option that fits your budget.
Reserve Shuttle Buses for Religious Services
Whether you're a church or a synagogue, we can help you get your congregation where they need to be, when they need to be there. We even provide a driver if you don't have one in your congregation. We know it's important that you get the most out of your experience at our company, so we work hard to make sure every detail is perfect before any trip starts. We'll work with you every step of the way until everything is just how you want it—from choosing the right vehicle for your needs to checking in with us on the day of the trip itself. We want you to feel confident that your trip will go off without a hitch!
Accommodate The Whole Group
The most important thing when planning a group trip is to think about how you will accommodate the whole group. For example, if you plan on taking a charter bus to your destination, remember that there are a number of ways to accommodate the whole group. You can sit together in one area of the bus and have an activity planned out for each member of your party, or you could split into smaller groups and go on individual outings around town. Either way, it's important that everyone feels like they're getting involved and having fun on their trip. But how do we make sure this happens? Well first off let me say: "Don't worry!" There are plenty of ways we can make sure your religious gathering goes smoothly without breaking any budgets!
Travel With Your Youth Groups
You're planning a trip for your youth group and you're trying to figure out how to get there. Chartering a bus is a great option because it offers the best in convenience, safety, comfort and cost efficiency. Here's how: Plan ahead by looking at available times on different buses and finding out what seats are available. You can also ask about special deals that may be offered during certain time periods or for specific routes. Work with your youth group leader to decide on where you want to go, how long you want to stay there and what activities will take place during the trip. Then make sure these details are included in your itinerary when booking the bus service so they know exactly what kind of vehicle they're providing for you! Once everything is set up correctly (including any special requests) the only thing left is hoping everyone enjoys themselves while traveling together!
Church Camp Transfers
The church camp transportation company is the go-to choice for all church events and religious events. They provide a variety of services to accommodate your needs, including transport for all church camps, groups, and youth groups. With their fleet of buses and minibuses you can rest assured that you will get there safely and on time with no hassles or delays.
Day Trip with a Minibus
When you want to go on a day trip with your religious group, a minibus can be the perfect option. The great thing about hiring a minibus is that it allows you to take as many people as you like for whatever kind of day out you are planning. There are so many things to do in Orlando, including theme parks and beaches, museums and restaurants, theaters and sports events. With our large fleet of vehicles available for hire in Orlando we can ensure that your entire group has enough room on board the bus for them all to enjoy their day together without feeling cramped or uncomfortable at all.
Travel Seamlessly Over Long Distances
When you need to travel long distances and make several stops, charter buses and minibuses are the best choice. For example, if you're traveling from New York City to San Francisco in one day (a common route for religious groups), using a commercial airline would be very inconvenient. You would have to get up early, take a taxi or subway to JFK airport, wait in line at security—and then fly non-stop all day long while trying not to nod off or get sick from being so close together with complete strangers who may not even speak English! On the other hand, chartering a bus allows your group members plenty of room inside their own vehicle so they can enjoy each other's company without feeling cramped. It also allows them more flexibility in stopping when they want along the way and taking breaks when needed. Plus there is no limit as far as how many times someone can go into an airplane restroom before landing; on board a chartered bus everyone can go whenever needed!
Sightsee in Other Cities
The sky's the limit when it comes to sightseeing in other cities. You can travel to other states! Maybe you're at faith camp or church camp, or maybe it's a nature camp where you get to learn about ecology and conservation. Whatever the case, it's time to explore the local area. But what if you don't want to go to summer camp? Maybe your parents aren't into the whole religious aspect of it, or maybe you just want something different from what everyone else is doing during the summer months. That's okay! We've got some ideas for places that are perfect for summer fun without having to worry about going to church every morning.
Celebrate Religious Events with Motorcoaches & Limo Service
No one wants to spend their time on a bumpy ride or worrying about how they'll get home if the bus breaks down during an excursion. The best way to ensure that everyone has an enjoyable experience is by choosing the right type of transportation. A motorcoach is most appropriate for large groups of people going on excursions or trips from one place to another. Motorcoaches are made for comfort and safety, so you can feel confident knowing that everyone in your group will have room to stretch out and relax without being cramped or uncomfortable. Limos are another great choice for longer trips where comfort and style are important concerns. Limo services often come equipped with televisions, DVD players, Wi-Fi access points, refreshments and other amenities like pillows and blankets so there's no need for anyone needing special accommodations--and these types of vehicles can be rented out just as easily as charter buses!
Charter Buses Are Great For Religious Groups To Get Around wasily
Charter buses are great for religious groups to get around easily. There are a lot of people who will be happy that they were able to get this information because it's so important. You don't want to forget about anything and make sure you take care of all the details.
Getting Started
The first step to chartering a bus for your group is to contact us directly. Our experienced and friendly staff will work closely with you to find the best bus for your needs, whether it's a luxury motor coach, shuttle bus or minibus. We can even help you plan your trip and make reservations for additional travel services such as hotels or airports. We are committed to making sure that every customer has an enjoyable experience on our buses. That's why we offer a satisfaction guarantee on all of our services: if something goes wrong during your trip, we will do whatever we can to make it right again—no questions asked! Our dedication shows in all aspects of our business and makes us one of the most reliable transportation companies in the industry today. If we don't meet or exceed your expectations then let us know so that we can take care of any problems immediately!
Our Pricing and Rates Explained
We offer a wide range of bus sizes, types, features and amenities to suit your charter bus or minibus rental needs. Below is an overview of our pricing options:
Charter Bus Options
Minibus Rental Prices (10-15 Passenger)
Smaller passenger capacity buses - 10-15 passengers per vehicle
Medium Passenger Capacity Buses (16-24 Passenger)
Mid-sized passenger capacity buses - 16-24 passengers per vehicle