Party Buses
Search our inventory of over 12,000 vehicles including party buses & more. Our party buses are like nightclubs on wheels making them an excellent choice for throwing an unforgettable party. No matter the occasion or location we have the perfect vehicle for your next special event!
Party Bus Rentals Near Me
The fun edgy aspect behind being in a party bus rental with your friends or family members instead of staring at traffic is a huge no brainer for most. With the comfortable seating, you have enough leg room to stretch and feel free. Think of it like first class comfort on the road. Not to mention Party Buses come with an AUX/Ipod connection to be able to play your favorite music while on the ride while drinking a nice cold beverage.
The best part? Having your own personal chauffeur also known as a designated driver. Theres never a reason to risk you getting a ticket or getting pulled over, especially on a night that is supposed to be fun. This party van is the way to go, the are worry free, reliably on time, and stylish.
Party Buses have always been a staple in the entertainment industry, not only for prom, or a night out on the town, but more formal events like bachelorettes, weddings, and even company events.
Bus Rental Services
Theres a huge convinience when renting a party bus, not only for price but for your overall experience. If you're looking for party bus prices, always have in mind that you can pool your money in together with your riders, making it much more affordable for everyone in the group. Aside from that if it happens to be a special trip, why would you book several different Uber or Lyft rides when you can keep the party going in one for almost the same price?
Party Buses
You have so many different Party Buses to choose from, whether you have a small group of 8 Passengers or up to 60 passengers, theres always an option. You can go big and get a Charter Bus which can be much more beneficial to everyone in the group. Aside from that there is different types of Party Bus or Limo Bus rentals with different prices, Get A Free Quote, which you can compare and make sure you are getting the best deal.
We cover the whole United States meaning we have access to a huge fleet, doesn't matter where you are we have the perfect party bus for you. Doesn't matterif you're in a huge city like Miami, Los Angeles, Chicago, Las Vegas, New York, Atlanta or a smaller city, there is always bus rentals near you. When looking for transportation services, Price4Limo is the trusted choice, with thousands of happy customers and hundreds of positive reviews..we make it easy.
Vehicle Type

Vehicle Passengers

Hourly Rates Starting From*

18 Passenger Party Bus
Up To 18
$125 Per Hr
20 Passenger Party Bus
Up To 20
$150 Per Hr
22 Passenger Party Bus
Up To 22
$160 Per Hr
25 Passenger Party Bus
Up To 25
$175 Per Hr
* Prices may vary depending on availability
10 Passenger Sprinter Party Bus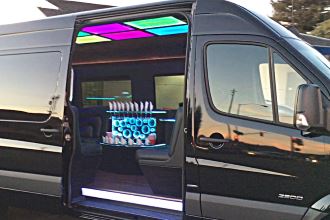 Our smallest party bus offering comes in the form of a sprinter van. With enough room for you and your friends you can have an excellent time with our awesome sprinter bus. The party van is one of the most affordable 10 passenger sprinter bus rentals of the lot yet it comes fully loaded with AUX/Ipod connections, TV's, mood lighting, and comfortable seating. This 10 Passenger party bus is definitely a sleeper, it's pure class with every touch of party feel. Can be perfect for Airport transportation. When you're looking for: party bus near me and you're looking for a mini bus, the luxury rentals will include this beautiful Mercedes Sprinter or a Dodge Sprinter Van for rent which can also fit 10 passengers. It's something more of a compact rental where you can park anywhere making it more convenient in a 10 passenger van. Don't be hesitant to book this minibus as it packs a big punch.
20 Passenger Party Bus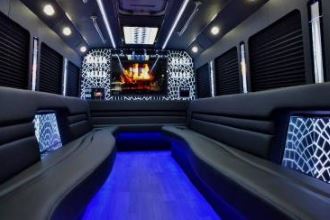 If you're expecting more than a few guests you can hire one of our small to medium party buses for your prom, wedding, birthday party or other special event. We have many 20 Passenger Party Buses such as a: church bus, mini bus rentals, and even a white bus, perfect for a wedding. If you are wondering what a 20 passenger party bus inside is like, now you know! It can have a dance pole on request or any specific options you'd like. Make sure to call us and get a quote for a 20 passenger limo bus near you. While it's still on the smaller side, this mini bus can handle all your friends and family and evne give your 20 passengers room to dance for your Birthday Celebration.
30 Passenger Party Bus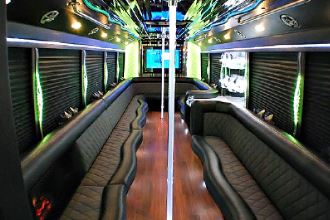 Expecting quite a few people for your bachelor or bachelorette party? Check out our medium sized party bus rental & get your party started! Once you start getting to a 30 passenger capacity it's definitely not a mini bus anymore. It can definitely be a luxurious tour bus that will make your birthday or bachelorette experience a memorable one. Aside from it being one of the medium sized buses for rent. To find more information about our 30 passenger black or white services check out our 30 Passenger Party Bus. These can also be used as a church bus to help transport people on a special event. We'll make it easy on the wallet on any 30 passenger partybus for your Night on the Town.
40 Passenger Party Bus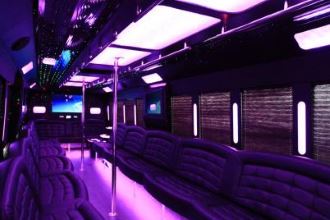 Get a big party going with our large party bus. With enough room for over 40 guests these buses come loaded with accommodations including dance poles & mini bars. With these limo bus rentals you can ensure all your friends are there for the party of a lifetime. Get ready to dance on your 40 Passenger Party Bus as there is plenty of dancefloor. Party buses come in all shapes, sizes and colors, many weddings opt in for the white bus or white limo bus which makes it for a mystical look for your perfect day. They are also the perfect size for a church bus, a band tour bus, or a charter bus.
50 Passenger Party Bus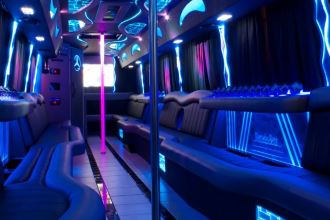 It doesn't get any bigger than this! Take everyone along in our largest party bus size available. Equipped with multiple dance poles & mini bars it's a club on wheels! These larger bus rentals can fit anywhere from 41-50 People comfortably. The transportation services we offer have many types of vehicles available. This 50 Passenger Party Bus Limo is biggest party bus available, being capable of transportating all of your 50 passengers. Whether it be for your Prom, Wedding, Bachelorette or birthday party. This monster can handle it all. Churches like to use our transportation services as a church bus to help transport people in case of a special event. Not to mention, many of our clients like to use it as a band tour bus, or for a Sports Events including: basketball, baseball or football charter bus. To put it short, this luxurious tour bus, can handle all of your 50 passengers. If you're wondering what a tour bus layout looks like or a simple charterbuse inside is like feel free to browse around. We have every shape and size available up to a 50 passenger limo bus rental here. Bus Rental Prices
Search Limos, Party Buses & Charter Buses
---
Top Cities For Party Bus Rentals
---