Party Bus Rentals
Explore our impressive collection of more than 12,000 vehicles, featuring party buses and so much more! Think of party buses as mobile nightclubs, offering the perfect solution for an unforgettable celebration. Regardless of the event or destination, we've got just the right vehicle for your upcoming special occasion!
At Price4Limo, we're your trusted party bus booking agency and event service provider. Numerous satisfied customers have counted on our know-how to plan seamless trips, and we're eager to help you choose a luxurious ride from our wide-ranging limo bus rental collection—all at budget-friendly prices. Our long standing experience in the industry allows us to work with a variety of local providers so that you can truly experience the best there is in ground transportation. For a smooth experience in arranging your next journey or event, don't hesitate to contact us at 866-265-5479.
People all over the country trust us to arrange their ideal party bus rentals, and we'd be thrilled to assist you as well. At Price4Limo, we offer a diverse selection of vehicles and features to accommodate your requirements, from classic limo buses to extravagant 50-passenger party buses. You can explore our extensive inventory of over 12,000 vehicles easily by going through our website or by calling our reservations staff.
Rent a Party Bus With Price4Limo
Here at Price4Limo, we recognize how much your event means to you. We're aware of the effort you've put in to create the ideal celebration, and we aim to make it even more memorable. That's why we provide party bus rentals in various styles and capacities, designed to accommodate 10 to 50 guests and featuring exclusive features like large-screen TVs and immersive audio systems. Our extensive range of vehicles ensures that there's always one available when you need it, without any long waits.
The enjoyment of traveling in a party bus rental with your nearest and dearest, as opposed to being stuck in traffic, simply cannot be overstated. The roomy seating allows you to stretch out and truly relax, much like first-class travel on wheels. Plus, party buses are equipped with an AUX/iPod connection, so you can jam to your favorite tunes while sipping a chilled beverage during your journey.
What's the cherry on top? Having your very own private chauffeur. There's no need for anyone in your group to take on driving duties. Choosing a transportation service like ours is the ultimate solution, offering worry-free, reliable, and stylish services.
Party Buses have always been a staple in the entertainment industry, not only for prom, or a night out on the town, but more formal events like bachelorette, weddings, and even company events.
Why Choose Price4Limo As Your Party Bus Company?
Opt for Price4Limo and experience top-notch, budget-friendly transport solutions. With more than a decade of experience, we have helped countless journeys across the nation, always valuing our clients as our top priority. When you ride with Price4Limo, you'll enjoy:
Instant pricing - With the click of a button you can browse pictures and pricing from many different providers to find your next ride.
Premium amenities - Travelers are able to request a variety of different amenities on their bus which include bluetooth, champagne glasses, leather seating, and more. Additionally, ADA buses are available in certain areas.
Nationwide coverage - With vehicles available in every US city and all 50 states, there's no place we can't go.
Thousands of affiliate partners - In our network of 5,000 transportation partners you will find many different types of limos, party buses and sprinter vans.
Stress-free planning - Trust Price4Limo to ensure every aspect of your booking, from pickup to vehicle choice, meets your specific requirements. Since every traveler has distinct preferences, we treat each reservation with equal attention, regardless of your desired vehicle and features.
Party Buses To Choose From
Our extensive network spans the entire United States, providing access to a vast fleet of party buses tailored to your location. Whether you're in a mega city like Miami, Los Angeles, Chicago, Las Vegas, New York, Atlanta, or a smaller town, we guarantee there's a bus rental nearby. As a trusted choice for transportation services, Price4Limo prides itself on thousands of satisfied customers and numerous positive reviews, making the entire process a breeze for you.
How Much Is It To Rent A Party Bus?
Vehicle Type

Vehicle Passengers

Hourly Rates Starting From*

18 Passenger Party Bus
Up To 18
$125 Per Hr
20 Passenger Party Bus
Up To 20
$150 Per Hr
22 Passenger Party Bus
Up To 22
$160 Per Hr
25 Passenger Party Bus
Up To 25
$175 Per Hr
*Prices may vary greatly in your city and state. Due to the impact of COVID-19 and inflation, all rental prices shown are past estimates. Actual pricing may be significantly higher. To get a quote for your trip/event please call 866-265-5479
10 Passenger Sprinter Party Bus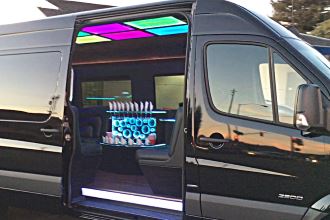 Introducing the most compact party bus option: the stylish sprinter van. This cozy yet lively space is perfect for you and your friends to enjoy a fantastic time together. As one of the most cost-effective options, our 10-passenger sprinter bus rental is packed with exciting features like AUX/iPod connectivity, TVs, ambient lighting, and plush seating. This 10-passenger party bus effortlessly blends sophistication and fun, making it an ideal choice for airport transportation as well. These luxurious offerings include the stunning Mercedes Sprinter or the sleek Dodge Sprinter Van, both accommodating up to 10 passengers. These compact rentals provide the added convenience of being easy to park anywhere, making your 10-passenger van experience as hassle-free as possible. Don't let the small size fool you - this fun bus delivers an unforgettable punch.
20 Passenger Party Bus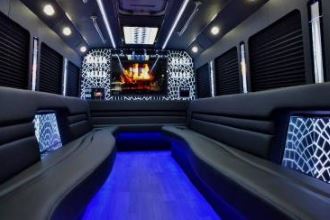 Anticipating a sizable gathering? Consider renting one of our cozy yet spacious party buses for your prom, wedding, birthday bash, or any other special occasion. A 20 passenger party bus come in various styles, such as a chapel bus, compact bus rentals, and even an elegant white bus, ideal for weddings. Curious about the interior of a 20-passenger party bus? Picture this: it can include a dance pole upon request or any other custom features you desire. Though it's sleekly designed, this compact bus has ample space for your friends and family, even providing enough room for 20 guests to boogie during your Birthday Celebration.
30 Passenger Party Bus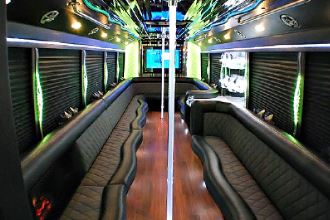 Take a look at this medium-sized party bus rental and kick off the festivities! In fact, it's a luxurious limousine bus that'll turn your birthday or bachelorette event into an unforgettable experience. Consider this option as a church bus for special events, ensuring smooth transportation for all. We're committed to providing budget-friendly pricing for every 30 Passenger Party Bus, ensuring an amazing Night on the Town for everyone.
40 Passenger Party Bus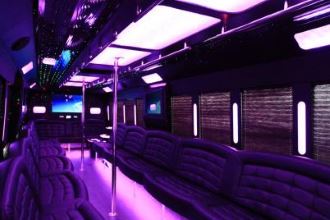 Kick off an epic celebration with this high capacity party bus designed to accommodate up to 40 guests. These buses are packed with amenities such as wraparound seating, laser lights and mini bars. With our limo bus rentals, you can make sure every friend experiences the party of a lifetime. Prepare to groove on the dancefloor as there's ample space to let loose. And with high ceilings, boarding is easier than ever. Many couples choose a white bus or white limo bus for their wedding day, lending an enchanting atmosphere to their special celebration. The 40 Passenger Party Bus is an amazing option to choose.
50 Passenger Party Bus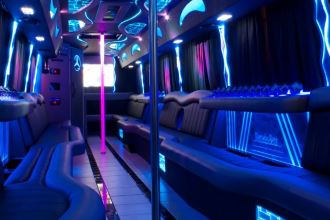 Step up your party game with the most spacious party bus yet! Invite everyone and experience an unforgettable time aboard our deluxe mobile club. This enormous party bus is perfect for accommodating 41-50 people comfortably, complete with multiple dance poles and mini bars for an unbeatable experience. This is the ultimate choice for large groups. Ideal for proms, weddings, Sports Events, and birthday celebrations, this colossal 50 passenger party bus can handle anything you throw its way.
Search Limos, Party Buses & Charter Buses
---
Frequently Asked Questions About Party Bus Rentals
What Is a Party Bus?
A party bus is a unique, large motor vehicle transformed from a standard bus into a luxurious and entertaining mode of transportation for groups of 10 or more people. Designed for recreation and entertainment rather than merely getting from point A to point B, party buses come equipped with LED lights, laser shows, Bluetooth connectivity, dance floors, and comfortable leather seating. Renowned party bus manufacturers include Grech Motors and LGE Coachworks.
How Many People Can Fit in a Party Bus
Party buses come in different sizes: small, medium and large. The smaller size party bus will fit around 10-18 passengers, while the medium size fits 20-35 passengers and the larger ones can fit 35-50 people.
How Much Is a Party Bus?
In general, renting a party bus costs between $700-$1,800 with hourly rates ranging from $100-$300. The final price depends on factors such as location, rental duration, and the size of the vehicle. Our team can provide an instant quote for party bus rentals in your area.
Can We Bring Alcohol on the Party Bus?
You can bring your own alcohol onto the Party Bus and consume it on board (given local rules allow for it). You must be 21 years of age to drink and we absolutely do not tolerate breaking this rule. We do not allow any glass containers onboard. You will need to bring cans or boxed wines.
Does It Come With a Driver?
Yes, your party bus rental will come with a driver. We do not offer any types of rentals without a driver.
Are There Hourly Minimums to Rent a Party Bus?
This will depend on the date. Generally, the minimums range between 3-5 hours; however, during prom season these go up to 4-6 hours. During December, minimums tend to drop down to around 2-3 hours. However, we can always put together a package no matter what the hourly minimums are. If you want to take a 1 hour Christmas lights tour with us, we can do that.
When Should I Make My Reservation?
The earlier the better, but don't hesitate to contact us at any moment to make a reservation. For availability during the peak season (April-June), we advise booking at least three months in advance. Here's what demand looks like during the different season and days of the week:
Nights and weekends: With high demand for vehicles during these times, the sooner you book, the better your chances of getting the bus you desire.
April, May, and June: Also called prom season, these months see a flood of high school students booking buses and limo buses for their unforgettable night. Additionally, many couples plan their weddings during this time, leading to increased demand.
Weekdays: Unlike the weekends, weekdays have less competition for bookings, meaning you're more likely to secure your dream party bus. People usually go out on Friday or Saturday nights, so weekdays offer greater availability.
By keeping an eye on the best times to reserve a party bus and renting at least 3 months beforehand, you'll ensure a memorable experience without breaking the bank. So go ahead and start planning your unforgettable event today!
What if I Want to Extend My Rental by a Couple Hours?
Just let us know. This should be no problem as long as the extra time will not interfere with an existing rental after or before yours.
---
Top Cities For Party Bus Rentals
---
Party Bus Rentals For Any Occasion
Party bus rentals are the perfect way to make your next party a huge success. You can rent them for just about any occasion, and they're available to you at all times of the year. Here are a few of our favorites.
Wedding Transportation
As your special day approaches, you'll want to arrange transportation for your guests. From point-to-point transfers to stylish rides, our team is here to assist.
Bachelor Parties
To create a night you won't forget– from classy dinners to hitting up clubs or bars, the key is to secure your transportation. We have party buses to make it a breeze. You can move around to your chosen destinations without worrying about driving or designating a driver.
Sports Events
Whether you're a die-hard fan or an athlete, Price4Limo can assist with your game day transport. As the nation's top limo bus and shuttle provider, we cater to fans, schools, and professional teams, delivering quality travel. Reserve a ride with us, and you'll have access to our vast network of vehicles, ready to transport you whenever you need.
Birthdays
Make your birthday celebration extra special with a party bus rental from Price4Limo. Be it a sweet 16, quinceanera, or a milestone birthday, a party bus will be the cherry on top. Price4Limo has everything you need – from an extensive selection of vehicles to our dedicated staff, who will help you plan every aspect of your event.
Company Events
During corporate event planning, transportation often takes a backseat. However, to give your clients the best experience, every detail counts – including their transport. With Price4Limo on your team, we'll ensure seamless transportation for any event. From all-day conferences to client dinners, our network of limo buses is here to treat your staff and colleagues to one of a kind transportation.
Prom and Homecoming
Students are opting for this trendier mode of transportation over the classic limo. And why not? This popular choice among students offers a range of amenities, including spacious seating, dance floors, sound systems, and LED lighting, that create a fun and festive atmosphere.
---