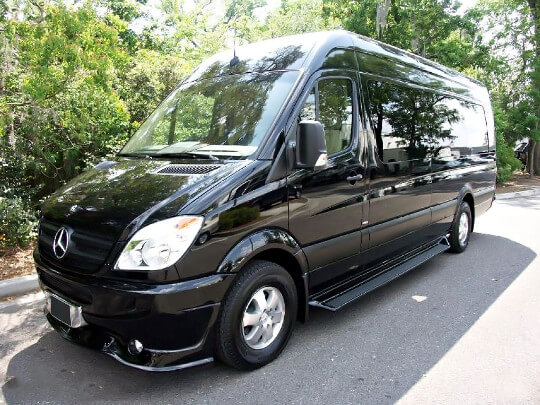 If you need transportation for a group of up-to 14 people, the Sprinter limo van is the perfect vehicle. Sprinters have been used for various reasons over the years, and recently they are now being converted into luxurious rides. Although there are still models with standard seating arrangements, there are also party buses that have custom interior amenities like a limousine. These Sprinter limos offer the perfect means of transportation for any special occasion.
At Price4Limo, we make it easy to connect you with your next ride. Through our partnerships with local limousine companies, we are pleased to offer you a selection of over 12,000 vehicles that can serve every city and state in the US. You can check out pictures and prices in an instant by going to our quotes page or by calling 866-265-5479.
Why Rent a Sprinter Limousine?
If you are looking for a beautiful and spacious luxury vehicle that can hold up to 14 people, then you need to consider renting a Mercedes sprinter limousine for your next party or event. The bus has over 6 feet of height on the inside, making it ideal for riding in comfort and even allowing for standing room. It also has all the best amenities onboard such as bar, wrap-around seating, Bluetooth stereo, and LED lights. This vehicle will make an impression on your guests and give them something special to talk about. Price4Limo is here to provide you with all the information you need to rent this fantastic vehicle.
The limousine is an ideal fit for just about any event because it's so versatile. It's big enough to fit all of your friends, but small enough that it won't blow your budget. It can make for a fun ride over to prom, or a relaxing pick up at the airport, and even a fun-filled shuttle for a bar crawl, the sprinter limousine can do it all.
Affordable Pricing. At Price4Limo, we know that the high price of party buses is often a reason why people choose to downsize their transportation options. But you don't need to do that when you rent a Sprinter limousine. These vehicles come packed with all the great amenities of a party bus—luxury, quality, and comfort—but at a fraction of the cost. To get a quote, just call our team at 866-265-5479.
First-Class Comfort. This is the perfect choice for groups of up to 14 passengers who want first-class comfort without having to feel packed up tight like they would in a limo. Sprinters have a high ceiling, perimeter seating, full standing room, and plenty of legroom to keep guests intimate and comfortable without having to sacrifice on any of the fun.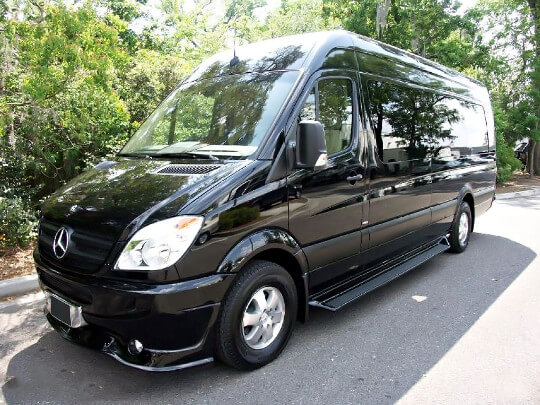 | | |
| --- | --- |
| Seating Capacities: | 10-14 Passengers |
| Storage: | Limited Trunk Space |
| Restroom: | No |
| Air Conditioning: | Standard |
| Music/DVD/TV: | Yes |
| Average Price: | $799-$1200* |
*Due to covid-19 Prices may be significantly higher and may vary depending on availability, service, and location
How Much is a Sprinter Limo Rental?
Sprinter limo prices will be different based on several factors. Location, type of service, the duration of your service and overtime fees are all things that determine your price for a Sprinter limo. If you are traveling over 100 miles you can expect fuel charges as well. Price4Limo.com allows you to compare prices for Sprinters from local limo companies so that you can get the best ride at the best price. Make a reservation online and save, or call us now for a free quote. Based on national averages, you can expect to pay around $150-$175 per hour for your reservation.
Trust Price4Limo For Your Next Sprinter Limousine Rental
With over 20 years in the business, we have built a world-class reputation as the top rated limo booking company offering superb ground transportation to meet every travel need. We meet every client request with customized solutions that are tailored to what you want and what you need. We know that there's no better way to attend your next event than in a limousine, and that's why we make it our mission to provide high-quality service at a reasonable price. At Price4Limo, we know that choosing a sprinter bus company is an important decision—that's why we put our customers first by providing top-notch service from start to finish. Our dedicated team of professionals will help you plan every aspect of your transportation needs so that everything goes smoothly on the big day. We take pride in making sure our customers are well taken care of before, during, and after their event because we know how important it is for everyone involved to feel comfortable during those special moments in life.
You're In Good Hands With Price4Limo
The team at Price4Limo has provided transportation for thousands of events and clients, and we want to provide you with the luxurious travel experience you deserve. We pride ourselves on being able to accommodate all types of events, from weddings on the beach to corporate events. We know that your event is important for you and your guests. You want everything to be perfect—and when it comes to transportation, that means getting there in style. That's why we offer a wide range of vehicles at competitive rates and provide service in multiple locations across the country, so you can rest assured that we will get you where you need to go no matter where in the world that might be. Price4Limo offers a wide range of services, including:
Bachelor and bachelorette parties. What better way to kick off your upcoming wedding with the guys or girls than by enjoying a night out on the town in one of our luxury vehicles? Sprinter limousines are stocked with everything you need for a great night.
Wedding transportation. When you're planning your big day, you need to make sure that all the details are perfect. From the ride to the reception to the after party, you want to make sure that every aspect of your event is as close to flawless as possible, and that means selecting the right transportation. So choose a Sprinter Limousine from Price4Limo for your wedding rides.
Corporate event transportation. We are here to help you with your corporate transportation needs. Whether you need a Sprinter limousine for meetings, executive airport transfers, or holiday parties we can help.
Airport transfers. We offer one-way or roundtrip service with the sprinters, so if you need a ride from the airport, we'll pick you up and drop you off right where you want us to go—no matter where that is.
Birthday celebrations. Whether you're celebrating a milestone or just want to celebrate in style, we can help. We'll get the party started by picking you up in style and whisking you off to your destination.
Prom transportation. If you're heading to prom with a group of friends, there's no better way to get there than in one of our luxurious Sprinter limousines. Get door-to-door service, so all you have to do is relax and enjoy the ride.
Sports stadium shuttles. With our Sprinter limousines available at your disposal, you'll be able to get around town with ease. Whether you're headed to a sports stadium, a concert venue, or another exciting location, we can provide top-notch service to all event destinations.
Quinceañera transportation. Quinceañera, or fifteenth birthday, is one of the most exciting milestones for any girl. It is a celebration of the transition from girlhood to womanhood and the beginning of a new chapter in your life. Book aSprinter limousine to make this day even more magical.
Night Out On The Town. Sprinter Limousines are the perfect way to discover your own unique take on the city's nightlife. With one of these, you can go wherever you want, whenever you want—no more finding a taxi or uber home at the end of the night.
The Nation's Premier Company for Sprinter Limo Service
When you're planning a trip with your group, you deserve a 5-star experience. You deserve to feel like the real VIP. In fact, we think it's important for any group to get that kind of treatment—whether you're traveling for business or pleasure, whether you're going on a weekend getaway or taking a business trip. That's why we've made it our mission to make sure that everyone who travels with Price4Limo can have an amazing time from the first moment they start thinking about their trip until the last ride home. We know that when it comes down to it, no matter what kind of experience you want out of your trip and how much money you're willing to spend on it, there are two things that matter most: the quality of the service and the vehicle itself. With us, both are top-notch.
Available Sprinter Bus Options
There are many different configurations of sprinter buses that we offer in our network of vehicles. Some are designed for partying, while others are geared towards more standard methods of transport. Here are some of the popular options:
Shuttle Style (forward facing seats)
Shuttle sprinters are a popular choice for standard travel. They're often more cost-effective than limos or buses, but still provide the same level of comfort you'd expect from a professional transportation company. The seats are front facing which come in either cloth, leather or captain's chair seats.
Limo Style (wrap around bench seats)
Limo sprinter buses are the most popular option in our network. They have wrap-around bench seats and room to stand up. The seats are more comfortable than some party buses, and they're all leather. The interior of our limo style Sprinter buses is decked out with color changing lights, LED TVs, Bluetooth speakers and even a mini bar—all the amazing amenities found in limousines and party buses—packed into a van. You'll prefer this option since it's newer, nicer and cheaper than most party bus rentals.
CEO/Jet Style (captain chair seats)
The Jet Sprinter is designed for the ultimate in luxury. It can seat up to 6-9 people, and there are individual captain's chairs for the ultimate in luxury transportation. The first two rows of passengers often face each other, they can also face forward. This is one of the fanciest vehicles out there and designed for premium transportation including moving company executives, or celebrities.
Book a Sprinter Van Limo Limousine Today
Let us know what we can do for you by calling 866-265-5479 or request a quote through our online portal. Nothing about your next event should be stressful, so use our seamless booking process and enjoy how easy it is to make your reservation. On the online portal, you can instantly see the different options with prices and pictures, as well as look through the different interiors of the sprinters and select one that works for you. There are thousands of options available throughout the country, so whether you're in New York City or San Francisco, we've got what you need. Whatever your event needs may be, Price4Limo is honored to provide ground transportation for it and we're more than happy to make sure it's an incredible experience for everyone involved.
Sprinter Limo Prices
| | | |
| --- | --- | --- |
| 8 Passenger Sprinter Limo | Up to 8 People | $125-$170 per hour* |
| 10 Passenger Sprinter Limo | Up to 10 People | $125-$180 per hour* |
| 11 Passenger Sprinter Limo | Up To 11 People | $139-$190 per hour* |
| 12 Passenger Sprinter Limo | Up To 12 People | $139-$200 per hour* |
| 13 Passenger Sprinter Limo Bus | Up To 13 People | $145-$210 per hour* |
| 14 Passenger Sprinter Limo Bus | Up To 14 People | $150-$220 per hour* |
*The prices above are estimated rates that come from the average rental cost. The exact pricing will vary depending on several factors such as location, date of service, time of rental and more. To get more exact pricing, please call 866-265-5479.
Frequently Asked Questions About Sprinter Limo Bookings
What Is a Limo Sprinter Van?
A model of Mercedes-Benz, the Sprinter limo combines limousine luxury and generous seating capabilities with a discreet exterior that makes it the perfect vehicle for a variety of events. The exterior comes in black, white or silver, so it will look great at any event. It's also versatile enough to be used for weddings, proms and other celebrations. The interior is equipped with Limousine quality entertainment systems that come with beverage consoles and wood finishes for added luxury. It's also fitted with premier audio systems to bring that party bus fun to the vehicle.
What Groups Usually Rent a Sprinter Limo?
Sprinters are great for short distance trips and local events, and clients include corporate planners, wedding parties, prom groups, and just to name some different types of groups that frequently use sprinters. Since these vehicles only hold up to 14 passengers at one time, they are preferred by smaller groups.
What Occasions Are Sprinter Limo Rentals Normally Used For?
Party sprinter van rentals are typically used for short distance travel, as these vehicles are similar to party buses. You don't want to be riding in one for over 200+ miles, as that is a trip more suited for a minibus or motorcoach. The party sprinter van is more ideal for pick up and drop off service to and from airports, concerts, sporting events, and stadiums as well as for hourly rentals for weddings, nights on the town, bar crawls, and school dances.
How Many People Fit in a Sprinter Limo?
The largest size has a maximum passenger count of 15, although most will only seat 12-14. The executive sprinter has less seats since it has the captain chairs instead of bench seating, so it can only hold 9 passengers max.
How Much Does a Sprinter Limo Cost per Hour?
The cost of your reservation will depend on the size of the vehicle, but expect to pay around $150-$175 per hour for your reservation. You can get detailed pricing information using our online booking tool or by calling 866-265-5479. Keep in mind too that the further in advance you rent, the better prices you will get.
What Impacts Sprinter Limo Prices?
As you might imagine, there are a lot of factors that can impact the price of your Sprinter limo booking. Some of these are pretty simple to understand, and some are a little more complex. One thing to consider is the location you're booking in—there's different options and inventory levels in each city, so the cost of transportation will vary depending on where you are at. Big cities like Denver will have more options, and thus be cheaper than in smaller cities with less of a selection. Another factor that impacts prices is time of year. The off-season tends to be November through February, but this can vary depending on where you live and what type of event you're planning (business vs pleasure). If possible, book during this time period so that you can secure better rates. The most important factor that will affect your price is how long you actually need the sprinter limo for. The more hours you need, the more expensive it will be.
Is There a Minimum Rental Period?
Most companies will require a 2 or 3-hour minimum rental but we can offer flexibility to match the time you need. Just call 866-265-5479 and we'll get you started on your quest for the best deal in town.
Can We Drink Alcohol on the Sprinter Limo?
Yes, you can drink alcohol on the sprinter limousine as long as you are age 21 or older. We do not supply alcohol so if you want to drink you will need to bring your own alcohol on board.
Do Sprinter Van Limos Have Any Luggage Space?
Sprinter van limos come with a spacious trunk that can fit 10 standard size bags. Some configurations will have storage space underneath the seats, but most of them have a large trunk.
What Amenities Do Sprinter Limos Have?
Sprinter limos come with the same amazing amenities found on limousines and party buses including LCD TVs, USB ports, fiber optic lighting, Bluetooth connectivity, glassware, a bar section, wood flooring, spacious trunk space for luggage or equipment storage, driver partition window to keep your privacy intact and more.
What Forms of Payment Do You Accept?
We accept all major credit cards, as well as debit cards. We also offer a buy now pay later option through Affirm, which allows you to make payments for your trip in installments with little to no interest.
Ready To Get Started? Get Sprinter Limo Prices In Seconds
When it comes to booking your Sprinter Limo, we've got you covered. All you need is your phone or computer, and in just a few minutes, our team can help you find the perfect Sprinter Limo for your needs. To get started, all you have to do is fill out the form on our online reservations page, and instantly get a price and find one that matches your needs. And if you want some extra help organizing your trip, just give us a call at 866-2654-5479. We're ready to answer any questions you may have regarding rentals or anything else related to planning an event like this.
---
Top Cities For Sprinter Rentals
---