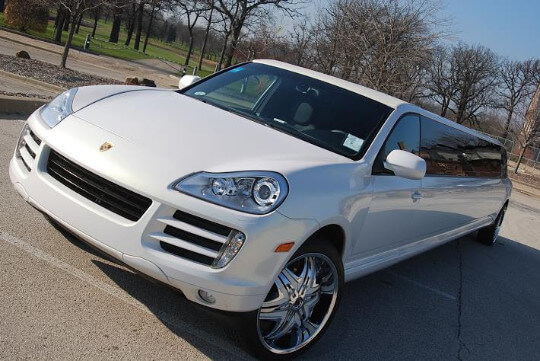 If you're looking for an exotic limo that can handle your most special events, look no further than the Porsche Limousine. This is one of the most elegant and exclusive cars on the road today, and we are proud to offer it as a rental in the United States. The Porsche Limousine is designed with all the features you would expect from such a high-end vehicle—like plush seating, an onboard bar area, and an easy-access gull wing door that makes it simple to get in and out of the car. But this car also comes with some extra perks that make it ideal for even more special occasions. Our company has a long history in exotic limos, but this one is by far our most popular. We know that when you're planning an event, sometimes you just want to make sure everything goes smoothly—and we've got you covered there too. Our team is dedicated to making sure your day runs smoothly from start to finish; we'll even help plan your itinerary before your arrival so you can arrive stress free.
As one of the most luxurious limousines ever made, the Porsche limo will turn heads all night long. Search all limos in your area now.
Why Rent a Porsche Limousine?
Renting a Porsche limousine is the best way to make your wedding day, prom night, or any other special event truly unforgettable. As a company that specializes in renting luxury vehicles, we're so excited to offer this amazing option for your special occasion. It goes without saying but Porsche is a status symbol. When you see someone in this ride you know that they've made it. And because Porsche limousines are so rare, your status will seem elevated to heights unknown. Many people who rent this luxury ride do so not just because of the brand but also because it can seat up to 14 passengers.
They're spacious enough to hold all of your friends and family comfortably, but they still feel like the kind of car you'd want to drive yourself. You don't have to hire a driver—and you can even put your own music on the system if you want. And when it comes time for photos, there's nothing more fun than posing with this gorgeous vehicle in front of an equally-gorgeous backdrop.
These limos are great options for birthdays, weddings, prom and even bachelorette parties. With amazing interior amenities like bars, TVs, superior audio systems and Italian leather seats, your guests are sure to be impressed and have a great time.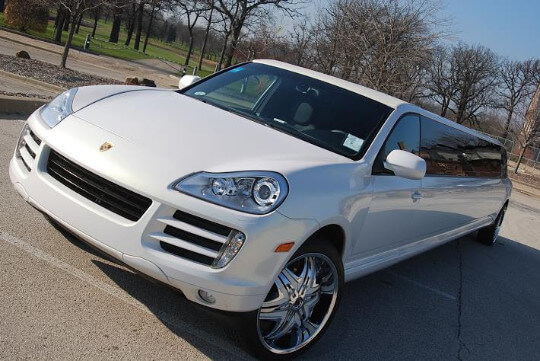 | | |
| --- | --- |
| Seating Capacities: | 14 Passengers |
| Storage: | Limited Trunk Space |
| Restroom: | No |
| Air Conditioning: | Standard |
| Music/DVD/TV: | Yes |
| Average Price: | $699-$1200* |
*Due to covid-19 Prices may be significantly higher and may vary depending on availability, service, and location
---
How Much is a Porsche Limo Rental?
Porsche limo rental prices will vary from city to city. Keep in mind, these luxurious rides are not available everywhere. There are only a few throughout the USA, but you can find pricing for them on Price4Limo's website by completing a search in your area. Some factors that determine your rental service price include the type of service, number of stops, and any overtime fees that you might incur if you exceed your allotted time of use. With that said, Price4Limo.com makes it easy for you to compare all limo rental prices and book online instantly. You can check out the table below to get an idea of average prices across the country.
Porsche Limo / hour -------------- $195-$270

Porsche Limo / 2 hours --------------$390-$540

Porsche Limo / 3 hours --------------$585-$810

Porsche Limo / 4 hours --------------$780-$1,080

Porsche Limo / 5 hours -------------- $975-$1,350
*These are estimated averages from across the nation. Actual prices will vary. To get a more exact quote, please call 866-265-5479
Why Choose Price4Limo?
The luxury of a limousine is something that many people dream about, but few people actually get to experience. With Price4Limo, that dream can become a reality. We're changing the way groups travel by making it easier than ever to book a limousine online, providing service across the United States and offering an easy online booking experience with our responsive 24/7 support team. We've been providing these seamless experiences for 20 years and have built a customer first approach that ensures you'll always get what you need, when you need it. Whether you're looking to celebrate a special occasion or just want to treat yourself with a night on the town, we've got you covered.
At Price4Limo, we believe that you never have to sacrifice style or luxury when going on a special event. That's why we work with thousands of companies to bring you an unparalleled selection of limousines in the country. From our time in business, we've served thousands of happy clients and earned over 2,500+ five star reviews meaning you're in good hands when you choose us.
When you call our support staff at 866-265-5479 and instantly get pricing for your next Porsche limo rental, we make it easy for you to choose the best transportation option for your needs.
Rent a Porsche Limo For Any Occasion
It's not just about the destination, but about the journey. And when you rent a Porsche limousine from us, you can be sure that it will be an unforgettable experience from start to finish. We have a fleet of luxury vehicles that can take you anywhere you want to go. Whether you are planning a night out at the opera or want to drive through the city in style with your friends, we have the vehicle for you. Our team can also help plan your event and make sure everything goes smoothly.
Weddings: In addition to being an elegant and luxurious way to travel from the ceremony to the reception, renting a Porsche limo can also help with transportation for wedding guests. The bride and groom can ride together in style, while their guests can ride comfortably in another vehicle.
Birthday parties: Renting a Porsche limo can make any birthday party that much more special. Your child or teen will feel like royalty as he or she is driven around town in this beautiful vehicle.
Corporate events: If you're looking for something fun and unique that will make your next corporate event memorable, renting a Porsche limo is an excellent choice. You can also use it as part of your team building activities by having all of your employees ride together while they're on break between meetings or lectures at the conference center where your company's annual convention or trade show is taking place this year.
Book With Price4Limo, The USA's Premier Limousine Rental Company
When it comes to limousine rental services in the United States, there are few companies that can match the quality of Price4Limo. We've been around since the 2000s, and we've taken our time to ensure that we offer only the best service possible—and that we provide it with a team of experienced professionals who are passionate about delivering exceptional customer experiences. With our partners and vast network of affiliates, we can provide you with a range of options for your event transportation needs. No matter what kind of vehicle you need for your occasion, our experts will be happy to help you find it. We're also committed to working with you personally through every step of your booking process.
Ready To Get You Porsche Limo Reserved?
Just call us at 866-265-5479, and we'll connect you with your limo and plan it specifically for the details of your ride. We understand that not everyone has the same needs, so we can accommodate any size party or budget.
Frequently Asked Questions About Porsche Limousine Bookings
What is a Porsche Limo?
A Porsche limousine is an exotic model of limousine that comes from stretching out a Sedan or SUV Porsche model and equipping it with luxury amenities such as on board bars, Disco LED Flooring, lights & sound upgrades, bench seats, privacy partition. The base models often used to make the limousine are the Panamera, or the Cayenne.
What Groups Usually Rent a Porsche Limousine?
Porsche limousines are perfect for any group event and are used by all sorts of people including:
1) Corporate Event Planners - A company can provide limos like these as part of their services for clients. The vehicles are often used for weddings, bachelor parties, business meetings and more.

2) Weddings - Many couples choose to rent a Porsche limousine to get married in because they want something unique and memorable for their wedding day.

3) Proms - Some high school students choose to rent a Porsche limo for their prom night because they feel like it makes them look like rock stars.
What Occasions Are Porsche Stretches Normally Used For?
These super-exotic vehicles are the perfect choice for special occasions like proms and weddings, as well as business executives and corporate clients. They're also often used for airport transfers, so if you want to travel in style from one place to another, this is the way to go. If you want to impress your friends or coworkers at the next big event, book your next ride in a Porsche limo.
How Many People Can You Fit in a Porsche Limo?
The average general seating capacity for a Porsche limousine is between 14 and 20 passengers, but since these are truly unique vehicles, it will depend on the model.
How Much Does it Cost to Rent a Porsche limo?
The price of renting a Porsche limo will vary widely based on your location and date of service. However, as an example the average price per hour is $195-$270.
Do Porsche Limos Have Any Luggage Space?
Yes—but it depends on the model. If the limo seating does not extend all the way into the back of the car, there will be a trunk. The trunk space is comparable to that of a normal car, so you can fit a couple small bags or a couple suitcases without any problem.
What Amenities Do Porsche Limos Have?
These cars not only look sleek and stylish, but they offer some of the best features in the industry. Here are just some of the amenities that many Porsche limos have:
Bars: Bars are one of the most common amenities in Porsche limos because they help make any event more fun and memorable.
Fiber optic lights: Fiber optic lights add a bit of pizzazz to any venue and can really set the tone for your party or event.
Laser lights: Laser lights are another great way to add some color and excitement to your party or event space.
Climate control: If you're having an outdoor wedding or party, climate control is essential.
Ready To Get Porsche Rental Prices?
It's time to get the best deal on a Porsche rental. Just call 866-265-5479 or use our online price tool to get a quote on your next rental. We're here to help you find the right car at the right price—with no hidden fees or surprises. Our friendly customer service team will be there for you every step of the way.