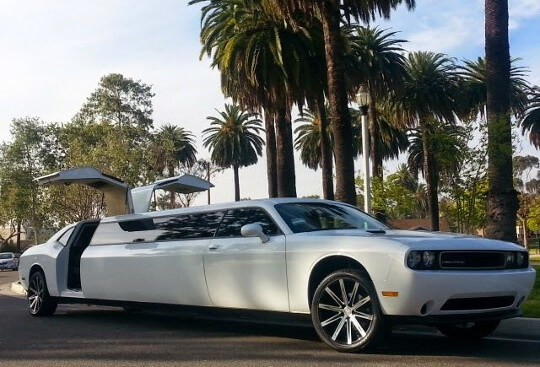 When you have a need for speed, but also need to transport up to 12 guests, the Dodge Challenger limo rental is the way to roll! Why settle for a standard limousine service when you can travel in one of the most sensational super cars on the road? No matter what you are celebrating, a Dodge Challenger limousine can satisfy even the pickiest of guests. Keep in mind there are only a few of these rides available throughout the United States.
Why Rent a Dodge Challenger Limo?
Renting a Dodge Challenger limo is easier than ever and these rides are great for proms, birthday parties, weddings or just a night on the town. Your friends and family will be blown away by this unique limo. Alternatively, if you want to impress your clients, hire a Dodge Challenger limousine service and you won't regret it. There's nothing that means business more so than a muscle car!
Amenities found inside the Dodge Challenger limo rental will be different from vehicle to vehicle, but the most common include leather seating, laser light displays, bars, and premium audio and video equipment (TV/DVD/MP3).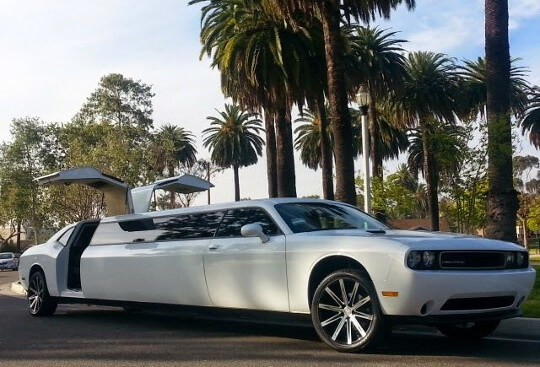 | | |
| --- | --- |
| Seating Capacities: | 10-12 Passengers |
| Storage: | Limited Trunk Space |
| Restroom: | No |
| Air Conditioning: | Standard |
| Music/DVD/TV: | Yes |
| Average Price: | $599 |
---
How Much is a Dodge Challenger Limo Rental?
The price for renting a Dodge Challenger limo will vary based on your location and type of service required. If you need to make several stops or travel over 50 miles, you may be subject to fuel charges. One other thing to keep in mind are overtime fees. To avoid these unnecessary costs, try to map out your entire trip before booking. To get a FREE quote for service, complete a search on Price4Limo.com and compare rates for local companies to find the best deals.
Dodge Challenger Limo Rental Prices
Rental prices for the Dodge Challenger will vary depending on how far you're driving and how much time you need the vehicle for. You should also keep in mind that what time of day or night you pick up or drop off the car can affect pricing: It's more expensive to rent during peak hours than it is early morning or late at night. Also note that while some companies offer discounts for one-way rentals (you may only need a car for one day), others don't offer this type of discount at all; so be sure to ask about both before booking!
How to Find The Best Dodge Challenger Limousines Near Me
Once you've found your options, start by asking questions. Asking the right questions when looking for a Dodge Challenger limousine can help you determine if this is the right choice for you and your group. The best way to do this is by contacting us directly and making sure that they have an understanding of what exactly it is that you need. This way, there will be no misunderstandings about what kind of vehicle may or may not be available for your needs. That said, there are also some things that should be uncovered during this process as well
Dodge Challenger Limo
You're looking for a Chrysler 300 limo rental, but would you drive it? Why not? The Challenger has everything you could want. It isn't just affordable and reliable, but comfortable as well. You can even get one that comes with a custom interior so that it matches your personality perfectly! The Dodge Challenger limousine is the perfect choice for anyone who wants to feel like an elite member of society without spending their life savings or having to put up with other people's thoughts about how they should live their lives.
Our Available Options
Our rental options include a wide range of vehicles, from the classic sedan to large limousines. With so many choices available, it can be hard to choose which one is best for you. We recommend that you take your time and consider the following factors:
Hellcat Limo
If you're looking for a way to show your friends how much fun it can be to rent a limo, the Dodge Challenger Hellcat limo rental is the perfect choice.
Black Dodge Challenger Limousine
Our Black Dodge Challenger limousine rentals are available in many sizes and styles to fit your needs. With seating for up to seven passengers, this ride can easily accommodate you and your friends or family if you're looking for something big enough for all of them but still affordable enough so that it won't break your bank account. Whether it's a birthday party or some other special occasion, renting one of these beauties will surely impress any guest who gets in!
White Dodge Challenger Limousine
White is a popular color for cars, and it's easy to see why. White is often associated with purity and cleanliness, which makes it the perfect choice for weddings. It's also a great color for luxury vehicles because white makes an already-beautiful car look even more luxurious.
Passenger Counts Of The Limousines
6 passenger Challenger Limos
6 passenger Dodge Challenger limos are the perfect solution for groups of 6 looking to go somewhere in style. These large and comfortable vehicles can carry a lot more than just your friends and family, so you'll have plenty of space to carry anything you want!
8 passenger Challenger Limos
8 passenger Challenger Limos are available in all the options listed above, and are perfect for small groups. They're one of the most popular options for people looking to rent a limo.
10 passenger Challenger Limos
A 10 passenger Challenger limo rental is a great way to get your party going. You can have up to ten guests in your limo, comfortably. This size of limousine is perfect for bachelor and bachelorette parties, or it could be used as a special treat when you are celebrating with family or friends.
12 passenger Challenger Limos
The Dodge Challenger limo rental with a capacity for 12 passengers is not yet available, but it's being tested. The company has not yet set a date for the release of the model.
---
Top Cities For Limousine Rentals
---