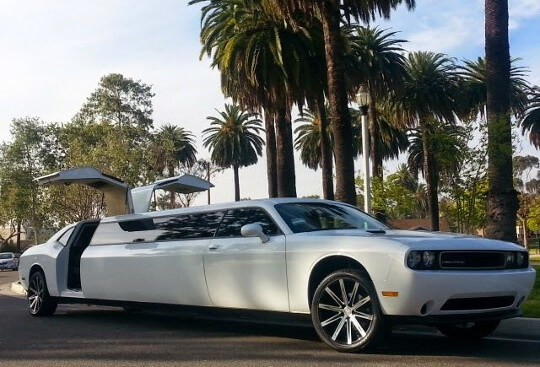 When you have a need for speed, but also need to transport up to 12 guests, the Dodge Challenger limo rental is the way to roll! Why settle for a standard limousine service when you can travel in one of the most sensational super cars on the road? No matter what you are celebrating, a Dodge Challenger limousine can satisfy even the pickiest of guests. Keep in mind there are only a few of these rides available throughout the United States.
With Price4Limo, you don't need to worry about finding the best limousine company for your event. We partner with thousands of limousine companies across the entire US, so we can help you find one wherever you are. When you call 866-265-5479, you'll get help from an expert who will find exactly what you need. You can choose one of our beautiful Dodge Challengers that will fit perfectly with your theme—whether it's classic elegance or something more modern and colorful. As soon as we receive your request, we'll begin working with our partners across the country to match the perfect limousine for your event.
Ready to get your instant quote? Just use our booking tool or call 866-265-5479 to get a vehicle list with photos and prices within seconds. It's as simple as that.
Why Rent a Dodge Challenger Limo?
Renting a Dodge Challenger limo is easier than ever and these rides are great for proms, birthday parties, weddings or just a night on the town. Your friends and family will be blown away by this unique limo. Alternatively, if you want to impress your clients, hire a Dodge Challenger limousine service and you won't regret it. There's nothing that means business more so than a muscle car!
Amenities found inside the Dodge Challenger limo rental will be different from vehicle to vehicle, but the most common include leather seating, laser light displays, bars, and premium audio and video equipment (TV/DVD/MP3).
When you're planning a getaway, the last thing you want to do is worry about transportation. You're ready to relax and enjoy yourself, and the last thing you need is a bunch of logistics and hassle. That's why Price4Limo is ready to bring you your Dodge Challenger Limo Rental. We'll take care of all your transportation needs—from airport transportation to wedding limo rentals—so that you can focus on what really matters: having fun. Our 24/7 reservation team will help set up your trip in minutes, and our easy online quote tool will give you all-inclusive prices so you don't have to worry about hidden fees or extra payouts at the end of the day. We offer a large selection of vehicles, so whatever kind of adventure you're looking for, we can accommodate it. Price4Limo is committed to delivering the best in class luxury limo service like no other.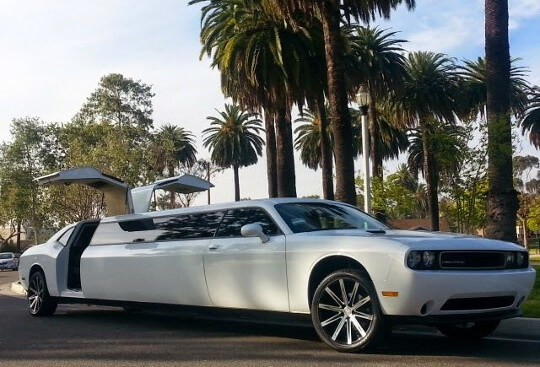 | | |
| --- | --- |
| Seating Capacities: | 10-12 Passengers |
| Storage: | Limited Trunk Space |
| Restroom: | No |
| Air Conditioning: | Standard |
| Music/DVD/TV: | Yes |
| Average Price: | $599-$1200* |
*Due to covid-19 Prices may be significantly higher and may vary depending on availability, service, and location
---
How Much is a Dodge Challenger Limo Rental?
The price for renting a Dodge Challenger limo will vary based on your location and type of service required. If you need to make several stops or travel over 50 miles, you may be subject to fuel charges. One other thing to keep in mind are overtime fees. To avoid these unnecessary costs, try to map out your entire trip before booking. To get a FREE quote for service, complete a search on Price4Limo.com and compare rates for local companies to find the best deals. Based on average rates from across the country, you can expect to pay $120-$165 per hour for a Dodge Challenger limo rental, depending on where you're located and what sort of amenities you want included.
What's Inside A Dodge Challenger Limo
The Dodge Challenger limousine offers a range of amenities to enhance your experience. You'll find comfortable seating, a premium sound system, and a stocked bar with ice chests to keep your drinks cold. The interior features state-of-the-art lighting and a flat-screen TV to elevate your experience even further.
Choose Premier Dodge Challenger Limousine Service At Price4Limo
If you're looking to make a statement and arrive in style at your next event, consider renting a Dodge Challenger limousine from Price4Limo. With sleek lines, a muscular exterior, and luxurious features inside, this limo is sure to turn heads and provide an unforgettable experience for you and your guests.
When you want to hire a limousine, you want to be sure that the company you choose has experience in the industry and can provide you with a top-notch service. With Price4Limo, you'll find that we have all of those qualities, as well as many more. When you call us to book your reservation, we'll handle each reservation with the attention and care it deserves. We'll make sure that every detail is taken care of, from your initial inquiry all the way through to your final destination. Reserve by the hour or by the trip and put yourself in control of your transportation needs.
Price4Limo is committed to providing the highest quality ground transportation service in the industry. Our commitment to quality has been key to our success and our ability to provide complete ground transportation 24/7, 365 days a year. Our reservationists are ready to assist you with your next limo ride and make your next Challenger limo ride a memorable experience with Price4Limo.
Hellcat Limo Rentals For Any Occasion
We understand that each of our clients has different needs, which is wWe offer custom packages for any event, so whether you're planning a wedding or anniversary celebration, or simply want to treat yourself to a night out on the town with friends, we'll help you build an experience tailored just for you. With over a decade of experience in the industry, you can rest assured that your event will be in good hands when you rent a Hellcat limo from us.
When you call our team at 866-265-5479, we will personalize a ride specific to the details of your event so you can get exactly what you need.
Why Choose Price4Limo For Your Challenger Limo Rental?
Price4Limo is the best choice for your transportation needs. With our easy online booking system and competitive rates, we are the obvious choice for around-the-clock transportation. We have a range of vehicles to choose from, which means that we have the limousine that is right for you. Our clients are our top priority, and we strive to offer them unrivaled customer service every single day. When you book with Price4Limo, you get an elite level of service that will leave you feeling like royalty.
Frequently Asked Questions About Dodge Challenger Limo Rentals
What Is a Dodge Challenger Limo?
A Dodge Challenger limousine is a super-extended version of the Challenger sedan. It is a custom-built vehicle designed to seat up to ten passengers with an upgraded luxury interior that includes leather seats, a bar, and even a built-in cooler.
What Groups Usually Rent a Challenger Limousine?
Challenger limousines are a unique style of limousine. The vehicle is on the smaller side, being a sedan limousine, and is usually rented by groups that have an exotic theme for their party. While birthday parties, bachelor parties, and other similar events are common customers for this type of vehicle, there is no set rule as to who can rent it. All types of groups have rented the Challenger in the past, from bridal parties to wedding receptions.
What Occasions Are Challenger Limos Normally Used For?
If you're planning a party and want to make it extra special, you may want to consider renting a Challenger limo. These vehicles are perfect for any occasion that requires transportation for up to 10 people. They are especially popular for bar crawls, Quinceaneras, bar mitzvahs, corporate events, and more.
How Many People Fit in a Challenger Limo?
In the Challenger limo, there is ample seating for up to 10 people—but if you are all adults we would recommend only having 8 passengers.
How Much Does a Challenger Limo Cost per Hour?
The price of a Challenger limousine can vary depending on the type of vehicle you choose, the length of time you want to rent it and the distance you want to travel. The average hourly rate for a Challenger limo is $120-$165. To get an exact estimate, please reach out to our reservations team at 866-265-5479.
Is There a Minimum Rental Period?
It depends on what you have planned. Our team will discuss your plans with you and set up a plan for you that works for your needs. You can call our team at 866-265-5479, or visit our website to learn more about our services.
Can We Drink Alcohol in This Vehicle?
Yes, you can drink alcohol in this vehicle. As long as you are 21 or older and the vehicle is a limousine, you may bring your own alcohol on board.
Do Challenger Limos Have Any Luggage Space?
Yes, Challenger limos do have some luggage space. The trunk space in the back of the car can hold some light luggage. If you need to carry more than that, it might be better to use a shuttle bus or van instead.
What Amenities Do Challenger Limos Have?
With its spacious interior and state-of-the-art amenities, including an auxiliary input, Bluetooth capabilities, champagne glasses, ice bins, TVs and laser lights, the Challenger is sure to make your ride feel like a party that never ends.
What Forms of Payment Are Accepted?
For our customers who don't want to deal with the hassle of getting out their wallets and paying up front, we offer monthly payment plans through Affirm. For customers who prefer to pay upfront for their ride, we accept debit or credit cards.
Ready To Get Personalized Challenger Limousine Rental Prices?
Book your trip with confidence and speak to a reservation specialist who can provide you with a quick quote tailored to your needs. Simply provide the details of your itinerary, and we'll take care of the rest.
---
Top Cities For Limousine Rentals
---