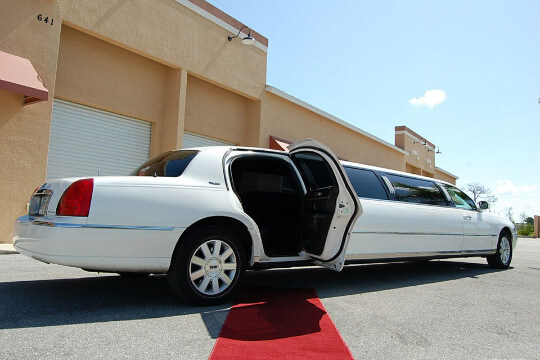 Planning to go out with a group of about 20 people and want to show them a good time with a classy limo? Check out our Infiniti limousine rentals. These luxury SUV limos are not as common as some of the other models but they make up for it with their style and elegance. You won't find a larger selection of Infiniti limos than here at Price4Limo. We get prices from multiple limo companies across the USA so you can compare limo prices and find the best deal for your special occasion. Our Infiniti limos come in different colors so you can choose the one that best suits your event like a white Infiniti limo for a wedding.
Why Rent an Infiniti Limousine?
These Infiniti limo rentals are a step above other SUV limos in it's class. You'll find that they'll turn more heads than your standard limo so if you really want to show off then you'll want to hire one. An Infiniti limo is a great choice for any kind of special event. Rent one for your wedding, birthday, prom, or a fun night on the town. Some of our Infiniti limousines can seat up to 20 passengers so bring all of your friends along!
You'll find that the amenities in these Infiniti limos are well stocked. They usually include leather seats, TVs, bars, fancy LED lighting and a great audio system. You'll always have the party going when you book one of these awesome limo rentals!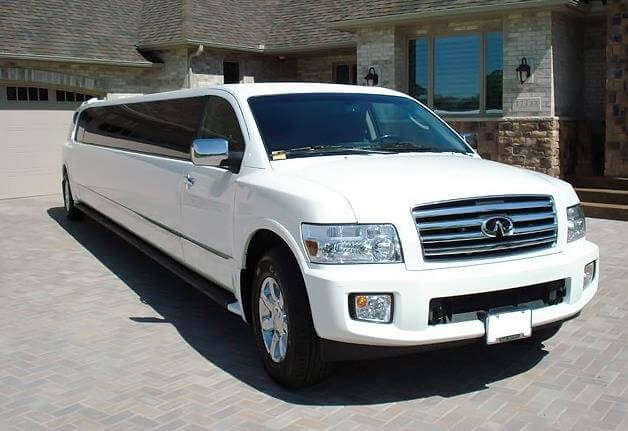 | | |
| --- | --- |
| Seating Capacities: | 20 Passengers |
| Storage: | Limited Trunk Space |
| Restroom: | No |
| Air Conditioning: | Standard |
| Music/DVD/TV: | Yes |
| Average Price: | $699 |
---
How Much is an Infiniti Limo?
The price of an Infiniti limousine can vary depending on multiple factors like the location of the limo. Other factors include availability, how long you need to use the vehicle and how many stops you plan to make. These limos have a minimum hourly requirement to rent them so be sure to factor that time into your plans so you can get the most out of your limo service. This limo model isn't available in all areas so if you want to find one near you complete the form below to get a free quote for all the limousines near you. Or call Price4Limo and let one of our customer service representatives assist you!
Frequently Asked Question About Infinite Limos
What is an Infiniti Limo?
Infiniti limos are popular for weddings because they offer 5-15 seating areas that can comfortably accommodate up to 14 passengers (6 in front and 8 inside). They're also great for birthdays or anniversary parties because they include a bar area where you can serve drinks throughout the night! If you want to tour a city with your friends or family members during your visit there then an Infiniti sedan is definitely worth considering since its comfortable seats allow everyone to enjoy themselves throughout their trip together!
Where do I rent one from?
You can obtain an Infiniti limo from us. We have the largest selection of vehicles in the country, and our customer service is second to none. We are a nationwide limo rental service, so you can rest assured that we will meet your needs regardless of where you live.
How many people fit in luxury Infiniti limos?
When you rent an Infiniti limo for your wedding day or for any other special occasion, you want to make sure that it has enough room for all of your guests. The standard size of an Infiniti limo is six passengers. This means that it will hold up to six people comfortably and in style! There's also plenty of room in the trunk area where you can store extra bags or gifts while on the go. If there are more than six people coming along with you, we also offer extended versions of this luxury car that can seat up to eight passengers at one time!
Our Selection
6 passenger Infinite Limo White
This 6 passenger Infiniti Limo White has a beautiful white exterior and luxurious black interior. It comes with leather seating, LCD TV and DVD player, CD player, auxiliary input (MP3/iPod), iPod docking station, Bluetooth connectivity, wet bar with refrigerator and freezer, fiber optic lighting throughout the vehicle including in the headliner of the vehicle. You also have privacy dividers that can be used to change up your ride or have some privacy on your way to or from an event!
8 passenger Infinite Limo White
The 8 passenger Infinity Limo White is one of the most popular luxury vehicles in our fleet. This vehicle seats up to 8 people and includes a spacious interior, plush leather seating, ceiling lights and more! The Infinity Limo White is also available with an upgraded sound system for an even better experience.
10 passenger Infinite Limo White
The 10 passenger Infinite Limo White is the most spacious, luxurious and best vehicle for weddings, proms, parties and business. It's also perfect for airport transfers, conventions and bachelor/bachelorette parties. The 10 passenger Infinity limousine white is a sleek vehicle that offers plenty of room and comfort. This limo can be customized to fit your specific needs. All our limos are equipped with state-of-the-art audio systems so you can enjoy your party while traveling in style!
6 passenger Infinite Limo Black
This black Infinite limo can accommodate up to 6 passengers, and features luxurious amenities like leather seating and a state-of-the-art sound system.
8 passenger Infinite Limo Black
The Infinite Limousine is an 8 passenger stretch limousine that comes with a DVD/CD player, professional sound system, and a climate controlled interior. It also has seating for up to 8 people including the driver. The limo also comes equipped with tinted windows so you can cruise around town as discreetly as possible.
10 passenger Infinite Limo Black
10 passenger Infinite Limo Black is a great choice for any special event. This limo features an impressive amount of space, so you can enjoy your time in comfort. The 10 passenger Infinite Limo Black has a lot of great features to make it even more enjoyable.
---
Top Cities For Limousine Rentals
---