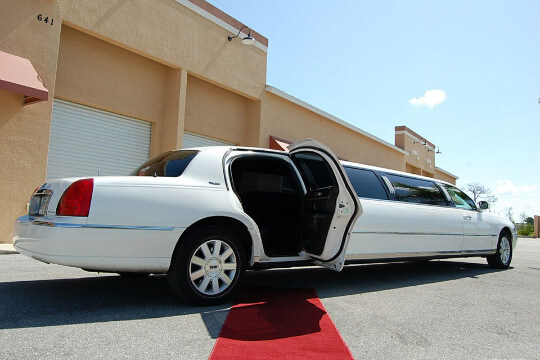 Planning to go out with a group of about 20 people and want to show them a good time with a classy limo? Check out our Infiniti limousine rentals. These luxury SUV limos are not as common as some of the other models but they make up for it with their style and elegance. You won't find a larger selection of Infiniti limos than here at Price4Limo. We get prices from multiple limo companies across the USA so you can compare limo prices and find the best deal for your special occasion. Our Infiniti limos come in different colors so you can choose the one that best suits your event like a white Infiniti limo for a wedding.
At Price4Limo, we partner with over 5,000+ limousine companies nationwide bringing you the best selection of limos out there. After 10+ years in the business and thousands of trips handled we know how to provide first-class service for all. When you call 866-265-5479, you'll be greeted by one of our friendly agents who will guide you through the booking process and answer any questions that might arise during this time. We want you to know what to expect so that there are no surprises when it comes time to take your trip.
Why Rent an Infiniti Limousine?
These Infiniti limo rentals are a step above other SUV limos in it's class. You'll find that they'll turn more heads than your standard limo so if you really want to show off then you'll want to hire one. An Infiniti limo is a great choice for any kind of special event. Rent one for your wedding, birthday, prom, or a fun night on the town. Some of our Infiniti limousines can seat up to 20 passengers so bring all of your friends along!
The Infiniti QX80 is one of the most luxurious vehicles on the market, and it's a great option for anyone looking for an upscale vehicle. You'll find that the amenities in these are just as upscale as the vehicle itself. They usually include leather seats, TVs, bars, fancy LED lighting and a great audio system. You'll always have the party going when you book one of these awesome limo rentals.
You'll be able to fit up to 20 people in an Infiniti limo, making it the perfect fit for larger groups looking for fun. You're sure to be surprised by how much room there is in the vehicles, and how easy it is to ride with your whole crew.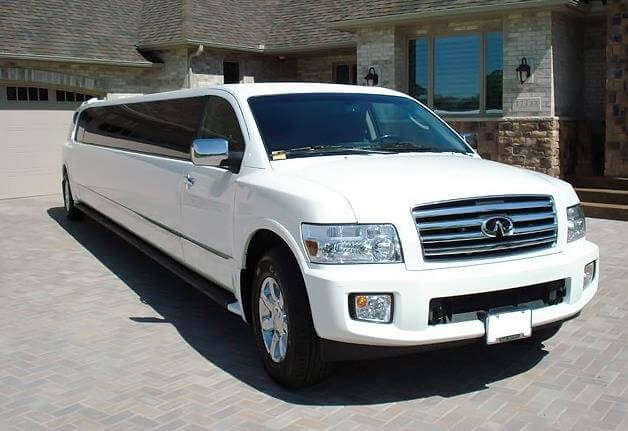 | | |
| --- | --- |
| Seating Capacities: | 20 Passengers |
| Storage: | Limited Trunk Space |
| Restroom: | No |
| Air Conditioning: | Standard |
| Music/DVD/TV: | Yes |
| Average Price: | $699-$1200* |
*Due to covid-19 Prices may be significantly higher and may vary depending on availability, service, and location
---
How Much is an Infiniti Limo?
The price of an Infiniti limousine can vary depending on multiple factors like the location of the limo. Other factors include availability, how long you need to use the vehicle and how many stops you plan to make. These limos have a minimum hourly requirement to rent them so be sure to factor that time into your plans so you can get the most out of your limo service. This limo model isn't available in all areas so if you want to find one near you complete the form below to get a free quote for all the limousines near you. Or call Price4Limo and let one of our customer service representatives assist you!
Choose Excellence When Rental Price4Limo's Stretch Infiniti Limousines
You're not choosing to ride in an awesome vehicle, but with an amazing company as well. At Price4Limo, we pride ourselves on being the best choice for your limousine rental needs. We have been around over 10 years, and have dedicated ourselves to serving our clients with the utmost in care and professionalism. We know how important it is for your event to be perfect, which is why we offer 24/7 customer service by phone or email so you can get any questions answered when they come up. Plus, our customer service team is always happy to help make suggestions based on previous experience if needed.
Wide selection of luxury vehicles to choose from. Price4Limo is a leading limousine service provider in the USA. Our company offers a wide selection of luxury vehicles to choose from. There are over 12,000+ vehicles in our fleet. We have everything from party buses and stretch limos to sedans and limo vans.
Competitive limo pricing. With our easy-to-use website, we'll show you options from a variety of local companies and compare prices to find one that meets your needs at an affordable rate. We've got all the bases covered when it comes to price, so that even if you're on a budget or just looking for something simple, we've got something for everyone. And if there's anything else we can do for you, just let us know.
Customizable packages for any event. We offer customizable packages for any event: if you want to rent an Infiniti limo for one hour or five hours, we can accommodate you. We also provide transportation services for special events such as proms and weddings—just let us know what type of vehicle best suits your needs and budget, and we'll find something that works.
10+ years of experience. Our company has been in business for over 10 years, and during that time we've earned 2,500 positive reviews from customers just like you. We know what it takes to make sure that your experience is a pleasant one—whether you're looking for a night out on the town or just want to get from point A to point B with ease and comfort.
The Perfect Event Start With Your Infiniti Limo Rental
There's nothing quite like the experience of riding in a limousine. When you step into one, you feel like royalty. You can't help but feel like a celebrity as you sit back and enjoy the ride. If you're looking for the perfect way to celebrate your special occasion, then hiring a limo is your best bet. You can rent one for:
Airport pick ups. This stretch limousine can hold up to 20 people and is one of the largest limos out there, so you can get dropped off or picked up at the airport and even carry some bags with you. You know that you will be taking care of business and getting things done when you are on time for your flight, so why not get it started with an amazing pick up from Price4Limo?
Prom transfers. There's nothing more important than sending your kids off to their prom in style. And there's nothing more memorable than having a night that will last a lifetime. We're here to help you do both. We believe that prom deserves to be celebrated with style. That's why we offer our clients the chance to send their kids off to prom in an Infiniti limousine with a jet door. The kids will feel like celebrities as they arrive at prom in style, and you'll be able to show them just how proud you are of them.
Wedding service. The perfect ride for the groom and bride is in a white Infiniti limousine. You can pull up right at the reception, and if you want to arrive with all your guests in tow, that's possible too. The groom will feel like a king when he steps into his own private vehicle, and his bride will feel like royalty as she waves goodbye to her bridesmaids. We have a variety of vehicles available for you to choose from, so whether you're looking for something sleek and modern or classic and luxurious, we have what you need.
Corporate travel. In the world of corporate travel, it's not just about getting from point A to point B in the most efficient way possible. It's about making sure your clients are taken care of and impressed by your company's service. In that case, consider giving them a ride in this luxurious limousine. With its plush interior and state-of-the-art technology, this car will provide your clients with an experience they won't forget.
Bar crawl. We've all been there. You're out with your friends, and everybody wants to go to a different bar—but nobody wants to be the designated driver. You could split up into groups and take separate cars, but then you'll miss out on the fun of spending time together as a group. Or, if you do decide to make everyone drive separately, someone has to stay sober enough to drive everyone home at the end of the night. Don't worry about picking a DD when you ride in an infiniti limo. You can fit up to 20 of your closest friends and travel to all the different bars in comfort.
Get Your Infiniti Stretch Limo Quote
Getting your limo quote from our company is a simple process. All you have to do is:
1. Call us at 866-265-5479 and let us know what kind of limousine you're looking for and how many people will be riding in it. We'll also need your pick up address, date of service, and location so we can send you a price quote.
2. Once we have all that information, we'll send you a text or email with the final details on pricing, payment methods, and any other information you might need in order to complete your reservation.
3. From there you will make an initial payment and lock in your ride. You'll get an email confirmation about your trip instantly.
Frequently Asked Questions About Stretch Infiniti Limo Rentals
How much does it cost to rent an Infiniti limousine?
The cost of renting an Infiniti limousine varies. The average rate is between $150-$250 per hour, but you can pay more or less depending on where you live and the level of service you need.
Is there a minimum number of hours to rent?
Yes and no. Normally you would need to rent for at least 2 hours, but you are able to get less time if you call 866-265-5479.
How far in advance should I reserve my infiniti limousine?
We recommend booking your stretch infiniti limousine rental with at least two weeks notice. Although we're able to accommodate last-minute rentals, we strongly encourage you to plan ahead so that we can ensure your reservation is completed on time.
What amenities come in Infiniti limos?
Infiniti limos come standard with everything you'd expect from a luxury vehicle: leather seats, climate control, music system, tinted windows, ice bars, and more. Some even come with jet doors that swing up in the air.
---
Top Cities For Limousine Rentals
---