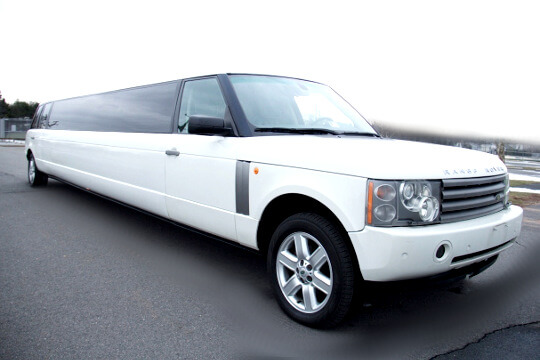 When you're planning a special event, having a great time is all about the details. It's about finding the right venue, having the right people there with you, and making sure that everything from transportation to catering is taken care of. So why would you want to hire a limousine company that doesn't provide the same high level of service from start to finish? At Price4Limo, we believe in providing what our clients want and deserve—and that means giving them everything they need for their special event. We offer competitive package rates on Range Rover limousine service for any event you have planned, whether it's a wedding or a corporate event. Our team has years of experience in providing excellent customer service. When it comes down to it, though, our true value comes from our ability to provide an incredible experience for everyone involved: our clients as well as their guests. When you hire Price4Limo, you can be confident in your ride.
When you want to transport a group in style, there's no better way to do so other than a Range Rover limo. As one of the most coveted vehicles on the road, Range Rovers are the definition of luxury. For large groups the Range Rover is a comfortable means of transportation, perfect for weddings, birthdays, prom and even corporate outings. All eyes will be on you, when you roll up to your destination. Contact us for a free quote or book online instantly.
Being the boss of your night is easy with Price4Limo. Just call our reservations team at 866-265-5479 to rent a Range Rover limousine and let us take care of the planning.
Why Rent a Range Rover Limousine?
When some of the smaller limos can't accommodate all of your guests, the Range Rover can. With spacious seating capacity and the ability to accommodate up to 18 people, the Range Rover limousines are perfect for weddings, homecomings, nights out on the town, bachelor parties and even airport transfers. With its trunk space for luggage and extra space in the backseat for bags or other items, Range Rover limousines are equipped with everything you need to ensure that your trip is just as comfortable as possible. Keep in mind, most limousines are unique so if you find one you like, book it before someone else does.
The Range Rover Stretch Limo is the ultimate in luxury transportation. With amenities including ice coolers, TVs, disco floors, laser lights, sound systems and champagne flutes, it will make your next event unforgettable.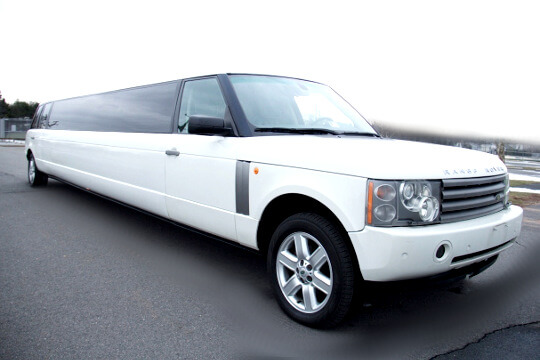 | | |
| --- | --- |
| Seating Capacities: | 10-14 Passengers |
| Storage: | Limited Trunk Space |
| Restroom: | No |
| Air Conditioning: | Standard |
| Music/DVD/TV: | Yes |
| Average Price: | $799-$1200* |
*Due to covid-19 Prices may be significantly higher and may vary depending on availability, service, and location
---
How Much is a Range Rover Limo Rental?
Considering there are very few Range Rover limos throughout the US, pricing can be very different from state to state. And because each limo is different, some with more amenities than others, price can't be pinpointed without completing a search on our site Price4Limo.com. Some factors that influence Range Rover limo prices are type of service, duration of your trip and whether or not you go overtime. Overtime fees are something that you can avoid with the proper planning. So be sure to iron out your trip details before making a reservation for a stretch Range Rover limo. Generally, though, you can expect to pay between $165 and $260 per hour for Range Rover limos with the total rental price being around $799.
Why Choose Price4Limo For Your Range Rover Limo Booking?
When you need to book a Range Rover limo, it's important to make sure you're getting the best service. Here at Price4Limo, we've been an industry leader for years, providing first-class limo services nationwide to our clients. With over 12,000 total vehicles in our network, and thousands of positive reviews— you know you are getting the best when you ride with Price4Limo. We offer service anywhere in the country and all states included—you don't have to worry about where your next stop will be.
With a commitment to excellence and flexible payment options, we stand out among other limousine companies. We know how important the details are when it comes to planning an event or party—and we're here to make sure those details are taken care of. Our team is dedicated to making sure every detail is perfect for each client's unique situation. Booking a limo with us is simple, too—you can do it hassle-free in seconds. All you need to do is call 866-265-5479, and we'll take care of everything else for you.
Range Rover Limos Available For Any Event
When you want to arrive in style and in comfort, you need a limo that can make your trip from point A to point B an experience. If you're looking for the perfect ride for your next event, look no further than Price4Limo. We proudly provide luxury transportation services for any event. From airport transfers to wedding rides and corporate events, the Range Rover limo is perfect for all occasions. Our 24-hour dispatch center is ready to plan your ride and assist with all of your ground transportation needs.
Homecoming and Prom
Planning your prom is no doubt one of the most exciting times in your life. You want everything to be perfect and memorable, but sometimes it can be difficult to pull off. Renting a Range Rover limousine is an excellent way to make sure that everyone who comes along with you on this special night will have an unforgettable time.
Wedding Guest Transportation
We're here to help you make your wedding a memorable event. We understand that planning a wedding can be stressful, and we want to help you get through everything smoothly. That's why we provide our clients with the best quality vehicles and services in the nation. Comfort is key when it comes to transportation on your big day. Whether it's just you and your significant other or a group of friends or family members, we have the perfect vehicle for you.
Quinceanera and Sweet 16
The Quinceanera is a 15th birthday party. It is common in Latin American countries, and it is celebrated at the age of 15 because that is when girls are considered to be young adults who can now get married. The ceremony itself includes many traditions such as wearing special dresses, dancing with family members and friends, making promises for the future, etc. When planning your quinceanera you should consider hiring a limo service so that all your guests will be able to enjoy their time together during this special day.
Concert Transportation
If you're planning on attending a concert, transportation is crucial. You need to get there on time, and most importantly you want to be able to party with your friends while at the concert. By renting a Range Rover limo from Price4Limo, you will not only be able to arrive in style but also have an amazing experience that will make this night unforgettable.
Sporting Events and Tailgating
Tailgating is a great way to get together with friends and family before a big game. It's also a great way to make new friends, show off your team spirit, and enjoy the atmosphere. With our Range Rover Limousine you'll be able to do all of this in style. We have an excellent selection of vehicles from which to choose from so check them out today.
Choose The Nation's Premier Range Rover Limo Company
Choosing the right limousine company can be a daunting task. With so many options and varying prices, it can be hard to find the perfect company to meet your needs. At Price4Limo, we want you to know that we are here for you. We are the premier Range Rover limo company in all 50 states and have 24-hour reservationists standing by to help you book your transportation with ease. Our online reservation system makes booking your ride easy and seamless, so you can rest assured that your business or leisure trip will go off without a hitch.
We have an online booking platform that can connect you with a Range Rover limo where you need it, when you need it. All you have to do is head over to reservations page and perform a vehicle search for your desired location and time.
Group Transportation Starts With Price4Limo
Group transportation is a big deal. You need to get a lot of people from point A to point B, but you don't want to be spending all your time and energy on logistics—that's why you call us. We've got your back when it comes to making sure that your group gets where they need to go without any hassle. We understand that when you're planning an event, there are a lot of moving parts. That's why we offer a wide range of services for those special occasions. We know how important it is for groups of all sizes to arrive at their destinations, so we work with our clients every step of the way to make sure that happens From wedding planners to birthday parties and corporate planners, Price4Limo is your go-to option for affordable group transportation.
Book Your Range Rover Limousine Today
Price4Limo is here to help make your next limousine rental as easy and convenient as possible. First, determine how long you will need the limousine. Make sure to consider the number of hours you'll be in the car, as well as any stops you might make along the way. Then, get a head count of everyone riding. This will help ensure that there's enough room for all passengers and that they'll be comfortable during their trip together. Next, browse our vehicles and choose the one that's right for you. There are plenty of different varieties of the Range Rover limo so check out which one you like best. Finally, book through our reservations page. Once you've decided which one fits your needs best, go ahead and book it through our reservations page—and then sit back and enjoy your ride.
Frequently Asked Questions About Range Rover Limo Services
What is a Range Rover Limo?
These vehicles are derived from stretching out a Range Rover SUV into a long passenger vehicle. The conversion process generally includes adding extra features such as bench seating, laser lights, ice coolers, glasses holders and more. They're known for their comfort and reliability, and they can be used for any occasion where you want to make an impression.
How Many People Fit in a Range Rover Limo?
Range Rovers are one of the largest styles of limousine available, and they have enough space for 8-18 passengers. They're perfect for weddings, bachelor parties, proms, or any other event where you want to bring more people than an average town car and even come with trunk space.
How Much Does it Cost to Rent a Range Rover Limo For A Trip?
The price of renting a Range Rover limo depends on a number of factors, including the destination and length of the trip. The average cost to rent a Range Rover limo for a trip is $799, though it can be as low as $599 or as high as $1,599+. If you would like to get a more exact price quote please contact our team at 866-265-5479.
What Is The Hourly Rate For a Range Rover Limousine Rental?
Range Rover limos are some of the most luxurious and expensive rentals on the market. The hourly rate for a Range Rover limo rental depends on the length of time you need it, but it can be anywhere from $165-$260 per hour. The pricing varies though and will depend on where you live and availability at that time. You can easily browse through our current pricing by heading over to our quotes page.
Ready To Get Your Personalized Limo Prices?
At Price4Limo, we know how important it is to get the best price on your limo rental. We also know that you want to be able to compare prices, and that's why we've created an easy-to-use system for comparing our rates against any other company's rates. All you have to do is enter in the details of your trip—including pick-up and drop-off locations—and we'll do the rest. This tool will show you competitive quotes from companies in your area, so you can make sure you're getting the best deal possible for your trip. It also allows for quick comparison of all of our vehicles, so if you're looking for something specific, this tool will help you find one that fits your needs perfectly.
---
Top Cities For Limousine Rentals
---