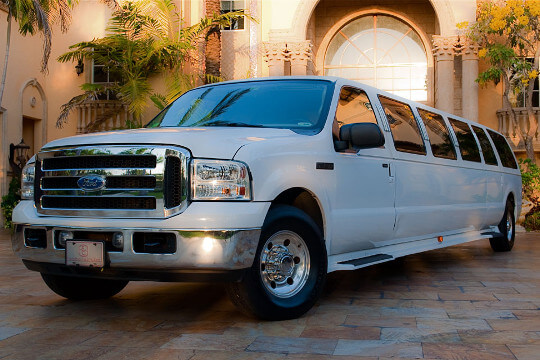 Are you planning an exciting evening or attending a special event? How about renting a Ford Excursion limo! Now you can view all of the limos available in your area and choose the one that best suits your needs. Excursions make popular limos because of their size. You and your guests will be more comfortable and relaxed in an Excursion limo rental when compared to a standard stretch. Complete a search on our site and view the best limousines in your area.
Excursion limo rental services are the best way to make sure you're getting the most out of your special event. Now, you can have a beautiful and comfortable ride for any occasion. With Price4Limo, you'll be able to choose from a variety of different vehicles to rent, including SUVs and stretch limos, so you can select what works best for your needs. Plus, with over 12,000+ vehicles in our network across the country, we've got the largest selection of excursion limos available anywhere. That means when you call 866-265-5479 for a reservation or assistance planning one, you'll get help from an expert who can help you find exactly what you need and pick and choose from our wide variety of amenities and colors.
This vehicle is one of the largest SUV limos out there, and it can fit up to 20 people comfortably. Whether you're planning a wedding, birthday party, or just want to go out with friends and family, this vehicle will make sure that everyone has a great time.
Why Rent an Excursion Limousine?
At Price4Limo, we offer the most unique limousines in the country. An Excursion Limousine is perfect for your event because it has enough room for up to 20 people, and it's stocked with amazing amenities like DVD players and TVs. You'll be able to enjoy your time in style with champagne glasses and ice chests stocked with water bottles, as well as fiber optic lighting that changes colors throughout the evening. Some of the Excursions even have trunk space so you can carry bags if you're looking for an airport pickup. We know that when you're planning an event, you want everything to be perfect—that's why we're here to make sure your limousine rental experience is just that. To learn more about how our services can transform your experience at an event, call us today.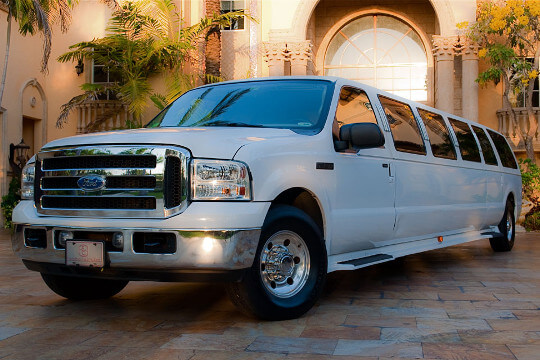 | | |
| --- | --- |
| Seating Capacities: | 10-14 Passengers |
| Storage: | Limited Trunk Space |
| Restroom: | No |
| Air Conditioning: | Standard |
| Music/DVD/TV: | Yes |
| Average Price: | $599-$1200* |
*Due to covid-19 Prices may be significantly higher and may vary depending on availability, service, and location
---
How Much is a Ford Excursion Limo Rental?
The average price per rental is $599-$1,200, depending on the details of your trip. The average hourly rate is $140-$245. However, these rates will vary based on a few things. Some of the factors that determine pricing are the type of service, duration of your service, distance traveled, and occasionally overtime fees. Overtime fees can be avoided with proper planning. If you're looking for a discount or simply the best price for a Ford Excursion limousine, complete a search on Price4Limo.com and pick the ride that you like the most.
Our reservations staff is standing by to provide you with a personalized quote, so call 866-265-5479 today. You'll be greeted by someone who's ready to work out the details of your event with you and get back a quote in seconds.
You deserve the best, which is why we've worked hard to create an easy-to-use website where people like you can browse our inventory and book their perfect ride without having to do any heavy lifting.
Choose Premier Excursion Limousine Service With Price4Limo
Choosing the right limousine service can make all the difference when you're celebrating a special occasion, traveling for work, or simply taking in the sights. You want to be able to rely on your vehicle to get you where you need to go in style, and comfort—not just any old way. At Price4Limo, we know that our clients are looking for something more than just a ride. We want to offer you a complete experience from start to finish—something that will make all of your memories even more memorable. After over 10 years, travelers know they can count on us for their premier excursion limousine service needs. Our commitment to providing the best possible experience for each client has earned us recognition as an industry leader in our field. Our reputation as an expert in luxury transportation has translated into thousands of happy customers who want nothing more than for us to add you to that list.
Your trip is important to us, and we want to make sure that when you're renting a Ford Excursion limo service, you get nothing less than the best. That's why they have a dedicated reservations specialist who will be on call to help you plan each and every detail of your event, allowing you to compare prices and book all your transportation needs in as little as 30 seconds.
If you're ready to ride like a rockstar, let Price4Limo pull off a unique event. We have all the resources you need to turn your dream into a reality. With our fleet of luxury vehicles, we'll get you to your destination in comfort and style. And with our competitive rates and flexible booking options, we'll make sure it's easy on your wallet too. Just call 866-265-5479 to get started.
Stretch Excursion Rentals For Any Event
Weddings. Stretch Excursion Rentals are the perfect choice for weddings. Not only will our vehicles make your guests feel like royalty on their way to the venue, but they'll also get there in style.
Bachelor Parties. A Stretch Excursion limousine is ideal for any bachelor party because it's spacious and comfortable, but it's also sleek and stylish. It's perfect for getting the guys together for an unforgettable evening.
Birthdays. If you're planning a birthday party and want to make it special, there's no better way to do so than by renting an Excursion limousine. With our fleet of luxury vehicles in your area, we can help make any birthday party into an awesome event.
Homecomings. Renting a limousine is the perfect way to send your kid off in style. You can't put a price on a night your teen has been excited about for months, and you certainly don't want to arrive late or miss the whole thing because you're stuck in traffic. When you rent from us, we'll take care of everything for their special evening.
Proms. Proms are an important rite of passage for young people, and it should be special. When you arrive in style in one of our vehicles, everyone will be jealous of your awesome ride—and they'll want one just like it.
Quinceaneras. When your daughter is ready to celebrate her quinceañera, you want to do everything possible to make it an easy and fun experience. And we're not just talking about the dress, or the decorations for the reception. You want to make sure that on the day of, she arrives at church in a limousine that will take her there in style.
Funerals. This vehicle is designed to be the most elegant and dignified way of moving loved ones from one place to another. Whether it's taken them home after their service or down the road to their final resting place, this vehicle will give them the respect they deserve while providing comfort and style to all who attend.
Bar Crawls. We offer rental options that can take your group around town without having to assign a designated driver. All you have to do is hop in, enjoy the ride, and let the limo take care of the rest.
Concerts. When you rent an Excursion for your next concert, you can avoid the hassle of stadium parking and have a relaxing ride to and from the venue.
How To Book Your Excursion Limousine Rental
Ready to get your ride? All you have to do is call our team at 866-265-5479 and we will walk you through all the steps. It's as easy as that; just give us a call and we'll be there to help you get the best deal on your excursion limousine rental.
Here's what to have handy when you're ready to make your reservation:
Total passenger count. First, it's important to know how many people will be in your group—this is crucial when finding the right size limo for your needs.
Pick up and drop off city. You'll need to let us know where you plan on going. Each city has its own inventory of limos, so if you're looking for one in particular, we'll be able to help you find it based on your location.
Date of your event. Tell us what day you are looking to get the Excursion stretch on and we'll check if it's available for you. The availability will vary, with some seasons like April-July being much busier than others.
Time frame of rental. When you're planning a trip, it's important to know how long you'll need the limo so we can show you the packages and make sure there's enough time.
Frequently Asked Questions About Excursion Limo Rentals
What Is an Excursion Limo?
The Excursion Limousine comes in an extended version and a standard version. The extended version is longer than the standard version. Both are large limos that can carry up to 20 people at a time. The length of the limousine can be from 16 feet to 19 feet long with four doors on each side that open up for passengers to get in and out easily. The capacity of the vehicle can vary depending on what type of party you have, but most often it's between 12 and 18 passengers who will fit comfortably inside this vehicle at one time (depending on what type of seating arrangement). The availability of this vehicle depends on where you live, since not all states allow this kind of service or have any companies who offer it near them. However if there is availability near where you want to go then definitely give us a call so we can book your reservation.
What Groups Usually Rent an Excursion Limousine?
People that need that extra space an SUV limo provides are often the most likely to rent an excursion limousine being popular among wedding goers and birthday groups because they allow everyone up to 20 people to fit at once.
What Occasions Are Excursion Stretches Normally Used For?
Expedition limo rentals are frequently utilized for proms and birthday parties, but they can also be used to get to the airport, go on Christmas light tours, or visit an amusement park.
What Are the Amenities of an Excursion Limousine?
The vehicle has great features that you can request which include comfortable seating capacity, Aux input, champagne glass holders, ice bins, privacy partition, LCD TVs, DVD player and much more.
How Many People Can Fit on an Excursion Limo?
An excursion limousine can fit up to 20 people, depending on the configuration of the interior.
How Much Does an Excursion Limousine Cost per Hour?
The average hourly rate for our vehicles is $140-$245, depending on the vehicle you rent and the amenities you select. You can get an idea of what your rental might cost by using our online calculator.
Is There a Minimum Rental Period?
Generally, the minimum rental period is 2 hours. However, we are able to accommodate less time if needed; simply call 866-265-5479 and tell us what you have planned, and we will try our best to accommodate it.
Can We Drink Alcohol in This Vehicle?
Yes, you can drink alcohol in this vehicle. You are permitted to bring your own alcohol on board. Please note that glass bottles are not allowed.
Do Excursion Limos Have Any Luggage Space?
Yes, some will have a trunk space at the back for a few standard-sized suitcases. However, if you plan on taking a lot of luggage, it's probably best to rent one of our shuttle buses instead.
---
Top Cities For Limousine Rentals
---