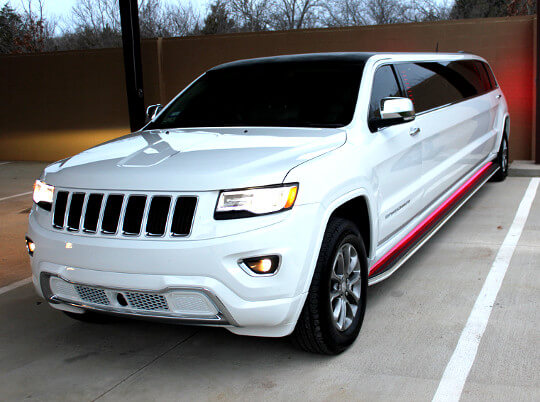 If you want to do something out of the ordinary, how about booking a Jeep Limo Rental for a night on the town? Jeep limos are one of the hottest new rides on the road. For Jeep lovers, these limousines are the pinnacle of transportation. And because a Jeep limo rental is so versatile, you can use it for just about every special event or occasion. Get a free quote for a Jeep limo near you now!
There are many limousine companies out there, but only one that truly cares about your experience. When you choose Price4Limo as your limousine service, you're choosing to work with the leading company in the nation that offers wedding, prom, homecoming and all other special event jeep limousine rentals with excellent service and care. You'll be impressed by our commitment to quality and our ability to go above and beyond for our customers. We're confident that once you try us out, you'll never want to work with anyone else again.
Price4Limo has been in business over 15 years and has proven time after time to be the top booking company in its industry. We have thousands of happy customers who have used our services over the years, and we even have over 2,000 5-star reviews on Trustpilot. Our team is focused on providing exceptional customer service and ensuring an enjoyable experience for all of our clients. We know that when you choose Price4Limo as your limo service provider, it's not just about getting from point A to point B—it's about making sure that every detail of your event is taken care of from start to finish.
You can easily browse our fleet of thousands of jeep limos, all with a few clicks. Just head over to our booking tool, and fill out the details of your event, and see pricing and pictures of our different limousine options—and our reservations team will help you set up your rental. If you have any questions, just call 866-265-5479.
Why Rent a Jeep Limousine?
Jeep limo rentals are perfect for any group with up to 12 people. These rides are spacious and luxurious, and are sure to entertain your guests for the night. Many renters use the Jeep limousine for sporting events, concerts, school dances, and weddings. These rides area typically avaialble in white, black, and red.
Amenities inside each Jeep limo rental will be different from the next. Most, however, include a bar, LED laser light displays, TVs and premium sound systems. With any Jeep limousine rental you are going to be the life of the party.
You can also choose from a variety of different models, including the Cherokee, Wrangler, and Grand Cherokee—all of which have been specially designed to provide you with an unparalleled experience in comfort and style. When you're looking for a way to make your day more special, a Jeep limousine rental is the perfect choice. We believe that every person deserves to feel special, and we want to help you do that.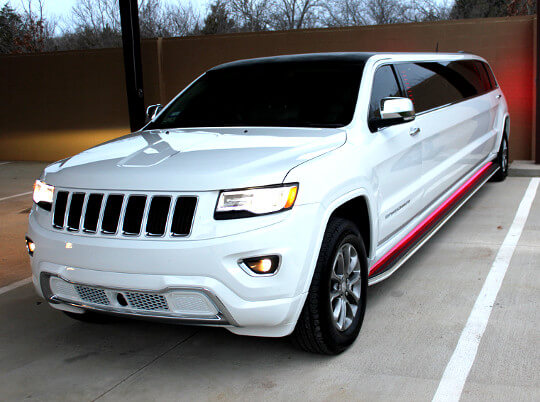 | | |
| --- | --- |
| Seating Capacities: | 10-12 Passengers |
| Storage: | Limited Trunk Space |
| Restroom: | No |
| Air Conditioning: | Standard |
| Music/DVD/TV: | Yes |
| Average Price: | $599-$1200* |
*Due to covid-19 Prices may be significantly higher and may vary depending on availability, service, and location
---
How Much is a Jeep Limo Rental?
Every Jeep limo rental will vary in cost for several reasons. First, no 2 Jeep limos are the same. Secondly, Jeep limousine rental prices are determined based on your trip details including type of service, how long you will need the vehicle, and whether or not you go overtime. Overtime fees can be avoided completely with the appropriate planning. If you complete a search on our site you will see pricing details for all limousine rentals in your area.
Here's what you can do to get your Jeep Limousine rental locked in:
First: Determine the type of vehicle you want to rent. There are different styles of the Jeep limo and different sizes so gather a headcount of your group and their preferences.

Second: Determine how long you need it for and where you are going. This will give you an idea of the pricing for your needs, although this will vary specific to your trip so if you want custom estimates, you can use our quote tool.

Third: Choose your limousine. You will have seen all the different options and prices at this point so now it's time to select yours. Book you jeep limo by going through our online reservation system or giving us a call.

Finally: Enjoy your ride.
Frequently Asked Questions
What is a Jeep Limo?
A Jeep limo is a luxury SUV that is equipped with all of the amenities you would expect in any high-end limousine service. The interior seating area has a bar, sound system, TV and DVD player, wet bar, leather seats and privacy divider to ensure you have everything you need during your ride.
How much does it cost to rent a Jeep limo?
The cost of Jeep limo rental depends on a variety of factors, including the season and day of the week, as well as the length of time you will be renting the vehicle. Other factors include:
Model: The model has a significant impact on price. For example, if you want to rent an Escalade or Town Car for your trip, it's going to cost more than if you choose a Ford Escape or Nissan Rogue.
Seating capacity: The amount of people who will be riding in the limousine will also affect pricing. For example, if there are six people traveling together then expect to pay less than if they were eight people riding together.
Amenities included vs amenities add-ons available at extra cost: Some companies offer additional services such as stocked bars and TVs while others do not include any extras with your rental fee whatsoever but allow them as add-ons if needed after booking online ahead of time (such as limo chauffeur services).
---
Top Cities For Limousine Rentals
---