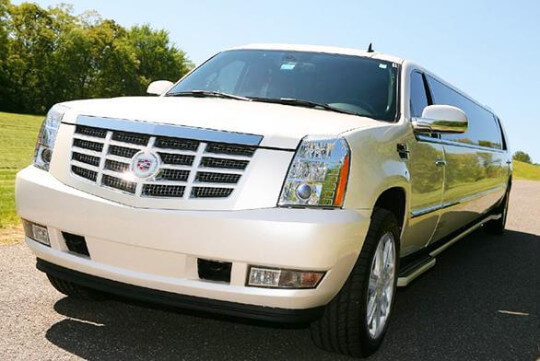 Are you thinking about renting a Cadillac Escalade limo? If so, Price4Limo has the largest selection of Escalades in the USA. On our site you can view all Escalade limo rentals including photos, prices and reviews. As one of the most popular limos, the Cadillac Escalade is a real show stopper. When you see this ride pull up you know someone special is inside. Escalade limos can seat anywhere from 10-20 people depending on the stretch. With more room than a normal limousine, the Escalade limo allows your guests to have a much more comfortable experience.
Why Rent an Escalade Limousine?
There are too many reasons to list why you might want to hire a Cadillac Escalade limo for your ground transportation needs. But one of the most common reasons is because Escalades are larger than your standard stretch limo. If you want to entertain between 10-20 guests, the Escalade and the Hummer limo are you best options. People also rent these limos for special events like birthday parties, bachelor and bachelorette parties, prom and even corporate transportation.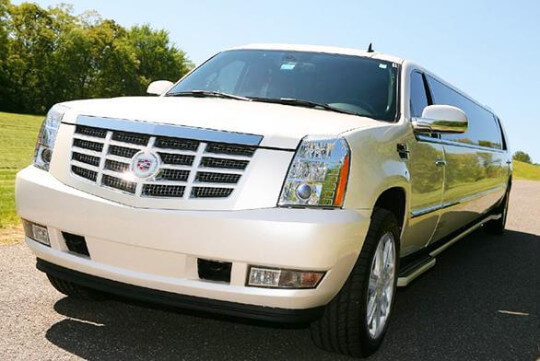 | | |
| --- | --- |
| Seating Capacities: | 10-20 Passengers |
| Storage: | Limited Trunk Space |
| Restroom: | No |
| Air Conditioning: | Standard |
| Music/DVD/TV: | Yes |
| Average Price: | $599 |
---
How Much is a Cadillac Escalade Limo?
Escalade limo rental prices will vary based on several factors. First, the location and service type can effect price. Wedding and Prom services will be higher than a point-to-point service. Additionally, the number of stop you need to make can effect pricing. If you go overtime, be prepared to pay a fee as well. With all that said, you can compare all limo service prices on Price4Limo.com and book online instantly.
Escalade Limousine Prices
The price of a Cadillac Escalade limo rental varies greatly depending on the time of year, day of week and time of day. If you're looking for an affordable ride home from the airport, look out for deals during off hours like early morning or late evening when there are cheaper rates. On weekends and holidays, expect to pay more than usual.
As with any business transaction (especially those involving money), it's important to consider your options carefully before committing yourself financially. Be sure to do your research beforehand so that you can get the best deal possible when booking your Escalade limo rental!
Black Cadillac Escalade Limo Rental
The Escalade limo can accommodate up to 14 passengers with features like leather seats and bar space in the rear cabin area.
White Cadillac Escalade Limo Rental
The Cadillac Escalade is a large SUV that seats up to 7 passengers. It has black exterior, black leather interior and drink holders throughout the interior. The Escalade limo rental also comes equipped with a small cooler and TV/DVD player in the rear of the vehicle.
---
Top Cities For Limousine Rentals
---