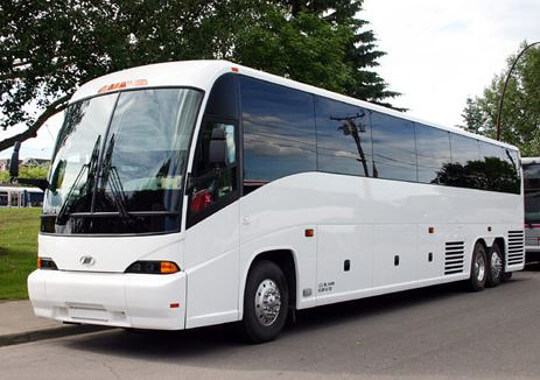 Are you looking for an affordable 56 passenger charter bus rental? On our site you will find the largest selection of charter buses in the USA. We have all kinds of bus charter options for you and your guests. One of our largest buses is the 56 passenger charter bus. This ride is excellent for long distance trips as well as multi-day charters. This bus rental is popular for weddings, corporate transportation and even school field trips.
When you're traveling coast to coast, or nationwide, it's important that you have a huge network of full-size motorcoaches at your disposal. You need to be able to travel on your own terms, and Price4Limo makes that possible. Our network includes over 12,000 buses across the entire USA, making it easy for you to find exactly what you need for your trip. When you're ready to get started with your reservation, all you have to do is call us at 866-265-5479 and we'll set up a personalized quote just for you. We can help coordinate everything from transportation to everything else in between.
Why Rent a 56 Passenger Charter Bus?
56 seater charter buses are the largest size of bus available on the market today. That means if you need to carry a lot of people, this is the only option for you. It also means that these buses are made for long distance travel, giving you comfort from top-quality amenities for your journey. Not only that, but they have plenty of storage space for your items and an on board restroom for added convenience. With amenities like televisions, WiFi, power outlets, and reclining seats, it's easy to see why so many people are choosing charter buses for their next road trip.
Price4Limo.com makes it easy to book your charter bus rental online or over the phone with one of our expert customer service representatives. We have been in business since the 2000s and have provided transportation for thousands of groups throughout the US. Our network includes buses from all major manufacturers including Ford , Prevost and Motor Coach Industries and more. Whether you're planning a large upcoming wedding reception or need to shuttle around an entire convention, the 56 seat bus is the vehicle for you.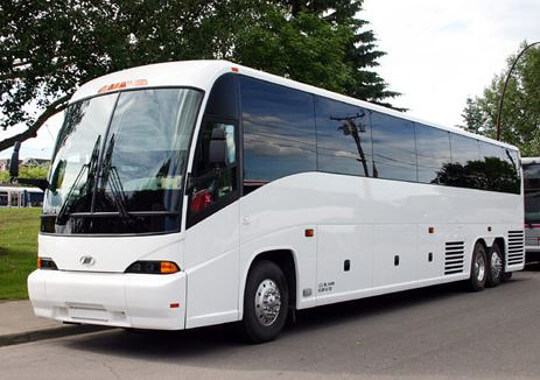 | | |
| --- | --- |
| Seating Capacities: | 56 Passengers |
| Storage: | Yes |
| Restroom: | Optional |
| Air Conditioning: | Standard |
| Music/DVD/TV: | Optional |
| Average Price: | $1299-$2400* |
*Due to covid-19 Prices may be significantly higher and may vary depending on availability, service, and location
---
How Much is a 56 Passenger Charter Bus Rental?
The price of hiring a 56-passenger charter bus rental depends on where you live and when you're traveling.. You can expect to pay around $150 and $265 per hour, but it's impossible to predict exactly how much the rental will cost without knowing more about your situation.
Charter bus prices depend on your group's itinerary. Prices for the 56 passenger charter bus will vary based on your passenger count, the duration of your trip, how many stops you need to make and whether or not you exceed the contracted number of hours. To avoid any overtime fees, be sure to have an exact itinerary that is made available to your bus charter company prior to getting a quote for service. Contact Price4Limo today for a free quote, or complete a search online to instantly view charter bus prices.
Our Popular Options Include
56-Passenger Van Hool Bus
The Van Hool is a European manufactured bus perfect for those looking for a vehicle that combines comfortable interiors with a luxurious exterior. There are 2 main types of models available including the CX series which is the more affordable standard transportation model, and the TX series which is the more high end tier bus. These buses are designed for both short-term rental and long-term rental, making them an excellent choice for both local and inter-state travel.
56-Passenger Prevost Bus
The 56-passenger Prevost bus is one of the top of the line models in our fleet. It offers excellent space for passengers to travel in, with a lower overall height than most buses, ensuring easy access. The long wheelbase also makes for a smooth and comfortable ride. This bus can transport everything from large groups to smaller parties. Whether you are looking for a vehicle that will give your passengers plenty of room or want to transport everything from large groups to smaller parties, this is an excellent choice.
56-Passenger Setra Bus
With long, spacious legroom and ample seat width, the 56-passenger Setra bus is the ideal choice for your passengers who have come to expect the best. With top-of-the-line seating, a functional design, and high-quality materials, it's no surprise that this bus is considered one of the most comfortable buses on the market today. The Setra bus is available in both standard and premium models; each offers an array of amenities that will make your ride more enjoyable than ever before.
56-Passenger MCI Bus
The 56-Passenger MCI Bus is a luxurious and spacious coach that can accommodate your large group. This bus is the perfect choice for traveling to a concert, sporting event, or other special event with all of your friends. The MCI Coach is built using top-tier amenities and high performance components, which ensures that you will have a smooth ride no matter where you go. With forward facing seating and high back chairs, it's easy to feel comfortable on your trip. The best part about this bus is its extra baggage compartments—each one has plenty of room for everyone's bags.
Why Rent With Price4Limo
Price4Limo is a premier bus booking company that offers an array of travel options for all types of groups. Whether you're planning a corporate retreat, a family reunion, or a bachelor party, Price4Limo can help you plan and book your trip in minutes. With our website, you can compare prices from multiple bus companies and book with the best one for your needs. We have an extensive network of buses in every corner of the US—so whether you want to go from New York City to San Francisco or from Chicago to Seattle, we'll get you there.
The team at Price4Limo is dedicated to providing high-quality ground transportation in a quick, easy, and affordable way. We've been planning road trips for over 10 years, so we know what it takes to make your journey a success. We'll get you started with the perfect transportation plan for your group, from personalized trip planning to ensure every detail is accounted for. Our company has moved thousands of happy groups, and we hope that you'll be next. When you're ready, just call 866-265-5479 and one of our reservation specialists will help you determine the transportation options that best fit your needs. We always rely on our extensive experience and knowledge to find the best travel solution for our clients, so you can rest assured that we will be able to accommodate your transportation requirements in a timely manner.
56 Passenger Charter Bus Uses
Group Charters. Charter buses provide a convenient way to transport groups of people. Not only do they allow for more space than other forms of transportation, but they also make it easy to get everyone where they need to be on time.
Corporate Transportation. Whether it's an annual meeting or a yearly conference, charter buses are an excellent choice for corporate transportation needs. They give employees a chance to sit back and relax while someone else takes care of the driving—and this is especially convenient for those complex events that require extra care for the logistics planning.
Athletic Team Travel. Whether your team is traveling for a game or tournament, charter buses are an excellent way to transport athletes and coaches. You can fill up the bus with players and coaches, or just use it as a way to transport your team to its destination.
Group Tours. Charter buses are also used frequently by groups that are going on tours together such as senior citizens or church groups who want to travel together while still having their own space inside the bus.
Government Transport. The military typically undertakes large-scale maneuvers that require hundreds or even thousands of troops to move from one location to another within a short period of time. In order to do this, use large buses capable of holding 50+ people at once.
What's Inside A Charter Bus?
Charter buses often come with a number of luxurious amenities that you don't always find in other forms of transportation, including reclining seats, power outlets, air conditioning, TVs, luggage space and even a lavatory. The interior of a charter bus is designed to maximize comfort and convenience for passengers. You'll have plenty of room to stretch out and relax while enjoying the ride. Most charter buses also offer power outlets so that you can charge your devices while on board. You may also be able to watch movies or television shows through built-in TV screens provided by the bus company.
The Full-Sized Charter Bus With A Bathroom
The 56 seat bus is one of the only automotive vehicles that can have a bathroom on board. This is an ideal amenity if you are traveling multiple hours away or are taking an overnight trip. You can request one when you reach out to our reservations team to find a bus with one. Call 866-265-5479 with the details of your trip and we'll get started.
Frequently Asked Questions About 56 Passenger Charter Bus Rentals
Do Charter Buses Have Outlets?
Most buses will have USB ports for all your charging needs, as well as 110V outlets for those who prefer to charge their phones, laptops, and other devices. Each seat includes two outlets, making it easy for passengers to keep their devices charged throughout the trip.
What Types Of Events Or Trips Are 56 Passenger Charter Buses Used For?
There are many different types of events that can be planned using a 56 passenger charter bus. The most common events include weddings, family reunions, sporting events, church functions, and anything else that requires transportation for large groups of people.
Weddings are one of the most popular types of events for which to rent a charter bus. A wedding can take place anywhere from the church to the reception hall, so it is important to have a vehicle with enough seating capacity for all of your guests. Another reason why weddings make great uses for charter buses is because they often occur during peak hours when finding parking spots near your final destination could be difficult.
The most common use of a 56 passenger charter bus is for family reunions or other large get-togethers where many people need transportation to and from their destination. For example: if you're hosting an annual holiday party at your house every December then having everyone arrive in style in one big group will help set the mood right away.
Charter buses are also commonly used by churches and other religious organizations as well as schools who want to transport students on field trips or athletic events such as basketball games or baseball tournaments where there may not be enough regular sized vehicles available on site at those locations due to limited space available.
How Much Storage Space Is On A 56 Passenger Charter Bus?
You'll have enough space in the cargo area to fit 56 large suitcases. This is ideal if you're traveling with a large group or sports team that needs additional space for equipment.
Search Limos, Party Buses & Charter Buses
---
Top Cities For Charter Bus Rentals
---