Do you need a school bus rental? Are you planning a trip and need ground transportation for a large group of people? Check out all of the affordable school buses for hire with drivers on Price4Limo.com. We have access to that largest selection of bus rentals including mini buses, school buses and charter buses. And if you really want to have a good time, make a reservation for our party school bus!
School buses are a flexible and cost-effective choice for all types of group travel. Whether you're planning a field trip, a corporate event, or a convention, you can get more people there—and pay less to get them there—by choosing school buses over traditional vehicles. Whether you're traveling with a class or a team, we can help you find the right bus at the right price.
We know that planning a trip can be stressful. You want to make sure that every detail is perfect, and you want to do it in a way that's convenient for you. That's why we're here. At Price4Limo, we'll take the guesswork out of your event planning so that all you need to do is get ready for your trip. We'll start by giving you an instant quote over the phone—just call 866-245-5479. Or, if you'd prefer, we can give you a quote online. Once we have your itinerary, our support team will match you with one of our vehicles, and then all that's left to do is enjoy your trip. When you choose Price4Limo, you're choosing years of experience backed by a drive for excellence. We offer amazing services and vehicles through our partnership with thousands of bus companies across the country. Get access to a vehicle when you need it—no matter where you are.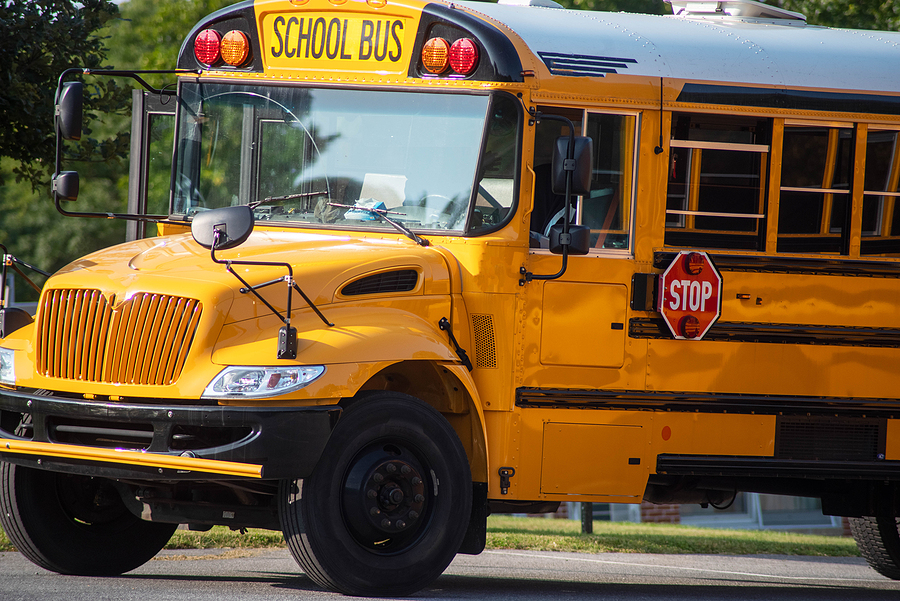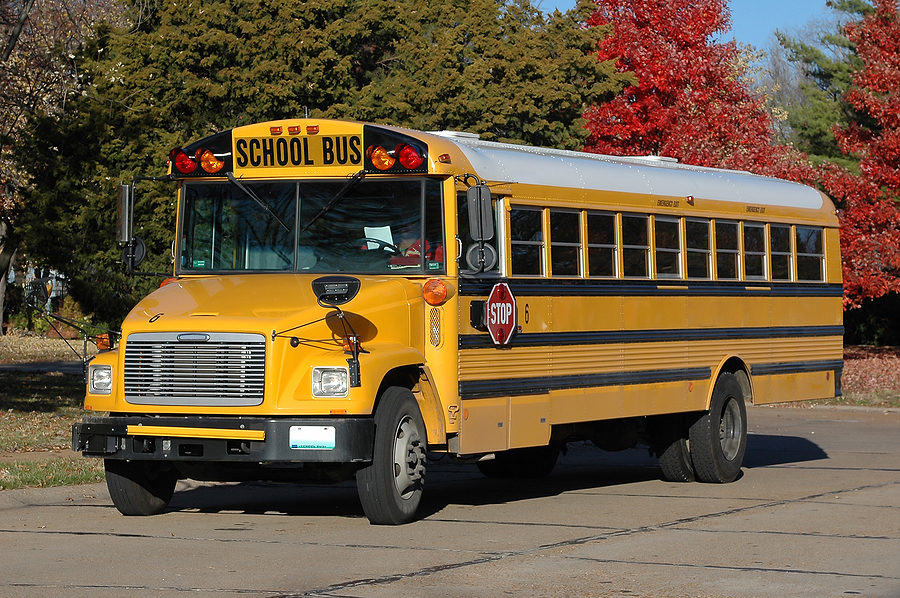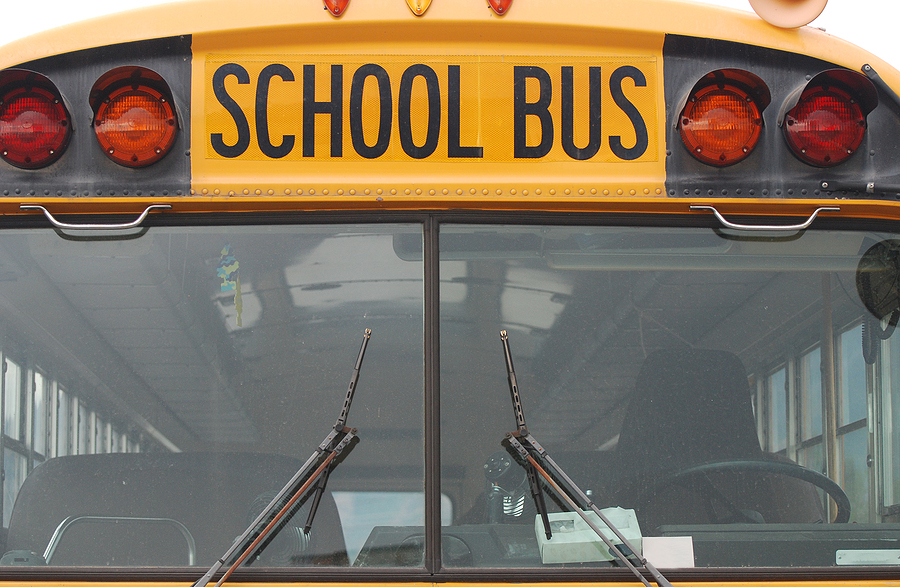 Yellow School Bus Up Close
Types of School Buses for Rent
There are a few different types of school buses available for hire, all of which are slightly different in shape, size and seating capacity. Let's have a closer look: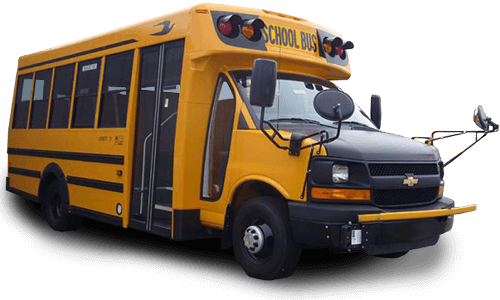 Mini School Bus
Often referred to as a short bus, are buses that smaller than the traditional school bus and can be used for group with less than 20 people. The interior comes standard with leather seats and standard audio system. There are upgraded mini-buses with TVs available in select areas.
Call For Price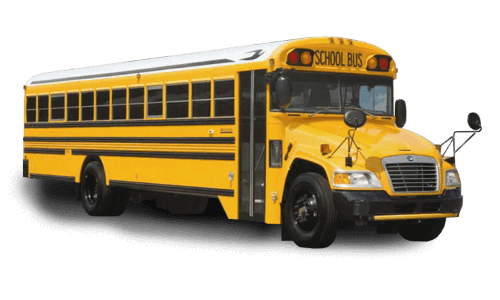 School Bus
You can't mistake a good old school bus. When you see the big yellow bus pull up, you know fun is right around the corner. Whether you need to transport a sports team, choir, or students, school bus rentals are an affordable option. Rent one for any special occasion today!
Call For Price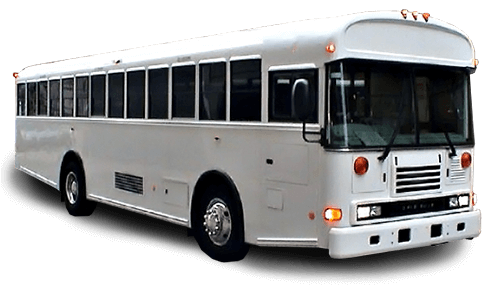 Party School Bus
This ride is a customized school bus that has been converted to a party bus. This school bus rental includes limo-style leather seats, TVs, premium audio system, and colorful LED light displays to make you feel like you're in a club! Get ready to have some fun with a party bus!
Call For Price
How Much is a School Bus Rental
School buses are generally more affordable than other types of buses, which means that you can get more people on board for less money. Average hourly prices start at $130 per hour depending on date, availability, time of rental, passenger count and other factors. Also remember that if you're traveling far, mileage charges apply so expect to pay more like $145-$200 per hour. To determine how much it will cost per person when renting for a particular vehicle, divide the quoted price by how many people will be riding along with each other and see just how affordable the rates are. To get an idea about what rental rates might look like for your specific itinerary and group size, use our quote calculator at the top of this page.
School bus rentals can vary based on size, the type of trip, as well as the duration of your trip. As one of the most affordable options for group transportation school buses will always be the go to ride for those on a budget. When you need the best bus rentals for schools, contact Price4Limo.com today!
Memorable Charters With A Price4Limo School Bus Rental
Chartering a school bus is a great way to set your event apart. We've helped thousands of customers plan memorable, affordable transportation that helps them stand out from the crowd while also providing a reliable alternative to standard transportation options. Let's plan something together. Call us at (866) 265-5479 or email us and we'll help you create an unforgettable experience for your guests.
School bus rentals are not designed for long distance travel or for transporting large groups of people, so they are not ideal if you need something that will accommodate many people at once or provide lots of room for them to move around freely inside your vehicle. However, they do offer some advantages over other types of vehicles - namely low cost. If you're looking for an inexpensive way to get around town with a group of people, then this type of rental may be just what you need. Why Rent A School Bus?
When it comes to transportation, you want something that is flexible, reliable, and fun. School buses are just the ticket. Whether you're hosting an event for your kids' sports team or planning a family reunion, we can help you find the perfect vehicle for your needs. School buses are great for transporting groups of people because they have plenty of space for everyone to sit comfortably and enjoy their trip together. The most common type of school bus is the yellow school bus seen zooming around town with its flashing lights and stop sign out front. You may have noticed these vehicles all over town—they're everywhere. And now you can charter one just like them for your next event. When you charter a school bus from Price4Limo, not only will you get to ride in style alongside your family and friends, but you're getting a ride from the nations' premier provider.
School buses are great options for short and sweet no frills transportation. They're not designed for comfort, but they are a highly efficient logistics option.
What kind of school bus do you need? Do you need a mini-bus to transport a small group of people? Or perhaps a full-sized school bus for a large group? Whatever it is that you're looking for, we have it. We have buses with seating for anywhere from 15 to over 50 people. Whether you're transporting 30 people or 5,000 people, we have the vehicles that will fit your needs.
The Price4Limo Difference
At Price4Limo, we believe that everyone should be able to afford first-class transportation. That's why we offer the best prices for charter services in all 50 states, making them easily accessible and affordable. Our company prides itself on providing top-notch service to our customers at all hours of the day or night. You can count on us to be there when you need us most, whether it's a VIP ride to the airport or a fun night out with friends. We know how frustrating it can be trying to get a quote. You call a bus company, give them all your information and then they say they will get back to you. Days go by without a reply. We get it. That's why we have an online quote tool so you can get school bus prices in seconds and not have to worry about this. You can see the buses available in your area right on that page and even make your reservation from there.
When you're traveling, comfort is key. You want to enjoy the experience, not have to worry about whether or not you'll get there in one piece. You can rest assured that all of the buses booked through Price4Limo come with comfortable amenities. We've been in business for over 10 years, and our focus on quality service and customer satisfaction has made us one of the top names in the industry. We know that every trip is different—that's why we offer a wide range of options when it comes to booking your travel needs. Our dedication to customer service means that we'll always be there for you throughout the entire process—from planning and booking through finalizing payment and getting on board with us.
Corporate Event Shuttle Bus Service
When you're planning a corporate event, you want to make your attendees feel comfortable and make sure they arrive on time. At Price4Limo, we provide a full range of transportation services for all kinds of corporate events—from conventions to holiday parties to meetings. We can even help you with travel logistics for people who don't live in the area. Shuttles are perfect for any size event and can be customized to fit your needs. We also have a variety of options for your attendees: from bus seating to luxury sedans, we have what you need. We understand that when it comes down to it, what matters most is getting your participants where they need to go on time.
Wedding Day Venue Shuttles
The wedding day is long and stressful, but it doesn't have to be. With a professional wedding shuttle service, you can relax knowing that your guests are being picked up on time, shuttling between the venue and reception is seamless, and everyone has a great time. Price4Limo offers affordable transportation for all types of events, including weddings. From picking up guests to shuttling between the venue and reception to make sure that the entire wedding event runs smoothly, reservation specialists are prepared to work with all budgets. We know that planning a wedding can be overwhelming, so let us help you.
Sporting Event & Gameday School Buses
Whether you're a sports fan or not, there's no denying that the atmosphere of a game is one that can't be replicated. The excitement, passion, and energy of a stadium full of fans cheering on their team is an experience that everyone should get to enjoy at least once in their lives. But when you're traveling with your family or group of friends to an away game or separate destinations for home games, it can be difficult to find transportation that will get you there reliably and safely—especially if you want to make sure everyone has a good time while they're on board. No matter if you're a sports fan or just want to support your kid, Price4Limo has the best way to get to the game. We've got you covered with our school bus services. And because we know that every team needs their own bus, we offer several sizes and styles of bus to meet your needs.
Plan Your Field Trip With A School Bus
Field trips are an essential component of the learning process. They allow students to experience new things, make connections with one another, and consolidate the entire group in one vehicle. A school bus is the perfect way for universities, colleges and high schools to transport their students on field trips. School buses are also convenient for students of all ages. You can take your entire class on a field trip without worrying about how you will get there or who will drive everyone back home after hours.
High School & College Graduation Shuttles
High school and college graduation is a special time for students and their families. It marks the end of a long journey that started in elementary school and ends with a diploma. It's the culmination of years of hard work, and it's an opportunity to celebrate those accomplishments with family and friends. At Price4Limo, we understand how important it is to make this special occasion even more memorable by providing transportation for your friends and family members who are coming from out of town. Our buses are equipped so you can stay connected while traveling to your graduation ceremony. You can also use them later on in the evening, when you're going out to dinner with your classmates or celebrating at a local bar. We can even help you get around town after graduation.
Shuttle Service To and From Prom
School bus service to and from prom is a must. After all, this is one of the biggest nights of your students' lives—and they want it to be perfect. Now you need a company that can make sure they get to breathe easy, knowing their students will be safe and sound as they arrive at prom and return home after the festivities. You need the perfect transportation option for your kids: one that comes from the nation's most trusted transportation company and gets them to their destination on time with plenty of time for fun before the big dance. Price4Limo is here for you; we offer school bus service across America at an affordable price. We've been providing quality service so you can trust us to take care of your students' needs—and yours.
Homecoming Transportation
Sending your kid to their homecoming in a school bus is a great option. Not only does it reduce the stress of driving, but it also makes sure that they get there on time and with plenty of room for all their friends. At Price4Limo we have a wide variety of vehicles available to rent out. Our school buses are perfect for any size group and can be customized to suit your needs. If you want to make sure that your kid has fun at their big night out—without having them worry about driving—we'll make it happen.
Frequently Asked Questions About School Bus Rental
Why are school buses yellow?
Back in 1939, Frank W. Cyr championed a campaign to transportation officials, school bus manufacturers, and education staff to create a guideline of why buses should be yellow. This conference took 7 days and at the end the transportation officials came up with the school bus construction guidelines with the rule that school buses need to be yellow. The reason being, this color is distinguishable in all forms of weather making it the safest color for moving vehicles.
How long are school buses?
The average length for a school bus is 35 feet. Since there are all sorts of different types of buses, this will vary depending on which you are looking at. Smaller school buses are around 20 feet and the largest can stretch up to 45 feet long.
Can I bring alcohol on a School Bus?
You can bring drinks aboard the bus. However, it is important to talk to the representative ahead of time to ensure that your drink of choice is acceptable. In most cases, alcohol is not an issue on buses. However, some cities do not allow it, so be sure to check with us before bringing a bottle of wine or beer on board. Additionally, there may be a cleaning fee involved if you spill any drinks and cause damage to the vehicle.
How many seats are on a school bus?
Bus seats are a crucial part of the school bus transport system, and many people wonder how many seats there are on a school bus. It's an important question to answer because it helps parents, children, and other passengers know what to expect when they board the bus. The number of seats in a school bus can vary slightly, but most of them will have between 60 - 72 seats, while the largest school buses can carry up to 90 people.
How far can a school bus drive?
School buses tend to run shorter routes in general and stay local. The reason being is that these buses do not come equipped with all the amenities that longer trips require. Only certain school buses will have A/C and restroom facilities do not come on school buses. You can understand how this would not be ideal for a long trip. As an example, if you were to travel hours away from your school you can expect to make too many stops which could lead to delays, and no A/C would be too uncomfortable. A good rule of thumb for school bus travel is to stay within 100-150 miles for your trip.
Can you bring luggage on a school bus?
It depends. Most school buses do not have large storage spaces and will not be able to accommodate your luggage. If you had some empty seats, you could store gear on them or under the seats, but generally there are no designated luggage spaces on these buses. However, some schools may have a separate bus with designated storage space for students who need to bring large amounts of luggage or equipment. You should check with your reservations specialist before making any plans to bring luggage on a school bus.
How do I book a school bus rental?
If you're planning a school trip and need to rent a school bus, the process can seem daunting. But don't worry. We've got some tips for making it easy. First off, start by exploring your options. You can do this by entering your trip date, destination, and location into our booking tool. This will give you an overview of the different vehicles available and their cost. The next step is to figure out what type of bus will work best for your group. This can be done by taking into account how many people will be in attendance, how long the trip is expected to last, and any other special considerations (like whether or not there will be any stops along the way). Once that's settled, it's time to book. You'll need to submit some information about yourself and your group in order to get started—but if you have all of that ready beforehand (and have already found a vehicle), then it won't take long at all.
---