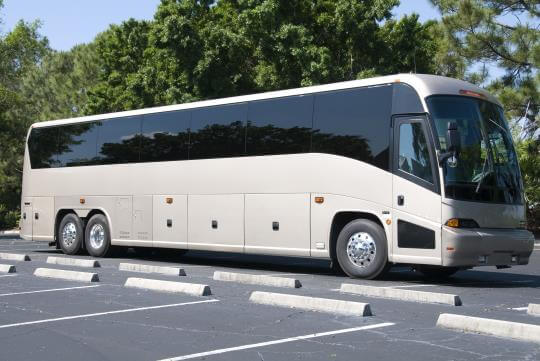 When you require ground transportation for a big group of up to 50 people, our 50 passenger charter bus rental is the ideal option for you. Fifty passenger charter buses are the perfect solution for moving people from destination to destination affordably. Prices and amenities for bus rentals will vary. Price4Limo makes it easy for you to see all of your bus rental options on one site. Here you will see all of the photos, prices & reviews to help you make a decision. Each bus will have comfortable seating, TVS, air conditioning, and in some cases even a bathroom. Contact us today for a FREE quote or book online and save on your charter bus rental.
From coast to coast, our nationwide network of vehicles gives you the freedom to travel anywhere in the country. We provide you with transportation options that are both affordable and accessible, making sure that everyone can experience this great country of ours. You'll never have to worry about your budget when you choose Price4Limo. We partner with thousands of bus companies to bring you a selection of over 12,000+ vehicles to choose from. Whether you're looking for a bus rental for a large group or just want to take a road trip with friends, we've got you covered.
Why Rent a 50 Passenger Charter Bus?
The 50 passenger charter bus is the ultimate ride for large groups. There are many reasons why people rent the 50 passenger bus. From sports teams to wedding parties, we have seen it all. If you need transportation for your employees, a 50 person charter bus is the way to roll. Likewise, if you have a huge wedding party and want to prevent your guests from getting lost, hiring a charter bus is a great idea. There are other options for transportation as well including, shuttles, minibuses, school buses, and motor coaches.
There are so many reasons to travel, and we excel in providing group transportation. Whether you're taking a school trip or going on a large-group excursion, a 50-passenger charter bus will give you the space and flexibility to travel how you need to. In one of these front-facing seat buses, you'll enjoy comfortable seating, and have space for your overnight bags. Renting a bus from Price4Limo means that you get ground transportation scheduled the right way when you need it, without having to worry about coordinating the logistics on your own. Just call us and ask about our 50-seater buses.
Price4Limo is your premier nationwide bus booking company offering an array of travel options for every group. Our easy-to-use website allows you to book your trip quickly and compare prices from multiple vendors just by calling 866-265-5479. Price4Limo provides reliable, affordable transportation for groups of all sizes, from small family reunions to large corporate events. We have an extensive network of bus companies across the country, so we can help you find the perfect bus for any occasion.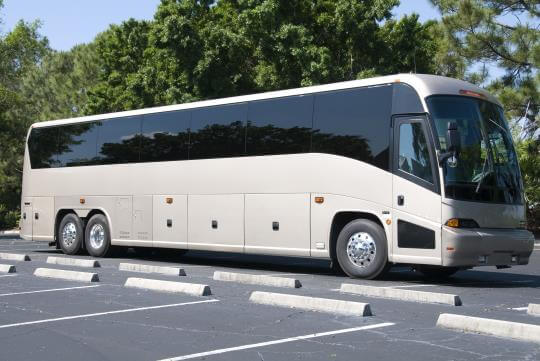 | | |
| --- | --- |
| Seating Capacities: | 50 Passengers |
| Storage: | Yes |
| Restroom: | Optional |
| Air Conditioning: | Standard |
| Music/DVD/TV: | Optional |
| Average Price: | $1199-$2400* |
*Due to covid-19 Prices may be significantly higher and may vary depending on availability, service, and location
---
How Much is a 50 Passenger Charter Bus Rental?
The cost of hiring a 50-passenger charter bus varies greatly, depending on the size of your group and the number of hours you need the bus for, but you can expect to pay between $140 and $260 per hour.
When you want to hire an affordable charter bus, Price4Limo can help. Our online booking engine makes it easy for you to compare prices from local charter bus companies. Most 50 passenger buses will be priced similarly, but can vary based on location, amenities, and age of the bus rental. Using our rental portal, you are sure to find the best deal for the best 50 passenger charter bus service. So start your search now, and book online today.
Choose Price4Limo For Your Next Bus Rental
When you're looking for a charter bus rental, it can be difficult to choose the right company. We've been pairing travelers with bus companies for 15 years, and we've helped thousands of people book charter buses and have the perfect trip. We take pride in giving each and every client the personalized experience they deserve. With over 2,500+ five star reviews, you know that Price4Limo is a good fit for your next journey. You can count on us to provide reliable service, so when you're ready to book your charter bus rental, we'll be here to help every step of the way.
At Price4Limo, we're here to help you make sense of it all. Our team has been in the transportation industry for years, and our goal is to provide you with the most accurate information possible so that you can make an informed decision about what type of service is best for your needs. We know how stressful it can be when you're trying to get somewhere on time and without any hassle especially when coordinating multiple buses—that's why we make it easy just call 866-265-5479.
50 Passenger Charter Bus Uses
Wedding Transportation:
A wedding is a special occasion, and you want to make sure that you're transported in style. A 50-passenger charter bus will do just that, as well as bring your guests to the location of your choice.
Corporate Events:
Whether it's a holiday party or an annual conference, a 50-passenger charter bus can accommodate all of your employees for transport or for use as a venue for their event.
Religious Groups:
Religious groups often need transportation to and from services or events, but they also need it for times when they're traveling together for other purposes—such as retreats or pilgrimages. A 50-passenger charter bus can provide this service for both types of trips.
Team Sports:
If your team needs transportation from one city to another, or if you are playing an away game against another team, having a 50-passenger charter bus available can be very helpful. It is large enough to hold all the players on your team plus coaches and staff members without feeling cramped; at the same time, it allows everyone to sit comfortably during long rides.
Conventions and Trade Shows:
Whether it's an annual convention or an upcoming trade show that needs transportation services, chartering buses is an easy way to accommodate all of your attendees' needs while saving money in the process.
Winery Tours:
If you're planning on visiting several wineries in one day, it may be easier to rent a large charter bus instead of multiple smaller vehicles. This will allow everyone in your group to sit together comfortably while touring around wine country.
Greek Life Travel
The 50 passenger charter bus is often used by fraternities and sororities when traveling between campuses or events across town or state lines because it provides ample seating space for the entire organization.
Get Your 50 Seat Bus Rental Set Up In Minutes
Getting a bus charter is as simple as following three steps:
Step 1 – Map out your itinerary. Before you begin booking your bus, it's important to have an idea of where you're going, what time and what date the trip is. This will help with the reservation process and ensure that you get all of the information that you need. It's also a good idea to map out your route in advance so that you know how long it will take to get there and back. This gives you an idea of how much time you'll need for drop-off and pick up times.
Step 2 – Who's traveling? A headcount is one of the most important things you need to know before reserving your bus. It's important for us to know how many people will be traveling so that we can get you paired up with a bus of the right size.
Step 3 – Get your instant quote. When you've got everything figured out, all that's left is getting prices from our online booking tool and making your reservation. Our site makes it easy by providing real-time pricing information so that you can see exactly what each option costs before committing to anything.
Frequently Asked Questions About 50 Passenger Charter Bus Rentals
What Types of Buses Come in a 50 Passenger Size?
The most common types of vehicles that come in a 50 passenger configuration are shuttle buses, motorcoaches, charter buses, and coach buses.
What Brands Make 50 Passenger Buses?
These are the brands that make 50 passenger buses: Volvo, Temsa, Van Hool, Prevost, MCI and Setra. These all have different features that make them unique from each other. A lot of people choose a brand based on what they want their bus to do or where they want it to go. Others may choose one based on price or quality of service provided by the company selling them their vehicle. The MCI buses are generally the most popular and cost effective.
What Types Of Events Or Trips Are 50 Passenger Charter Buses Used For?
50 passenger charter buses are the perfect option for any type of trip, event, or excursion. Whether you're looking to relax and enjoy the open road with your friends or family, or want to take a trip somewhere exotic and exciting, these full-sized charter buses can accommodate your needs. Here are some examples of how 50 passenger charter buses are used:
Weddings - When it comes to weddings, there's nothing more important than ensuring that your guests have a great time. With a large group of people coming together from all over, this can be quite the challenge. But with a 50 passenger charter bus rental, you'll be able to transport everyone safely and comfortably in one vehicle so that everyone can enjoy their time together without having to worry about getting lost in traffic or dealing with other problems that come along with driving multiple cars on busy roads.
Conventions - If you're hosting a convention at a hotel or convention center, renting out a 50 passenger charter bus will allow you to transport all of your attendees in one vehicle instead of having multiple vehicles driving around town picking up people individually. It also makes it easier on everyone because they won't have to worry about parking their own vehicles.
Airport Transfers - If you're flying into town for an event, renting out a 50 passenger charter bus will allow your guests to easily get from the airport to their hotel without having to worry about parking or finding directions on public transportation.
How Much Storage Space Is On A 50 Passenger Charter Bus?
You'll be able to store all of your belongings in different compartments on board the bus. Here's what they are: Overhead Compartments: These are located above each seat and provide extra space for larger items like suitcases or backpacks. They are also useful for storing smaller items such as purses if there isn't enough room under each seat for them. Undercarriage Compartments: These compartments are located underneath the bus and can carry large suitcases. This stretches along the entirety of the bus and you can only reach this area before boarding the bus. Finally, there is also space under each seat in which you can store small personal items and bags.
What Amenities Usually Come On 50 Passenger Charter Buses?
When you're looking for a 50 passenger charter bus, it's important to know what amenities are going to be available. Here are some of the most common features you can expect to find on these vehicles: On-Board Bathroom- Many charter buses come with an on-board bathroom.
WiFi-Most 50 passenger charter buses have WiFi, which means your guests will be able to stay connected while they're traveling with you. This is especially useful if you're planning on taking them out of town for meetings or events.
Charging Ports-If your guests are going to be using their phones during the ride (or playing games), then having charging ports onboard is essential so that they can keep their devices charged up throughout the trip.
How Far in Advance Should I Make My Reservation?
The earlier the better. We recommend at least 3 months in advance to secure the best pricing. If you're looking for a last-minute bus, it is not impossible to find one, but it will be more expensive than if you booked ahead of time.
How Do I Reserve My 50 Passenger Charter Bus?
You can reserve your vehicle online by contacting Price4Limo.com via telephone at 866-265-5479. One of our representatives will assist you in setting up the details of your trip, and will match you with a vehicle that meets your needs. You can then make the payment online, and you're on your way.
---
Top Cities For Charter Bus Rentals
---