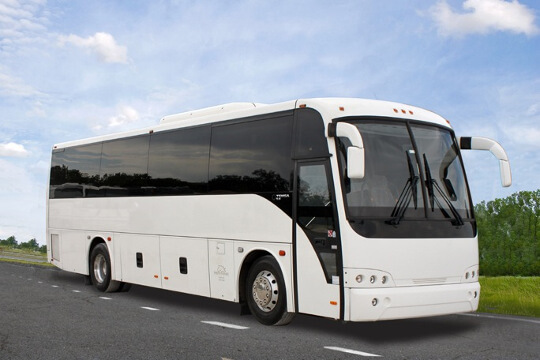 When you need to move a load of people, the 40 passenger charter bus rental is the way to roll. There are only a few charter buses capable of transporting up to 40 people. These 40 person charter buses have comfortable seats, TVS and air conditioning to make your trip relaxing and enjoyable. Amenities and prices will vary from one charter bus company to the next. That's why Price4Limo has made it easy for you to compare prices and bus rentals from charter bus companies all across the USA. View all of our 40 passenger buses online and get a free quote.
With our nationwide network of vehicles, we can provide you with transportation no matter where you are in the country. Whether it be on a weekend getaway with friends or a business trip to another state, we have what you need to get there in comfort and style. At Price4Limo, we believe that everyone should have access to affordable transportation no matter what their budget may be. And with a mini-coach, you can enjoy the same level of luxury as a full-sized vehicle at a fraction of the cost. Booking is easy: all you have to do is call 866-265-5479 or book online at Price4Limo.com.
Why Rent a 40 Passenger Bus?
Price4Limo excels in providing group transportation, and there are so many reasons why you would need it. Whether it's a site tour, airport transfer, sports team travel, or any other type of large-group excursion, a 40-passenger charter bus can give you the space and comfort that you need. Equipped with front-facing seats and different luggage compartments, you can get moving easily with your group. Need the flexibility of planning for your trip? These buses can handle it. With hourly service, you can tailor the travel around time, not a specific route. Or get point to point service where we pick you up and take you to your desired destination.You can even rent out a bus that will be able to cross country with your group.
When you're planning an event, there are so many details to consider that it can be overwhelming. From booking a venue to coordinating your guest list, finding the perfect entertainment, and making sure everyone has an unforgettable experience—it's enough to make you want to cancel the whole thing. But what if there was one thing you didn't have to worry about? What if there was something you could do that would put all of your guests at ease and make your event run smoothly from start to finish? Renting a bus from Price4Limo means that you get bus transportation scheduled the way you need it. So no more worrying about moving attendees to and from a convention or wedding guests to the reception, we'll take care of it.
Price4Limo is your premier nationwide bus booking company, offering an array of travel options for every occasion. Our easy-to-use website allows you to book your trip quickly and easily—from searching by location or trip type to comparing prices from multiple vendors. Our friendly customer service team is available 24/7 to answer any questions or concerns you may have about your reservation or transportation needs, just call 866-265-5479 to get started.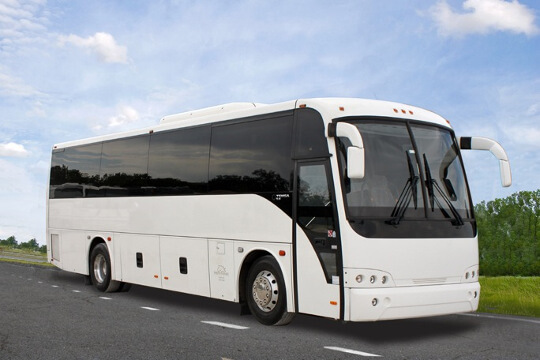 | | |
| --- | --- |
| Seating Capacities: | 40 Passengers |
| Storage: | Yes |
| Restroom: | Optional |
| Air Conditioning: | Standard |
| Music/DVD/TV: | Optional |
| Average Price: | $999-$1400* |
*Due to covid-19 Prices may be significantly higher and may vary depending on availability, service, and location
---
How Much is a 40 Passenger Charter Bus Rental?
The cost of hiring a 40-passenger charter bus or mini-coach varies greatly depending on where you live and how much time you need it for. In general, though, you can expect to pay between $120 and $250 per hour. Price4Limo has created the world's best online marketplace for charter bus companies to compete for your business. On our site you can compare prices for 40 passenger bus rentals in your area. You will also see shuttle buses, minibuses, and motor coaches for hire as well. Find the bus you like, get a free quote, and book online in less than 5 minutes. Contact us today.
Why Rent Your Next Bus Rental From Price4Limo
At Price4Limo, we've been pairing travelers with our network of bus company affiliates for over 15 years. Over that time, we've helped thousands of people book charter buses and limos that fit their needs and give them the personalized experience they deserve. When you call us, you're picking the right company because we work diligently to provide charter buses that fit your needs and give you the personalized experience you deserve. With over 2,500+ five star reviews, we know what makes our customers happy. You can be confident in choosing Price4Limo because we'll make sure it's convenient for everyone involved—from booking through drop-off.
Let us know what you're looking for, and we'll give you a quote that is guaranteed to meet your budget. We'll provide information on the various amenities available, so that you can choose those that fit your needs best—we want to make sure that you are comfortable during your trip. And if there's anything else we can do for you during your time with us, don't hesitate to ask. Our staff is ready to assist in any way we can. Just call 866-265-5479.
40 Passenger Charter Bus Uses
Field Trips. Field trips are an important part of learning and growing as a student. With these buses, students can take part in innovative educational experiences without being confined by overcrowded public transportation or having to rely on having to find their own transportation. They also offer plenty of space for teachers and chaperones who want to accompany their groups as they explore new places.
Weddings. Wedding transportation is often overlooked when planning an event—but it should not be. A 40-passenger charter bus gives you the room to comfortably transport all your guests to the ceremony site (which may be several hours away) and then back again after they've enjoyed their time at the reception.
Conferences. If you're hosting a conference or seminar and want to make sure that everyone gets to their sessions on time, you can hire a 40-passenger bus to take them from the hotel to your venue and back again at the end of the day. This will make sure that none of your attendees miss out on valuable information during their sessions, and it will also help them get home safely if they've had too much fun at your event.
Sports teams. Give you the space for all the players and equipment when traveling to games or tournaments, saving time and money while allowing everyone to enjoy their own space during those long trips.
Sports Fans. Whether you are heading to your local high school or traveling across the state, this bus is equipped for all types of road trips. Take advantage of these comfortable buses and make your way over to see your favorite team in action.
Here's How to Get Your Bus Rental Set Up
Step 1 – Put together your travel plan. Before you can start booking your charter bus rental, you need to have a clear idea of what kind of trip you're planning on taking. Are you taking a group of people out for a weekend getaway? Are you heading out on a cross-country road trip? Or are you going to be transporting students back and forth from school? Put together a rough idea of your itinerary with some pick up locations, dates of travel, and time frames so we can help get you a quote.
Step 2 – Take a headcount. This is an important step in getting ready to reserve the right size bus for your group. If there's one thing that can ruin an otherwise great trip, it's being stuck in too small of a vehicle with too many people or being stuck in too large of a vehicle with too few people. So make sure we know how many people will be traveling so that we can get you paired up with a bus of the right size.
Step 3 – Get prices from our online booking tool. Once you know exactly how many people will be traveling with you and where they're going, it's time to go online and get some prices for the charter bus rental that best fits your needs. Simply go to our website (Price4Limo.com), head over to our pricing calculator, and fill in all of the relevant information about your trip in order to get started. You'll get an instant quote based on the details of your trip and you'll be able to browse different buses with pictures to find one for you.
Step 4 – Make your reservation. After reviewing the pricing options and selecting one that works best for you, simply proceed through our checkout process and make payment by credit card or Affirm's buy now pay later plan.
Frequently Asked Questions About 40 Passenger Charter Bus Rentals
What Types of Buses Come in a 40 Passenger Size?
Shuttle buses, motorcoaches, charter buses, and coach buses all come in a 40-passenger size. These are the popular options that most people go with when choosing a bus for this capacity. School buses are another option that come in a 40 pax configuration, however these types of vehicles are much more barebones than the rest of them having much fewer amenities.
What Brands Make 40 Passenger Buses?
These days, there are many different options available when it comes to 40 passenger buses. The most popular brands include Prevost, MCI, Setra, Freightliner, Volvo, Temsa, Mercedes, and Van Hool—and each brand has its own unique look and feel. If you're looking for a sleek-looking vehicle with lots of amenities, you might want to go with Prevost. Or if you want something more traditional-looking with lots of space and seating options, MCI may be the choice for you. If you're not sure which model is right for your needs, call our reservations team at 866-2654-5479 and we will help you pick one.
What Types Of Events Or Trips Are 40 Passenger Charter Buses Used For?
With their high-end amenities and spaciousness, 40 passenger charter buses are a great choice for any type of event or trip. They're perfect for weddings, since they can transport the entire bridal party and their guests to the ceremony together. They're also a great option for field trips or sports travel, since there are luggage compartments that can store sports equipment like balls, cleats, and backpacks. You can even rent a luxury option for corporate clients who want to impress their employees or clients with an on-time, comfortable ride in style.
Why Rent A 40 Passenger Charter Bus Instead Of A Full-Sized Bus?
The 40 passenger charter bus is a comfortable, affordable alternative to a full-sized bus that offers many of the same amenities including overhead and undercarriage storage, TVs, Wi-Fi, power outlets and more. The one thing they usually will not have is a restroom on board. That being said, this is a great option for both short and long distance travel that can save you some money when compared with the 56 passenger alternative.
How Much Storage Space Is On A 40 Passenger Charter Bus?
You will have access to two types of storage space: overhead compartments and undercarriage compartments. The overhead compartment is located directly above your head as you sit down on your seat. It contains a number of bins for storing items such as luggage or personal belongings. This can only fit small bags. The undercarriage compartment is underneath the bus where you will load the luggage into it prior to boarding the bus. This is much more spacious and is able to fit large suitcases and team equipment.
What Amenities Usually Come On 40 Passenger Charter Buses?
While there are many different models of 40 passenger charter buses available in the market today, most of them will share these common features:
Power outlets: Whether it's at the back of your seat or up high near the windows, there should be plenty of power outlets available on your bus so you can charge your phone or laptop while traveling.
WIFI: While most people prefer to unplug while on vacation, sometimes it's nice to just relax with a good book or watch some movies on your tablet device. That's why most modern charter buses should have WiFi access so that you can stay connected while away from home.
Bathroom: Some models include bathrooms on board already while others don't include them at all so you'll have to pay extra if you want one included in your rental agreement.
How Far in Advance Should I Make My Reservation?
The sooner you book your charter bus reservation, the better. While it's not impossible to find a last-minute deal, it's much easier to find one when you're looking earlier in advance. You'll also have more options, including the number of seats and amenities you want on your bus. Book at least 3 months beforehand if you can—that way, you'll avoid surge pricing (when rates go up due to high demand) and can get exactly what you need at the right price.
Can I Reserve My 40 Passenger Charter Bus Over the Phone?
We can help walk you through the reservation over the phone but you will pay and reserve through our reservations page on our website. If you have any questions about your reservation, please call 866-265-5479.
---
Top Cities For Charter Bus Rentals
---