California Charter Bus, Limo Service, and Party Bus Rentals
You won't find a better selection for limos, charter and party buses in California than at Price4Limo. Complete the form to view vehicles available in your area.
We offer an unrivaled selection of charter bus rentals, limos and party buses in California. We have thousands of vehicles for hire at affordable prices that can meet your needs for your next adventure here. Whether you are looking for a charter bus to tour the Napa Valley or a classic party bus around Hollywood, Price4Limo has what you need.
Traveling with a large party? View our California charter buses
Top Charter Bus Rental Company In California
Price4Limo is the largest charter bus rental company in California, with a wide selection of charter buses, limos and party buses available for rent. Price4Limo has been serving clients throughout California. If you're looking for transportation services in Los Angeles, San Diego or San Francisco, look no further than Price4Limo! We have thousands of satisfied customers who have taken advantage of our competitive prices and top-notch service. No matter what kind of event you're planning—whether it's a corporate meeting or a wedding reception—our fleet includes vehicles that will fit your needs perfectly. With so many different options from which to choose, it's easy to find exactly what you need without breaking the bank.
Browse our selection of limousines, party bus rentals, charter buses & more available throughout California. Take a look at what vehicles are available in your town or city by selecting a service area from the list above.
Best California Limousines
If you're looking for the best limousines in California, look no further. We've got a list of the most popular and highly-rated California limousines that are sure to impress! Whether you're celebrating a special occasion or just want to treat yourself on your birthday, these stunning vehicles will more than meet your needs. Our limos & party buses are available for a myriad of different services such as weddings, proms, birthday parties & more. Take a night on the town in one of our luxurious limousine rentals and feel like a celebrity. Tailgate in style with a party bus rental and be the life of the party.
California is one of the largest states in the United States and is home to some of the most populated cities in the west coast such as Los Angeles, San Francisco, San Diego, & Sacramento. The greater Los Angeles area itself is host to numerous activities and landmarks. Theme parks such as Disneyland & Knott's Berry Farm draw both local crowds and tourists alike. Be sure to check out the Hollywood walk of fame along with all the attractions and shows in the area. San Francisco offers culture, history, and popular sports venues as well as some of the most iconic landmarks in the state like the Golden Gate Bridge and Alcatraz.
Price4Limo.com is a free searchable directory to help you find Limousine, Charter Bus, and Party Bus transportation services nearby. Below are some of the California companies listed on our platform. Price4Limo.com does not collect or charge any monies to persons located in California.
PSG0017000 - Anytime Limo CA
PSG0020184 - ULC United Limousine & Charter
PSG0037127 - Blackstone Limousine Inc
PSG0035479 - Franklin Shuttle
PSG0031413 - All Access Limo CA
PSG0022788 - MGM Transportation
PSG0010013 - Neumann Limousine
PSG0035480 - SIV TRANSPORT LLC
PSG0010013 - Neumann Limousine
PSG0037275 - The Black Tie Limos LLC
PSG0023975 - Angel Worldwide Transportation
PSG0035771 - RYM Limousine Service
PSG0037018 - Entourage Limousine, LLC
PSG0020184 - ULC United Limousine & Charter
Choose California Party Buses
If you're looking for a party bus that can take your group from place to place, look no further. Price4Limo has an extensive fleet of vehicles, including party buses that are perfect for large groups and events. There's no limit to the fun you can have while on one of these vehicles, whether it's out on the open road or just rolling up to a local bar after work. If you've never been in the front seat of a party bus before, be sure to give it a try and see what all the fuss is about!
Why Choose Price4Limo?
We have the largest selection of charter buses, limos, and party buses in California. We also have the most affordable prices.

Our customer service is second to none. When you call or email us with questions about our services or pricing, we will respond within 24 hours (usually sooner).

Our vehicles are amazing and available year round.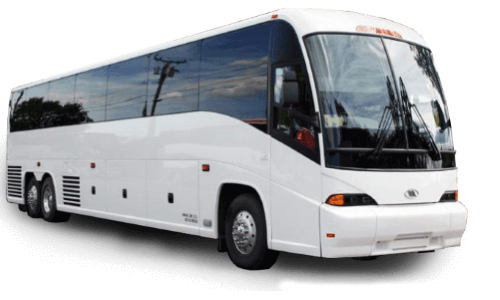 Luxury Charter Buses
If you're looking for luxury party bus options, we have them. Our 30-passenger Tiffany Party Bus and 18-passenger minibus rentals are the perfect option for your group. We also offer 56-passenger MCI buses to accommodate everyone on your trip in comfort. These vehicles will allow you to travel in style with all of the amenities you could possibly want on your trip!
56-Passenger MCI Bus
This is a great choice for large groups or families. It comes with 56 seating capacity and can accommodate up to 50+passengers. This is perfect for families who want to be together during their road trip, but it can also work well for other types of groups that need extra space.
Charter Bus Pricing Explained
The price you pay for your charter bus rental depends on the following factors:
Number of passengers

Time of Day

Distance covered (miles)

Type of bus you choose to hire.

Service level that meets your specific requirements.
In order to get an estimate, we will need to know how many passengers would be traveling with you, what type of vehicle and services are required, where are you going etc., which is why it's best done over the phone or via email so we can discuss these points in detail with our sales team.

Minibus Rentals
All of our minibus rentals are available in 30-passenger and 18-passenger versions. The 30-passengers are available in a variety of colors, and the 18 passenger models can be rented with various amenities.
18 Passenger Minibus
You can book an 18 Passenger Minibus. There are several options available for our 18 passenger minibuses. We offer flat rate pricing as well as hourly and daily pricing for our vehicles. If you would like to learn more about our vehicles and services, please contact us!
Mini Bus Pricing Explained
The pricing of a mini bus rental is based on three factors: the number of passengers, the distance traveled, and the time of day. Your rate will be per hour, per day or per trip. The price for a charter bus depends on many factors including the number of passengers, their destination and starting point, and duration you want to travel to your destination. Each location has unique characteristics that affect the cost of transportation. For example, if you're traveling through California's wine country during harvest season then it will be more expensive than traveling at any other time because there are fewer vehicles available due to all vineyards being busy harvesting grapes for their wines or olives for olive oil production during this period (in fact there may not even be any availability left at all as this is when most people prefer going).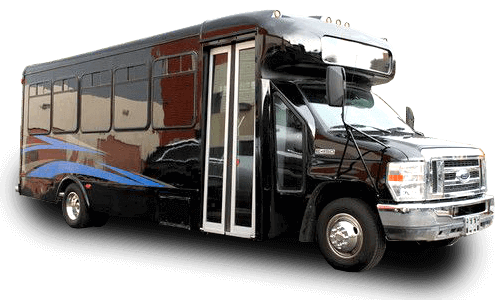 30-Passenger Tiffany Party Bus
The 30-Passenger Tiffany Party Bus is available in Los Angeles, San Diego, San Francisco, and San Jose. This luxury limo rental has a dance floor, bar and disco lights. The bathroom is equipped with a toilet and sink. There is also a flat screen TV to watch movies on or play video games on. The cabinets are stocked with CDs that you can choose from if you do not have any music of your own with you to play for your trip. A DVD player is available so there will be no need for anyone in the group to bring their favorites along with them!

Motorcoaches For Hire
If you need to transport a large group of people, our 45-passenger Temsa motorcoach is the perfect solution. This vehicle has ample seating and standing room, as well as a bathroom onboard. You can even add extra amenities like flat screen TVs, Wi-Fi access, and bar service to ensure that your passengers are comfortable throughout their journey.
45 Passenger Temsa Motorcoach
The Temsa 45-passenger motorcoach is an excellent option for large groups. It has a three-zone climate control system, a DVD player, and a restroom on board. The coach is also wheelchair accessible. The Temsa 45-passenger motorcoach rental prices are very reasonable when compared to the other types of vehicles listed above. You can expect to pay between $170 and $300 per hour depending on your location and how many hours you rent the vehicle for.
Motorcoach Pricing Explained
Motorcoach pricing is based on the number of passengers, the number of days you want to rent the bus, and the number of miles you want to travel. The more passengers you have, the more you will pay. For example: A 20-person passenger motorcoach for one day traveling 15 miles will cost $1,500-2,500. That's why it's important to make sure your trip details are correct when reserving your coach or limo!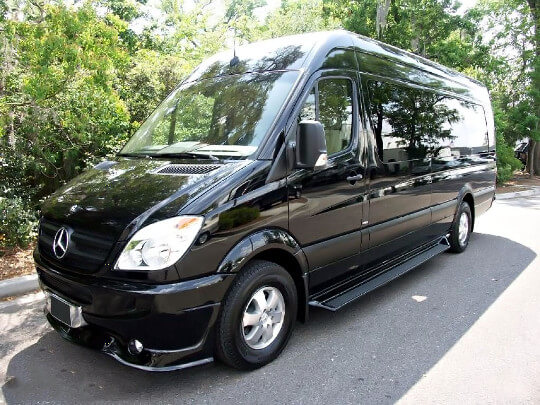 Sprinter Limo Rentals
The Mercedes-Benz Sprinter is a versatile vehicle. The Sprinter can seat up to 10 passengers and comes in several different sizes including the Sport Van (3 rows), Passenger Van (2+2 rows) and Cargo Van (2+2+1). The Mercedes Sprinter limousine rental is perfect for weddings, sporting events or any special occasion where you need to transport large groups of people. With its stylish black exterior and spacious interior featuring leather seats and entertainment systems, this limo rental will make your next event unforgettable!
10 Passenger Executive Mercedes-Benz Sprinter
The 10-passenger executive Mercedes-Benz Sprinter has a black exterior and black leather interior, as well as air conditioning, DVD player, CD player, stereo system, TV and Wi-Fi. You can keep everyone cool with the ice and water bottle stocked in this limo to make sure everyone stays hydrated on your road trip. Also available is GPS so you won't get lost or have any problems along the way!
Limo Sprinter Pricing Explained
At Price4Limo, we want to help you make the most of your limousine rental experience. That's why we've compiled this list of frequently asked questions and their corresponding answers in order to answer any questions you may have about our services.
How much does a limo rental cost?
How many passengers can fit in a limo?
What kind of vehicle can I get for my wedding party or bachelor(ette) party?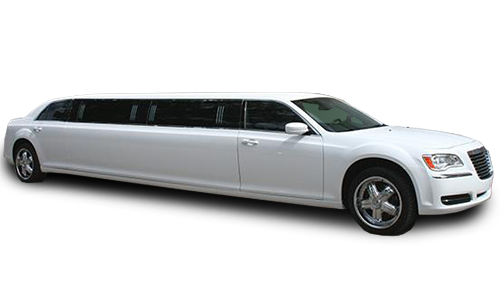 Luxury Limousine Options
If you have a large group to transport, our luxury limousines can accommodate up to 8 passengers. These vehicles provide ample legroom and comfortable seating, making your trip even more enjoyable. Our 8-passenger stretch Lincoln limo is perfect for weddings or other special events when you want to arrive in style. If your guests are traveling from multiple locations, we also offer a 16-passenger party bus that can be customized with floor lighting and sound systems!
8-Passenger Stretch Lincoln Limousine
You can't go wrong with an 8-passenger Lincoln stretch limousine. This classic car is perfect for weddings, proms and even birthdays. The eight passengers can ride in comfort while you enjoy the privacy of a . You'll find that it's also great for bachelor/bachelorette parties, corporate events and holiday parties. Whether you're going to sporting events or looking for a way to get around town with a small group of friends or family members, this vehicle will make your trip more enjoyable than ever before!
Luxury Limo Pricing Explained
Price4Limo's luxury limo pricing is based on a number of factors, including the type and length of your trip. First, you'll need to consider the time of day and day of the week you're traveling. Then, consider whether or not there are stops along your route as well as how far away from your destination you're going to be dropping off each passenger. Lastly, keep in mind that prices change depending on the season—for example, it may cost more during peak tourism season than at other times throughout the year!
If you're looking for a 15 passenger limo, we've got you covered. Our fleet includes some of the most luxurious limousines in San Diego County. And our prices are very competitive.
15 Passenger Black Hummer Limo
Our black hummer limos can accommodate up to 15 passengers, but they are available with a variety of seating options and amenities. Some include built-in keg coolers; others feature flat screen TVs and DVD players; still more come equipped with disco lights, laser lights and even fog machines! Whatever your group's needs may be, we're sure to have the perfect vehicle for you.
Hummer Limo Pricing Explained
While the base price of a Hummer limo may seem steep, it's important to know that your rate can vary depending on the number of passengers, distance traveled and time of day.
Airport Transportation Buses For Rent
We offer airport transportation buses for rent or charter to/from airports and events, including: Los Angeles International Airport (LAX), San Francisco International Airport, John Wayne Airport in Orange County and other destinations in California by our professional staff. Our buses come with a variety of amenities and can comfortably fit up to 49 passengers. We also offer limos, party buses and vans for your special occasion! Reserve your next trip online today!
Shuttle To The Venue With Wedding Transportation
If you're planning a wedding, transportation is an important part of the event. No matter how much time and effort goes into planning every other aspect of your big day, if your guests arrive late because they couldn't find parking or had to wait in traffic thanks to bad weather, it can easily change their mood from excited and happy to frustrated and grumpy. Wedding transportation is a must for any wedding that doesn't want its guests stuck in traffic for hours on end. That's why Price4Limo offers quality services for weddings at competitive rates!
Coach Bus Transport For Sport Teams
If you're a sports team, you might need a charter bus to transport your team and play against other teams in their own cities. Price4Limo can offer buses that are spacious and clean so that everyone has enough room to sit comfortably while they travel together. We also offer the best prices on the market so that it won't cost too much for each person in your team to ride with us. We even offer free Wi-Fi so that everyone can stay connected wherever they go!
School Bus Rentals For Perfect School Trips
School buses are a popular choice for transporting students to and from school. They're also used for field trips, sporting events, and other activities. School buses are an affordable way to get the most out of your budget for transportation needs. If you want to impress your students by bringing in a professional and vehicle, then consider renting a school bus from Price4Limo!
Government Charter Bus Rentals
Government officials and agencies can book a charter bus rental from Price4Limo to take them around California. Our fleet of luxury limos, party buses, and other vehicles are ready to serve the public sector. If you're looking for transportation services for your government organization, Price4Limo has a solution that will meet all of your needs. We offer government charter bus rentals of all sizes at affordable rates. Our fleet includes:
24 passenger mini buses

36 passenger midi buses

48 passenger full size coaches
Book Corporate Travel Coach Buses
We can help you with corporate travel coach buses. Whether you're planning a company outing, retreat or convention, we will provide the best bus service possible. We have the experience and expertise to make your trip a success. We understand that when it comes to business travel, reliability is key and without fail service is paramount. Our fleet of vehicles includes several styles of motor coaches including luxury motor coaches like Prevost X5's along with other more economical options.
Sports Teams in California
San Francisco Giants (MLB)

Oakland Athletics (MLB)

Los Angeles Angels of Anaheim (MLB)

San Diego Padres (MLB)

Los Angeles Dodgers (MLB)

San Francisco 49ers (NFL)

Los Angeles Rams (NFL)

Los Angeles Kings (NHL)*
Popular Cities in California
Los Angeles is the second-largest city in the United States and home to Hollywood. This is the place where you can meet stars like Brad Pitt, Angelina Jolie, Tom Cruise and more!

San Diego is known for its sandy beaches, historic sites and beautiful weather. You can visit SeaWorld or go shopping on Fifth Avenue (5th Street) which has many stores including Nordstroms and Bloomingdales. It's also known as "America's Finest City.

San Francisco is known for its steep hills but this city has lots of things to do such as Fisherman's Wharf with its popular restaurants offering fresh seafood from crabs to oysters; Pier 39 with shops selling gifts including T-shirts with sayings; Chinatown where there are many Asian restaurants offering traditional dishes such as dim sum (small plates served in steamer baskets). There are other attractions like Alcatraz Island prison which used to hold Al Capone & Jesse James during their times; Golden Gate Bridge built in 1937 connecting Marin County/Sausalito at its north end with San Francisco Peninsula just south across over 700 feet above water level where cars travel along two levels separated by five lanes each way!
Best Attractions in California
Disneyland Resort

Universal Studios Hollywood

Knott's Berry Farm & Soak City USA

Six Flags Magic Mountain & Hurricane Harbor, Vallejo and Santa Clarita.

LEGOLAND California Resort, Carlsbad and El Segundo.

SeaWorld San Diego in San Diego and Busch Gardens Tampa Bay in Tampa, Florida.
Airports We Service in California
Los Angeles International Airport (LAX)

San Diego International Airport (SAN)

Ontario International Airport (ONT)

Bob Hope Burbank Airport (BUR)
Price 4 Limo is a nationwide marketplace where independently owned transportation companies compete for your business!