Delaware Charter Bus, Limo Service, and Party Bus Rentals
You won't find a better selection for limos, charter and party buses in Delaware than at Price4Limo. Complete the form to view vehicles available in your area.
Welcome to Price4Limo's Charter Bus, Limo, and Party Rentals. Price4Limo is your top choice for renting a transportation service all over New Castle County, Kent County and Sussex County. You can book a charter bus rental in DE or rent a limousine service with Price4Limo. We are the number one rated party bus company in Delaware that offers reliable and affordable services. Whenever you need a bus rental or luxury car service to pick up your guests from the airport or take them to any events around Delaware we offer the best rates and services.
Traveling with a large party? View our Delaware charter buses
Top Charter Bus Rental Company In Delaware
Delaware is a beautiful state, with many scenic areas to explore. We at Price4Limo know that you and your friends want the best in transportation when you travel here. That's why we have the largest fleet of limousines, party buses and charter buses in Delaware. Whether you are planning a wedding or need one of our classy limos for your next corporate event, our vehicles are top-of-the-line! If you are looking for the best charter bus rental company in Delaware, look no further than Price4Limo. We have the largest selection of vehicles and services to help make your event or celebration a success! Price4Limo is the #1 choice for charter buses, limos, party buses and more in Delaware.
Take a look at our large selection of limo rentals, party buses, charter buses & more available in Delaware. Find out what vehicles are available near you by searching for your city or town in the dropdown menu above.
Rent one of our fantastic bus rentals or limousine rentals for your future special occasion. Arrive at your top football team's stadium in style. Reserve a limo rental for homecoming for a cheap price. If you need airport transfer service our shuttle buses or chauffeured car services will take you to your specified destination on schedule. A limousine bus will certainly make a boring evening on the city into a memorable event. When you're getting married and require wedding transportation look at our limousines we have available for your special occasion.
Best Delaware Limousines
We have the best limousines, at the best prices, with the best customer service and we have a variety of limos for your special day: wedding, birthday, prom or bachelor/bachelorette party. We also have Chrysler 300 and Luxury Hummer H2 Stretch Limos. If you are looking for an anniversary or corporate event we can accommodate your needs as well! We even offer last minute services if needed!
Delaware is one of the smallest but densley populated states. The two major metropolitan areas in the state are Dover and Wilmington with small towns dotting the coastline. Catch a race at the Dover International Speedway. In Wilmington visit the Delaware Art Museum or the Brandywine Zoo.
Choose Delaware Party Buses
When you're planning a celebration, you want to choose the right bus for your event. There are so many variables to consider: ensuring that it's big enough, that it fits with the other elements of your celebration, and making sure you've got something that will be comfortable for everyone. If you want to make sure that your party goes off without a hitch and is completely memorable, then Price4Limo can help with its selection of deluxe buses and limos in Delaware. For example: if you have a wedding reception planned at the Grand Hotel in Wilmington and need transportation for all of your guests, then we have vehicles ranging from classic stretch limousines to luxury mini buses (complete with full bars). You'll find plenty of options here when searching through our fleet!
Why Choose Price4Limo?
Our fleet of vehicles is equipped with the latest in technology, including GPS navigation systems and DVD players. We also offer a complimentary bottle of water per passenger as well as snacks and candies. We'll work with you to find the vehicle that best fits your needs, whether that be a limousine or coach bus. Our limos cater to any special occasion or event—birthdays and weddings are no problem! You can rest assured that we will provide you with a safe ride to ensure that your celebration runs smoothly. Our charter service includes a chauffeur.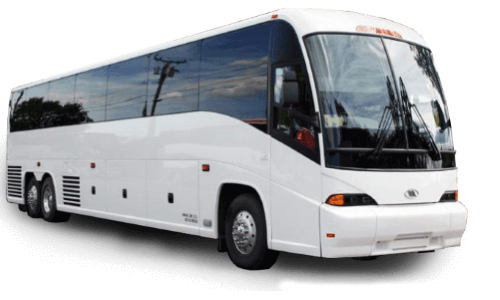 Luxury Charter Buses
Luxury charter buses are an excellent way to travel in style. Luxury charter buses can be used for weddings, proms and sporting events or for any occasion. They are available for rent by the hour or by the day, depending on your needs. Price4Limo offers a wide variety of luxury charter bus options from which you can choose from when renting a bus in Delaware.
56-Passenger MCI Bus
The MCI bus is commonly used for chartering because of its large capacity. The 56-passenger MCI Bus can hold up to 56 people. It also has a large luggage compartment and an extra-large windshield, so you can see around you while driving on the road.
Charter Bus Pricing Explained
The pricing for a charter bus or limo is determined by three factors: the number of passengers, the distance traveled and the time of day.
Distance traveled: The longer you drive, the more expensive your trip will be.

Time of day: Prices are generally lower during off-peak times such as early morning or late at night when less people are traveling.

Bus size: The bigger your charter bus, limo or party bus needs to be to fit everyone comfortably!

Minibus Rentals
The capacity of a minibus is 14 passengers, which makes it perfect for large groups and transportation to events. The cost of renting a minibus depends on the size of your group and the length of time you need transportation.
18 Passenger Minibus
The 18-passenger minibus is the ideal vehicle for a large group of people, whether you're traveling to or from the airport or just going on a day trip. This spacious party bus can accommodate up to 18 passengers comfortably, but if you are looking for even more space and comfort, consider booking one of our motor coaches.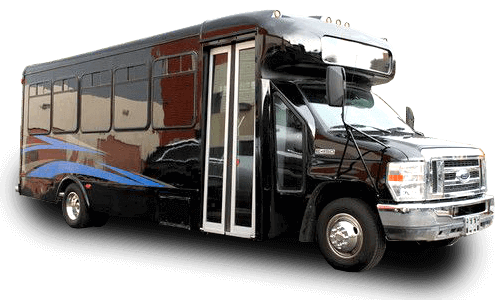 Luxury Party Bus Options
Price4Limo offers the best deals on this premium limo rental option. We work with some of the best vendors in Delaware to provide our customers with an excellent selection of vehicles at affordable prices. Our price guarantee ensures that you get the lowest price possible on all of our services including Party Buses and Limousines as well as Charter Bus Rentals and Party Bus Rentals.
30-Passenger Tiffany Party Bus
You can reserve a 30-passenger Tiffany party bus for your next event. This luxury vehicle is perfect for larger groups and special occasions! The Tiffany party bus has two flat screen TVs, DVD player, surround sound system and dance pole. Add in the hot tub or disco lights and you will have an unforgettable time!
Party Bus Pricing Explained
Pricing is dependent on the size of the party bus you choose, as well as its amenities. In general, larger vehicles cost more than smaller ones; however, some models are more expensive than others for reasons other than physical size. The most important factor in determining price is whether your vehicle has a wet bar or not. If it does, then your estimate will be higher than if it doesn't.

Motorcoaches For Hire
The largest motorcoach in our fleet is our 75 passenger motorcoach. This vehicle is equipped with a restroom, a stereo system that can be operated by your driver, and large windows so you can take in all of the sights as you travel to your next destination. If you are traveling with a group and want to make sure everyone has plenty of room to move around and enjoy themselves, this is the vehicle for you!
45 Passenger Temsa Motorcoach
The 45 Passenger Temsa Motorcoach is a luxury motorcoach that can accommodate up to 45 passengers. It has 2 large LCD TVs, DVD player, and stereo system with cd players. This vehicle has all the amenities you would expect from a luxury motorcoach including leather seating, air conditioning, heaters and its own restroom/shower.
Motorcoach Pricing Explained
The price you pay for your motorcoach rental will depend on a number of factors. The type, size and features of the vehicle are some of the most crucial when determining its cost. If you need to accommodate a large group, your trip will be longer in duration and involve more people than if it was being used for a shorter distance or with fewer passengers.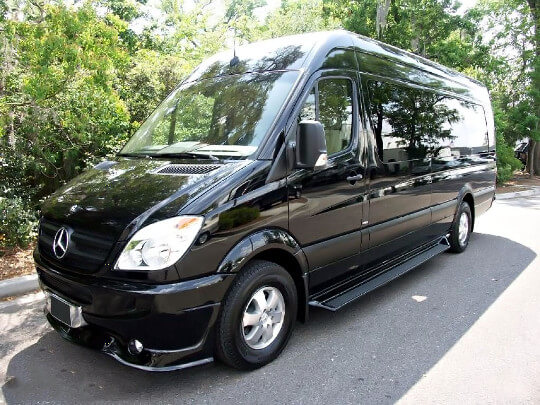 10 Passenger Executive Mercedes-Benz Sprinter
The 10 passenger Mercedes-Benz Sprinter is the largest vehicle in our fleet. It has seating for ten, a DVD player and television screen, leather seats, air conditioning and heat. The Mercedes-Benz Sprinter comes with a 6 or 7, 8, 9, 10 seat configuration. You can choose to add more seats if you need more space for your group! This vehicle is perfect for groups larger than six people who want to travel together in comfort and style!
Limo Sprinter Pricing Explained
Limo Sprinter pricing is based on the number of passengers traveling in your group. Price4Limo will provide you with the best rate possible for your needs and budget. Prices vary depending on the size of your party, so be sure to ask us about all available options when you call!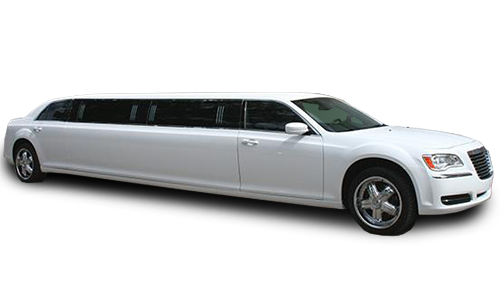 Luxury Limousine Options
Luxury limousine options include the 8-Passenger Stretch Lincoln Limousine, our most popular option. It comes with a host of luxurious amenities, including a premium sound system and a built-in bar. Our 15 Passenger Black Hummer Limo is perfect for larger groups looking to explore Delaware together. This vehicle has all of the same features as our 8 Passenger Stretch Lincoln Limousine, but it can accommodate up to 15 passengers comfortably!
8-Passenger Stretch Lincoln Limousine
Price4Limo offers a variety of luxury limo options that can accommodate up to 8 passengers. The Lincoln stretch limousine is ideal for large parties and special events such as weddings, proms, or bachelor/bachelorette parties. With a spacious interior and plenty of legroom, our Lincoln limousines are comfortable enough for you and your guests to enjoy the ride in style.
Luxury Limo Pricing Explained
When you book a luxury limo through our website, you'll see that pricing depends on the type of vehicle you want. For example, if you choose to rent a party bus for your bachelor or bachelorette party, there are two options for how many people can ride in the vehicle. You can choose either 20 passengers or 42 passengers. Another example would be renting an SUV limo: there is only one option for how many people can ride in it (10). Price4Limo offers various types of vehicles so that you have more options available to fit your needs and budget. In addition to pricing based on number of hours used and number of passengers, we also offer different types of services which will affect your cost as well. If this is your first time reserving limos with us then take a look at our blog post explaining everything!
If you're looking for a limousine rental in DE, contact us today at Price4Limo. We want to help make your party or special event memorable and stress-free—that's why we offer an extensive fleet of luxury vehicles. With our wide selection of SUV Hummer Limos, stretch limousines, party buses, and more at reasonable prices, it's easy to find the transportation option that best fits your needs.
15 Passenger Black Hummer Limo
The 15 passenger black Hummer Limo is our most popular limousine rental. For a great price, you'll get a big vehicle that can seat 14 passengers and 1 driver. With plenty of legroom and multiple pieces of luggage space in the trunk, it's perfect for any occasion!
Hummer Limo Pricing Explained
The cost of renting a full-size SUV is determined by passenger capacity and distance traveled. The bigger your group size and longer your trip, generally speaking, means higher costs for your choice of vehicle type and its amenities. This does not mean that shorter trips are more expensive than longer ones; it just depends on whether or not those factors apply specifically to each scenario at hand.
Airport Transportation Buses For Rent
Airport shuttle buses are used to transport people from the airport to the terminal or parking lot. The buses are generally equipped with a luggage compartment at the rear, overhead luggage racks and under-seat storage areas. If you need transportation from an airport, limo bus service is a great choice. The vehicle can have up to 30 seats.
Shuttle To The Venue With Wedding Transportation
For all your wedding transportation needs, Price4Limo can help you find the perfect vehicle. Whether you are looking for a shuttle to the venue or a party bus or limo for your wedding, we have what you need! Our luxury vehicles include:
Wedding Buses

Wedding Limos

Party Buses

Party Limos
Coach Bus Transport For Sport Teams
A coach bus is a vehicle that seats between 30-45 people and is typically used for transporting large groups. This type of bus can be rented individually or as part of a charter package with other options such as limos, party buses, and more. A coach bus will hold the same number of passengers as any other passenger vehicle with roomy seating that includes individual seats and plenty of legroom. There are many different kinds of sports teams that may use this transportation method including high school, college and professional teams. While it's not uncommon for players to ride in their own cars (or drive themselves) to and from games.
School Bus Rentals For Perfect School Trips
Have you ever taken your class on a field trip, but then thought to yourself: "What if I could take my students somewhere cool for less money?" Well, now you can without sacrificing quality! We offer school bus rentals that are perfect for transporting large groups of kids to museums and parks, as well as beaches and other recreational destinations. Our school buses are equipped with comfortable seating and plenty of room for all the kids and their belongings. Our customers love our school bus rentals because they provide an affordable alternative to hiring a full-size charter bus service or renting multiple vehicles separately. And because we have so many different types of vehicles available in our fleet—including everything from motorcoaches (like those seen in airports) to minivans—we're able to offer something that fits everyone's needs!
Government Charter Bus Rentals
Government agencies across the country use charter buses to transport their employees. Government agencies use charter bus services for employee travel, employee relocation and employee transport.
Employee Travel

Employee Relocation

VIP Transportation
Book Corporate Travel Coach Buses
If you're looking for a bus, limo or party bus for your next corporate event, we have the right vehicle for you. We have a fleet of vehicles that can accommodate any number of people and travel to any location in Delaware. Whether it's a one-way trip from Newark Airport to New Castle County or a roundtrip from Wilmington to Dover and back again, we can help get you where you need to go! If this is all new information that may be concerning at first glance but don't worry! All of our prices are clearly listed online so there are no surprises when it comes time to pay up. Also available are special rates on weekends which can save you even more money depending on when exactly your event falls during the week/month/year.
Sports Teams in Delaware
Delaware has several sports teams, including the Wilmington Blue Rocks (Minor League Baseball), Delaware Blue Coats (the professional basketball team), and the Delaware State Hornets (the college basketball team). The state also has its own football team—the Fightin' Blue Hens.
Popular Cities in Delaware
Delaware is a state that has a population of just over 925,000. The capital city is Dover, which is located in Kent County. This county also contains the cities of Wilmington and Newark as well as Middletown and Odessa. Wilmington is the largest city in Delaware, with an estimated population of 71,735 people. It has been named one of America's Top 100 Cities by Relocate America for several years running now because it offers such an incredible quality of life for those who live there: excellent schools, plenty to do for fun (including the world famous DuPont Forest), and plenty of affordable housing options available too! Newark has a population between 32-36 thousand residents depending on which census data you look at – either way though this makes it one of the smaller cities in Delaware but certainly not lacking anything when it comes to amenities like restaurants or shopping centers; both are abundant here!
Best Attractions in Delaware
You'll find Delaware's beaches to be among the most beautiful in America. Whether you're looking for a relaxing day at the beach, or an exciting day of surfing and swimming, you won't be disappointed by Delaware's shoreline. Delaware's parks provide many opportunities for fun and exploration as well. If you want to get out into nature, go on a hike through our many state forests or state parks. If you want something more urban, check out Wilmington's Sculpture Gardens or head downtown and explore Governor Printz Park—both are great places to spend time with family and friends! If history is more your thing, there are museums throughout all of Delaware that will interest anyone from little kids to adults. The Hagley Museum in Wilmington has exhibits on everything from everyday life during Colonial times up through World War II; while down south near Cape May Court House sits the Brandywine Battlefield State Park Museum where visitors can learn about General George Washington's operations against British forces in 1777 during his campaign against New York City (now known as Manhattan).
Price 4 Limo is a nationwide marketplace where independently owned transportation companies compete for your business!