Why Price4Limo?
Price4Limo is a service that specializes in corporate transportation and vehicle rentals. We have a large fleet of vehicles available to shuttle clients and employees to their destinations, whether that be an airport or a business meeting. Our team can get you the most affordable rate on any vehicle you need and will work with your schedule to make sure everything goes smoothly. If you're planning transportation for an event, let us know! We're available 24/7 to help plan your trip and will find the best bus for your needs. If you need something right away, we can find it for you too! Just call us at.
Top Transportation Provider For Corporate Travel
Price4Limo is a full-service transportation provider that has been providing corporate travel solutions. We are a top transportation provider for corporate travel, serving over 200 cities across the United States and Canada. We provide corporate charters, bus rentals, and minibus rentals at competitive prices. Our fleet of limousines, party buses, and charter buses will give you the most luxurious transportation experience possible on your next business trip.
Conferences, Company Parties, Meetings, Team-Building Events, and More
Many Bus Rental Options
There are many wonderful options to choose from when renting a charter bus or other vehicle. One of the most popular ways to travel is by limousine, and this option can be yours with just a few clicks online. If you want something larger and more accommodating, minibus rentals offer the best of both worlds in this regard: they're big enough that everyone has their own space but still small enough to make it easy for them all to travel together!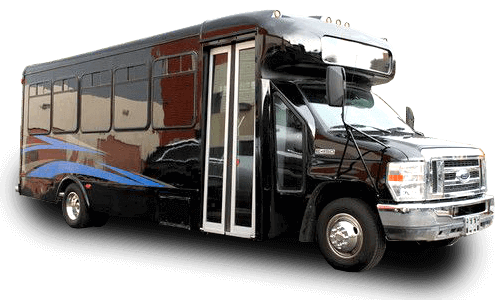 Party Bus, Limo, and Van Rentals Available
If you're planning an event that calls for something more than just the typical rental car or van, we offer a variety of party buses. Our vehicles are equipped with everything you need to make your event memorable and hassle-free—from a full bar (including liquor) to sound systems and disco lights! Limo Rentals: Whether it's for a night on the town with friends or for some much-needed downtime at home after a busy week at work, limousines will do the trick. We have several models available—from classy sedans that seat four passengers comfortably to large stretch limos that can accommodate up to 12 people (or more). Van Rentals: If you simply need transportation from point A to point B and don't need any additional amenities like those offered by our party bus rentals or limo services, then our van rentals are perfect for your needs!
Corporate Charters Across The US
Corporate charter buses are a great way for you and your coworkers to get where you need to go. Whether it's a conference, meeting, or just a party, we can help you plan the perfect trip. Our fleet includes buses and limos from brands like Prevost and MCI/Van Hool. We also offer a wide range of amenities for our customers: flat-screen TVs; WiFi access; satellite radio; reclining leather seats with footrests; clean restrooms with toilets and handwashing stations.
Affordable Pricing on Rentals
Our pricing is based on the length of your rental, the number of passengers, and the type of vehicle you choose to rent. We have a large fleet of vehicles that includes:
Chevrolet Express
Ford Transit Connect
Dodge Sprinter Van
Our rates are also determined by your choice in fuel. We offer diesel or gasoline options for our clients who need long distance travel capabilities.
Keep Your Conference Moving
When you choose a charter bus company for your upcoming conference or business meeting, you want to make sure that the buses are reliable, clean and safe. Finally, you need someone who can keep your attendees moving from one location to another on time. The best way to ensure that all these factors come together seamlessly is by working with a professional transportation company that specializes in corporate events. If you're looking for this type of service for your upcoming event, look no further than Price4Limo.
Conferences, Company Parties, Meetings, Team-Building Events, and More
At Price4Limo, we offer a variety of VIP transportation options that are perfect for team building, trade shows, conventions and more. Our luxury buses are the ultimate way to travel in style while on your next corporate retreat or business trip. At Price4Limo, our mission is to provide you with the highest quality service possible so you can focus on what's important: enjoying the experience with your coworkers or clients. To ensure maximum enjoyment for everyone in your group, we offer several types of vehicles that can accommodate anywhere between 15 and 55 passengers depending on the bus type. If desired by our clientele we also provide complimentary water bottles for each passenger as well as cold bottled water at each venue destination stop during long distance trips (such as from Los Angeles CA to San Diego CA).
Relax on the Ride Over
While you're on the road, you are free to enjoy every moment of your journey. You can sleep, relax and even entertain yourself with movies or music by using our onboard entertainment systems. You also have the option of bringing your own food and drinks onboard. Our buses come equipped with a full kitchenette including refrigerator, microwave oven and sink so that you can prepare meals for everyone else or just for yourself if desired. If you prefer to have some fun with friends or family members then chartering one of our minibuses is an ideal choice! Our luxury minibuses offer spacious seating areas which allow passengers plenty of room to move around while traveling on long trips such as weddings and other special events where many people want to ride together in comfort without having someone sitting next to them who may not be comfortable doing so (such as parents). It's easy enough too--all they need to do is follow us while we drive!
Conferences and trade shows transportation Solutions
We can provide transportation for your conference, trade show, event, meeting and team building event. Our friendly staff will be on hand to help you with any questions or issues that may arise during your trip. We also offer private charter bus rental services so you can make sure all of your guests will have a safe ride to and from their destination in comfort. For special occasions such as corporate parties, we offer party buses that come equipped with everything needed for a great time!
Our Fleet of Limousines and Bus Rentals
Our fleet of party buses and limousines offers plenty of options to keep your conference moving. We can accommodate a wide range of groups, from small business meetings to large corporate parties, while also working with clients who are interested in more than just one day's rental. As an example, our team-building events often involve a mix of private car rentals and charter bus rentals. This flexibility allows us to tailor each event specifically for its needs and ensure that it goes off without a hitch. Whether you're booking bus or limo rentals for yourself or coordinating corporate charters on behalf of your employer, our comprehensive service makes it easy for you to find what you need at the best possible price point for any given budget. And whether we're providing transportation services for individuals or multiple employees traveling together as part of an event or campaign trail trip—all our vehicles come equipped with free Wi-Fi so anyone can stay connected even when they're away from home!
Steps To Rent Your Limo, Party Bus, or Charter Bus
Step 1: Choose your vehicle
Step 2: Choose your date and time
Step 3: Choose your preferred pick up location
Step 4: Choose your preferred drop off location (if different than where you picked up) *If you're not sure of a specific location, feel free to call and ask any questions. Our team is happy to help!*
Step 5: Choose the payment method that works best for you
Getting Started
Let's get started! To get started, contact us to begin the conversation. We'll be happy to answer any questions you have and provide an accurate quote for your charter bus rental needs. You can work with one of our experienced representatives by calling or by filling out our contact form online. We will respond within 24 hours and go over all of your options in detail with you, including price quotes based on your specific trip details.
Our Pricing and Rates Explained
It's easy to see why so many companies and organizations rent our buses. At Price4Limo we strive to provide excellent service while keeping rates low. But how do you know if your quote is fair? Here are some basic facts about our pricing structure: All rates are based on the type of charter, the number of passengers, and distance traveled. The number of seats in each bus determines its cost; each seat costs $125-300 per hour.