Kansas Charter Bus, Limo Service, and Party Bus Rentals
You won't find a better selection for limos, charter and party buses in Kansas than at Price4Limo. Complete the form to view vehicles available in your area
Wondering how to travel around Kansas? Price4Limo is here to help you with your ground transportation needs! We offer the best and most luxurious limousines, party buses, charter bus rentals and many other vehicles for every occasion in Kansas. You'll surely have a great time traveling in our spacious interiors and enjoy your trip inside our comfortable vehicles. So if you're planning to visit any of the cities in the Sunflower State, we got the perfect rides for you.
Traveling with a large party? View our Kansas charter buses
Best Kansas Limousines
Price4Limo's fleet of luxury limousines is the perfect way to get around in Kansas. If you're traveling in a group or with friends, Price4Limo's party buses can accommodate up to 26 passengers. If you're looking for something larger, Price4Limo's charter buses can seat up to 56 passengers! If you need transportation for less than 26 people, then Price4Limo's fleet of limos is exactly what you need! With its black exterior and elegant interior, this luxurious vehicle will make it feel like your own private is driving you around town.
Browse our fleet of party buses, limousine rentals, charter buses & more available in Kansas. See what rentals are near you by looking for your city or town in the dropdown menu above.
Choose Kansas Party Buses
We are a leading ground transportation provider in Kansas and we offer a wide range of services that will meet all your needs. Our vehicles are the best choice for your ground transportation needs whether you need a shuttle or limousine service, we can help you get where you want to go with ease. We have years of experience serving customers throughout Kansas and provide reliable transportation services at reasonable prices.
Reserve one of our fantastic buses or limo rentals for your future special affair. Join your friends and family at your favorite football team's stadium in fashion. Book a limousine for prom or homecoming at an affordable hourly rate. When you need airport pick-up or drop-off services our limos or executive car services can transport you to your specified destination on schedule. A limousine bus can make a dull evening on the town into a memorable occasion. When you are getting married and desire wedding transportation see our party bus rentals we have usable for your special day.
Top Charter Bus Rental Company In Kansas
Price4Limo is the top charter bus rental company in Kansas. Price4Limo offers a variety of charter bus services, so you're sure to find one that meets your needs. Whether you need to rent a school bus for a field trip or an executive coach for corporate travel, Price4Limo has the best selection at affordable rates. Our professional customer service agents are available 24/7 to help answer any questions or concerns you may have regarding your rental. Don't wait any longer—book now!
Kansas is a part of the American heartland. Some of the larger cities in the state include Wichita, Topeka, Lawrence & Dodge City. Visit the Museum of World Treasures and the Exploration Place for fun and educational activities for the whole family.
Why Choose Price4Limo?
You have many reasons to choose Price4Limo for your ground transportation needs. We offer the highest quality vehicles, ensuring that your trip is safe, comfortable and memorable. We also provide competitive rates for our services so you get the most value for your money. Price4Limo is committed to keeping our customers happy by providing them with a wide selection of ground transportation options from which they can choose from including:
Sedan service (1-3 passengers)

Stretch limousine service (1-8 passengers)

SUV SUV service (5-9 passengers)

Party bus (12-28 passengers)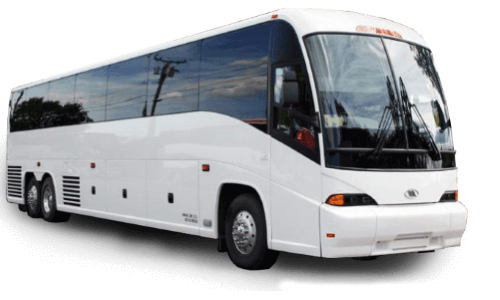 Luxury Charter Buses
The luxury charter bus is the ideal vehicle for large groups, family reunions and company events. The spacious interior of these buses allows for easy entry and exit of passengers, as well as ample leg room. Our luxury charters offer comfortable seating with WiFi connectivity. In addition to regular coach service, we provide limousine bus rentals in Kansas that are perfect for those looking to add a little extra style to their trip.
Charter Bus Pricing Explained
Charter buses provide many benefits over renting cars and driving yourself. They can transport large groups of people and give them all the same level of comfort as if they were in their own car with air conditioning and seating for everyone. The can also be more attentive to safety with fewer distractions than someone driving themselves would have. The cost of renting a charter bus depends on several factors including the type of charter bus that you choose, where in Kansas it will pick up passengers, how long it takes to travel through Kansas, and how many people will be on board when it arrives at its destination.

Minibus Rentals
Minibuses are one of the best ways to get a group of people around. They're large enough to fit plenty of people, but they're still small enough to maneuver through traffic easily. If you have a group of more than 6 people, minibuses are probably your best bet. Minibuses typically seat 12-15 passengers comfortably with room for more on long trips or during special events like sporting events or concerts. They can also accommodate any pieces of luggage that you need to bring along with you on your trip!
20 and 18 Passenger Minibuses
One of the biggest benefits to renting a minibus is that you can travel in style. Minibuses are typically more luxurious and spacious, so they're better suited for larger groups. A common benefit of renting a minibus is that it can take multiple people at once, making it easier to get everyone together. If you're looking for an affordable way to get around Kansas with a group, this option might be ideal for you!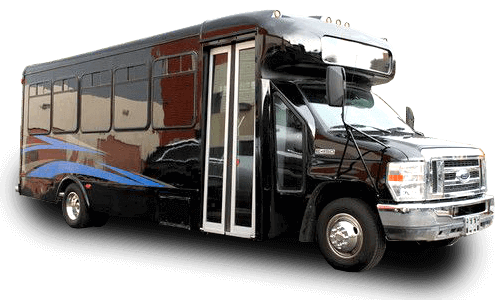 Luxury Party Bus Options
You can rent a party bus for any occasion, like bachelor parties, birthdays, corporate events and more. They're perfect for getting everyone together for a good time. Party buses are an awesome way to celebrate special occasions with your friends or coworkers. Our luxury party buses are equipped with the latest technology and entertainment options so you can have a blast while we drive you around Kansas City!
40 Passenger Gretch Party Bus
A 40-passenger bus is a popular choice for those who want to charter a large group. These buses are great for weddings and parties, as well as corporate events, sporting events, and group tours. They can hold up to 40 passengers comfortably.
Party Bus Pricing Explained
Party buses are usually hourly rental services, which means that you'd be paying for every hour that you use the vehicle. The amount of money paid depends on the size of the bus and number of passengers inside it. A typical party bus can accommodate up to 12 people at once, but there are also larger buses available for large groups or parties. If you're in need of transportation for a long trip (such as your wedding day), then it would be best if you consider getting more than one party bus from us so that your guests can get some rest while they travel to their destination without having to worry about their belongings getting stolen or damaged during their journey.

Motorcoaches For Hire
Motorcoaches are available for hire for both private events and tours. They are also used for school field trips, corporate events, and more. These vehicles have a capacity of 56 passengers, so your group can be sure to travel comfortably together.
50 Passenger MCI Motorcoach
MCI Motorcoaches are the most popular motorcoach in the industry. They are built to last, have great engines and have the best in class comfort. We have a 50 passenger MCI motorcoach that can take you on school trips, cross country outings, and more. This is a great way for you and your group to get around Kansas City with comfort and style.
Motorcoach Pricing Explained
Motorcoaches can vary in size, so the hourly rate can vary from vehicle to vehicle. The average motorcoach is between 35 and 40 feet long. For example, a 35-foot bus would cost about $100-275 per hour, while a 40-foot bus could cost around $120-300 per hour. Pricing for motorcoach rentals usually depends on the length of time you need the vehicle for, so it's important to consider your specific needs before making your reservations! If you need transportation for multiple days or weeks at a time, then this option might be more cost effective than renting cars separately each day.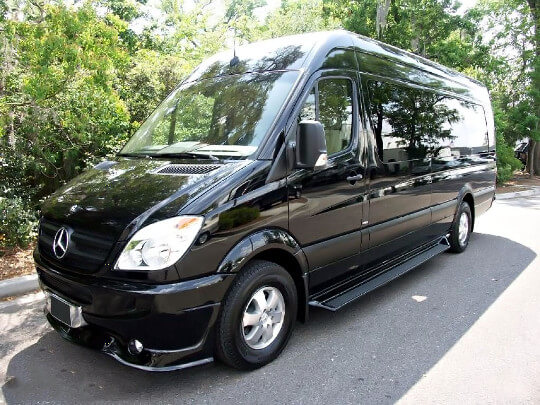 Sprinter Limo Rentals
Limousine service in Kansas offers a wide range of options to meet your needs and budget. Price4Limo provides luxury ground transportation for all occasions, including Limousine Rentals, Sedan Services and Bus Charters. Our sprinters will pick you up at the airport or hotel to take you where ever you need to go. Whether it be an airport transfer or wedding limo rental Kansas City has something for everyone!
14 Passenger Mercedes-Benz Sprinter Limo
This 14 passenger Mercedes-Benz Sprinter limo is a classically elegant vehicle for those looking for luxury transportation. It has seating for up to 8-14 passengers, and is suitable for corporate events, weddings, and other special occasions.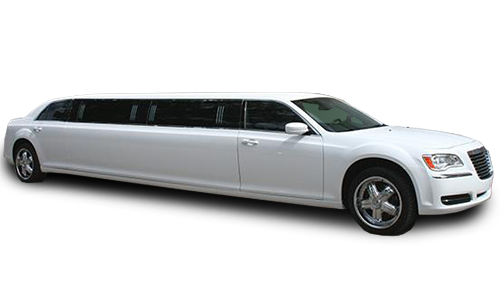 10 Passenger Stretch Chrysler 300 Limousine
choices among our customers, and if you are looking for an affordable service that will get you around town in style and comfort, this is it. You will love the comfortable seating and spacious cabin when riding in this vehicle. The leather seats offer plenty of room for everyone, and they have been designed with luxury details like individual climate control panels. The overhead lighting system is also especially useful when driving at night as it makes navigating around easier than ever before!
Luxury Limo Pricing Explained
Luxury limo pricing is based on the type of vehicle and the number of passengers. For example, if you want to book a Lincoln Town Car with four passengers, your rate will be around $120-250/hr. If you want to hire a Cadillac Escalade Stretch Limousine with six passengers for three hours, then it could cost up to $300 per hour.
The Hummer limo rental is one of the most popular SUV limos in Kansas. This large and spacious vehicle can hold up to 20 passengers and offer you a luxurious ride. The 20-passenger Hummer is available for rent when you are looking for a special occasion transportation service. You can take this vehicle out to any event, whether it's an engagement party or wedding reception, where you will be the center of attention with such a powerful car at your disposal!
20 Passenger Hummer Limo
We have a 20 passenger Hummer Limo. This vehicle is 6 feet tall and almost 17 feet long. It has seating for up to 18 people, with a maximum capacity of 20! With our 20 passenger Hummer limo you can travel in style, comfort and safety while enjoying the scenery that Kansas has to offer. The price of renting this vehicle will depend on how many hours you want it for, how far away your destination is from our location in Overland Park, and if there are any additional stops along the way (such as shopping or visiting attractions).
Hummer Limo Pricing Explained
Price4Limo's Hummer limousines are available for both leisure and business purposes. The company offers several packages for individuals and groups who want to hire a Hummer limo in Kansas City, MO. Get instant pricing by visiting our quotes tab.
Join the excitement of Sunflower State Games
If you are a sports lover and want to join the excitement of Sunflower State Games, then please visit our site for more information. You can book your ground transportation services with us and we will ensure that you reach the event venue on time.
Explore the beauty of Monument Rocks
Monument Rocks is a natural landmark located in Kansas. It is part of the Flint Hills and a great place to see the beauty of nature. The location features amazing rock formations, so if you want to explore this natural wonder then book our services with Price4Limo. We provide ground transportation to any destination in Kansas and beyond with our luxury cars and limousines. We can help you enjoy your vacation even more by providing transfers from your hotel or home to the Monument Rocks site, as well as shuttles back after your visit! We have been providing ground transportation services throughout Kansas for over 10 years now, so whether it's just yourself or family/friends that need transportation to travel around town - we will get them there safely and on time every time!
Have insights about Kansas history at Constitution Hall State Historic Site
Constitution Hall State Historic Site is a historic site that preserves the only surviving territorial-era building in Kansas. The building was constructed in 1879, which makes it one of the oldest buildings still standing in Kansas. Constitution Hall served as a gathering place for community members and politicians until 1890 when it was converted into a school by its new owner, Reverend James Wickersham. Today, Constitution Hall serves as an educational space for visitors to learn about the state's history through exhibits and programs offered at the site. Additionally, you can see how this building has stood tall through over 100 years by touring its interior or taking part in one of their tours!
Visit the Boot Hill Museum for a quality family time
If you want to get a better understanding of the history of Dodge City, visit the Boot Hill Museum. It's an excellent place to learn about this famous town and its residents. The museum features exhibits that cover everything from Wild West culture to Native American history and will keep your family entertained for hours.
Smell the freshness of flowers at Botanica, Wichita Gardens
If you are looking for a place to spend your day, Botanica is the perfect place. Located in Wichita Gardens, it is a beautiful garden that has almost every flower you can imagine. The garden also has delicious food served by friendly staff, who will be more than happy to take your picture or give you advice on where to go next in Kansas. Botanica is also great because they offer free admission and parking! What could be better than that?
Take a day trip to Coronado Heights Castle in Lindsborg, Kansas
Coronado Heights Castle, also known as the Castle of the Plains, is a castle that was built in 1898 by Swedish immigrants who settled in Lindsborg, Kansas. It was built for their Scandinavian-American community and it's an iconic sight in Lindsborg today. You can tour this beautiful building and learn its history if you want to experience some of Kansas' unique culture. The castle is open daily from April 1st through September 30th from 9am to 5pm, with extended hours on Fridays and Saturdays (10am - 6pm). After October 1st they're open only on weekends until spring arrives again so if you want to tour the castle before then make sure you plan ahead!
Walk along the sandstone slots at Mushroom Rock State Park
Mushroom Rock State Park is a beautiful place to visit when you want to get away from the city. The park has a lot of interesting rock formations and it's a great place to take pictures. You can also picnic at one of the many picnic tables that are located throughout Mushroom Rock State Park.
With price4limo, you can experience these things with ease and comfort.
If you're planning a trip to Kansas, there's no need to worry about transportation. With Price4Limo, you can experience these things with ease and comfort. We provide ground transportation services for all your needs in the state of Kansas. Our company offers a wide range of vehicles to choose from—sedans, limos, SUVs and more—and we have them at reasonable prices so that everyone can enjoy riding in style! Our customer service team is available 24/7 so that we can make sure your reservations are confirmed and ready for pick up when you arrive at our hotel or location of choice. We also offer huge discounts for large groups traveling together because we want everyone who travels with us to have an amazing time! When it comes time for your ride home from your vacation destination (or just another day at work), remember us: Price4Limo has everything you need when it comes down to getting around town in style!
So, take that first step to exploring Kansas and have a good time. With price4limo, you can experience these things with ease and comfort.
Price 4 Limo is a nationwide marketplace where independently owned transportation companies compete for your business!