Louisiana Charter Bus, Limo Service, and Party Bus Rentals
You won't find a better selection for limos, charter and party buses in Louisiana than at Price4Limo. Complete the form to view vehicles available in your area.
Louisiana is a place of unparalleled beauty. From the capital city to the many small towns and villages that pepper this state's landscape, there are countless options for sightseeing, dining and entertainment. If you're thinking about visiting Louisiana in the near future, be sure to check out Price4Limo before making your plans transportation plans. We have limos, party buses, charter buses, motorcoaches, and more!
Traveling with a large party? View our Louisiana charter buses
Best Louisiana Limousines
When you need to arrange for transportation services in Louisiana, you can always count on Price4Limo. We offer charter bus services for groups of 10 or more passengers; limousine services for individuals or couples; and party rentals for large events like weddings, concerts, and sporting events. If you're looking for a weekend getaway or an evening out with friends, the state's many cities and towns offer a variety of activities.
Take a look at our selection of party buses, limo rentals, charter bus rentals & more available in Louisiana. Browse for your city or town in the drop down menu above to find rental vehicles near you.
Louisiana Party Buses
Price4Limo is the best choice for transportation services in Louisiana. With the most affordable rates and excellent customer service, Price4Limo provides you with an unforgettable experience. Price4Limo offers the best prices on charter buses, limousines, and party rentals in Louisiana. We're sure to exceed your expectations!
Jump in one of our spectacular party bus rental or limos for your next significant affair. Pull up at your top football team's stadium in style. Make a reservation for a limo rental for prom or homecoming at a budget-friendly hourly rate. When you need airport transfer service our limos or chauffeured car services can get you there promptly. A limo bus rental can make a plain evening on the city into an unforgettable event. When you're getting married and want wedding transportation see our party bus rentals we have conveniently available for your special event.
Top Charter Bus Rental Company In Louisiana
Price4Limo is the best choice for transportation services in Louisiana. When you want a high-quality charter bus, limo, or party rental, you need to turn to an experienced company that has been in business for many years. Price4Limo has been providing superior service and has earned a reputation as the top choice among our customers. The reason why so many people choose Price4Limo time after time is because we offer unbeatable prices on all of our vehicles and services. Our rates are always lower than those of our competitors, but we still provide excellent customer service—making us your best option when it comes time to rent a charter bus or limousine!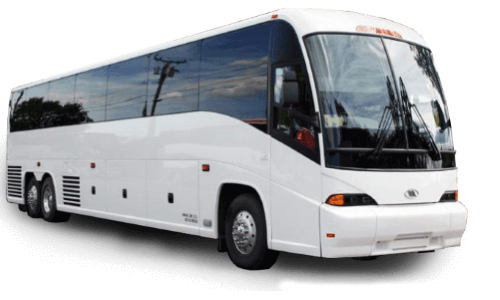 Luxury Charter Buses
Charter buses are used for a variety of purposes, from school trips and sporting events to concerts and weddings. They can also be rented for corporate events. Charter buses for hire are especially popular among students who want to travel in style on their senior class trip or any other excursion that requires transportation. You may choose an open-top bus with a trolley tour or one with reclining seats and a restroom available. If you're looking for something different, consider hiring one that has been converted into a party bus so you can enjoy drinks while traveling from one place to another. If you have recently booked your wedding venue, but have not yet hired someone to transport your guests there, chartering a bus would be ideal since it will ensure everyone arrives safely without any hassle or worry about parking lots being full at the venue itself -- since there is no need for such worries when using Price4Limo Ground Transportation Services' services!
56-Passenger Charter Bus
A 56-passenger charter bus is the most common size of charter bus and is perfect for large groups traveling together. It can accommodate up to 57 passengers, which makes it ideal for all types of group trips: school field trips, sporting events, weddings, conferences, church outings and more.
Charter Bus Pricing Explained
The price of a charter bus depends on the size and type of vehicle, how many people are traveling and how far they'll be going. Also, there may be additional fees for picking up and dropping off passengers at different locations. We're here to help you find your ideal ground transportation option with our easy-to-use online calculator.

Minibus Rentals
Minibuses can accommodate more passengers than other vehicles (sometimes up to 18 people). This makes them ideal for large groups traveling together. Minibuses are considered luxury vehicles and come with many amenities like automatic doors, high-quality sound systems and leather seats. It's no surprise that they're one of our most popular choices for airport transfers and group trips!
20 and 18 Passenger Minibuses
18 passenger minibuses are a great choice for groups of 15-20 people, while 20 passenger minibuses are ideal for groups of 20-25. If you're looking to hire a bus or tour van in Louisiana, these vehicles are perfect if you have a large group on your hands. Minibuses are also an excellent option when it comes to traveling in style. They feature spacious interiors with reclining seats and surround sound systems that keep guests entertained throughout their journey. Minibuses even come equipped with Wi-Fi so that passengers can stay connected while en route!
Mini Bus Pricing Explained
Pricing is based on the number of passengers. This is the most obvious factor in determining your price. The more people you have, the higher your cost will be. Pricing is based on the time of day. If you plan to travel between rush hour traffic, expect to pay more than if you were traveling during non-peak times (i.e., early morning or late night). Pricing is based on distance traveled. Again, this makes sense: it costs more for a company like ours to send a vehicle from Point A to Point B when A and B are farther apart than if they were closer together (think San Francisco vs Los Angeles).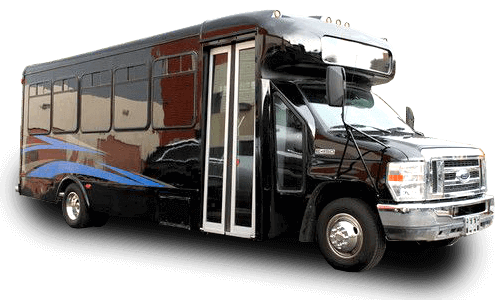 40 Passenger Gretch Party Bus
The 40 Passenger Gretch Party Bus is a great option for those who want to enjoy the best of Louisiana and get the most out of their trip. This party bus comes with all the amenities you would expect from a luxury vehicle.
Party Bus Pricing Explained
The pricing for your party bus will depend on a number of factors. The most important considerations are the distance, how many passengers you want to transport, and what amenities are included in the package. For example, if you're planning a small gathering with only four people and don't need any additional amenities (such as TVs or refrigerators) then it's likely that a small mini-bus would suffice—and it will be much cheaper than larger vehicles like limousines or party buses.

Motorcoaches For Hire
Motorcoaches are the largest, most luxurious charter buses available. They offer a wide range of amenities and passenger comfort features including reclining seats with footrests, reading lights, individual audio/video systems with room for your laptop or tablet (in fact we supply them with wireless internet), snack trays and bathroom facilities. Motorcoaches are available in any size ranging from 25-40 passengers up to 56 passengers with specific features depending on the needs of your group or event. We have motorcoach options for all budgets but for those who want the best in luxury ground transportation look no further than Price4Limo's fleet of motorcoaches!
50 Passenger MCI Motorcoach
The MCI Motorcoach is a great option for large groups, or for individuals who are looking to get away from it all. This bus can seat up to 50 passengers at a time, so it's perfect for an entire family, or even an entire soccer team! The MCI Motorcoach is also ideal for long-distance trips and road trips.
Motorcoach Pricing Explained
Pricing depends on two factors: the size of the motorcoach and the amenities. The first is simple, as you can choose from a 16-passenger minibus that seats 8 comfortably or an 18-passenger bus that can hold up to 10 people. If you have a larger group, you may want to consider renting a 26-passenger coach or 30-passenger coach.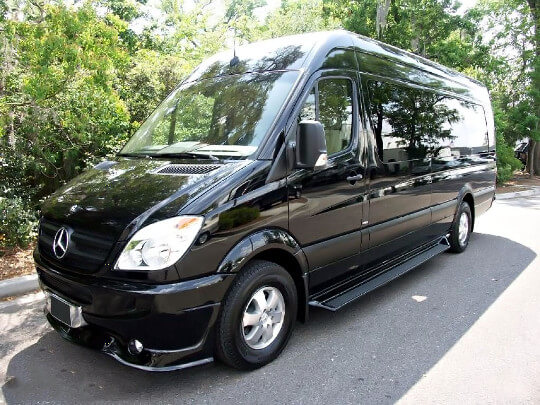 Sprinter Limo Rentals
Price4Limo offers a 14-passenger Mercedes-Benz Sprinter limo for your party and event transportation needs. Our Mercedes-Benz Sprinter is an excellent vehicle for large groups or corporate events that need to be transported in style with their clients, employees and business partners. This full size stretch limousine has seating for up to 14 passengers, making it perfect for large groups or parties traveling together. We will make sure you arrive at your destination safely and comfortably in our luxury vehicle with tinted windows and high end audio system.
14 Passenger Mercedes-Benz Sprinter Limo
If you have a large party and need transportation to the airport, or if there are too many people in your party to fit into a normal car or SUV, then we recommend renting our 14 passenger Mercedes-Benz Sprinter Limo. This vehicle will comfortably seat up to 14 passengers and is perfect for airport transfers or any other time that you might need ground transportation services. The cost of renting this type of vehicle is dependent on the distance that it needs to travel, but it is generally less expensive than renting two separate cars. For example: if you live in New Orleans and want to take an excursion out of town with 10 friends (and don't want them driving drunk), this would be cheaper than paying for two separate rental cars each way!
Limo Sprinter Pricing Explained
The price for our limo services is based on the size of the vehicle and its amenities, as well as the number of passengers. The distance traveled also affects costs, but this can be minimized if you choose to travel in one direction only. The time of day and whether or not there are any stops between locations will further affect pricing. For instance, a trip to New Orleans during rush hour is going to cost more than a trip at midnight when traffic is light. If you have multiple stops along your route, these too will affect how much it costs for transportation services with Price4Limo's ground transportation service provider network.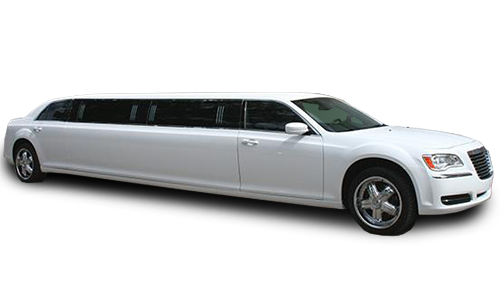 Luxury Limousine Options
You might be wondering what a luxury limousine is, and if you can afford it. If you're looking for a party bus or large group transportation, there are plenty of options available.
10 Passenger Stretch Chrysler 300 Limousine
The 10 passenger Chrysler 300 limo is a beautiful and luxurious stretch car. The vehicle can seat up to 10 passengers comfortably, with room for luggage and space for you to relax in style. This vehicle is perfect for any occasion or event, whether it be a wedding, birthday party, family gathering or corporate function.
Luxury Limo Pricing Explained
Limo prices vary depending on a number of factors. The size of the vehicle, the distance travelled and the time taken to reach your destination are all things that affect cost. In some cases, you may have to pay a flat fee for airport transfers or sightseeing tours. If you're interested in renting a luxury vehicle for an event like your wedding or prom, Price4Limo can help you get started with our guide to luxury transportation pricing.
The SUV Hummer limo is a great option for any large party. This 20 passenger SUV limo has seating for 16 passengers plus the driver and comes with all the amenities you would expect in a luxury vehicle. With its spacious interior, you will be able to enjoy yourself while still being able to talk to your friends as you travel around New Orleans. If you're looking for a way to travel around town in style and comfort then this 20 passenger Hummer limo rental is perfect! The SUV Hummer has been designed with extra leg room so everyone can stretch out comfortably and stay comfortable all throughout the trip.
20 Passenger Hummer Limo
There are several options for Hummer limo rentals in Louisiana. The first is the 20 passenger Hummer limo, which is ideal for parties of up to 20 people who want more space than a standard 15 passenger Lincoln town car or SUV. The 20 passenger Hummer limo offers an additional row of seating and can be rented with an extra bar compartment, making it perfect for entertaining on-the-go!
Hummer Limo Pricing Explained
When you're looking for Hummer limo prices, you should be aware of the following factors:
Number of passengers. The number of passengers in your party will determine just how much you have to pay. If it's just two or three people, expect less expensive rates than if there are eight or more individuals in your group. This is because we have to account for the extra costs associated with transporting such large groups (gas, parking fees), not to mention additional time spent on the road and driver fatigue due to longer driving hours.

Length of trip. As with most ground transportation services, the longer the trip is expected to last—or if it involves numerous stops along the way—the more expensive it will be for us at Price4Limo. W

Destination location(s). It may sound obvious but whether someone wants their ride from New Orleans International Airport (MSY) all morning long or from Downtown New Orleans at 4pm depends largely upon what those particular people need most out there: peace & quiet vs excitement & nightlife!
Transportation Services
Price4Limo offers transportation services to help you with your travel needs.
Airport Transportation: Our buses are available for airport transportation so that you can focus on other things or just not worry about the traffic. You can also opt for a private car service, which makes traveling much more comfortable and convenient.

Hourly Charter Services: We offer hourly charter service where our buses will be at your disposal during those hours of your choice. This is ideal if you have an important meeting coming up or if there's something else on your mind that requires a lot of attention from you; we'll take care of getting around safely!

Point-to-Point Transportations: If there are several stops along the way between two destinations, then point-to-point transportations is best suited for this situation. We provide excellent service quality.

Prom & Homecoming Services: We understand that prom night can be stressful enough without worrying about how to get there safely! That's why Price4Limo provides reliable transportation at affordable rates so students don't have anything else weighing them down during such an important night in their lives! They deserve only the best when it comes time for them to enjoy themselves
Airport Transportations
Airport transportation services are available 24/7, and we are the most reliable airport transportation service provider in Louisiana. Our airport transportation services include limo pick-ups, private ground transportation and luxury car rentals. We also provide airport shuttles to all major airports in Louisiana. You can contact us for any kind of airport transportations that you need for your business or personal trips, or even when you want to plan a vacation with your family or friends.
Hourly Charter Services
An Hourly Charter Service is the best way to explore Louisiana and enjoy all its attractions. We offer Hourly Charter Services at $350/hour for a minimum of 3 hours. The maximum number of hours allowed for an Hourly Charter Service is 24 hours. Please note that there are certain restrictions on the number of passengers who can be accommodated in one vehicle (please see our Terms & Conditions). You may wish to contact us before booking this trip if you are planning on having more than 7 passengers as we will need to arrange additional vehicles or make alternative arrangements.
Point-to-Point Transportations
You can get picked up at any point in Louisiana and taken to any destination. For example, if you're staying at a hotel in New Orleans, we can pick you up at the hotel and take you anywhere else in the city or even out of town. We'll coordinate with your client before arrival to determine where exactly they want to go and how long it will take to get there so that we know how much time is left after drop-off at one location before pickup at another.
Prom & Homecoming Services
Prom is a big deal for teens. They want to make a special impact, so it's important for them to arrive in style. Our prom and homecoming services will help you make their day memorable! If your daughter has been dreaming of riding in the back of a limo, let her do it with us!
Tours & Excursions
Tours and excursions are a great way to explore the Louisiana area. You can enjoy the beautiful scenery, or learn more about local history and culture. There are many options available!
Wine Tour & Brewery Tour: Visit several wineries throughout the state with a professional driver who will be able to answer any questions you may have about wine making, tasting and pairing. The tour includes free samples at each vineyard you visit!

Relaxing and Fun Tours: If you prefer not to have too much structure in your day, try one of these tours that include lunch or dinner at some of Louisiana's most popular restaurants along with stops at some historical landmarks such as plantations or battlefields.

Cajun Country Tours: Take a trip through Cajun Country where residents still speak French! Enjoy authentic cuisine from this region while visiting historic sites such as plantation homes, museums, churches and more!

French Quarter Tours: Explore New Orleans while learning about its unique culture on these walking tours which showcase various landmarks including Jackson Square Park where vendors sell their goods every day during Mardi Gras season; Bourbon Street which houses many restaurants selling seafood creole dishes (see below); St Louis Cathedral which was built between 1740-1773 by Spanish settlers; Preservation Hall where musicians perform traditional jazz music nightly since 1961…the list goes on!
Weddings Services
The first thing to note is that the wedding limo rental process is a step-by-step one. The second thing is that it's not difficult to go through. The third thing is, we've got your back! We'll walk you through each step so you can be sure everything goes smoothly. Our experienced staff will help plan your day of transportation and ensure that it fits into your budget and makes everyone happy with their experience in Louisiana (and beyond). We'll work with local vendors, venues, florists and more in order to coordinate all aspects of your event.
Price 4 Limo is a nationwide marketplace where independently owned transportation companies compete for your business!