Arkansas Charter Bus, Limo Service, and Party Bus Rentals
Don't see your city listed? We service the entire state of Arkansas. Complete the form to view vehicles available in your area.
Welcome to Price4Limo! You're in the right place for charter bus rental and limo service for Arkansas. We have a wide selection of party buses, motor coaches, sprinter vans, and luxury cars to choose from. Choose your favorite vehicle from our fleet and contact us to reserve it today!
Traveling with a large party? View our Arkansas charter buses
Top Charter Bus Rental Company In Arkansas
At Price4Limo, we are the largest charter bus rental company in Arkansas. We have the largest selection of charter buses and party buses for your group transportation needs. We have been serving customers with our commitment to providing you the best customer service, most competitive prices, and highest safety standards.
Best Arkansas Limousines
Price4Limo offers a wide variety of Arkansas limos and party buses, charter buses, and motorcoaches. We work with the best limousine companies in Arkansas to provide our customers with exceptional service at affordable rates. Price4Limo can help you find the perfect vehicle for your wedding day or any other event. Price4Limo also offers party bus rentals, charter bus rentals, motorcoach rentals and minibus rentals in other areas of the United States!
Search our fleet of limo rentals, party buses, charter buses & more available throughout Arkansas. To see what rental vehicles we have available, click a city near you.
We offer multiple services for our party bus rentals & limousines ranging from prom & homecoming dances to airport pickup & drop off. Find the perfect limo rental for your wedding with our large selection. Arrive in luxury to a concert with any of our limos or party buses. Celebrate a birthday in a big way by renting a party bus and make it a day to remember. Take a night on the town with one of our amazing party bus rentals and show your guests a good time like never before.
Arkansas is well known for it's parks and sprawling wilderness but there's plenty to do around it's more popular cities. We have vehicles available in Little Rock, Bentonville, Hot Springs, Fort Smith, & Fayetteville. Bentonville is home to the Crystal Bridges Museum of American Art as well as the headquarters for Wal Mart. In Little Rock you can visit the Clinton Presidential Center which hosts a library, museum, restaurants & parks.
Choose Arkansas Party Buses
You can choose from over 10 different party bus options, as well as 20 limo options, 30 minibus options, 50 motorcoach options and 100 different bus options to tour Arkansas. If you're looking for an elegant ride but have a tight budget to work with then consider booking one of the many limousines we have available on our fleet here at Price4Limo. We offer everything from Lincoln Town Cars to Cadillac Escalades that can accommodate up to 20 passengers depending on your needs. Plus we have a wide range of prices so it doesn't matter if you're looking for something affordable or if money is no object when hiring luxury transportation service!
Why Choose Price4Limo?
Price4Limo is the only company you need to call when you want to rent a limousine, party bus, or charter bus in Arkansas. We offer the best prices on the market, and we are always adding new vehicles to our fleet. Our friendly customer service team will answer any questions and make sure that your experience is as pleasant and convenient as possible.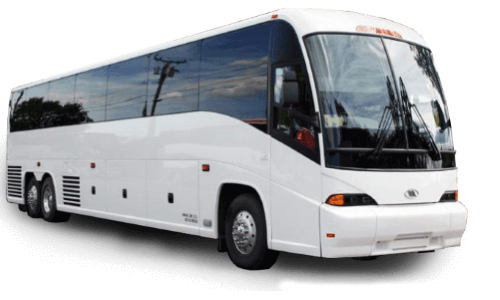 Luxury Charter Buses
56-Passenger Van Hool Bus
The 56-Passenger Van Hool Bus is a modern, luxury coach that comfortably seats up to 60 people. The interior of this bus has cloth or leather seating for your comfort. The seats are fully reclining and have built-in headrests for maximum passenger safety. There is also an audio/video system with large flat screen TV monitors, DVD players, and stereo systems to keep everyone entertained during the trip.
56-Passenger MCI Bus
If you are planning a large group trip for your church, school, or company, then we have the perfect solution for you. With 56-passenger MCI buses from Price4Limo, your entire group can travel in comfort and style. We offer these vehicles for rent in Arkansas to go across state lines.
Charter Bus Pricing Explained
When you are looking to hire a charter bus in Arkansas, it is important to understand the price structure. Prices are based on several factors including the size of your group and how long you will be traveling. For example, if you have a smaller group that is traveling for only an hour or two, your charter bus rental cost will likely be much lower than if you had a large group that plans on taking longer trips around Arkansas. Additionally, each company has different prices for their services; therefore it is best to compare prices from multiple companies before making a decision.

Minibus Rentals
Minibuses are an excellent choice for small groups looking for a special experience. Minibuses are commonly used for weddings, proms, or other special events. They can also be rented for family reunions, corporate functions and other large group outings. With their comfortable seating and spacious areas for luggage storage, minibuses offer an ideal way to travel with a large group without sacrificing comfort or convenience.
18 Passenger Minibus
Whether you're looking for a big party bus for your wedding or graduation celebration or need transportation for a large group like sports teams or corporate outings, we have the vehicle for you! All our charter buses are equipped with amenities such as Wi-Fi connectivity so that passengers can stay connected throughout their trip. Call us today for more details about reserving one of our charter buses!
24 Passenger Mini bus
We offer our 24 passenger mini bus for a variety of uses. Whether you're planning an Arkansas wine tour or a bachelor party, we have the perfect vehicle for your group. Our 24 passenger luxury mini-coach is spacious and comfortable. With leather seating, surround sound stereo system, DVD player and digital monitor, it provides the best in entertainment while traveling to your destination in comfort and style. The 24 passenger luxury party bus features everything mentioned above plus a full bar!
Mini Bus Pricing Explained
Mini buses are a great option for groups of 9-15 passengers. These vehicles are often used for smaller trips or groups that do not require a full-size bus. Mini buses can accommodate anywhere from 8 to 15 people and they come in a variety of sizes. Mini buses often have seating arrangements similar to what you would find on an airplane, with rows of seats facing the front of the vehicle. If your group is small enough, you might be able to fit everyone into one mini bus instead of having multiple standard sized vehicles which can make moving between locations easier and less chaotic!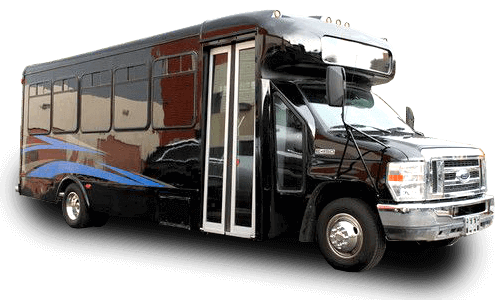 Luxury Party Bus Options
When the occasion calls for an elegant ride, our luxury party buses are the answer. The 30-Passenger Tiffany Party Bus is ideal for smaller groups of up to 25 people and features a plush interior with leather seats and a full bar. The 40-Passenger Grech Party Bus is perfect for larger events, as it can comfortably seat up to 35 passengers. For more formal occasions, consider a 50 Passenger Prevost Motorcoach Rentals Luxury Coach Rental . This vehicle has all the amenities you'd expect from a limousine service—not only will your guests be blown away by its style and elegance, but they'll also be impressed by its spaciousness!
30-Passenger Tiffany Party Bus
If you're planning a bigger event, the 30-passenger Tiffany Party Bus is the perfect addition. The 30-passenger Tiffany Party Bus is a great way to transport your guests to and from your event and can also be used as a fun way to travel around town. With room for up to 30 people, this vehicle is perfect for social gatherings or company events like conferences or retreats where you need transportation for a large group of people.
40-Passenger Grech Party Bus
The Grech 40-Passenger Party Bus is a great way to travel with your friends. It has all the amenities of a party bus and then some. The seating capacity is 40 passengers, so you can bring along all your friends and have a blast on this spacious vehicle.
Party Bus Pricing Explained
Party bus pricing is based on the number of passengers, the type of party bus and length of time you rent. The more people you have in your group, the higher your per person rate will be. Sizes of buses range from 20 to 55 passengers; we recommend renting a larger-sized party bus if it's possible so that everyone can have plenty of room to enjoy themselves during your trip!

Motorcoaches For Hire
The Temsa motorcoach is our most popular rental because it seats 45 passengers. These buses are perfect for small and mid-sized groups looking to enjoy the ride with a few friends. If you have large group or need to entertain a lot of people, we recommend renting the Prevost motorcoach, which seats 50 passengers comfortably.
45 Passenger Temsa Motorcoach
The Temsa 45-passenger motorcoach is the perfect vehicle for large groups. It can comfortably accommodate 49 passengers and has a baggage compartment that can hold up to 50 pieces of luggage, making it ideal for families traveling with lots of luggage. The spacious interior is equipped with tables that fold down from the ceiling and comfortable leather seats. This vehicle also features an onboard restroom, so you won't have to worry about stopping at gas stations or restaurants along the way.
50 Passenger Prevost Motorcoach Rentals
If you're looking for a motorcoach that will provide your group with the utmost in luxury and sophistication, we have just the bus for you. Our Prevost motorcoaches are some of the most luxurious and sophisticated buses in the world. These motorcoaches are also unique to Arkansas, as they cannot be rented anywhere else in the United States. So if you want to stand out from other tour groups and make an unforgettable impression on your guests, consider hiring one of our Prevosts!
Motorcoach Pricing Explained
Motorcoach pricing is based on the number of passengers, vehicle size, and the distance you are traveling. The price will vary depending on how many people are in your party, whether they are adults or children, and how far you're traveling. Price4Limo offers the best prices on motorcoaches in Arkansas. We can also help you find the best motorcoach for your needs.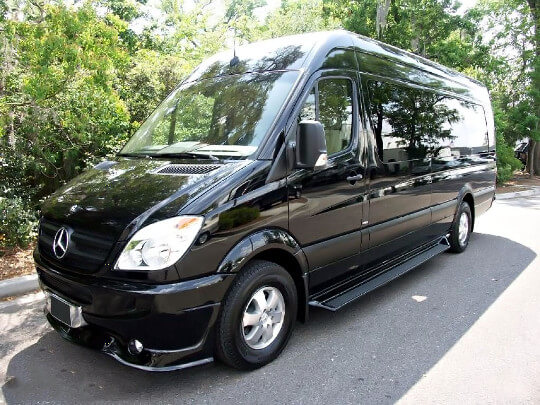 Sprinter Limo Rentals
Sprinter Limo Rentals is a leading provider of Sprinter limousines. Our executive Sprinter limos are perfect for weddings, proms and other special occasions. With our Sprinters you can travel in style to any location in the United States. We offer a variety of vehicle sizes so that you can choose the right one for your needs. We have 6 Passenger Executive Sprinters, 8 Passenger Executive Sprinters, 10 Passenger Executive Sprinters, 14 Passenger Executive Sprinters and 20 Passenger Executive Sprinters available for rental nationwide
10 Passenger Executive Mercedes-Benz Sprinter
This 10 passenger executive Mercedes-Benz Sprinter has a seating capacity of up to 10 passengers. It is equipped with air conditioning and interior seating, as well as leather seating throughout.
Limo Sprinter Pricing Explained
You can rent a limo sprinter for an hourly fee. The cost is based on the number of hours that you will be using the vehicle. For example, if you need to transport your friends and family members from one location to another for a wedding or other event, then it may make sense for you to rent the limo for all of those hours throughout the day.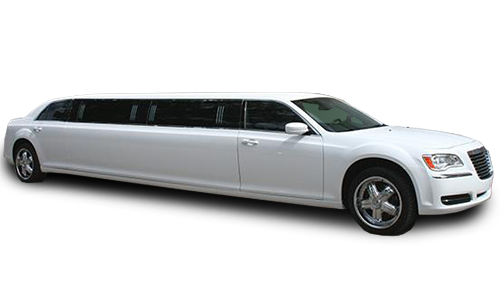 Luxury Limousine Options
The Lincoln Stretch is a classic vehicle that is great for any occasion. The interior of the limo features seating for eight passengers and two additional rear seats that can be used to store luggage and other items. The spacious comfort of the Lincoln Stretch will make your ride comfortable, enjoyable, and memorable.
Luxury Limousine Options
8-Passenger Stretch Lincoln Limousine
The 8-Passenger White Chrysler 300 Limo is the perfect option for large groups. This black and white Chrysler 300 has seating for up to six passengers, allowing you to comfortably enjoy your trip together. In addition, the vehicle's spacious interior provides plenty of room for luggage and other items needed on your road trip.
You'll love our SUV Hummer Limos. The H2, H3, and H4 models allow for plenty of legroom and comfort for your guests. If you're looking for something a bit more luxurious, the H3T model has leather interiors with GPS tracking systems that help keep track of your group's whereabouts. They come in four different colors: black, white, silver and red!
15 Passenger Black Hummer Limo
This is your classic, black limousine. This vehicle can hold up to 15 passengers at once and comes with all the amenities you would expect from a limo: comfortable seating, classy interior decoration, stereo system with speakers and CD player, tinted windows for privacy, air conditioning and heat controls for comfortability. Price4Limo offers this vehicle for hourly rentals or daily rentals depending on what works best for your needs.
Hummer Limo Pricing Explained
The price of a Hummer limo is based on the size of your party, the number of , and how many hours you need the vehicle. The base rate for a day trip with up to 15 passengers is about $1,500. This includes all applicable taxes and fees but not gratuity or any other extras that might be requested during your trip.
Airport Transportation Buses For Rent
We have buses for airport transportation. We have buses for airport transfers. We have buses for airport shuttles. We even have buses for airport transportation to and from the airport! With so many options, you're sure to find one that works well for your needs at a price that fits your budget. For example, if you need to get 10 people from Little Rock International Airport (LIT) to Hot Springs National Park on your upcoming vacation, then our 14-passenger charter bus is the perfect fit! It comes equipped with plenty of space and amenities such as WiFi and air conditioning while still being comfortable enough to relax on during long rides in the Arkansas heat—and best of all? It's cheap!
School Bus Rentals For Perfect School Trips
Did you know that wedding transportation is one of the most important parts of your big day? It's true, and Price4Limo knows it too. We're here to ensure that you and your guests are safe during this exciting time by providing the best party bus rentals, limousine services and shuttle buses in Arkansas. Whether you need a limo or party bus to take your family to the venue, or a shuttle bus for after dinner drinks at the hotel bar with friends and relatives, we have what you need.
School Bus Rentals For Perfect School Trips
When it comes to school bus rentals, you're looking for a safe and reliable ride that will carry your students or employees to their destination in comfort and style. What you want is our new line of school buses from the leading manufacturer in North America. Buses are available for short trips or long trips—just let us know what kind is needed so we can give you an accurate quote based on distance traveled!
Coach Bus Transport For Sport Teams
Many sports teams are looking for coach buses to transport them from place to place. This is a great way to get the entire team together and help create that tight-knit bond that holds them together through thick and thin. Coach buses are also great for getting around quickly, allowing you to arrive at your destination before everyone else, ready for whatever challenges lie ahead.
Government Charter Bus Rentals
In addition to the more traditional charter bus rental services, we also offer government charter bus rentals to anyone who needs a large vehicle for their group. If you want to explore Arkansas in style, or if your company is planning on taking a group trip that requires transportation, the right vehicle can make all of the difference. Our government fleet has been specifically designed with these types of events in mind and has been outfitted with features that allow you to comfortably fit everyone while still getting them where they need to go in style.
Book Corporate Travel Coach Buses
If you're looking to book corporate travel coach buses, be sure to check out the available options at your local Price4Limo. We offer a wide range of vehicles for rent, including mini coaches, luxury limousines with stretch seating and party buses equipped with dance floors. Whether you need transportation for business clients or employees attending an event in Arkansas or Little Rock, we can help! We also provide custom charters for concerts and sporting events. We'll work with you to find the perfect bus rental that matches your needs so that everyone has a great time on their trip.
Sports Teams in Arkansas
Sports teams in Arkansas can be divided into two categories: collegiate and professional. Many of these are well-known to sports fans across the country, including the University of Arkansas Razorbacks, Arkansas State Red Wolves, and Arkansas Travelers. The Little Rock Trojans and Pine Bluff Golden Lions are also major players in their respective conferences. The Razorbacks play their home games at Baum Stadium on campus at Fayetteville's University of Arkansas campus.
Popular Cities in Arkansas
Traveling to Arkansas? Price4Limo has the right vehicle for you. The state's capital is Little Rock, located in the central portion of the state. Other major cities include Fayetteville, Fort Smith, Springdale and Bentonville. In addition to these major hubs are Jonesboro, North Little Rock and Hot Springs as well as Conway which is home to many attractions including: Arkansas Museum of Discovery, Conway Scenic Railway, Conway Zoo, and many more.
Best Attractions in Arkansas
The state of Arkansas is home to many beautiful sights, including the bustling city of Little Rock, which boasts the Arkansas State Capitol, a historic dome building in downtown Little Rock and the Hot Springs National Park. There are also other places such as Fayetteville, where you can find great outdoor activities like hiking trails and horseback riding. Dickey-Stephens Park is another popular place near North Little Rock that offers fun for everyone. This park features an 18-hole golf course which was designed by Robert Trent Jones Jr., along with several baseball fields that include one stadium level stadium with seating capacity up to 6,000 spectators. If you are planning an upcoming trip to this great state then we encourage you to reserve your charter bus rental or limo from Price4Limo today!
Airports We Service in Arkansas
We service the following airports in Arkansas:
Little Rock National Airport
Fayetteville Regional Airport
Northwest Arkansas Regional Airport
Bill and Hillary Clinton National Airport
Springdale Municipal Airport
Fort Smith Regional Airport
Price 4 Limo is a nationwide marketplace where independently owned transportation companies compete for your business!