Indiana Charter Bus, Limo, and Party Rentals
You won't find a better selection for limos, charter and party buses in Indiana than at Price4Limo. Complete the form to view vehicles available in your area.
Indiana has been topping many lists as the best state to visit. Aside from its famous Indianapolis 500 race, it's also popular for its diverse cities that include Indianapolis, Fort Wayne, and Evansville. You'll have the opportunity to explore places such as the Indiana Dunes National Park and the White River State Park when you visit this Midwestern state. Enjoy fishing on one of Indiana's numerous lakes! With so much to do in Indiana, you need a reliable rental company to help you get around this beautiful place. At Price4Limo we offer Charter Bus Service rentals and Party Bus rentals in all parts of Ohio at affordable rates! We have a huge fleet of limos including Hummer Limo Rental in IN at great rates! Our limos will take you anywhere you would like to go whether it is for an amazing trip or for your special day. We are available 24/7 so book now with us today!
Traveling with a large party? View our Indiana charter buses
Best Indiana Limousines
Welcome to Price4Limo's Charter Bus, Limo, and Party Rentals. At Price4Limo we are committed to providing the most affordable transportation services in Indiana. Whether you need a charter bus rental or limo rental for an important business meeting or party event; we will help you achieve your transportation needs with our wide selection of vehicles at competitive rates. Limousines and party buses are great for larger groups that want to travel together. Limousine service is also a great option for corporate clients who want to drive in style while promoting their company brand. Limo rentals are perfect for smaller events, such as cocktail receptions, bachelor/bachelorette parties and other types of celebrations. Limo services offer privacy and security while transporting passengers from one location to another in comfort.
Check out our fleet of party bus rentals, limos, charter bus rentals & more that we have in Indiana. Find your town or city in the drop down menu above to get a full list of available rentals in your area.
Choose Indiana Party Buses
Price4Limo is a Limos, Charter bus and Party bus rental company in Indiana. We offer private limousine services for your airport transportation, corporate or special event needs. We have years of experience in the industry and can accommodate any type of request for your luxury car rental needs. We provide high end vehicles including: Lincoln Towncar, Lincoln Navigator, Stretch SUV Hummer H2, Escalade Stretch and more. Our fleet ranges from 4-8 passenger stretch SUVs to 15 passenger Mini-Buses/Charters Buses/Party Buses/Limos. We also offer hourly rentals with included in most locations throughout the United States, including Indianapolis Airport (IND), Chicago O'Hare International Airport (ORD).
Reserve one of our outstanding bus rentals or limo rentals for your next important affair. Pull up at your favorite soccer team's stadium in style. Make a reservation for a limo for prom at a discounted hourly price. If you are going to need airport drop-off services our party buses or private car services will get you to your specified destination without delay. A party bus will certainly make a dull night on the city into an unforgettable occasion. If you're getting married and require wedding transportation look at the limo rentals we have conveniently available for your special occasion.
Top Charter Bus Rental Company In Indiana
When looking for a bus rental company in Indiana, look no further than Price4Limo. We have been providing our clients with the best charter buses and limousines for over 10 years. Our experienced staff can help you plan your special day, including transportation from one location to another. If you are looking to hire party buses in Indiana, we can help you with that too! Our party buses are available for any occasion: birthdays or bachelor/bachelorette parties are just two examples of how a party bus rental would work well on your big day. A party bus will make sure all of your guests arrive safely at their destination--and keep them entertained along the way!
Indiana is a part of the Midwest region of the country. The major metro areas in the state are Indianapolis, South Bend, Fort Wayne and Evansville. Indianapolis is home to the world famous Indianapolis Motor Speedway. The University of Notre Dame is located in South Bend. Outside of Evansville is Indiana's premier theme park and water park Holiday World & Splashin' Safari.
Why Choose Price4Limo
It's time to take your next limo, charter bus or party bus out on the town. Whether you're planning a bachelor or bachelorette party, wedding or anniversary celebration, Price4Limo has the best selection of vehicles in Indiana to make sure that your trip is unforgettable! Price4Limo also offers special deals on luxury cars and services for any occasion such as proms, birthdays, anniversaries and other special events for couples.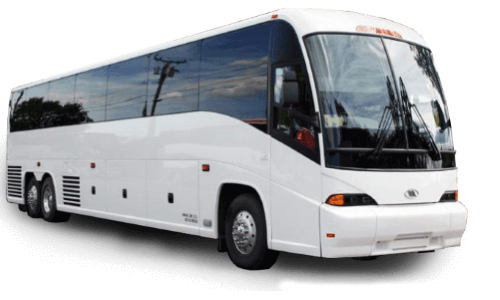 Luxury Charter Buses
A charter bus is a vehicle used for group transportation. Charter buses are often used for trips that involve multiple passengers traveling to a single destination, such as a sporting event or concert. It's also common for charter buses to be used by schools and organizations who need special vehicles with extra room for passengers on the road.
56-Passenger Charter Bus
We provide 56-passenger charter buses for your group. Our 56 passenger charter bus can be booked by the hour, day or longer and they can travel anywhere in the U.S., Canada and Mexico. The 56 Passenger Charter Bus is equipped with a bathroom & air conditioning, DVD player, and individual reading lights within each seat (you will need to bring your own movie).
Charter Bus Pricing Explained
You can choose from our wide variety of buses, including luxury limousines or party buses. Each type of bus has varying prices based on the size and amenities, but they all include the same great service. Priced per hour, you can get a quote for your transportation needs by inputting your travel information here.

Minibus Rentals
If you're planning a trip with a group of people, minibus rentals are the way to go. Minibuses are available in a number of sizes, and their large capacity makes them perfect for groups of people. Whether you're traveling with family members or co-workers, we have plenty of minibuses on hand that can accommodate between 8 and 15 passengers comfortably.
20 and 18 Passenger Minibuses
If your group is in the 15-20 person range, minibuses are a great option. They're big enough to comfortably hold your group, but they don't have the same level of luxury as our larger buses. Minibuses are great for airport transfers or other short trips because they're not as expensive as limos and they're more comfortable than taxis—and they are perfect for weddings!
Mini Bus Pricing Explained
Mini buses are a great option for larger groups and companies. They offer seating for up to 20 passengers, making them ideal for traveling to events such as concerts or sporting events. You can also use mini buses for airport shuttles or day trips out of town with your friends! The rate you pay will depend on the duration of your ride and how many people are riding in it. The longer your trip lasts and the more passengers are on board, the higher the cost will be per person. However, we do offer discounts if you book multiple legs together at once so take advantage of this opportunity to save money when you travel with us!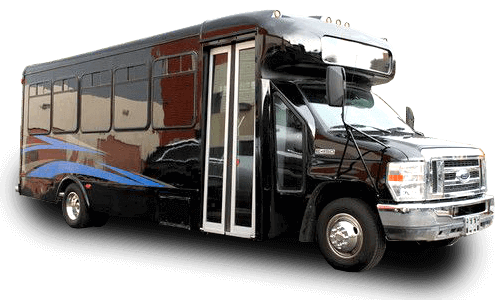 Luxury Party Bus Options
Party buses are a great way to get together with friends and family. Whether you are looking for a fun way to get to a festival or concert, or want a unique way to celebrate your birthday, party buses are the perfect vehicle. Party buses can be used for many different occasions: Bachelor Parties, Bachelorette Parties, Birthday Parties, Anniversaries.
40 Passenger Gretch Party Bus
The Gretch Party Bus is the perfect choice for your next bachelor party, birthday party or sporting event. The Gretch Party Bus can seat up to 40 passengers, and comes with a built-in bar.
Party Bus Pricing Explained
Party bus pricing is a bit more complicated than hourly rental pricing, but the good news is that it's also quite flexible. The size and amenities of the bus will affect how much you pay, but there are ways to save money if you're looking to stretch your dollar. For example, if you have fewer people in your group (or less luggage), then a smaller vehicle could be sufficient for your needs. Similarly, adding extra amenities like televisions or WiFi may not be necessary depending on where you plan on taking the party bus.

Motorcoaches For Hire
Motorcoaches are the most reliable and comfortable way to travel. They are air-conditioned, have leather seats, washrooms on board and plenty of space for luggage. Price4Limo offers motor coaches for hire in Indiana and you can select the best one depending on your needs. Our coaches are available in different sizes like 40 passenger coach and 56 passenger coach depending on your requirements so you can choose the best one that suits your requirement perfectly without having any issue at all!
50 Passenger MCI Motorcoach
You can't go wrong with a MCI motorcoach. The MCI is one of the most popular, comfortable and reliable bus tour buses on the road today. You will enjoy a comfortable ride in a spacious, air-conditioned cabin.
Motorcoach Pricing Explained
Motorcoach pricing is based on the size of the vehicle. The larger the vehicle, the more it costs, and vice versa. You can get a better price by opting for a smaller bus or mini-bus rather than a large motorcoach. Whether you're traveling with friends or family, our vehicles will comfortably accommodate you while providing you with an enjoyable experience!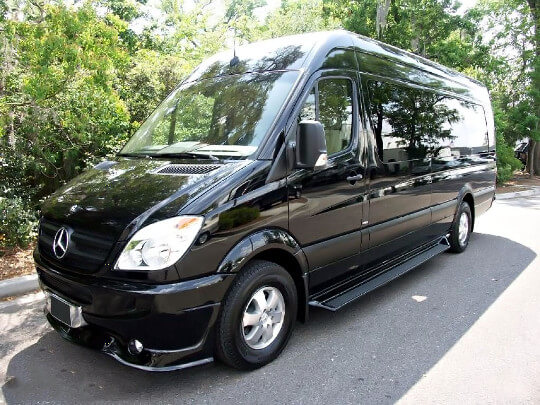 Sprinter Limo Rentals
The 14 passenger Mercedes-Benz Sprinter Limo is the perfect vehicle for groups of up to fourteen people looking for a unique way to travel in style. Whether you're traveling together or with co-workers, our limo service can accommodate all your group transportation needs. At Price4Limo we have a variety of vehicles that are available for rental and we guarantee that our limos will be comfortable, safe and reliable.
14 Passenger Mercedes-Benz Sprinter Limo
The Mercedes-Benz Sprinter Limo is a great option for those looking for luxury ground transportation services. The 14 passenger configuration has seating for 10 passengers in the rear and 2 seats up front with a captain's chair. This long wheelbase limousine is perfect for any occasion or event: weddings, proms, sporting events, night out on the town or any other special occasion.
Limo Sprinter Pricing Explained
The sprinter price you pay depends on the Number of hours you want: if you want to go for an overnight trip or plan on spending extra time at a destination (such as shopping), it's going to cost more money depending on how long you spend in each place and how far apart they are from each other!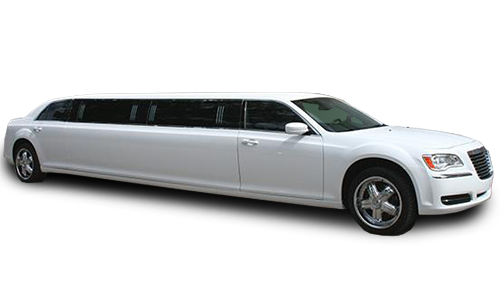 Luxury Limousine Options
You can also choose to travel in style and comfort with our 10-Passenger Stretch Chrysler 300 limousines. This vehicle is a luxurious coach style vehicle that will comfortably seat up to 10 passengers and features a fully enclosed bar area that includes a refrigerator, sink, and ice maker. The bar can be removed if you prefer not to have it on your trip. The price of the limousine depends on several factors including time of day/year, location of pick up/drop off and amount of stops along the way. Our booking agents will help you determine which options are best for you.
10 Passenger Stretch Chrysler 300 Limousine
The Chrysler 300 is one of the most popular limousines in America. It's a beautiful car and it gives you a great view from the high-backed seats. The Chrysler 300 has comfortable seating for up to 10 people, plus the . This means that you can ride with your friends or family members in comfort while they enjoy a nice air conditioned ride.
If you are looking for a unique experience, a Hummer H2 limousine is the perfect choice. The hummers are large enough to fit up to 20 passengers, making them ideal for large groups or parties. The interior of these vehicles is lavish with leather seating and complimentary champagne on request. Your guests will enjoy riding in style while they ride around town in their own personal limo. If you want to step up your game from traditional limos, then this is the way to do it!
20 Passenger Hummer Limo
A 20 passenger Hummer limo is the perfect choice for large groups, or for special occasions like wedding parties and bachelor/bachelorette parties. The more people you have, the more fun you will have! If you are interested in renting out this vehicle, Price4Limo has all of the details that you need to know. We work with trusted vendors who will provide you with excellent service and a great experience on your trip.
Hummer Limo Pricing Explained
Have you ever wondered how much a Hummer limo rental costs? The price of a Hummer limo rental depends on the type of vehicle you book, as well as your location, date and time.
The state of Indiana is a great place to visit, with many things to do and see. We at Price4Limo can help you explore the area using our ground transportation services, which can be trusted to provide you with a safe and reliable ride at an affordable price. Learn more about how we can help you experience Indiana in all its glory by clicking here!
From the world's largest limestone quarry to the country's first and largest state-owned zoo, Indiana is home to many treasures. The country's first and largest state-owned zoo – Fort Wayne Children's Zoo. If you want to see all kinds of animals but don't want to travel too far from Indianapolis then head out here where over 500 animals roam free including zebras, tigers and rhinos! There are also plenty of educational programs available so bring your kids along too!
Bus Rental in Indiana
Indiana is a beautiful state that is packed with history and culture. You can find plenty of great attractions, restaurants and hotels across Indiana. We at Price4Limo have been to Indiana many times so we know that it is a great place for a weekend getaway or even a family vacation.
Experience our Amazing Bus Fleet Service
We have a wide variety of vehicles to choose from. You can choose from our luxury coaches, party buses, motor coaches, and more. We have a variety of sizes and styles to accommodate a variety of groups. You can choose the perfect vehicle for your special day with us! We also have many other services that you can use for your trip or event including: Private charters, limousines and town cars too! If there is anything else we can help you with please don't hesitate to call us today.
Party Buses & Limo Buses
There are many reasons why you would want to rent a party bus. Perhaps you want to arrive at your destination in style and comfort. Or maybe you want to avoid the hassle of driving yourself, or having designated for each of your guests. Whatever the reason, there are lots of options for party buses available in Indy and surrounding areas, so it's easy to find one that meets your needs and budget! Party buses come in all sizes and styles, so they can accommodate any number of people from small groups up through large wedding parties. They also have a wide range of amenities including bars and televisions so that everyone can relax on their way there or back again. If you're looking for something more elaborate, we can help with that too! Our professional staff will work with you on creating custom decorations based off any theme—even ones with multiple themes if necessary! Whether this is just going out on the town or hosting an outdoor wedding reception at one of our local parks (like White River State Park), Price4Limo has got everything covered from start-to-finish - including transportation options like Limousines & Sedans as well as Party Buses which offer more room for fun things like dancing when needed without sacrificing safety either way..
Charter Buses & Motor Coaches
Indiana is a great state to explore and there are many places that you can visit. If you want to go on a trip with your family or friends, then charter bus rentals and motor coach rentals in Indiana will be the best option for you. These vehicles are spacious and comfortable which will make your journey enjoyable. The itinerary of your trip can be customized according to your needs and requirements. There are many cities in Indiana where these vehicles are available for rent such as Indianapolis, Columbia City, Fort Wayne, Evansville and Terre Haute etc..
Shuttle Buses & Mini Buses
Shuttle buses and mini buses are both great for groups of up to 50 people. Shuttle buses can be used on longer trips, while mini buses are ideal for shorter trips. Mini buses are also excellent for moving large amounts of luggage from one place to another, as they have enough space to hold all sorts of luggage and other belongings. If you're looking for something bigger than a limo or party bus but still small enough so that it won't take up too much room on the road, consider hiring a shuttle bus or mini bus from Price4Limo!
School Bus Rental & Tour Bus Rental
School bus rentals are great for transporting large groups in a safe and secure way. School buses are equipped with seat belts, air conditioning, heating and safety features to ensure that your passengers have a safe trip. School buses are ideal for field trips, sporting events and more. School Bus Rentals in Indianapolis can provide you with the perfect size school bus rental to fit your needs – whether it's one large vehicle or multiple smaller vehicles. There are several sizes of school buses available:
Small-sized school buses can accommodate up to 35 passengers comfortably

Medium-sized school buses accommodate up to 55 passengers comfortably

Large-sized school buses accommodate up to 70 passengers comfortably
Bus Rental Makes Your Trip Comfortable
The bus is a great way to travel because it allows you to get where you need to go in comfort, style, and safety. With Price4Limo's bus rental services, you can travel in luxury! Our buses come equipped with everything from WiFi to leather seats. They will make any trip more enjoyable.
Price 4 Limo is a nationwide marketplace where independently owned transportation companies compete for your business!