Arizona Charter Bus, Limo Service, and Party Bus Rentals
You won't find a better selection for limos, charter and party buses in Arizona than at Price4Limo. Complete the form to view vehicles available in your area.
Welcome to Price4Limo.com, your one-stop shop for the best selection of vehicles available for rent in Arizona! We offer a wide range of options perfect for your next vacation or getaway. Arrive in style with any of our limos, party buses, and charter buses. Price4Limo offers the best transportation services at affordable prices. Our fleet consists of a variety of vehicles to accommodate groups of any size and travel requirements, including luxury sedans, SUVs, limousines and shuttles.
Traveling with a large party? View our Arizona charter buses
Top Charter Bus Rental Company In Arizona
Arizona is a great place to visit and our Charter bus rentals will give you the best possible experience! Whether you're planning a group trip or just exploring the area on your own, our chartered bus service will provide a convenient, safe way for you to travel. We offer charter buses that can accommodate up to 56 passengers in various sizes and amenities. Our fleet is equipped with luxury amenities such as WiFi and leather seats for the ultimate experience on your trip. If you choose one of our smaller buses, we'll provide water bottles and snacks so that you don't have to worry about packing food or drinks. Our goal is to make sure that every person who rides with us has an enjoyable experience while traveling with Price4Limo Charter Bus Rentals! Rent a motorcoach and take your guests on an unforgettable road trip. Our motorcoaches come equipped with Wi-Fi, restrooms, and air conditioning. Your guests will be able to enjoy the scenery while they relax in their seat or make use of the restroom. Minibuses are great choices for small groups who want to get around town without worrying about parking or traffic jams. They're also perfect for college students who want to go out on the town without driving themselves home after having too much fun!
Best Arizona Limousines
Arizona is a great place to visit. With some of the best cities in America, including Phoenix and Tucson, there's no shortage of things to see and do here. From Scottsdale's luxurious hotels and resorts to Sedona's breathtaking views, you'll find plenty of attractions that will make your trip one to remember. And if that's not enough, you can always stop by our office or call us! We're proud to serve as your transportation provider when it comes time for your next exploration around Arizona. We specialize in chartering buses, vans and limos—as well as party bus rentals—to help get everyone there safely without any hassle on their part. Let us know what kind of vehicle would work best for your group; we'll provide all necessary details so you can have peace of mind when planning ahead with Price4Limo!
If you're planning a trip to Arizona for the first time or maybe you've been before but want this time to be different, then don't pass up the opportunity to have fun with our party bus rentals. We'll take care of all of your transportation needs so that you can focus on enjoying yourself without any worries about driving or parking. Our goal is for everyone to have an unforgettable experience and we're committed to making it happen! Arizona Limo Rentals Price4Limo is proud to offer state-of-the-art limousines at affordable prices! Our fleet includes luxury vehicles like Cadillac Escalades and Lincoln Town Cars that feature plush interiors and top-notch amenities such as mood lighting, high definition TVs/DVD players, sound systems with iPod docks and more...
Choose Arizona Party Buses
Take a look at our fleet of limousines, party bus rentals, charter buses & more that we have in Arizona. Check out the list above and select your city or town to see which rentals are available in your area.
Our party buses & limos are suited for a number of different activities such as concerts, birthday parties, prom & homecoming dances and much more. Take your friends or family to the Arizona Cardinals game in style with one of our limos. Hire one of our many sedans or shuttle buses to take you and your guests to the airport for pickup or drop off. Consider renting a party bus for your bachelorette party for a great time.
You'll find plenty to do in cities such as Arizona such as Phoenix, Tucson, Flagstaff, & Scottsdale. The greater Phoenix area has plenty of activities from sports venues for major teams such as the Cardinals, Arizona Diamondbacks & the Phoenix Suns to golf courses, museums & more. The Scottsdale Waterfront Shops are a popular destination including restaurants & shopping. Flagstaff is known for it's nearby ski attractions as well as being close to the Grand Canyon.
Why Choose Price4Limo?
If you want to get the highest-quality vehicle at the best price, then look no further than Price4Limo. With a fleet of luxury buses and vans that gets updated monthly, we're confident that we have what you need for your Arizona trip. But how do we keep our prices so low? It's simple: We don't waste money on overhead costs like office space and high executive salaries. Instead, all of our staff members work remotely from home (or wherever they choose), which saves us money on labor costs. This gives us more flexibility with scheduling and allows us to offer lower rates without sacrificing quality!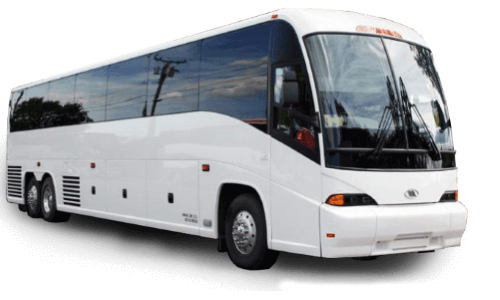 Luxury Motor Coach Rentals
Luxury motor coaches are available for rent. They have leather seats, wifi, and other amenities that make them the perfect choice for your business trip or vacation. The best way to travel in style and make a good impression is by renting a luxury motor coach from Price4Limo!
56 Passenger Bus (MCI J4500)
The 56 passenger bus (MCI J4500) is the largest vehicle in our fleet, and it's perfect for larger groups. This mini-bus can comfortably seat up to 55 passengers, although some smaller buses may have a few seats left over if you're looking for a more intimate experience.
56 Passenger Bus (Setra S417)
The S417 is a 56-passenger luxury motor coach. This vehicle is fully equipped with leather seats, a restroom and onboard toilet, entertainment center, DVD players and more!
Charter Bus Pricing Explained
Before we go into the details of charter bus pricing, it's important to remember that each trip is different. The price will depend on: The number of people you want to bring on the trip. How long you want your charter bus rental to last and how far you're traveling. If there are any additional services like catering or entertainment included in your reservation. You can use our search engine to get exact pricing instantly.

Minibus Rentals
When you rent a minibus, you will have the luxury of traveling in style. You and your friends can enjoy the comfort of having a personal space for yourselves, especially if it is too long to drive by yourself. If you want to explore Arizona with your family or friends, then getting a minibus will be the best option for traveling around this beautiful state. There are many reasons why people choose to rent these vehicles instead of taking their own cars or vans on vacation: A group can enjoy watching movies together while they are on vacation without having to worry about finding space in their car's trunk or backseat Minibuses have enough room for at least two passengers per seat so that everyone has enough legroom during their trip! In addition to these benefits, prices vary depending on how big or small each vehicle is so we recommend shopping around before settling down with one provider in particular - like us here at Price4Limo!
18 Passenger Minibus
The 18 passenger minibus is the most popular among charter transportation companies, as it offers a good combination of spaciousness and affordability. This vehicle is great for social gatherings, sporting events, and even private tours. The interior can comfortably fit 18 passengers plus luggage or equipment in their own compartments. The 18 passenger mini bus rental is perfect for any occasion that calls for some extra space but still wants to be able to move around quickly and efficiently.
24 Passenger Minibus
If you're looking to travel in style and comfort, the 24 passenger minibus is an excellent choice. This vehicle can accommodate up to 24 passengers with 3 rows of seats and 3 doors. The seats are foldable, allowing for more room when needed. The vehicle also has air conditioning, a flat screen TV/DVD player with stereo system, microwave oven and coffee maker for your convenience. Free Wi-Fi access is available as well so that you can stay connected while on your trip
30 Passenger Minibus
The 30-passenger minibus is one of the largest and most versatile charter buses available. It can be configured with a variety of seating options and accessories to accommodate groups large and small. If you're looking for a party bus, look no further: our 30 passenger buses are perfect for weddings, bachelor parties and other events where space is at a premium. The 30-passenger minibuses available from Price4Limo feature high-back seats that are comfortable even on long drives. These vehicles can also be equipped with wheelchair lifts or luggage racks if your passengers need assistance getting in and out of the vehicle safely. They may also include Wi-Fi signals so you can stay connected while traveling across Arizona in style!
Mini Bus Pricing Explained
The cost of a charter bus rental depends on many factors. The most important thing to keep in mind is that pricing depends on the number of passengers. The larger the group, the lower the price per person. The price also depends on how long you need to rent your vehicle. The longer you want it for, the more expensive your reservation will be. You can choose from one-way or return trips with our buses and vans at any time during your trip!

Motorcoaches For Hire
If you are looking to rent a motorcoach in Phoenix, AZ, then Price4Limo is the best place to go. We have various types of buses such as 56 passenger mini motorcoaches, shuttle bus and school bus. You can either choose a standard charter bus or a party bus depending on your needs and wants.
50 Passenger Prevost Motorcoach Rentals
Price4Limo's Prevost motorcoach rentals provide a variety of amenities, including leather seating and high-definition televisions. We offer 50-passenger Prevost motorcoaches in Phoenix, Arizona. Our prices are competitive and we also offer special rates for groups and families. Our vehicles can accommodate up to 50 passengers, so your group will be able to travel comfortably together during your trip! If you need assistance choosing the best vehicle for your group, feel free to contact us by phone or email anytime—one of our professional associates will be happy to help you find the right bus rental solution at an affordable price!
54 Passenger Van Hool Motorcoach Bus
The 54 passenger Van Hool Motorcoach Bus is a great choice for bus rental in Arizona. It's very comfortable, with a spacious interior and plenty of leg room. The baggage compartment can hold up to 150 lbs of luggage, which is more than enough for your trip!
Motorcoach Pricing Explained
Motorcoach pricing is based on the number of passengers. You can rent a motorcoach for day, week or month. A day trip will cost less than a week long trip. Motorcoaches can be rented for one way or round trip. If you want to take your group back home after a few days in Arizona but not the whole week, it's only necessary to pay for half of the rental period (for example: if you rent it from Monday-Friday, then you'll have to pay for three days). Motorcoaches can also be rented multiple times within one rental period, which is convenient if you need additional trips within that time frame (for example: if your group wants more than one roundtrip).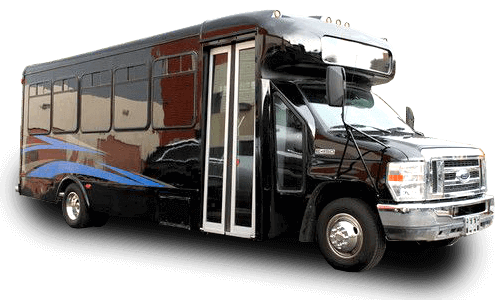 Luxury Party Bus Options
Luxury Party Bus Options: Your guests will love the Tiffany and Grech party buses that are available for hire. The Tiffany is a 30-passenger and the Grech is a 40-passenger, which means there's plenty of room to accommodate your guests' comfort while they're on the road. Whether you're traveling with a large group or small, we can help you plan every detail of your trip by offering luxury transportation options that are fit for any occasion!
40-Passenger Grech Party Bus
The 40-Passenger Grech Party Bus is the perfect vehicle for your group, with a capacity of 40 people. You can also plug in your own music with the stereo system or watch a movie on one of the two flat screen TVs! There's even an in-vehicle bathroom with running water and toilet paper, so no one has to worry about running out during long road trips.
Party Bus Pricing Explained
Here is a quick overview of the pricing structure for our party buses and limos:
The size of your party bus will determine how many passengers it can hold. Our most popular models include 12-passenger, 14-passenger, 20-passenger, 24-passenger, 28-passenger, 35-passenger and 40-passenger models. The cost per hour is based on how many people you want to ride in your bus at one time (and whether children are included).

The length of your rental determines whether or not you get charged for overtime rates.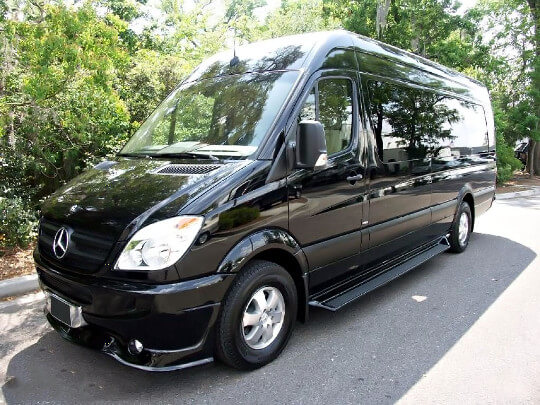 Sprinter Limo Rentals
In addition to our Sprinter limo rentals, we also offer 14 passenger Transit Bus rentals. The Transit Bus will seat up to 14 passengers and has a lot of room for luggage. It's perfect for weddings and big parties. If you need more seats than that, our 12 passenger Chevy Suburban is just what you need. This SUV can hold up to 12 people in comfort while still giving everyone plenty of legroom. It is also large enough for luggage and equipment if needed. And finally, we have our 10 Passenger Executive Mercedes-Benz Sprinter which gives you the flexibility of having both an executive ride and room for all your friends or family members that want to join you out on the town!
Limo Sprinter Pricing Explained
The price of your limo rental is dependent on a number of factors, including the length of the vehicle and how many passengers it can fit. The longer you need to travel, the more time it takes for you to get from Point A to Point B. The type of limo also affects its cost. For example, a traditional stretch limousine is more expensive than an SUV or van because it's built for longer trips with multiple people inside. Each vehicle has its own set pricing based on several factors: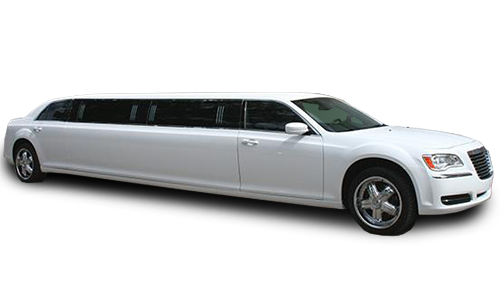 Luxury Limousine Options
There are many options to choose from when it comes to luxury limousine rentals, and we have the perfect one for you. At Price4Limo, pricing is always straightforward: no hidden fees or surprises! We'll give you an upfront quote based on your specific needs and wants so there won't be any unpleasant surprises when it comes time to pay up front—and there's never any outrageous surcharges added on top of what was agreed upon up front either!
6-Passenger White Chrysler 300 Limo
The 6-Passenger White Chrysler 300 Limo is a great choice for your next party bus. It boasts four doors, which make it easy for multiple people to get in and out at one time. This vehicle has luxurious leather seats that can comfortably seat six people, plus the driver. The sunroof lets you enjoy Arizona's beautiful weather in style. If you're feeling hungry on your trip, don't worry! There's also a DVD player so you can play movies or music from your phone (or bring along some snacks). Or maybe there are just too many fun things to do around town that all of your passengers will want to take selfies together. With this limo/car hybrid vehicle, there's always something new waiting around every corner of Arizona!
8-Passenger Stretch Lincoln Limousine
The 8-passenger, 6-door Lincoln limousine is a great choice for parties of 8 or more. A rare find in the Phoenix area, it provides ample room for your party and has ample legroom between seats (36"!). The spacious interior features black leather seating with plenty of storage space throughout the vehicle. The rear seating area features two additional bench seats that can be converted into individual seats by removing cushions from their storage compartments located under each seat back. There are also several cup holders throughout this vehicle making it easy to keep drinks close at hand at all times!
Luxury Limo Pricing Explained
The price of a limo or party bus rental in Arizona depends on a number of factors, including the type and model of vehicle you choose. A party bus typically costs less than a luxury limo, but both options offer transportation that's sure to impress your guests. Typically, pricing will be calculated by the hour for either option. If you want to rent Party Bus For Rent Near Me Phoenix AZ or another type of vehicle for multiple days or over several hours at once, then prices are often calculated based on distance traveled (as with most forms of transportation).
SUV Hummer Limo Rentals
There is a wide range of SUV Hummer limo rentals that Price4Limo offers. We have 15 passenger black and white limos, 20 passenger black sports cars, 25 passenger stretch SUVs and larger. The choice is yours!
15 Passenger Black Hummer Limo
We have the perfect 15 passenger black hummer limo for you. This luxury vehicle has black leather seats, a black leather headliner and a black leather ceiling. It's perfect for any party or special occasion. Reserve Charter Buses, Limos, and Party Rentals from Price4Limo today!
20 Passenger White Hummer Limo
The 20 passenger white hummer limo has seating for up to 20 people and a partitioned area for privacy. It is perfect for large groups looking to enjoy themselves on their trip in Arizona!
Hummer Limo Pricing Explained
The prices listed below are per hour and include the limo rental, driver, and fuel. The total price does not include gratuity for the driver. If you wish to book a Hummer party bus or limousine for an extended period of time, please contact us for special rates. We offer our customers several different types of vehicles:
The Classic Lincoln Town Car (4-6 passengers)

The Mercedes Benz S550 Sedan (4-6 passengers)

The Luxury Stretch SUV (up to 8 passengers)
Prices vary depending on your chosen vehicle's size and amenities: For example, a limousine can cost as much as $150-300 per hour!
Price4Limo is a leading provider of charter bus rental services. We can provide you with the best vehicle that fits your group's needs. Our fleet includes party buses, school buses, executive coaches and shuttles for airport transfers or any other event in Arizona. You can take advantage of our private charter bus rentals including air conditioned party buses that are perfect for weddings, birthdays and social gatherings. In addition to our luxury motor coaches we also provide transportation services such as airport shuttles and school shuttle services.
Airport Transportation Buses For Rent
We offer a variety of bus rental options to serve your needs. Whether you are hiring a charter bus for school trips, sports teams or airport transportation, we can provide the best transportation vehicles for any trip. We have a wide range of buses to choose from including:
40-50 passenger

60-70 passenger

85-100 passenger

102 passenger party bus (for proms and formals)
School Bus Rentals For Perfect School Trips
School bus rentals are a great way to get your kids to school and home again. You can also reserve school bus rental for their field trips, graduation ceremonies and proms. In addition to getting them there safely. The advantages of hiring a charter bus rental include:
convenience - it means no more waiting at the pick-up spot in front of your house in the morning;

safety – you don't have to worry about your children missing their stops;

cost effectivity – charter buses are cheaper than public transportation options such as taxis or cabs;
Government Charter Bus Rentals
The people who work for the government have a lot of responsibilities. They need to be able to travel comfortably, safely and quickly while they are on the clock. For this reason, it is important that you find a good charter bus rental company that can offer you exactly what you need in order to make your trip as efficient as possible. You can hire Price4Limo for all of your government agency transportation needs. We have experience with large groups of people traveling together and will do everything we can so that your time away from work is productive and enjoyable!
Book Corporate Travel Coach Buses
The corporate travel bus has become a popular option for many companies that need to transport their employees. When you are looking for transportation for a large group of people, this type of vehicle is ideal because it can accommodate everyone and provide each person with plenty of room and comfort. The best way to book a corporate travel bus is through the internet. This will allow you to compare prices from different providers quickly and easily. You should also make sure that the company's website is secure before providing any credit card information so that your personal information remains safe at all times. When booking through an online service such as Price4Limo, there are several things that you should look out for:
Prom and Formal Shuttle Service
You can reserve a charter bus rental from Price4Limo to explore Arizona and its beautiful landscapes. We offer transportation services for many types of events, including proms and formals, weddings, corporate travel and sports teams. We also provide airport transportation services such as getting you to the airport or picking you up when your flight lands. For school trips, we have buses equipped with first aid supplies that are available 24 hours per day. If you're planning a pub crawl or Greek event in Tempe then our shuttles will be happy to accommodate your needs! If you're looking for ongoing employee shuttle bus service then we offer this too! Let us know how many people need transportation each day so that we can schedule accordingly.'
Easy Transportation For Greek Events in Motorcoaches
If you are planning to attend a Greek event, it is important to make sure that you arrive safely and on time. You should also be certain that your trip is comfortable, safe, and affordable. We offer charter bus rentals in the Phoenix area for all types of events. When it comes to transportation for Greek events in motorcoaches, Price4Limo provides easy traveling solutions with professional and modern vehicles.
Affordable Homecoming Bus Rentals
If you're planning your homecoming party, you've come to the right place! Price4Limo offers affordable homecoming bus rentals that can take your guests wherever they need to go. A Homecoming Bus Rental is a Great Way for Friends and Family Members to Get Around Town Our affordable homecoming bus rental packages include a variety of services: Our vehicles are wheelchair accessible, ensuring we provide comfortable travel for all passengers regardless of their mobility needs.
Travel Comfortably With Pub Crawl Minibuses
When you're planning a bachelor or bachelorette party, a pub crawl bus is one of the best ways to get around town. The buses are large and comfortable, with room for all of your friends. Whether you want to take advantage of this great transportation deal by dancing on the bar at one of Scottsdale's most popular spots, or just sit back and enjoy the ride while you celebrate at multiple bars in different locations, Price4Limo has what you need! If your group has a small budget but wants to have fun celebrating a special occasion together, our minibuses will make it possible for everyone in your group to travel comfortably from place to place. Our buses are available for any type of event - whether it's a birthday party or holiday celebration - we can help make sure everyone has an amazing time.
Sports Teams in Arizona
The four major sports teams in Arizona are:
The Arizona Diamondbacks, who are the only Major League Baseball team in the state. They play their home games at Chase Field in Downtown Phoenix.

The Arizona Cardinals, who play in the NFL and also call University of Phoenix Stadium home.

The Arizona Coyotes, who represent the NHL as one of two franchises that call Arizona home (the other is located in Tuscon). Their arena is Gila River Arena in Glendale, AZ.

The Phoenix Suns and Mercury are both members of the NBA and WNBA respectively; they both play at Talking Stick Resort Arena which is located directly north from Chase Field on East Jefferson Street
Popular Cities in Arizona
You can get to Phoenix, Scottsdale, Tempe, Mesa, Glendale, Chandler and Gilbert easily by limousine rental. These cities are all within a short distance from each other and offer excellent restaurants and nightlife. Apache Junction is another great city with several options for charter bus rentals in the area. Apache Junction has a lot of things to do for both adults as well as children in families who want to go out on the town together. There are many unique shops that you will find here that you will not be able to find anywhere else in Arizona or even throughout the country for that matter! Maricopa is another popular place for people who choose this method of travel since it provides easy access from anywhere else within Arizona itself
Best Attractions in Arizona
Grand Canyon

Phoenix Sky Harbor International Airport

Arizona Science Center

Phoenix Zoo

Arizona State Fairgrounds

Arizona State University (ASU).
Airports We Service in Arizona
You can take our charter bus rental service to the following airports in Arizona:
Phoenix Sky Harbor International Airport

Phoenix-Mesa Gateway Airport

Phoenix Deer Valley Airport

Phoenix Goodyear Airport
Price 4 Limo is a nationwide marketplace where independently owned transportation companies compete for your business!