Top Reasons to Choose West Palm Beach for Corporate Events
From its exceptional meeting spaces to unrivaled hospitality, West Palm Beach has everything you need to create a truly unforgettable corporate experience. Here are just a few reasons why you should consider hosting your next event in this stunning city:
Location: With easy access to three international airports (Palm Beach International Airport, Fort Lauderdale-Hollywood International Airport, and Miami International Airport), West Palm Beach is a highly accessible destination from anywhere in the world. Plus, Brightline Train services ensure convenient connections between major Florida cities.
Diverse Meeting Spaces: Boasting over 1 million square feet of meeting space across various venues, West Palm Beach can accommodate events of any size and configuration. From large-scale conferences at the GBAC STAR™ accredited Palm Beach County Convention Center to intimate gatherings at unique boutique hotels and artsy lofts – the possibilities are endless.
World-Class Accommodations: With over 18,000 guest rooms across 200 hotels in the area, you'll find accommodations to suit every taste and budget. Luxury resorts, such as The Breakers and Eau Palm Beach Resort & Spa, provide an upscale experience while charming boutique hotels like The Chesterfield Palm Beach offer a more personalized touch.
Destination-Wide Safety Commitment: West Palm Beach is the first destination in Florida to work towards GBAC STAR™ accreditation for hotels, venues, facilities, and attractions, ensuring that you're hosting your event in an environment where safety and cleanliness are top priorities.
Breathtaking Natural Beauty: Situated along 47 miles of pristine coastline, West Palm Beach offers an abundance of outdoor activities and stunning natural scenery. From beachside events to hiking in nature reserves, attendees will relish every moment spent in the great outdoors.
Vibrant Arts and Culture Scene: West Palm Beach is home to over 200 cultural institutions and performance spaces, including the famous Kravis Center for the Performing Arts. Treat your group to a unique cultural experience by incorporating live art, music, or theater performances into your event.
Exceptional Dining & Entertainment: From exclusive waterfront restaurants to vibrant nightclubs on Clematis Street, West Palm Beach offers a diverse culinary scene to cater to every taste. Choose from a plethora of dining options for unforgettable group dinners or plan team-building activities at lively entertainment venues such as Rosemary Square.
Networking Opportunities: West Palm Beach boasts a thriving business community across various industries like agribusiness, life sciences, finance, and technology. By hosting your event here, your attendees can benefit from valuable networking opportunities with local professionals and thought leaders.
Expert Support: With an award-winning Sales and Services Team, West Palm Beach promises comprehensive planning assistance for every aspect of your corporate event – from selecting venues and accommodations to coordinating logistics and programming.
Between-The-Sessions Experiences: Help attendees recharge and connect with exceptional experiences beyond the meeting rooms - such as kayaking, golfing at famous courses, pampering spa treatments, or exploring the world-renowned Norton Museum of Art.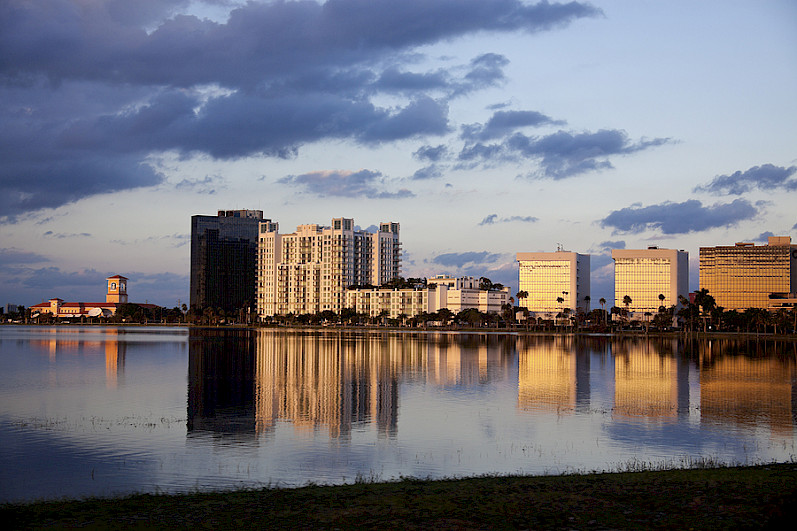 Hosting Successful Corporate Events in West Palm Beach
To ensure your corporate event in West Palm Beach leaves a lasting impression, follow these essential steps:
Select the Perfect Venue: With an incredible array of meeting spaces, it's crucial to select the right venue that aligns with your event's objectives and dynamics. Consider factors such as location, capacity, amenities, and atmosphere when making your decision.
Plan Unique Activities: Inspire and engage your attendees by planning activities that showcase the best of what West Palm Beach has to offer. This includes team-building exercises, cultural experiences, and outdoor adventures to promote both productivity and enjoyment.
Leverage Local Expertise: Take advantage of local resources by connecting with community partners, industry experts, or Destination Champions who can contribute valuable insights and services to your event.
Promote Wellness & Well-being: Encourage attendees to take care of their physical and mental well-being during the event by incorporating wellness activities such as yoga, meditation, or spa treatments.
Measure Success: Collect feedback from attendees using post-event surveys and evaluations that measure key performance indicators and overall event satisfaction.
Time To Plan Your Corporate Transportation!
With its stunning landscapes, top-notch facilities, and engaging local experiences, it's no wonder West Palm Beach is the preferred choice for hosting memorable corporate events. Begin your journey towards a successful event by connecting with our dedicated Sales and Services Team.
Ready to start planning your unforgettable corporate event in West Palm Beach? Reach out to our team for a personalized quote by calling us today!
Unmatched Comfort During Corporate Transportation
Whether you're planning a team-building trip to Peanut Island, attending an important conference at Palm Beach County Convention Center, or simply commuting daily between the office and CityPlace, West Palm Beach can be an unrelenting place when it comes to traffic challenges.
Integrate our charter bus services into your corporate event plans, and you'll immediately notice an improvement in employee morale. Our luxury buses are equipped with spacious seating, power outlets for device charging, on-board Wi-Fi connectivity, and adjustable air-conditioning amongst other amenities, allowing passengers to kick back, relax, and even prepare for a big presentation while they're in transit.
Accessibility for All Employees
At the heart of our services lies our commitment to provide accessible travel options. We're proud to offer ADA-compliant charter buses with wider aisles, wheelchair seating, wheelchair lifts, and railings along stairways. Our fleet ensures that every member of your team — including those with mobility-related challenges — can easily hop on board and travel together in a comfortable, stress-free environment.
Customized Routes Tailored To Your Needs
Our services are designed to meet the unique demands of each corporate event. Whether you need transportation from Palm Beach International Airport (PBI) to downtown West Palm Beach or you wish to devise a commuter shuttle service of your own, we have got you covered. Just tell us your requirements and let us build a custom route plan, ensuring that everyone reaches their destination quickly and efficiently.
Extend the Fun Beyond Work Hours
Beyond the traditional corporate event settings, let us help you cruise through West Palm Beach in complete luxury! Our services cater to a wide range of events, including happy hours, team dinners, golf outings at Okeeheelee Park, or even company-wide beach picnics at Ocean Reef Park. Just let us know the event details and we'll make sure your transportation is sorted.
Flexible Contract Periods for Various Transportation Needs
We understand that your transportation needs may ebb and flow over time. That's why we offer both short-term and long-term charter bus contracts. Simply get in touch with us and let us know the specifics of your requirements, and we'll find a solution tailored precisely to your needs. Rest assured, our first-class services can effortlessly support you during peak hours, parking lot reconstructions, or even temporary route disruptions.
Your Perfect Corporate Shuttle Service Partner in West Palm Beach, Florida
Say goodbye to your transportation woes and welcome the world of efficient, comfortable travel. Partner with us to plan your next corporate event in West Palm Beach and trust that our unrivaled expertise, reliable fleet of luxury charter buses, and customizable route options are precisely what your employees deserve.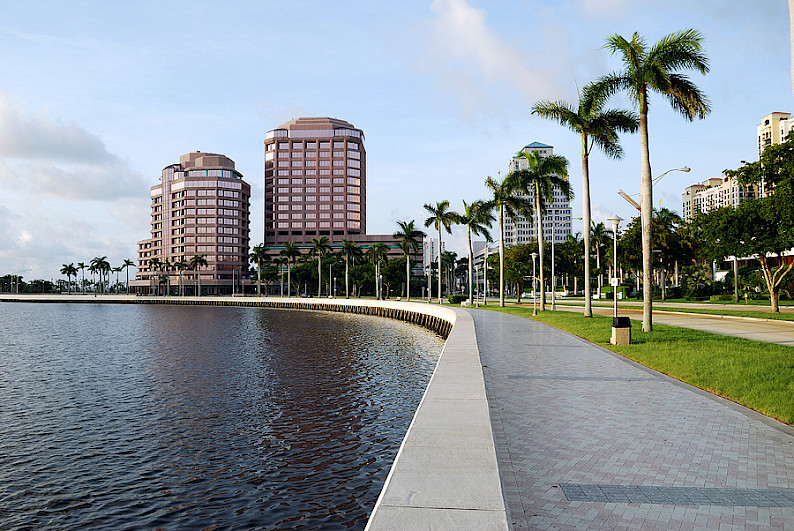 Frequently Asked Questions about Corporate Shuttles in West Palm Beach, Florida
How much does a West Palm Beach shuttle bus cost? The cost of our services varies depending on factors such as the length of the shuttle route, the size of the bus, and the contract duration. For an exact quote tailored to your specific needs, please give our team a call.
How do I set up a shuttle service in West Palm Beach, Florida? Setting up your ideal shuttle service is as easy as reaching out to our team. Just provide your requirements and preferences, and leave the rest to us. We'll curate a fully customized solution just for you.
Who can use our shuttle services in West Palm Beach, Florida? Our shuttles cater to a diverse range of clients, including office spaces, hotels, campuses, places of worship, and more. Basically, if you need a reliable transportation solution in West Palm Beach, we've got you covered.
How long can I utilize your shuttle service? You can use our services for any duration that suits your needs – a single day, a month, or even years. We can provide both short-term and long-term contracts according to your requirements.
What type of shuttle buses do you have in West Palm Beach, Florida? We offer a wide variety of luxury charter buses for you to choose from. Depending on the size and preferences of your group, we can assist you in building the perfect fleet to cater to your event.