Does It Cost Less to Book an Airbnb or Hotel? (Study)
Planning a trip to Rio or the City of Love this summer? Lodging can consume over 20% of your budget, but where you look to stay could save you a ton. To help you find the best prices on travel accommodations, we gathered average hotel room and Airbnb prices from all over the world. Read on to find out which you'll want to search for when planning your next trip.
Key Takeaways
Vancouver ($407) has the highest average nightly hotel prices, while Dublin ($325) has the highest average nightly Airbnb prices.
Bangkok has the lowest average nightly hotel prices ($58) and the lowest average nightly Airbnb prices ($62).
Airbnbs are 58.7% cheaper than hotels in Toronto.
Breaking Down Price Differences
To get a better idea of where to search for lodging, we first need to look at where you're going. Let's look at the differences between hotel and Airbnb costs at popular travel destinations around the globe.

Inflation and labor market changes have caused hotel prices to rise globally, especially in Vancouver. This Canadian city topped our list for lodging costs, with the average hotel stay costing $407 per night. But you could cut that in half if you stayed at an Airbnb, which we found was 55.8% cheaper per night. Likewise, nearly all European countries we studied had more affordable stays at Airbnbs versus hotels.
One notable exception was Dublin, Ireland. It had the priciest Airbnb stays at a nightly average of $235, while a hotel might only cost $260 in this fair city. Likewise, hotels were a less expensive option in Rio de Janeiro, being 107.1% cheaper than their rented counterparts. Airbnbs were also more expensive than hotels in Beijing and Cape Town.
In some cities, you can take your pick. For example, average nightly Airbnb and hotel prices in Rome, Tokyo, Sydney, and Santiago differed by less than $5. Bangkok also fits in with this group, and no matter which type of stay you choose, this city offers the most bang for your buck globally when it comes to lodging expenses. Mexico City also came in with less than triple-digit costs per night in both categories
Comparing Airbnb Listings
Are you looking to rent an entire home through Airbnb, or are you willing to share space with your hosts? One option is likely more affordable in some cities than others.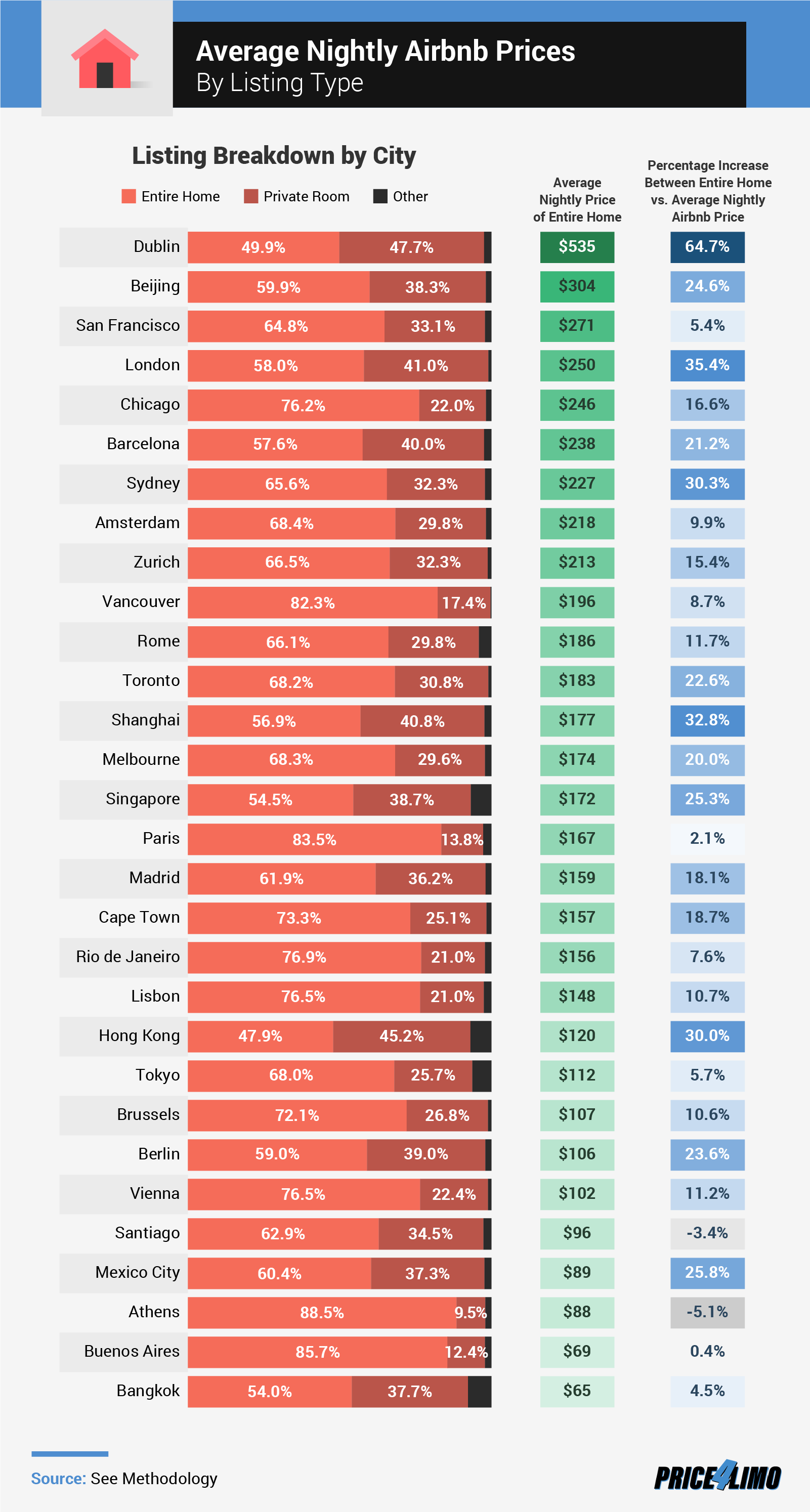 Understandably, most rental owners worldwide prefer to rent a whole home instead of sharing it with strangers. Only two cities' Airbnb listings were almost even: Dublin (49.9% entire homes vs. 47.7% private rooms) and Hong Kong (47.9% entire homes vs. 45.2% private rooms). The availability of whole-home rentals outweighed private rooms for rent the most in Athens, Buenos Aires, and Paris. Athens, in particular, was overwhelmingly tipped toward whole-home rental, with less than 10% of listings offering private quarters only.
Renting a whole home cost more than only a single room in every city we researched, except for Athens and Santiago. Home costs may be higher because occupying an entire place can put a homeowner in the position of having to relocate during your stay. Likewise, Airbnb can cause problems in some communities, which is why New York, San Francisco, and London have all enacted laws to regulate how owners rent properties.
If you're okay with a partial rental, check out Dublin. On average, this city had the highest nightly price for an entire home ($535) versus other Airbnb listings ($325), bringing the discrepancy to a whopping 64.7%. Or, you can have it either way in Paris, Athens, Buenos Aires, Santiago, and Bangkok, where there was less than a 5% difference in prices between the two listing choices. Since you're just as likely to find either listing type in these places, you might as well go with the far cheaper option and enjoy more personal space if it's available.
Bang for Your Buck
Saving on lodging leaves more money in your pocket for sightseeing, souvenirs, and dining. In many cities throughout Europe, you'll generally pay more for a hotel room or an entire home on Airbnb versus a partial rental. The overall cost may be lower when traveling in Asia, but you'll most likely share your space with someone else. In planning trips abroad, having these numbers locked in can reduce the stress of overseas travel and make your trip much more enjoyable.
Methodology
For this study, we gathered average hotel prices in major cities across the world from the trivago Hotel Price Index and averaged Airbnb prices within the same cities using Inside Airbnb.
About Price4Limo
Whether you're looking for a limousine, party bus, charter bus, or another form of transportation, Price4Limo provides what you're looking for at a great price. We offer personalized service and over 20 years of experience.
Fair Use Statement
Find something useful in our study? Feel free to share it for any noncommercial purpose, but please link back to this page when doing so.