Over Half of American Flyers Have Had Their Luggage Lost
Key Takeaways
American Airlines loses the most baggage among national airlines.
Chicago's O'Hare International Airport has the most lost baggage among American airports.
55% of flyers have had their luggage lost by an airline, and only 34% of them received their missing bags.
Allegiant Air experienced a 700% increase in damaged bags over the past 12 months.
Keeping Tabs on Your Bag
If there's one surefire way to ruin a trip, it's having the airline lose your luggage. Not only are you without all the items you meticulously packed, but recovering your lost baggage can be a logistical nightmare. We gathered data from Air Travel Consumer Reports and more to find just how often luggage is lost and which airlines and airports are the worst offenders. We also surveyed 1,000 fliers about how they prepared for and handled this travel nightmare.
Airline Mishandling
When checking luggage, airlines attach all kinds of tags and barcodes to your bags to make sure they reach your destination. Despite this, luggage still gets lost far too often. Even if your bag does make it, it may arrive damaged. Which airlines have the most trouble keeping track of passengers' bags, and which airlines cause them the most damage?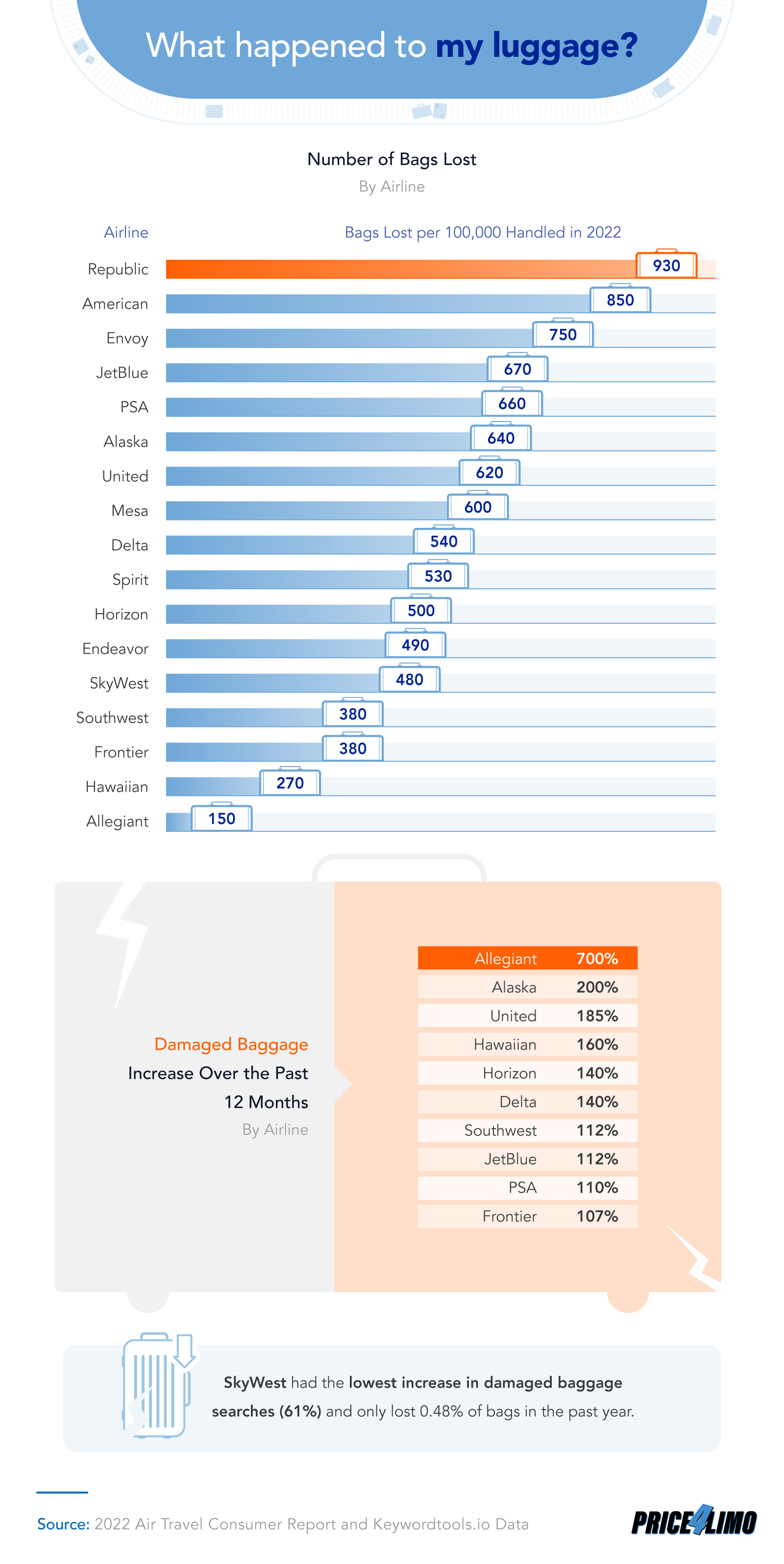 When it comes to lost luggage, regional airline Republic Airways had the worst track record, losing nearly 1% bags. But nationally, American Airlines lost the most luggage, almost the same amount as Republic. Southwest lost the least luggage of the four major national airlines, only 0.38% bags.
Popular budget airline, Allegiant Air, lost the fewest bags but was responsible for a 700% increase in damaged baggage over the past 12 months. The airline with the second highest increase in luggage damage was Alaska Airlines, with just 200%. Unfortunately, every airline saw an increase in damaged baggage over the past year. These results are likely due to the staff shortages, labor strikes, and a travel demand surge that led to an unprecedented number of flight delays and cancellations during this time.
Of all the airlines we studied, SkyWest Airlines did the best job of handling their passengers' luggage. They had the lowest increase of damaged baggage (61%) and only lost about 0.48% of bags. Frontier Airlines also had a good track record, with their bag damages increasing by just 107% and losing only 0.38% bags.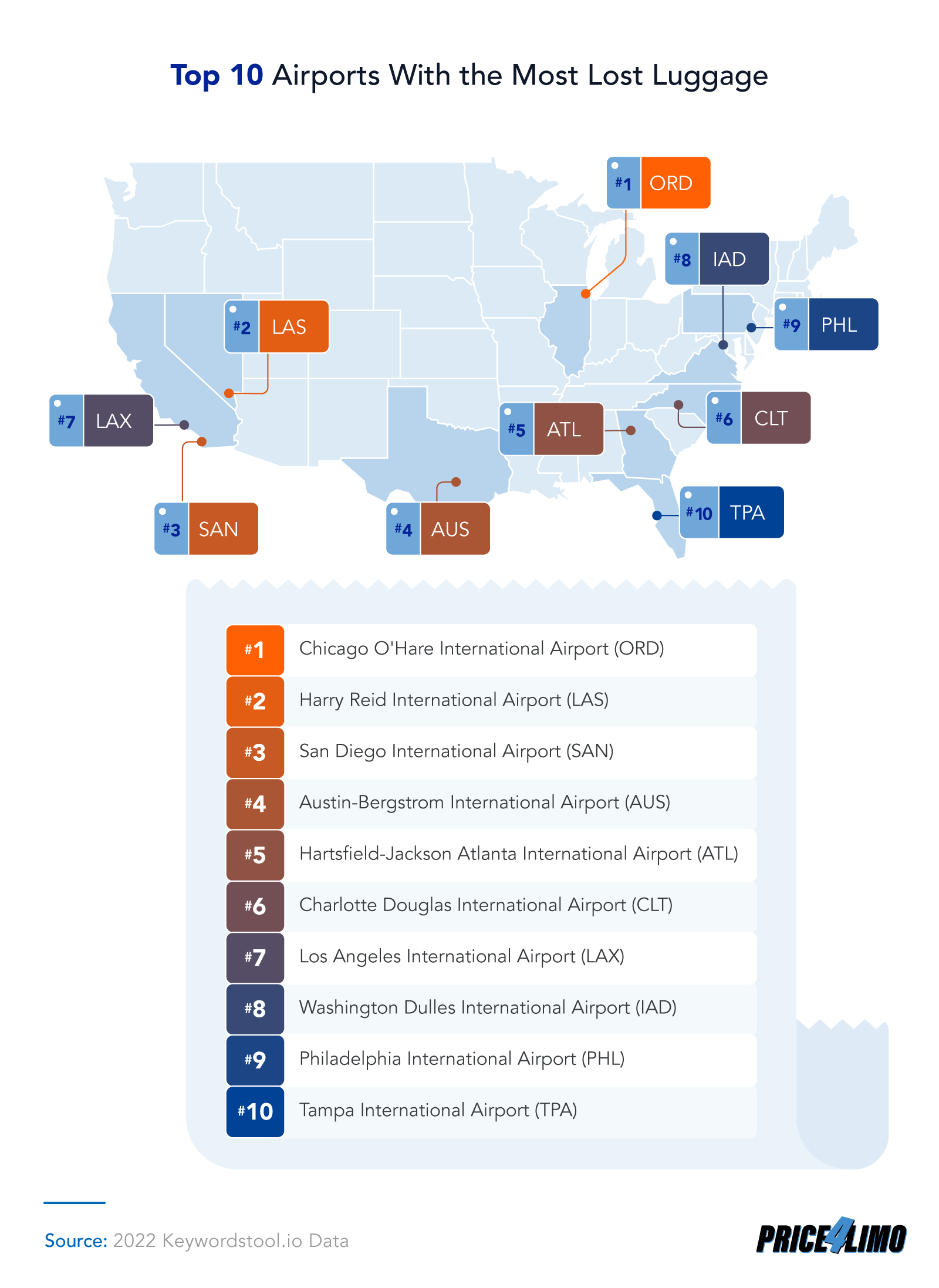 Airlines aren't the only culprits when it comes to lost luggage; airports have also mishandled many people's bags. Chicago's O'Hare International Airport lost the most luggage, followed by Las Vegas's Harry Reid International Airport and California's San Diego International Airport.
Although only one Florida airport – Tampa International – made the top 10 with the most bags lost, other places in South Florida also struggled to hold onto luggage. Miami International Airport (MIA) ranked 11th worst for lost bags, and Fort Lauderdale-Hollywood International Airport (FLL) – just 26 miles from Miami – was 14th.
Lost and Tossed
Losing luggage is always a painful ordeal regardless of the airport you fly out of or on which airline. How many travelers have gone through the misery of lost bags, and how many have ever gotten them back?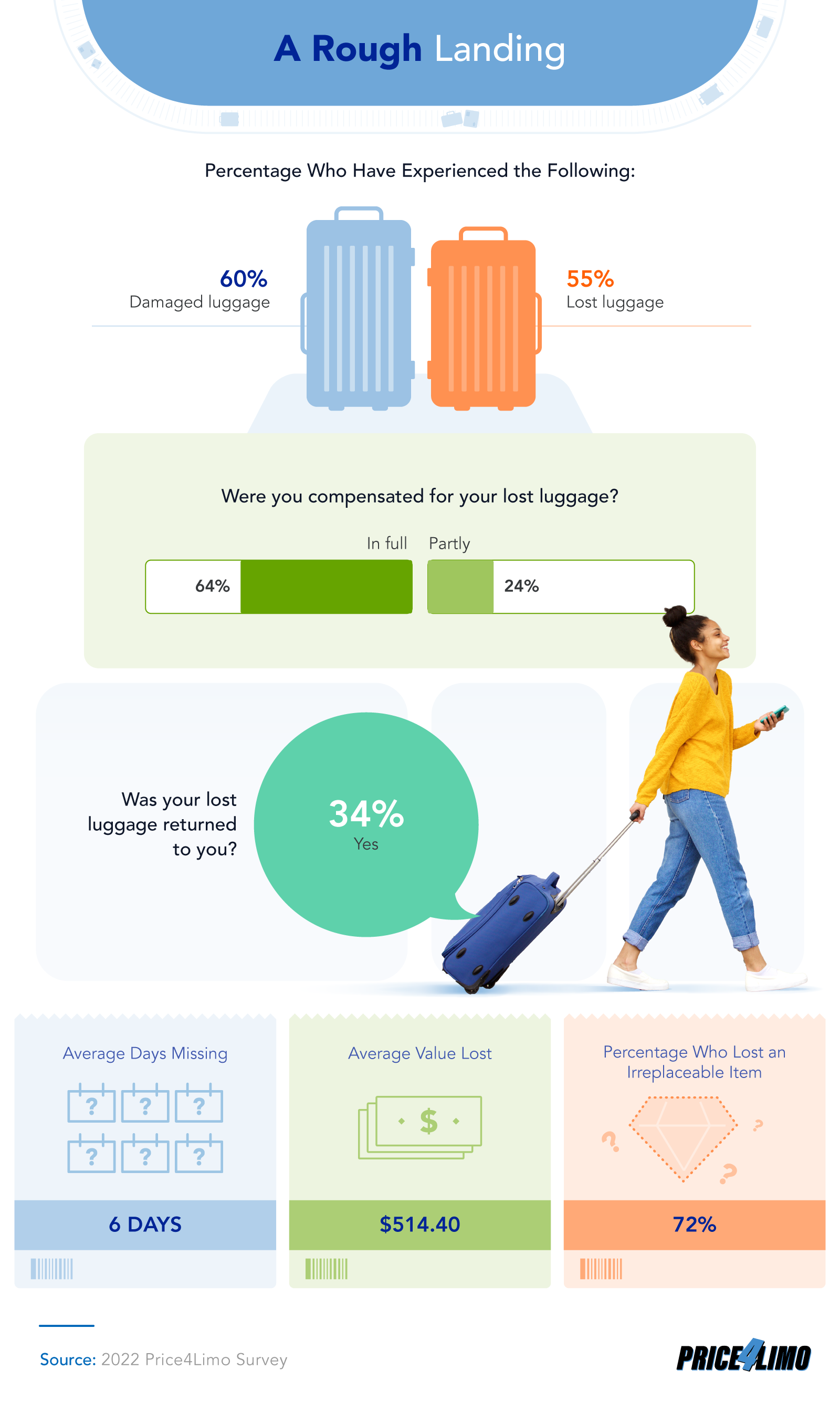 Fliers experience the misfortune of lost and damaged luggage much too often. Of our respondents, 55% had their luggage lost, and 60% had their luggage damaged by the airport or airline. Worst of all, only about one-third of them ever saw those carefully packed belongings again.
At the very least, most respondents received payment for their loss: 64% received full compensation, and 24% received part of what airlines or airports owed them. Those lucky enough to obtain full compensation received an average of $384.90. But money can't replace every possession. Unfortunately, 72% of those whose luggage was lost said they lost an irreplaceable item along with it.
In addition to the hassle of trying to recover your luggage, loss of irreplaceable items, and the inconvenience of replacing items, losing your luggage can ruin your vacation. Of respondents who had their luggage lost, 14% said it had an "extremely negative" impact on their trip.
Preparing for the Worst
With lost luggage becoming so commonplace recently, many fliers prepared for the worst-case scenario. How fearful were travelers about losing luggage, and what did they do to soften the blow?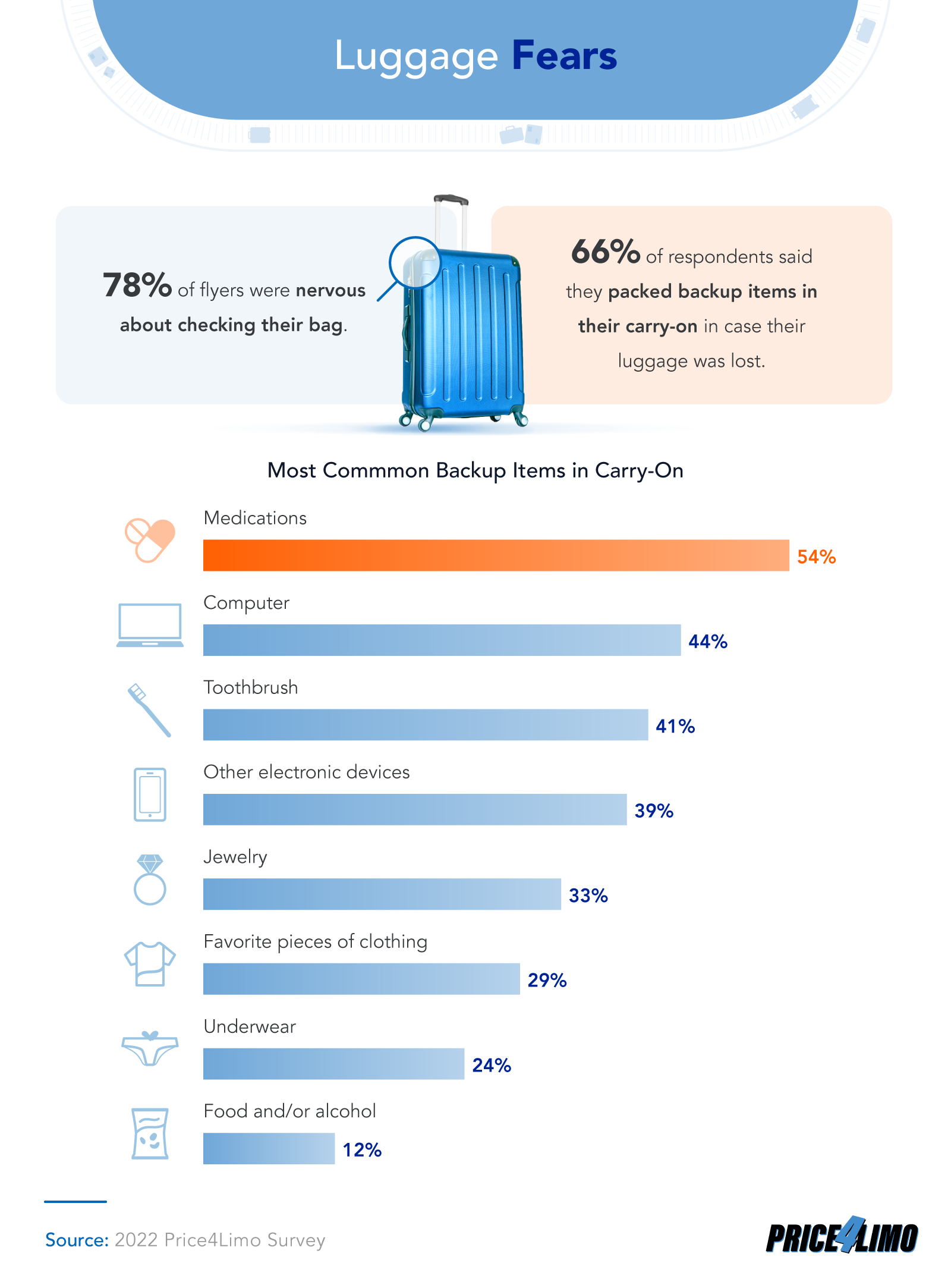 Even the most frequent fliers worried over their luggage: 78% of respondents said they get nervous about checking bags, and 82% of people who always check their bags admitted worrying every time they dropped luggage at the check-in counter.
Fliers took advantage of the treasured carry-on bag to ease fears of losing prized, valuable, or essential possessions. With airlines' various restrictions on how many you can have and how large they can be, many travelers we surveyed carefully planned to ensure they packed the absolute necessities in their carry-on luggage. It's a smart strategy so they can still enjoy their trip whether or not their checked bags arrive with them. The most popular carry-on items for travelers included medications (54%), computers (44%), and toothbrushes (41%).
Avoiding the Inevitable
Regardless of where you travel, lost luggage can be a nightmare come true. Unfortunately, the odds are that if it hasn't happened to you already, it'll likely happen at some point. If you're lucky, you'll recover your bags or receive compensation, but neither resolution is guaranteed. Your best bet is to pack as many essentials in your carry-on as possible and leave any irreplaceable items at home if you can't carry them with you. With care and creativity, you can reach your destination with everything you need for a successful trip.
Methodology
To best analyze the current state of luggage in the air travel industry, we synthesized information from several different sources, including the 2022 Air Travel Consumer Report, an analysis of Google search trends using keywordtool.io, and our own survey. For our survey demographics, 56% were men, and 54% were women. Additionally, 8% were baby boomers, 26% were Gen Xers, 54% were millennials, and 12% were Gen Zers.
About Price4Limo
Price4Limo helps you find the best price on limo services and party buses in your area. With our affiliate network of over 2,500 companies, Price4Limo combines amazing vehicles and fair prices to get you where you want to go in style.
Fair Use Statement
Frustrated with airlines losing your luggage? Feel free to share this article with anyone you'd like to. We just ask that you do so for noncommercial purposes only and provide a link to this page to give the authors their due credit.