America's Ideal Bachelor and Bachelorette Parties
For the majority of Americans getting married, having a final fling before the ring is an important rite of passage. But what does this send-off typically include? Do bachelor and bachelorette parties resemble Hollywood's infamous portrayals of Vegas, strippers, and hangovers? Or does reality mean something quieter or more intimate?
In an exploration of the ideal wedding send-off, we've spoken to more than 1,000 people across the country about their party preferences and experiences. Respondents of all genders and sexual orientations shared where they're going, how much they're spending, and what gifts they'd like before they officially tie the knot.
Key Takeaways
New York City is the No. 1 city for bachelor or bachelorette parties.
77% of people dipped into their savings to attend a bachelor or bachelorette party.
69% of men want strippers at their future spouse's bachelor or bachelorette party.
Most men want to celebrate at a lake house, while most women prefer a spa weekend.
Planning the Perfect Party
One of the first steps of party planning is deciding where to celebrate. This study starts with a look into respondents' location preferences and includes a look at which modes of transportation they'd prefer to hire for the special event.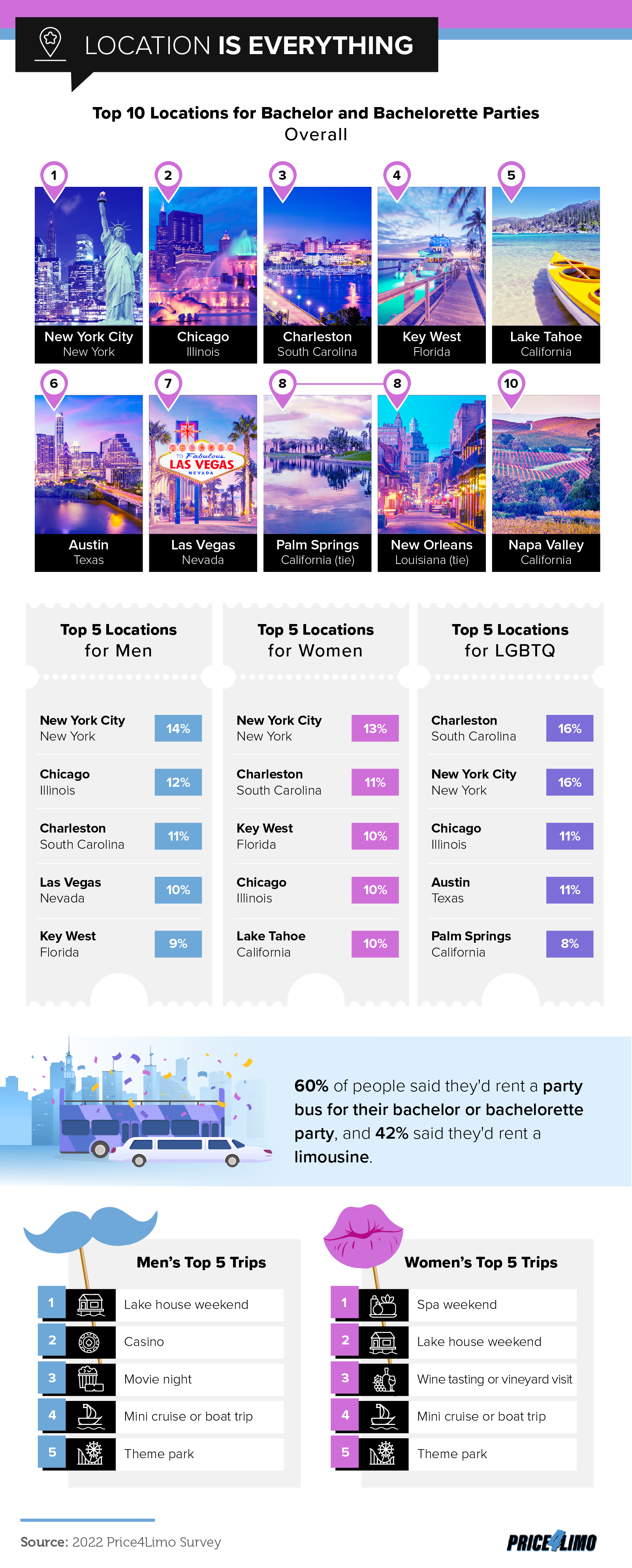 New York City is currently America's most desired destination for a bachelor or bachelorette party. The Big Apple famously offers a seemingly infinite amount of clubs, restaurants, bars, and experiences to suit even the pickiest brides and grooms. Moreover, major publications regularly share their wisdom on the NYC bachelor experience, making planning even easier.
As for LGBTQ respondents, they didn't choose NYC as their ideal party destination. Instead, Charleston, South Carolina, was their top pick. Charleston is home to the annual LGBTQ wedding expo, where soon-to-be-spouses can connect with wedding professionals who cater to their specific needs.
People of all backgrounds plan to arrive at their bachelor or bachelorette parties in style: 60% said they'd rent a party bus for the occasion, while 42% said they would ride in the back of a rented limousine.
Financing the Festivities
Of course, certain destinations and transportation modes can cost a pretty penny. We next asked respondents how much they spent on these parties and if they had to go into debt for the experience.

Three days — respondents' ideal party length — of any vacation doesn't come cheaply, especially when 79% said they should pay their own way and for the bride or groom too. Respondents reported spending an average of $265 on bachelor and bachelorette parties this year alone. Most people (72%) went over their budget, either dipping into their savings (77%) or taking on debt (62%). Maybe the copious amounts of alcohol people usually consume during these celebrations makes sticking to a financial plan more difficult.
Consumer debt in the U.S. continues to grow every year, which clearly isn't being helped by bachelor party celebrations. It's important to note that you can decline the invitation if you truly can't afford it, and nearly 80% of the respondents had already done so.
Double the Fun?
Bachelor and bachelorette parties also have the option to become one big celebration to save money and perhaps have a different type of experience. This section covers the idea of joint send-offs and compares men's and women's preferences.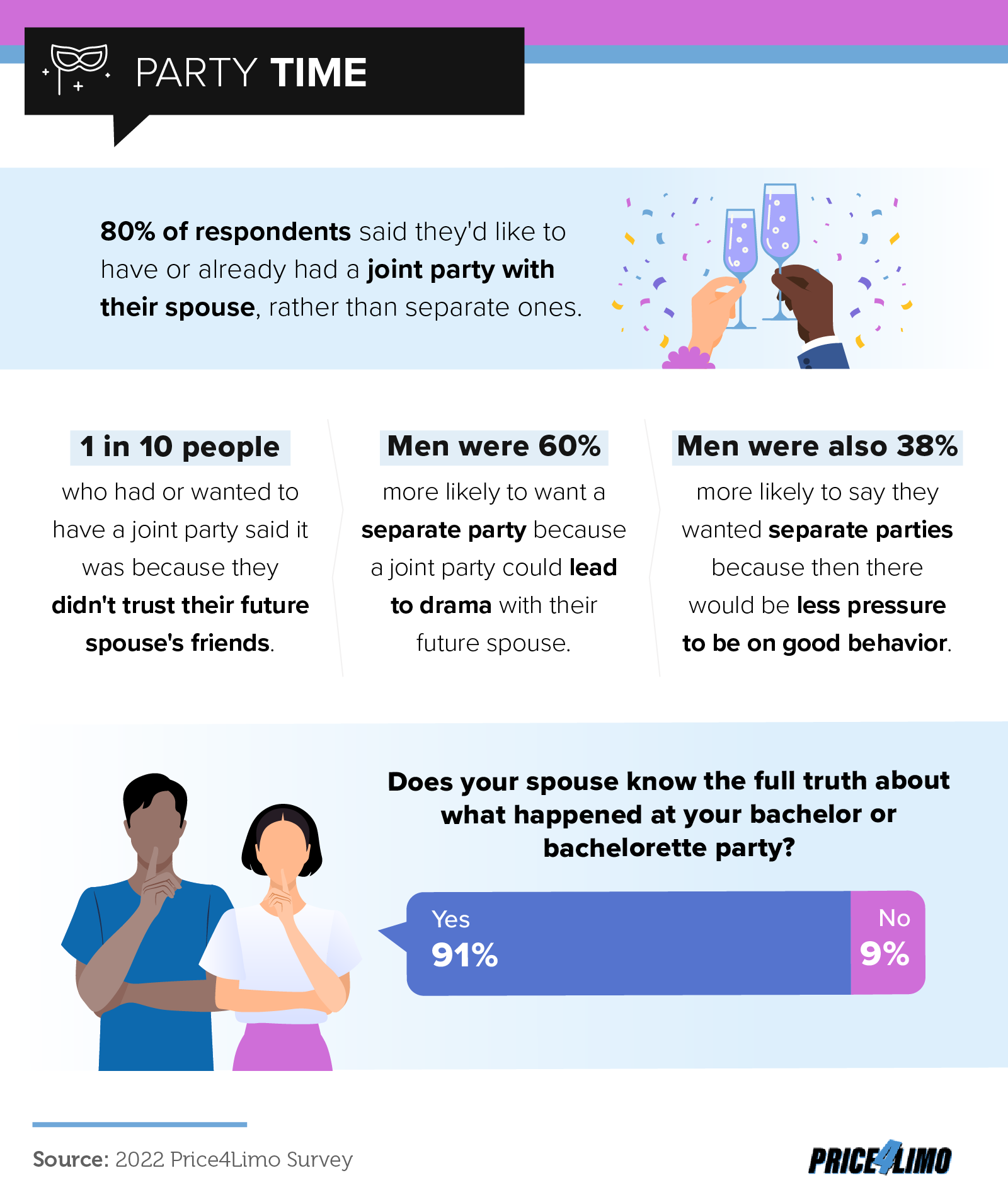 The idea of a joint bachelor party was incredibly popular: 80% of respondents said they'd either like to have one or already did. But the choice to have different parties isn't necessarily a financial decision. Instead, male respondents often preferred separate parties because they thought a joint party could lead to drama with their future spouse.
But separate parties are certainly not a fail-safe option against drama. Men were also 38% more likely than women to desire separate parties as there would be less pressure to be on good behavior. And 9% of respondents who had separate parties said their spouse doesn't know the full truth of what happened. Joint parties, on the other hand, were fueled by a lack of trust in the partner's friends 10% of the time.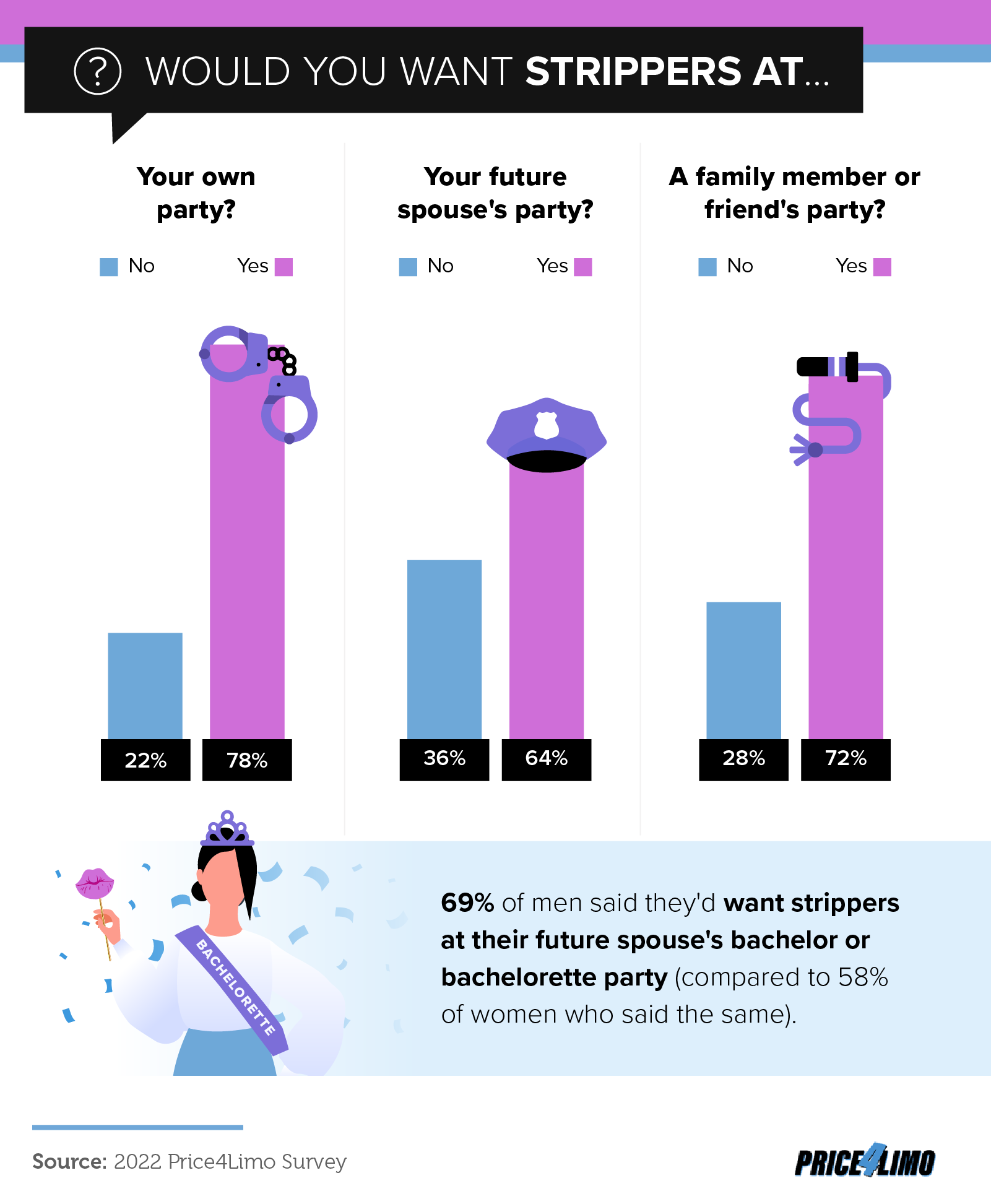 The stripper-centric bachelor parties of Hollywood apparently also ring true in real life. Most respondents explained that they would want a stripper present at their own party (78%) and at their spouse's party (64%). However, men were much more likely than women to feel this way, wanting their partners to include a stripper 19% more often. Perhaps this would help to absolve any guilt they felt for wanting one for themselves.
Particular Party Attributes
Beyond place and time, certain details make a bachelor or bachelorette party the stuff of pre-wedding dreams. This final part of the study looks into the accessories, gifts, and atmospheres that brides and grooms want.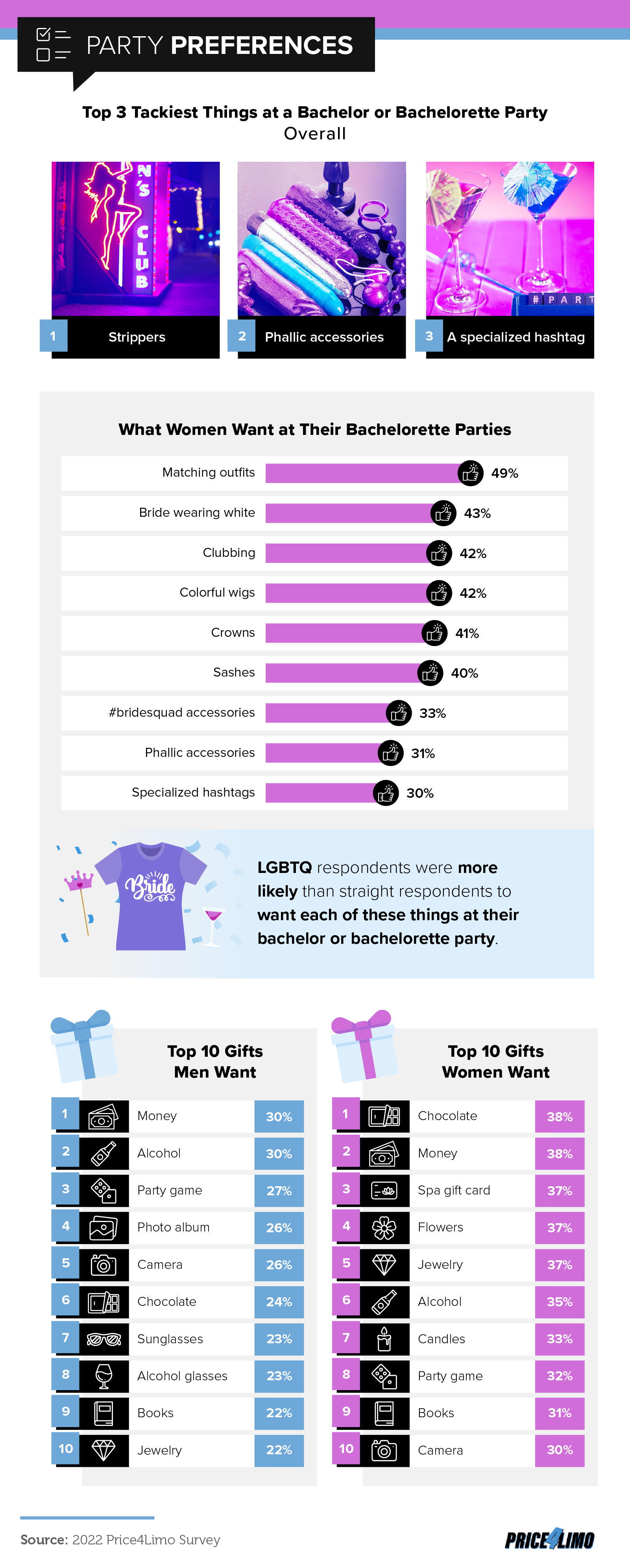 Even though people previously reported wanting strippers at both their party and their spouse's party, most agreed it was the single tackiest thing a person could do, followed by phallic accessories and specialized hashtags. Alternatively, women said they wanted to wear matching outfits (49%), colorful wigs (42%), and crowns (41%). LGBTQ respondents were more likely to want each of these accessories than heterosexual respondents.
As for gift preferences, gender played a large role. While men mostly wanted to receive money and alcohol, women's top choices were chocolate and money. And while men's third choice was a party game (27%), women opted for spa gift cards, flowers, and jewelry equally (each ranked at 37%). Both genders often appreciated wholesome gifts like books and cameras — more risque items were noticeably absent.
America's Dream Bachelor(ette) Party
In America's final toast to the single life, soon-to-be-spouses and their friends and family aren't exactly pinching pennies (despite nationwide debt). Instead, they're often going into debt, dipping into savings, arriving in party buses, and offering to pay for the bride and groom's last fling before the ring. And even though most people thought strippers were tacky, they often desired such an entertainer for themselves and their spouses.
While many will opt to join their bachelor and bachelorette parties together to save money, many are also doing so to keep an eye on friends they don't trust. Men particularly want to keep the parties separate so there's less pressure to be on good behavior. Depending on your level of trust and financial situation, joining parties could be the perfect solution to financial strain or the first taste of marital drama.
Methodology
Price4Limo surveyed 1,005 Americans about their bachelor and bachelorette party experiences and plans.
About Price4Limo
Price4Limo provides easy and affordable reservations for your dream ride to whatever you may be celebrating, whether that be weddings, proms, birthdays, or other important events. We provide free quotes for party buses and limousines throughout the country and have a team of experts ready to answer your transportation-related questions.
Fair Use Statement
Many betrothed Americans regularly enjoy bachelor and bachelorette parties. If you know someone who would benefit from these findings, you're welcome to share it with them. We just ask that your purposes are noncommercial and that you include a link back to this page.