Benefits of Chartering a Bus for Your College Tour
Flexibility: Planning an itinerary can be overwhelming, but with a charter bus, your group can decide exactly how long to spend at each campus. Your time is important, so why not customize your schedule to fit your needs?
Comfort: Traveling for extended periods can be exhausting, especially if you're going to be traveling for a couple days to see all the universities. That's why charters come equipped with reclining seats, air conditioning, and ample storage for all your luggage to make the ride more relaxing.
Amenities: Need to stay connected on your journey? With available Wi-Fi, power outlets, and TVs, your charter bus will keep everyone entertained and plugged in throughout the tour. And the most important thing to have when you're traveling multiple hours or days, you can get an onboard restroom.
Now that you have an idea of why a charter bus is an ideal choice for your college tour let's take a closer look at the universities:
The University of Tampa
Established in 1931, this university is well-known for its strong business administration, communication, and nursing programs, among others. Located right across the Hillsborough River from downtown Tampa, this university has a city atmosphere while still maintaining its connection with nature – Tampa Riverwalk, anyone? UT has held its place in Princeton Review's Top 384 Colleges list and provides a myriad of academic programs, including pre-med, business, visual arts, and more. The University of Tampa is a great starting point for our Florida university tour. Don't forget to grab a photo with Tampa's iconic minarets – they're hard to miss!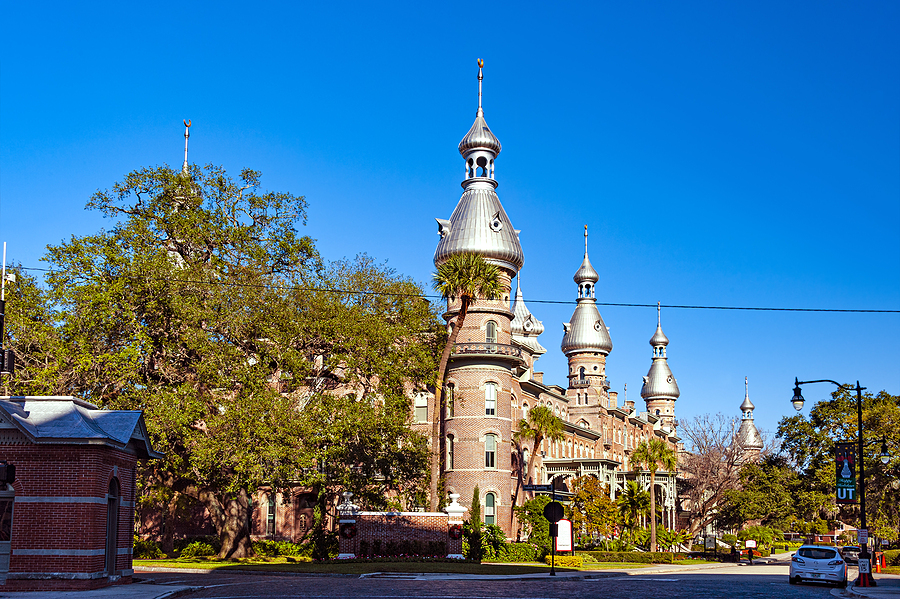 To explore the University of Tampa, consider participating in one of their daily campus tours that include a 20-minute admissions information session followed by a 90-minute walking tour led by a current student. To register and find specific dates and times, visit their admissions webpage.
Bus Tip: The closest parking to Plant Hall is located off of Plant Avenue and Walker Street.
University of South Florida
The University of South Florida (USF) is another top-tier research institution with a diverse student population representing over 130 countries. Offering more than 180 degree programs, USF is especially known for its engineering, nursing, and marine sciences programs. With unique research centers like the National High Magnetic Field Laboratory, it's a hub for innovation.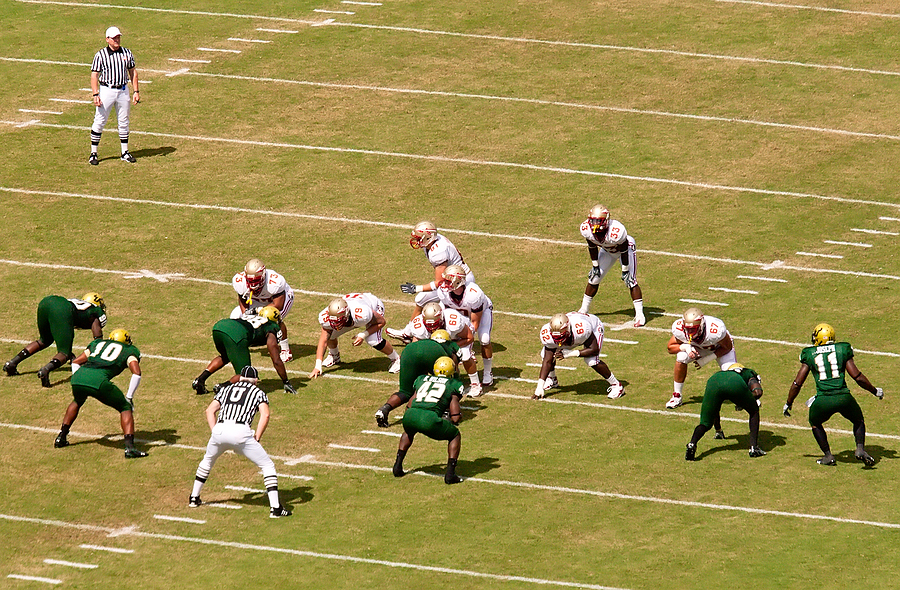 Discover the University of South Florida by registering for an in-person campus tour or a virtual information session. You can also explore their St. Petersburg and Sarasota-Manatee campuses through separate tours, giving you a comprehensive overview of all USF has to offer.
Bus Tip: Park at Sycamore Field near USF Riverfront Park for charter buses.
Florida State University
Aiming for the "big-fish" of public institutions? Located in the capital city of Tallahassee, Florida State University is a public research facility offering over 360 study programs between its 16 colleges. FSU offers numerous study programs, but it is particularly esteemed for its psychology, business administration, and engineering disciplines.
With a strong focus on research and a reputation for innovation, FSU is especially appealing to those interested in advanced learning opportunities in various fields. FSU features more than 275 undergraduate, graduate, and professional degree programs that cater to the various interests of its over 41,000 students. With many buildings on the National Register of Historic Places and home to an iconic 15-foot statue nicknamed "Old Joe," there's never a dull moment at FSU.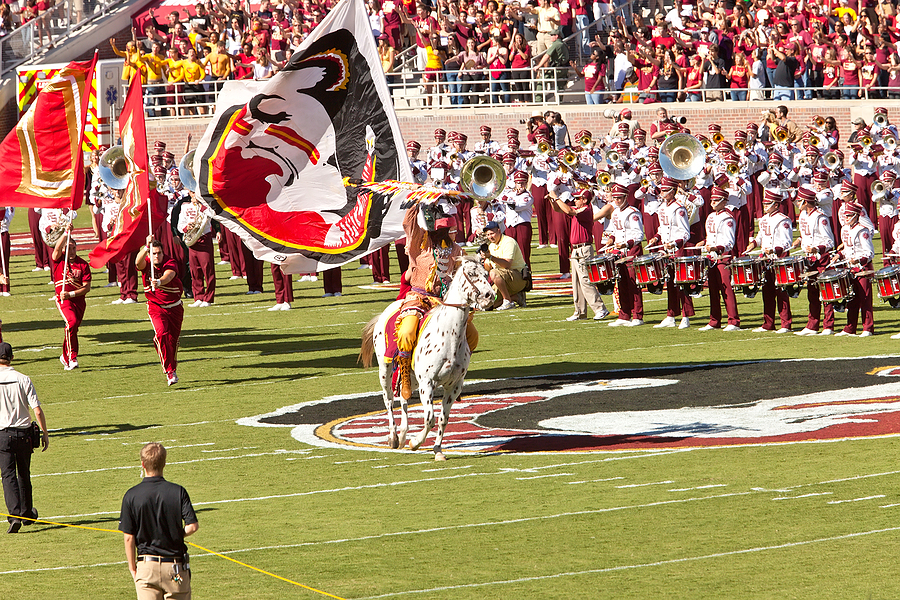 Experience Florida State University on one of their campus tours, which include a 30-minute information session and a 90-minute walking tour. The campus tour offers one-hour guided sessions featuring ivy-covered halls, the historic Westcott Building with its iconic fountain, and Bobby Bowden Field at Doak Campbell Stadium. You might even be lucky enough to catch a glimpse of Osceola and Renegade cheering on their fellow Seminoles!.
Bus Tip: Charter buses should park at the Doak Campbell Stadium just south of Mike Long Track.
University of Florida
Time to gator chomp. Often regarded as the best universities state-wide, the University of Florida excels at striking the right balance between research activity and academic focus. With over 100 undergraduate majors and numerous specialized research centers, it attracts ambitious students looking for a rigorous academic experience in a unique college town.
UF is well-regarded for its stellar academic rankings and high-quality programs in business, engineering, law, and medicine, but also for its winning sports teams. Get an insider's look at what it's like to be a Florida Gator during a student-led campus tour that includes a heart-pumping walk through one of Florida's most iconic sites – The Swamp at Ben Hill Griffin Stadium.
Prospective students can tour the University of Florida by signing up for guided campus tours or exploring on their own with a self-guided tour.
Bus Tip: Charter bus parking can be found at the Commuter Lot on Gale Lemerand Drive.
University of Central Florida
You can head to UCF over in Orlando. Students can create their own unique college experience with over 300 student organizations, Greek life, NCAA Division I sports teams, and modern learning facilities including the Health Sciences Campus at Lake Nona Medical City and the UCF Center for Emerging Media in downtown Orlando.
As the largest university by enrollment in the United States, the University of Central Florida (UCF) offers a vast selection of academic programs—over 220 degrees— that cater to various interests. Known for its strong engineering, computer science, and digital media programs, UCF is a hub for innovation and cutting-edge technology. The campus boasts unique features such as an on-site art gallery, arboretum, and even an observatory.
Experience the campus firsthand by participating in an in-person or virtual tour. Depending on your interests, UCF offers a range of options, including tours of their Rosen College and UCF Downtown campus.
Bus Tip: Drop off and pick up at the Millican Hall Turnaround. Buses can park at Lot E5.
Create Your College Tour Itinerary
Now that you have a better idea of what each campus has to offer, go ahead and create your customized college tour itinerary. Remember that planning is key, so be sure to leave enough time for travel between campuses, lunch breaks, and exploring local attractions.
And when it comes to chartering a bus for your unforgettable college tour experience in Florida, Price4Limo's got you covered. We offer flexibility, convenience, and a range of amenities that will make your journey enjoyable and memorable. Contact us today for a quote on a bus rental for your next college tour.