Hire Charter Bus Rentals in Iowa
You could be looking to book charter bus travel for many reasons. Maybe you're planning a school field trip for your students, or maybe you're organizing a corporate outing for your employees. Whatever the reason, you deserve quality service at affordable prices. That's why our company takes pride in providing charter bus rental services that won't break the bank. Our competitive rates are unmatched by most other companies in Iowa, so our customers can save their money without sacrificing quality or comfort.
Admitted to the US union in 1846, the state of Iowa was the 29th state that is located at the mid-western part of the country. There two parallel rivers defining its borders such as the Missouri River and the Big Sioux. To its north is the state of Minnesota and to its east are Illinois and Wisconsin. To its south is the state of Missouri and Nebraska and South Dakota are found on its west. Its capital city is Des Moines.
The Iowa Native Americans were the first settlers found in the region from which the name of the state was derived. There are famous historical sites and old fashioned villages worth visiting. The farmlands are also interesting, especially for their rich historical background. Many insurance companies were known to have their head offices throughout the state of Iowa, which made the state called and referred to as the "Hartford of the West."
Iowa is admired not only for its rustic and countryside sceneries but also of its sophisticated culture and arts. There are theatres for symphony, ballet, culinary delights, and significant performances. There are also museums and galleries where the finest arts and masterpieces of local and international artists are preserved. The Iowa destinations are just great for family or friends or group travels. With charter buses, going to different destinations and locations is never a problem.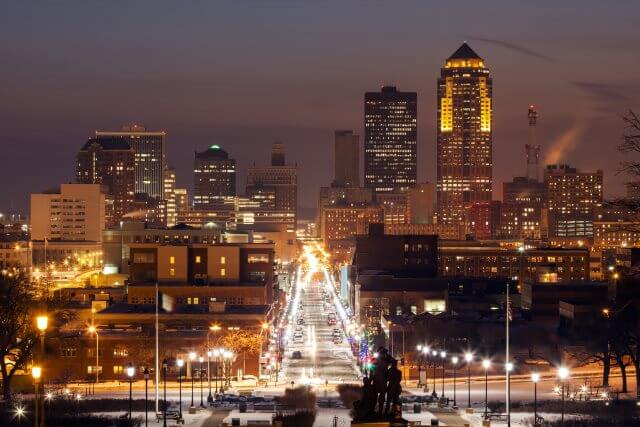 Our Top Picks for Travel Destinations in Iowa
Whether it's for a large group or a family trip, Iowa offers many fun destinations to explore. From the capital of Des Moines to the scenic town of Cedar Rapids, there are plenty of places to enjoy with friends and family. Our top picks include:
Ames
Cedar Rapids
Iowa City
Sioux City
Waterloo
However, these are only a handful of the many great cities in Iowa that you can travel to with your charter bus rental. Get in touch with us today!
Thinking of traveling the state of Iowa with your group? You can always count on Price4Limo for all your needed charter bus rentals. Here are some of the most recommended travel destinations for your Iowa charter bus exploration:
Traveling as a Group with an Iowa Charter Bus Company
Traveling in groups is a great way to stay safe. Whether you are traveling with your family, friends, students, business partners, or sports team members and fans, the safety of everyone involved depends on the transportation that you choose.
Exploring the diverse attractions and sites of Iowa is possible with charter bus rentals from Price4Limo. There is a wide variety of charter buses to choose from. If you want to visit the major attractions of Iowa, you can choose the Motor Coaches or the Shuttle buses. The fleet also includes the minibuses, school buses, and charter buses. Whether you come to Iowa for school field trips or for family reunions, or you want to experience unique destinations for corporate trips or church group trips, or weddings, or you want to maximize the charter bus rentals for your bachelorette or bachelor party, Price4Limo is here to provide what you need.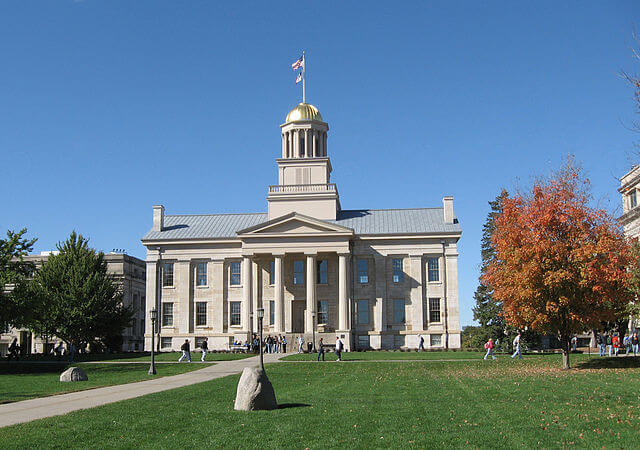 Iowa Charter Bus Rental Prices
Iowa is an interesting place that offers many unique destinations and attractions worth to uncover with the charter bus rentals in Iowa. For less the price and low rates on charter buses, traveling to these wonderful places and amazing prairie is possible.
Give us a call and our team of account specialists will assist you to your free quote and reservation. You may also perform a search below to book online and to get the best services and Iowa charter bus rentals for less the price.
A charter bus in Iowa costs start from $140 per hour. With an average length 8-hour trip of 309 miles, that means the typical trip costs about $1400 for a group of 50 people. The actual cost will depend on the type of vehicle you rent, where your itinerary includes, and any additional services or amenities you add to your reservation.
Best Cities in Iowa
Charter Bus Rental Iowa Prices
Charter Buses fit 15 to 60 people costs about $175 to $285 per hour. Need More Room? Charter Bus Prices in Iowa for a 50 passenger coach bus rental prices vary from $185 per hour from Sunday to Thursday and $295 on Friday and weekends. A Shuttle Bus can fit larger groups 15 to 30 passengers and are priced around $135 to $185 per hour. Minibus pricing start from $175 to $225 per hour. View Coach Bus Pricing and Availability in the state of Iowa.
Charter Bus
Coach Bus
Mini Bus
Sprinter Bus
60 Passenger Charter Bus
Iowa charter bus rental prices is a factor that you must consider when you are choosing the right transportation for your group. Thankfully, prices of charter buses in Iowa vary so there's always something that fits not just your budget but also the size of your group. Here are factors to keep in mind before choosing a charter bus:
First and foremost, check if the price is in line with what you need. For this reason, it is important to know how many people will be traveling on the bus. However, if you still have some guests who haven't confirmed their attendance yet, make sure to get an estimate about it.
The best way for any group to save money is by renting buses that can accommodate all passengers comfortably. If you happen to have more people than expected during booking time, upgrading may be necessary and this would mean additional cost for your party. A good rule of thumb when getting a bus is getting one that can carry 15% more than the number of people expected to come with you.
Cost per person can affect Iowa charter bus rates so get as many riders as possible. When it comes to group tours or field trips in Iowa Charter Bus Rental prices are largely affected by the number of seats occupied on each ride because vehicles are charged based on capacity each trip has taken up; therefore, it will cost less per person if there were at least two-thirds of seats full rather than having only half full or worse having only 20% full even though the seats were paid for already.
Iowa Bus Rentals Available
Charter Bus Rental Iowa
Charter services are available at a number of locations across the state of Iowa. Here's some information about Iowa:
Iowa is the 26th largest state in America, and it has a population of just under 3 million. That might sound like a lot, but there are 19 states that have larger populations than Iowa does. To put things in perspective, Texas has over 27 million residents—almost ten times as many people as there are in Iowa!
Anyway, Iowa is bordered by South Dakota, Nebraska, Missouri, Minnesota, Wisconsin and Illinois. The capital city of this beautiful state is Des Moines. It's also worth noting that the United States Navy named a ship after this state: The USS Iowa (BB-61). Did you know that? Well now you do!
Iowa is one of the biggest producers of corn in America: they produce more corn than any other state in the country. They also lead the way when it comes to ethanol production as well—which should make sense given how much corn they grow.
Minibuses Iowa
You require a bus for your group. A simple search in Iowa will yield many results, but only our site gives you the finest selection of charter buses, minibuses and school buses of all sizes. We offer a full range of buses from 20 passenger mini bus rentals all the way up to 120 passenger charter bus rentals (the largest in our fleet). When you need any size motor coach, simply follow these three easy steps:
Step 1: Insert your trip information into our quote request form.
Step 2: Choose options such as Wi-Fi and power outlets on your motor coach rental to make sure it's ready for any occasion.
Step 3: Receive an instant quote!
Your trip is just a click away – choose us when you're looking for party bus rentals or school bus rentals in Iowa.
Motorcoaches Iowa
A motorcoach is a wonderful way to transport you, your friends, family and loved ones to all of the great places in Iowa. A motorcoach is a fun, safe and comfortable way to travel on your wedding day or honeymoon. You can rent a coach for your wedding guests so they will stay safe and together when traveling from the ceremony to the reception. A perfect way for out of town guests to travel together!
You will love the comfort of our luxury motorcoaches. They will provide you with plenty of leg room and comfortable seating. You will be able to see all that Iowa has to offer in style and comfort. Motorcoaches are a great way to see the sights without having to worry about driving through traffic or navigating through unknown areas. Leave it up to us! Our professional drivers can take you where you want go while you relax with family or friends. Our courteous staff makes sure that everyone gets where they need go safely, on time, and in style!
Bus Rental Iowa
When it comes to bus rentals, you'll find that a charter bus rental is probably the most common type of bus rental, especially for big events and school trips. You may also see a shuttle bus rental or minibus rental in some other situations as well. All buses in Iowa are equipped with standard safety features like seatbelts, rollover protection, and even automatic fire suppression systems—but these features aren't provided by every company. Make sure to ask each company what their specific requirements are before booking your trip.
Shuttle Bus Iowa
If you are searching for a great way to travel around Iowa, consider renting a shuttle bus. Shuttle buses are great for groups of 30-35 passengers, and they come with some great amenities. In addition to having plenty of room for personal items and bags, they also have air conditioning, a sound system and more. The price of your rental depends on the date of your trip and how long you will need the bus. You can get an estimate by using our website's quote form.
A shuttle bus is perfect for any occasion where you need to transport large groups of people within the state or outside its borders. Shuttle buses may be used for airport transfers between Des Moines International Airport (DSM) and your hotel in Des Moines or another nearby city. They can also be used as transportation from your hotel to a wedding venue in Cedar Rapids or any other city in Iowa that has more than one building large enough to host your event! If you're traveling further away from home (such as going on vacation), then don't worry about coordinating multiple vehicles; just use one shuttle instead so everyone stays together throughout the entire trip!
School Bus Iowa
You may think that a school bus is just a school bus. But you'd be surprised how many types there are. A standard school bus is designed to transport students safely, but there are other buses that have the same safety features. One of the most common designs of a school bus is known as a "conventional" or "Type A" bus. This type of school bus features an elevated flat front end with a flat roof and square corners on the back end.
This design makes it easy for children to get in and out of the vehicle because all they have to do is walk up a short flight of stairs through one door, then they can take their seats inside. The design also allows them to exit quickly when it's time to go home, which helps keep traffic moving so more kids can ride safely every day!
Minibus Rental Iowa
A minibus is the perfect way to travel in groups, especially if you are planning a special event like a wedding or bachelor party. A minibus rental will help everyone travel together and stay comfortable. An Iowa Charter Bus can help you find the perfect option for your trip.
18 Passenger Mini Bus – Iowa or 20 passenger mini bus Iowa
If you want a smooth and hassle free travel then our 18 passenger mini bus is a perfect choice. You will be able to enjoy your journey in a comfortable, safe and stylish ride. So if you are looking for luxury transportation with an intimate environment then we have got you covered. We know that traveling with family and friends is one of the most favorite leisure activities today. With our unique 18 passenger mini bus Iowa service, you can easily make your traveling experience even better than before. Whether it's your business meeting or an event for which you need a ride, we can provide this amazing service to everyone in Iowa. If you are interested in making your travel more memorable then just let us know the needs that you have and we will provide our service accordingly. We are here to help all the travelers in every possible way so they can enjoy their trip without any kind of problems or delays ever again!
60 passenger coach bus Iowa
Our 56-passenger motorcoach is the ideal mode of transportation for large groups. You can book this coach bus for weddings, parties, corporate events and more. The 60 passenger coach bus in Iowa offers many amenities such as WiFi, power outlets and flat screen TVs. Our buses have storage compartments underneath the bus to allow for luggage storage.
Price4Limo provides charter buses for rent through companies in your area who have different coach buses available with a variety of amenities. Charter bus rentals are perfect for group travel because they provide you with all the space you need to accommodate your guests and bring all of their bags. They also feature enough room to walk around inside of the vehicle which will help prevent guests from getting bored or claustrophobic while they are waiting to arrive at their destination.
Charter coaches are an ideal transportation option because they offer plenty of space inside the vehicle so that all passengers can be seated comfortably during their trip together. This amenity will give them room to sit back and relax without getting cramped up when trying to squeeze into a small seat on another form of public transportation or having to stand up over someone's lap for long periods of time in order to find somewhere else to sit down.
Price4limo can also accommodate charter bus rentals in nearby states such as Illinois and Missouri