Hire Charter Bus Rentals in Missouri
There are many great things to do in Missouri with a charter bus. The city is famous for its historic landmarks, such as the Old Courthouse and Gateway Arch. Then there are the various attractions like the Missouri Botanical Garden, City Museum, Busch Stadium and more!
The state of Missouri is known as the "Show Me State" and "The Hospitality State" and is the 18th most populous state in the U.S. Being located on the Missouri river and Mississippi River, the region was a significant transportation hub and commercial hub in the U.S. It is the Gateway to the West, which explains why the monument of the Gateway Arch in St. Louis was built.
Missouri boasts of the largest plantation for Budweiser beer manufacturing which was located at the Anheuser-Busch in St. Louis. The forested Ozark Mountain is a grassy plain that covers the state. The Lake of the Ozark is also a lovely place surrounded with several golf courses and beaches, as well as hiking trails.
The state of Missouri boasts of outdoor adventures and activities. The huge reservoir in Lake Ozarks is ideal for boating, camping, and other recreational activities. One of the museums, the Mark Twain Boyhood Home & Museum in Hannibal, features the author, Samuel Clemens. Find out the best romantic getaways and top tourist attractions in Missouri, including some of the paranormal places in the state by renting the charter bus rentals from Price4Limo.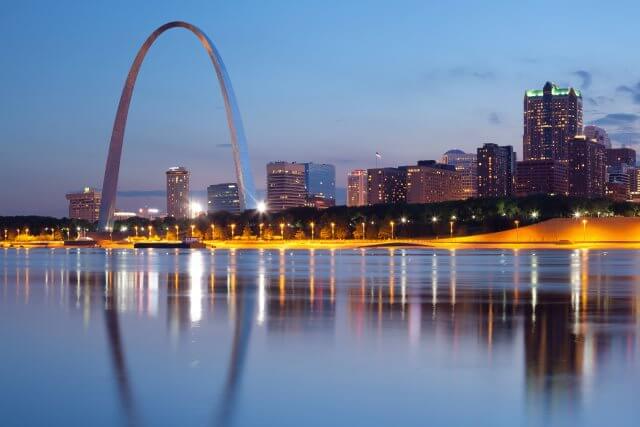 Our Top Picks for Travel Destinations in Missouri
A charter bus for your Missouri vacation is just right. Price4Limo assures you that you and your whole group of family or friends or co-workers will have the most comfortable deluxe ride throughout the state of Missouri. Here are the top picks travel destinations in Missouri:
St. Louis Gateway Arch
The iconic structure is symbolic to the Gateway to the West. The top of its 630 feet can be viewed on a platform designed for viewing. It is a beautiful structure that can be seen even from great distances.
Nelson-Atkins Museum of Art
One of the most important cultural attractions in Missouri, this center for arts offers a comprehensive collection of masterpieces and artifacts from around the world, including East Asian Arts and sculptures.
Wilson's Creek National Battlefield
the battlefield was once the ground for Union Troops against Confederates. Visitors are allowed to tour the 4.9 miles of ground where scenic areas and open space are located.
Mark Twain Boyhood Home and Museum
Since 1912, the house was opened for tours. There are different pieces and memorabilia that show the life and story of Samuel Clemens, the author of The Adventures of Tom Sawyer.
Lake of the Ozarks
It is a popular lake destination in the state featuring scenic campgrounds, first-class resorts, boating and fishing.
A day trip from Kansas City to Branson is a great idea for families, friends and anyone looking for a fun filled getaway. If you're in the mood for outdoor activities and beautiful scenery, Branson is the place to go. No matter your age, there's something for everyone when you visit Branson. There are plenty of kid-friendly attractions such as amusement parks and water parks as well as live shows that are entertaining for everybody!
If you're not into rides or roller coasters, try taking a ride on the Titanic Museum which has hundreds of artifacts including pieces of the actual ship itself. For those who love bright lights and big sounds, check out all the wonderful shows that Branson has to offer! You'll find everything from country music to Broadway productions at theaters like The Grand Country Music Hall or The Starlite Theatre.
Branson is full of incredible food too! Try some delicious BBQ while you're there at places like RibCrib BBQ & Grill or Famous Dave's Barbecue Restaurant where they serve up award winning ribs with mouth watering sides like sweet potato casserole and macaroni salad.
Traveling as a Group with an Missouri Charter Bus Company
Price4Limo is your best place to have the most convenient and affordable charter bus in Missouri for your next tour or travel to the state. From the large fleet of vehicles, choosing a charter bus, motor coach, minibus, shuttle bus, or school bus is an easy task. You can make your trip to wedding venues or to corporate events more enjoyable with a charter bus. It is also ideal for any church group travels, family reunion, school field trips, bachelor and bachelorette party, and sports team trips to stadiums or arenas for the game.
Top Ten Places for Charter Bus Trips in Missouri
The Gateway Arch
Busch Stadium
St Louis Zoo
Missouri Botanical Garden
City Museum
Six Flags St Louis
Silver Dollar City Theme Park, Branson, MO
Nelson-Atkins Museum of Art, Kansas City, MO
Anheuser-Busch Brewery, St Louis, MO
Forest Park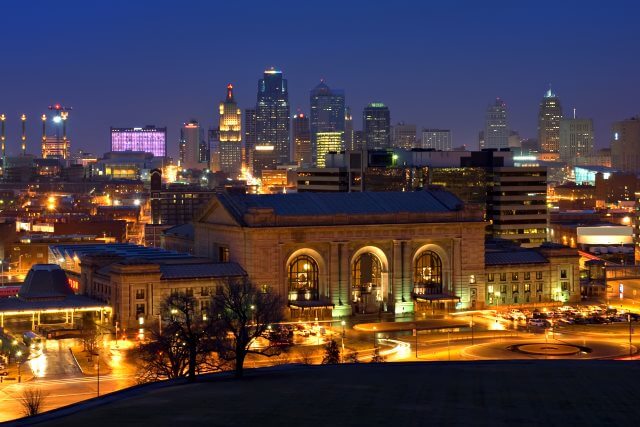 Missouri Charter Bus Rental Prices
The affordable rates of charter buses at Price4Limo, traveling to the cities in the state of Missouri is such a unique experience.
Best Cities in Missouri
Ballwin
Raytown
University City
Wildwood
Charter Bus Rental Missouri Prices
Charter Buses fit 15 to 60 people costs about $175 to $285 per hour. Need More Room? Charter Bus Prices in Missouri for a 50 passenger coach bus rental prices vary from $185 per hour from Sunday to Thursday and $295 on Friday and weekends. A Shuttle Bus can fit larger groups 15 to 30 passengers and are priced around $135 to $185 per hour. Minibus pricing start from $175 to $225 per hour. View Coach Bus Pricing and Availability in the state of Missouri.
Charter Bus
Coach Bus
Mini Bus
Sprinter Bus
60 Passenger Charter Bus
Check out some of the best places to visit with a group charter bus trip.
Our first stop of the day was a landmark that was once considered one of the Seven Wonders of the World. Located in southwest Missouri, the Gateway Arch stretches 307 feet high from its foundation, dwarfing all other structures around it. The arch is visible from all sides, with two of its sides facing east and west, while another two sides face north and south. At night, it's lit up like a beacon in the sky to draw attention to its majesty.
Our next stop on our tour was Cahokia Mounds State Historic Site. Named for the tribe of Native Americans who lived there more than 1,500 years ago, this site is made up of mounds and ancient ruins spread out over a 20-acre plot in northern Illinois. Though they weren't able to appreciate it fully as they were buried under tons of soil that then covered them again due to erosion (in fact, you can still see their bones today), archaeologists have discovered many things about this site including arrowheads made from obsidian—a volcanic glass used as an excellent arrowhead material—stone artifacts dating back 13 thousand years and pottery fragments dated back 3 thousand years old (the oldest in North America). Some archeologists believe Cahokia Mounds' main purpose was defensive rather than sacred like rival tribes thought because these people did not bury their dead within or around their villages or build pyres like some tribes did at burial sites.
Whether your trip will be an hour away or across state lines - charter buses provide comfortable, convenient travel options!
Whether you're planning a trip to the river or across state lines, charter buses are an affordable, convenient, and fun way to travel.
Charter buses offer comfortable and luxurious travel at a fraction of the cost of other travel accommodations. Price4Limo is available 24/7 to assist you in choosing the perfect charter bus for your next adventure! We offer many different styles including:
Party Bus & Limo Bus for night on the town.
Motor Coach & Luxury Tour Bus for long road trips.
Shuttle & Mini Buses for corporate trips, church events, wedding guests and much more!
Price4limo can also accommodate charter bus rentals in nearby states such as Tennessee and Mississippi