Famous People from Seattle, Washington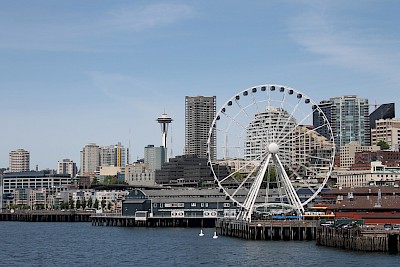 Seattle is not an entertainment magnet like Hollywood and New York are but it has an uber-educated populace, strong arts culture and a high quality of life. In fact, Seattle statistically generates a lot more talent per capita compared to any other place on the globe. There are many famous people in the world from various industries who call Seattle their home.
There are many recognizable individuals who come from Seattle ranging from chefs, philanthropists, rappers to award-winning actors, some of the notable ones include the following:
5 Celebrities from Seattle, WA
Mario Batali

Mario Batali is a stylish and zealous star of the Food Network. He was born and raised in Seattle. Mario was born to Italian and French parents. He has opened several restaurants in New York City called Bistro du Vent, Bar Jamon, Casa Mona, Otto Enoteca Pizzeria, Esca and Lupa. Batali eve has a popular wine shop called Italian Wine Merchants. He hosts and stars in Ciao America, Mario Eats Italy and Molto Mario. He has risen to fame due to his entertaining style and exemplary cooking skills. In the course of his successful career, Mario Batali has received a number of awards, including Man of the Year by GQ in 1999. If you're out for the night in Seattle, be sure to stop by his family restaurant.

Jeffrey Dean Morgan

Jeffrey Dean Morgan was born in Seattle and is a renowned actor in the popular Grey's Anatomy show where he played Denny Duquette. He has also made an appearance in The Walking Dead's Season 6 finale as Negan. Other notable appearances of Dean are in Watchmen directed by Zack Snyder and Supernatural. He has a wife and son. Jeffrey was a graphic artist in his early life and a basketball player in his high school days.

Bill Gates

Bill Gates is known for founding the largest software business in the globe called Microsoft. He was born in Seattle and is among the richest people in the entire world. His interest in computer programming began at the tender age of 13 and was able to build the largest software business with Paul Allen due to aggressive business tactics, keen business strategy and technological innovation. His net worth currently stands at $79.4 billion. He is known for his numerous philanthropic efforts globally. If you want to experience how Bill Gates rolls, hire a limo rental in Seattle for a night!

Erika Christensen

Erika Christensen is a Seattle-born singer and actress. She is mostly famous for her roles in films such as The Banger Sisters, Swimfan and Traffic. Similarly, Christensen stars in Parenthood, a television series that is currently a hit on NBC. In the year 2000, she became the winner of the Screen Actors Guild Awards for her outstanding performance in a motion picture called Winner. She is married with one daughter, has 2 brothers and her parents. Erika was raised a Scientologist and was homeschooled.

Josie Bissett

Josie Bissett is renowned author and actress who was born in Seattle, Washington. In the year 2008, she released her very first book for children called Tickle Monster. In the same year, the Mom's Choice Awards named her Celebrity Mom of the Year. Josie made her debut in the big screen in the year 1991 in The Doors by Oliver Stone. She is famous for playing Jane Mancini in Melrose Place (a hit TV series).
Seattle has produced many famous people who have significantly contributed to the betterment of the world in one way or another. The above are just the notable five of a long list. If you want to see some celebrity homes and other local attractions, book a party bus rental in Seattle or hire a bus charter and take a tour.