Famous people from Virginia Beach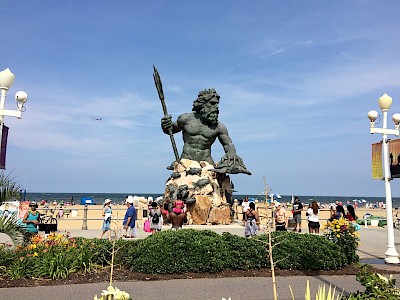 Virginia Beach was named the 8th happiest place in the United States of America in 2016. While the city is well known for its beaches, sand, and surfing, it is also home to some very prominent people ranging from authors, investors, athletes and even The United State of America presidents. Here is a list of five famous people you may not know are from Virginia Beach.
5 Celebrities from Virginia Beach, VA
Here is a list of famous people from Virginia Beach:
Pharrell Williams

Born and raised in Virginia Beach it is no surprise that Parrell Williams later wrote a song called Happy. He says that the song was greatly inspired by the place. He says that he spent most of his school days as the class clown and later went on to skateboarding on Mt. Trashmore. He is contemplating making a musical about his life which would be just fitting given his musical prowess. If you want to celebrate like superstar, book a Virginia Beach party bus for the night!

Gabby Douglas

She is the first African-American gymnast to ever win an all round event. Gabby Douglas also won the United States of America two gold medals in the year 2012 and in the year2016. She was born in 1995 and began training as a gymnast at the age of 6. By the time she was 8, she had won a state championship. In 2010, she moved from her hometown to pursue training as a world-renowned Olympic trainer. She was selected to compete in women Olympics gymnastics team in 2016 where she became the first African-American to win an all round event.

Jason George

If you are a fan of Grey's Anatomy, you probably know him as Dr. Ben Warren. He was born and raised in Virginia Beach graduating from Kempsville High School before going to college at the University of Virginia to get his degree there. He has also featured in other productions such as Sunset Beach, The darker face of the Earth and Off Centre among many others productions. He is also a model and enjoys the Virginia Beach nightlife.

Tom Robbins

Virginia Beach has its share of authors too. Arguably, the most known of them is Tom Robbins. His best-selling books are comedy dramas that are most often laced with philosophical ideas and well-researched facts. His Novel Even Cowgirls get the Blues' was made into a movie in 1993. He was named on the top 100 writers by the Writer's Digest in the year 2000. In the year2012, he received a Literary Lifetime Achievement Award from the Library of Virginia. He has written 8 novels since 1971.

Timbaland (Timothy Zedd)

This rapper graduated from Salem High School in the Virginia Beach. He grew up to love the city so much he has set up his own recording studio there in Virginia. At the time he was creating Sexy Back' with Timbalake, they are said to have taken a break to eat at PF Chang's at the town center. His new album Textbook Timbo' is due to be released soon this year. Timberland loves using our limousines in Virginia Beach.
So you see? Virginia Beach has its fair share of stars. There is no knowing when you will bump into any one of them on your daily errands or when you are enjoying a walk on the beach! If you want to take a tour of the city and see even more amazing landmarks & attractions hire one of our Virginia Beach charter buses.