Famous People from Salt Lake City, Utah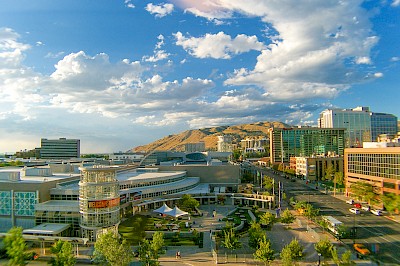 Salt Lake City sprawls between mountain peaks in one of America's most unique (and perhaps misunderstood) states- Utah. Many associate the region with radical religious views, strange drinking laws, and gorgeous scenery. Sitting atop prehistoric Lake Bonneville in Wasatch Mountain valley, it's easy to forget that Salt Lake City has contributed famous athletes, philanthropists, entertainers, and many more to the world.
5 Celebrities From Salt Lake City, UT
Trevor Lewis

Lewis plays ice hockey in the NHL for the Los Angeles Kings. Born and raised in Salt Lake City (attending and playing for Brighton High School), Lewis was drafted in the 2006 entry draft and hasn't looked back since. Progressing from the Des Moines Buccaneers of the USHL (United States Hockey League), to the Owen Sound Attack of the OHL (Ontario Hockey League), and finally Manchester Monarchs of the AHL (American Hockey League), Lewis finally got his big league chance in December 2008 vs. the Buffalo Sabres. His career has gone from the strength to strength, with his crowning moment coming as the Kings won the franchise's first Stanley Cup in 2014, with Lewis scoring two in the clinching game six. Trevor and the team celebrated with a few Salt Lake City party buses!

John Warnock

Warnock is another born and raised in Salt Lake City, attending Olympus High School. A revolutionary computer scientist and successful businessman, Warnock's finest achievement is his co-founding of graphics and publishing software giant Adobe Systems Inc. Adobe is responsible for Photoshop, the innovative graphics package that has pervaded popular culture and offers a seemingly endless line of creative options. Adobe is also responsible for PDF and Acrobat Reader. In addition to a Master of Science and a PHD in electrical engineering, Warnock was presented with a honorary degree in science from the University of Utah, while also winning the 'Distinguished Alumnus' Award. Further honorary degrees have been presented to him from the American Film Institute and the University of Nottingham.

Patrick Fugit

Fugit is an actor who has appeared in films such as Almost Famous, We Bought a Zoo, and Gone Girl. Born and raised in Salt Lake City, Fugit attended East High School, developing passions as both a performer and a skateboarder. His big break came in Cameron Crowe's classic, Almost Famous. Fugit plays William Miller, a budding young music journalist who goes on tour with a rock band and becomes an integral part of the band's politics. While Fugit's career has not sustained such heights, roles in movies such as We Bought a Zoo (also a Cameron Crowe feature), and David Fincher's Gone Girl show he is still working with top talent.

Jerry Buss

Another Salt Lake City native, Buss dipped his toe into many different waters with consistent success. Born in Salt Lake City before relocating at the age of 9, Buss found success in the fields of chemistry and real estate investment, before beginning his most famous venture as owner of the Los Angeles Lakers in the NBA. Under Buss' ownership, the Lakers won ten NBA championships, attracting players such as Kareem Abdul-Jabar and Kobe Bryant to play in LA. Buss' contribution was recognized with his induction in the NBA hall of fame in 2010. Jerry Buss and team travel by way of charter bus to all games.

Jaime Bergman

Born in Salt Lake City, Bergman went on to have a successful modelling career as a Playboy bunny, including appearances in six Playboy Special Editions. She also became the first bunny to model for St. Pauli beer in the United States. Now married to actor David Boreanaz, she has had several movie and TV appearances herself, including Any Given Sunday, Son of the Beach, and Bones (with husband Boreanaz). In 2013 she officially reverted to the name Jaime Boreanaz. Jamie and her bunnies love riding in party buses!
A town with a nightlife often overlooked, Salt Lake City has produced an interesting array of artists, athletes, and other influential people who embody the spirit of Utah's capital. Surrounded by Hollywood, Vegas, Denver, Salt Lake City influences from show business, winter sports, and it's own unique culture. If you want to visit some of the areas most popular attractions hire a Salt Lake City charter bus rental today!