Best Restaurants in Salt Lake City, Utah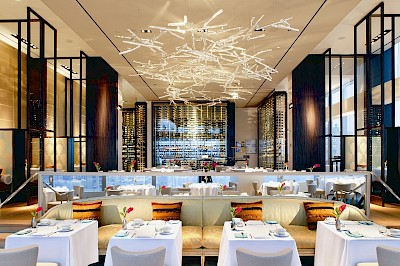 Salt Lake City has seen a large amount of growth in recent years, and has established itself as a hotspot in both Utah and the region at large. Like any growing metropolis, entertainment and culture has expanded to keep with demand. In 2017, there's a thriving restaurant scene in Salt Lake City. This article focuses on a brief overview of the top 5 restaurants in Salt Lake City to try to give you an idea of some great spots to dine on your next night out.
Top 5 Restaurants in Salt Lake City, UT
Valter's Osteria

173 W Broadway, Salt Lake City, UT

A restaurant focused on Italian fine dining, Valter's Osteria features a collection of dishes inspired by Chef-Owner Valter's mother's cooking. As the top rated restaurant in Salt Lake City per TripAdvisor, the restaurant has a history of satisfied customers who praise the customer service and high-end cuisine. For a romantic evening, hire a limo service in Salt Lake City!

Bambara

202 S Main St, Salt Lake City, UT

Featuring a kitchen run by acclaimed chef Nathan Powers, Bambara focuses on New American fine dining. Chef Powers is committed to sourcing ingredients from local farmers, transforming food from sustainable and responsible farming into high-end and fun cuisine. The restaurant itself is also a beautiful environment, with grand arched windows, original brass accents and travertine marble providing a classy and contemporary design. Many famous celebrities from Salt Lake City can be seen eating at Bambara from time to time.

Log Haven

6451 E Millcreek Canyon Rd, Salt Lake City, UT

Located in a unique location at the Wasatch National Forest just minutes from downtown Salt Lake City, Log Haven offers both a beautiful environment and great American fine dining. As a restaurant with a number of accolades including the Best Utah Restaurant, Best Salt Lake Restaurant, and Wine Spectator Award of Excellence, Log Haven has continued to impress local and visiting diners alike year after year. Don't be surprised to see charter buses filled with hungry patrons waiting to taste Log Heavan.

The Roof Restaurant

15 E S Temple, Salt Lake City, UT 84150

As one of Salt Lake City's top restaurants, the roof restaurant also offers a more unique experience as a high-end buffet. For a flat price, enjoy as much as you please of fine cuisine while enjoying a great view of the city. A visit to Salt Lake City's premiere gourmet buffet will definitely not disappoint! For all you hungry party animals heading out to booze for the night, have your Salt Lake City party bus rental affiliate company driver stop here first and grab a bite!

Ruth's Chris Steakhouse

275 S West Temple, Salt Lake City, UT

While not unique to Utah, the Salt Lake City location of Ruth's Chris Steakhouse has solidified itself as one of the top fine dining restaurants in the city. Start your evening out right with a mouthwatering filet and a great wine or cocktails. Reviewers online praise the great food and impeccable service.
The Salt Lake City restaurant scene can easily match that of any major city. These top 5 restaurants only scrape the surface of what the city has to offer. This list focused on fine dining, but there's great food available at whatever price point you're looking for. We hope that for your next special night out that you consider supporting one of these fine Salt Lake City establishments and seeing for yourself the quality of our city's fine dining scene.