Budget Hotels in Houston, Texas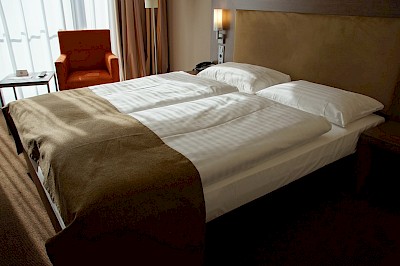 Houston is one of the most interesting cities in the United States. It has all the attractions families on vacation will love and remember long after they left. There is the Houston Space Center perhaps the most famous landmark in all of Houston. The center provides exhaustive information about the moon and space travel. The Downtown Aquarium is home to all kinds of fishes in whatever size, shape, and color.
When staying in Houston on business or with your family on vacation, you have many lodging choices. Downtown Houston is where most of the attractions are located. It also features various luxurious hotels that offer the kind of services you and your family will appreciate.
Top 3 Affordable Hotels in Houston, TX
Magnolia Hotel

Magnolia Hotel is located at 1100 Texas Avenue, Houston. It is often referred to as the Ultimate Boutique Hotel. The hotel has also received many awards for its excellent services and facilities. The food is special and was even awarded the Super Chef Award by the HTexas Magazine. The location of the hotel is within walking distances to Houstons many entertainment spots, shopping centers, theaters and convention centers. There is plenty of parking for large vehicles such as charter buses.

Magnolia is a modern hotel. Its rooms are a little bigger than the standards of the industry and suites are added a full kitchen along with many other conveniences and amenities like a mini bar, iron and ironing board, computer, fax-accessible data ports and 2-line wireless telephones. There is also a TV, blower and personal corporate mini bus rental.

At the second floor of the hotel, you will find the Club. The club has a library for book lovers, an Internet connection when your children need to connect with friends. There is also an evening bar and billiards room. There are spots for a few minutes of quiet time and a boardroom when you need to meet some friends. You and your family will also be treated to a complimentary breakfast. The room rates start at 149 dollars.

Sam Houston Hotel

Sam Houston Hotel is located at 1117 Prairie Street, Houston. The hotel's design is refreshingly contemporary, with a blend of classic architecture. If the building is interesting, the services are not far behind. In fact, its services are the best because they are personalized, catering to the individual's tastes. Amenities are high tech, and its restaurant is known as 17, offering excellent meals and taking care of private events of guests. The Hotels bar is casual, an appropriate complement to the lively downtown atmosphere.

The hotel's guest rooms have amenities that include Satellite TV, a movie library, hypo allergenic comforter, iron and ironing board as well as a DVD player, CD player, telephone, Internet access, refreshment center and many others. The daily rate is 199 dollars. When you need ground transportation, rely on our Houston limo service to pick you up and drive you around.

Hyatt Regency Houston

Hyatt Regency Houston is located at 200 Louisiana Street. It is at the heart of Houston, a few minutes away from George Brown Convention Center, the Toyota Center, Minute Maid Park, and Theater district. The Metro railway can take you and your family to Hermann Park, Museum District, and the Medical Center. The Hotel is within easy distances from the little clubs and restaurants in downtown Houston.

At the top floor of the hotel is the Spindletop, a revolving restaurant and the only one in Houston. You will have a wonderful time gazing at Houstons breathtaking views while enjoying Houstons finest cuisine. If you want to get out, call our party bus rental company and have a great night!

Standard amenities of the Hyatt Regency include complimentary breakfast, Internet access, free telephone services, a fitness center and a newspaper of your choice. There are the customary TV and cable, corporate mini bus rental deposit box and many others. Room rates start at 289 dollars.
Next time your in Houston, try to stay at one of the suggested hotels above and save some dough!