Best Restaurants in Memphis, Tennessee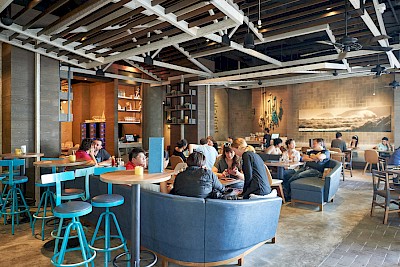 Have you just arrived in Memphis? Feeling hungry? Most people think of barbecued pork ribs, sizzling steaks, and potato salad when they think of Memphis cuisine. However, while that soul food may have built the culture and the city, but it no longer defines the Memphis menu.
Over recent years this stereotype has been broken by restaurateurs looking to establish themselves as culinary professionals. Memphis has some of the most outstanding, famous people and world-class chefs found in kitchens all over the city.
Here are five of the best restaurants in Memphis, Tennessee call in and make your reservation for a culinary taste experience you will remember forever. While they only represent the tiniest fraction of the Memphis restaurant community, they offer a dining experience that is out of this world!
Top 5 Restaurants in Memphis, TN
Catherine and Mary's

272 S Main St, Memphis, TN 38103

The latest project from successful restaurateurs, Enjoy AM, is Catherine and Mary's. This venue has a completely different look and feel from its sister restaurants.

You can find Catherine & Mary's on the first floor of the Hotel Chisca and expect the finest cuisine. The venue takes on a completely different vibe after dark, switching to a romantically lit venue that is perfect for lovers to share an intimate meal on date night. If you need luxury transportation view our Memphis limo service.

The Dirty Crow Inn

855 Kentucky St Memphis, TN 38106

If you are in the mood for some beer and bar snacks, wander over to the Dirty Crow Inn for some entertainment, good food, and a great atmosphere. Cheesesteaks, buffalo wings and poutine fries are all on the menu. Expect great service, friendly locals and great value for money with the best prices in town.

Mama Gaia

1350 Concourse Ave Memphis, TN 38104

For those vegans traveling through Memphis, check out Mama Gaia for a peaceful, balanced, organic, dining experience. Positioned on the ground floor loading dock of Crosstown Concourse, Mama Gaia lets you experience the bustle of the midtown area while dining on pitas, salads featuring Mediterranean and Asian flavors.

Dodici

24 Cooper St, Memphis, TN 38104

Looking for Italian cuisine in Memphis? You can't beat this bespoke dining experience. With classic candlelit stairways leading to a twelve seater speakeasy, Dodici's resident celebrity mixologist with turn you out some fantastic cocktails while you wait on your Italian desire. Bring the entire family in one of our party buses, click here to make a reservation.

Sweet Grass

937 S Cooper St, Memphis, TN 38104

Sweet Grass is owned by chef Ryan Trimm and has been a Memphis culinary destination since 2010. Homemade mignonettes can be combined with fresh oysters while you sip on a fine bordeaux.
Memphis cuisine is taking its rightful place of the world stage. More tourists visit the city each year and experiencing the Memphis lifestyle, the local vibe, and the best restaurants in Memphis. If you want to take a tour of the city, you can hire a Memphis charter bus.
As you settle down to your meal, take a moment to soak in the rich history, culture, and ambience of the city, chat to the locals and enjoy your food in one of the United States most inspirational and historic cities.