Best Restaurants in Raleigh, North Carolina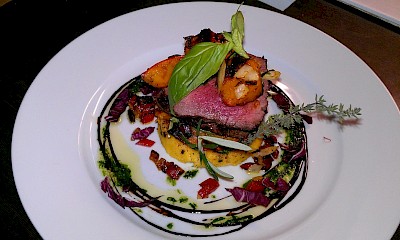 Raleigh is the capital of North Carolina and is home to some amazing restaurants. If you live in the area or are just visiting you'll not want to miss some of the best food in the USA. Here is a list of the best restaurants in Raleigh are:
Top 5 Restaurants in Raleigh, NC
Bare Bones

301-120 Fayetteville Street, Raleigh, NC-27601

The best thing about this restaurant is that everything here is made in-house. Bare Bones is well known all over Raleigh for their craft burgers and smoked meats. They also have a Special Dish for each day. Hence, before ordering, ask them about the special item for that day. The atmosphere over there is also very lively and friendly. For entertainment, they have a shuffleboard, darts, and a billiard table. They also have a large collection of beer and don't forget to try out some of their amazing cocktails. If you are coming in with a party bus full of people, you might want to make reservations first.

The Fiction Kitchen

428 S Dawson Street, Raleigh, NC 27601

If you want to try out some vegetarian dishes in Raleigh, The Fiction Kitchen is the place to be. The food over here is locally sourced and is very fresh. Chef Caroline is very experienced and has created a very interesting menu. They are quite well known for a dish named " Crispy Fried Chicken". It is obviously not real chicken. It is basically a combination of several herbs and they serve it with some tasty waffles. They serve all kinds of beverages as well. You should try out their coffee or their iced black tea.

Angus Barn

9401 Glenwood Avenue, Raleigh, NC 27617

Angus Barn is one of the most popular fine dining restaurants in Raleigh and is very popular for their steaks. The restaurant is run by Walter J. Royal who was the winner of Iron Chef. The staff over there is also very friendly and welcoming. They will help you out with the menu. If you want, they will also take you on a private tour of the kitchen and the wine cellar. The interior is very well decorated. Pecan Pie is their signature dish. Many familiar faces and local celebs eat here.

Second Empire Restaurant

330 Hillsborough Street, Raleigh, NC 27603

Located in a very old and historical building, this restaurant should definitely be on your bucket list if you are visiting Raleigh. Private rooms are also there in case you are having a meeting with your clients. They serve all kinds of wines. The servers will inform you which wine will go best with the food which you order. For the main course, you should try out the fillet mignonette. It is perfectly cooked and tastes amazing. They also serve some amazing pastries. If you require a limo service in Raleigh, contact us today.

Saint Jacques French Cuisine

6112 Falls of Neuse Road, Raleigh NC 27609

If you want to try out some French cuisine, then this is the place to be. It is located in a very lively neighborhood and once you step inside the restaurant, you will feel as if you are transported to Paris. The staff over here is very friendly. The manager will come to each table individually and greet the guests. They are well-known for the dish " Foie Gras". You should also try out their salads.
Thus, if you are looking for a restaurant in Raleigh, you will have plenty of options to choose from. From American Cusine to French Cuisine, you will find almost everything here. If you really want to take it to the next level, hire a Raleigh charter bus and create your own tasting tour!