Famous People From Buffalo, New York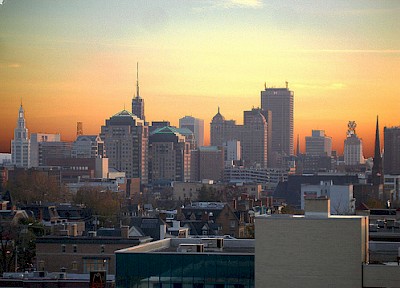 Commonly known as the Queen City, Buffalo is located in western New York state. Buffalo is famous for the Niagara Falls a spectacular tourist attraction. Buffalo is a city surrounded by water. Lake Erie in the west, Niagara Falls to the North and Buffalo River meandering to the south. This is truly the best world class urban designed cities in America and such is proven by all of the famous people from Buffalo, NY!
Top 5 Celebrities from Buffalo, NY
Here are 5 of the Famous People from Buffalo, NY:
Brian Mcknight

Brian McKnight was born and raised in Buffalo. He is an American R&B singer and songwriter who got 16 Grammy Award nomination but never won. Brian was married in 1990 and has 2 children. Brian's music can still be heard in party buses and nightclubs throughtout Buffalo!

Beverly Johnson

Born and raised in Buffalo, this Model/Actress and business woman became Vogue's first African American cover model in 1974. She has appeared is over 500 magazine covers and was named in the New York Times as one of the 20th century most influential people in the fashion industry.

Jessica White

Also born and raised in Buffalo and became a successful model and actress. Jessica White modelled for Sports Illustrated. She played a minor role in the comedy hit movie "Big Momma's House" and also appeared in a couple of music videos of famous R&B artists. She suffered with cocaine addiction in her early teens in the hope of covering over her childhood trauma.

Steven Aaron Jordan AKA Stevie J

This born and raised Buffalo producer artist and reality TV personality became one of the most successful record producers in the mid 1990s. He also produced music for a number of artists like Jay z, Mariah Carey, Eve and many more. This father of six won a Grammy Award in 1997 for his work in Puff Daddy's debut album "No Way Out." Stevie's music has blessed the Buffalo nightlife scene for many years now.

Rashad Evans

Born and raised in Buffalo, this American mixed martial artist and former UFC light heavy weight champion has been very influential in the UFC sport for a long time. Rashad Evans is a cultic hero among the martial arts fans in Buffalo. We have had the pleasure of provide limousine services for Rashad and many other UFC fighters.
The city Buffalo was literally built on the water. Buffalo has now the greatest building in America in terms of Architecture; Frank Lloyd Wright, H.H Richardson and Louis Sullivan. But Buffalo made a few mistakes during its architectural layout in the 1990s with the creation of huge highways running through the major parks in the city. A lot of neighborhoods were destroyed and other could barely survive the rigorous construction at that time. Overall the city turned out fine is one of America's most sought-after tourist destination. If you and your friends would like a tour of the city, hire one of our Buffalo charter bus rentals today!